Silkworm Pupa Protein Hydrolysate Induces Mitochondria-Dependent Apoptosis and S Phase Cell Cycle Arrest in Human Gastric Cancer SGC-7901 Cells
College of Animal Sciences, Zhejiang University, Hangzhou 310058, China
*
Author to whom correspondence should be addressed.
Received: 22 March 2018 / Revised: 26 March 2018 / Accepted: 26 March 2018 / Published: 28 March 2018
Abstract
Silkworm pupae (
Bombyx mori
) are a high-protein nutrition source consumed in China since more than 2 thousand years ago. Recent studies revealed that silkworm pupae have therapeutic benefits to treat many diseases. However, the ability of the compounds of silkworm pupae to inhibit tumourigenesis remains to be elucidated. Here, we separated the protein of silkworm pupae and performed alcalase hydrolysis. Silkworm pupa protein hydrolysate (SPPH) can specifically inhibit the proliferation and provoke abnormal morphologic features of human gastric cancer cells SGC-7901 in a dose- and time-dependent manner. Moreover, flow cytometry indicated that SPPH can induce apoptosis and arrest the cell-cycle in S phase. Furthermore, SPPH was shown to provoke accumulation of reactive oxygen species (ROS) and depolarization of mitochondrial membrane potential. Western blotting analysis indicated that SPPH inhibited Bcl-2 expression and promoted Bax expression, and subsequently induced apoptosis-inducing factor and cytochrome C release, which led to the activation of initiator caspase-9 and executioner caspase-3, cleavage of poly (ADP-ribose) polymerase (PARP), eventually caused cell apoptosis. Moreover, SPPH-induced S-phase arrest was mediated by up-regulating the expression of E2F1 and down-regulating those of cyclin E, CDK2 and cyclin A2. Transcriptome sequencing and gene set enrichment analysis (GSEA) also revealed that SPPH treatment could affect gene expression and pathway regulation related to tumourigenesis, apoptosis and cell cycle. In summary, our results suggest that SPPH could specifically suppress cell growth of SGC-7901 through an intrinsic apoptotic pathway, ROS accumulation and cell cycle arrest, and silkworm pupae have a potential to become a source of anticancer agents in the future.
View Full-Text
►

▼

Figures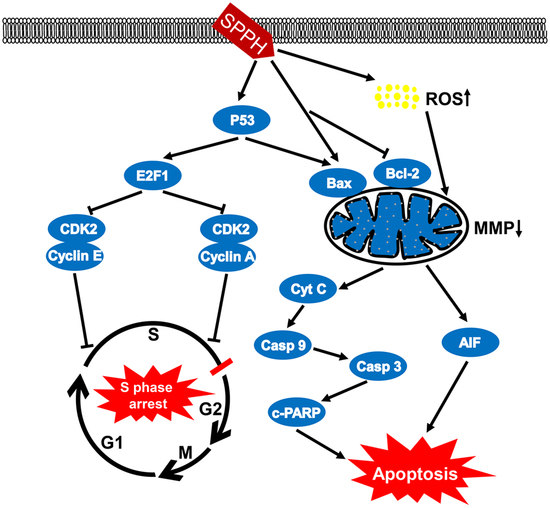 Graphical abstract
This is an open access article distributed under the
Creative Commons Attribution License
which permits unrestricted use, distribution, and reproduction in any medium, provided the original work is properly cited (CC BY 4.0).

Share & Cite This Article
MDPI and ACS Style
Li, X.; Xie, H.; Chen, Y.; Lang, M.; Chen, Y.; Shi, L. Silkworm Pupa Protein Hydrolysate Induces Mitochondria-Dependent Apoptosis and S Phase Cell Cycle Arrest in Human Gastric Cancer SGC-7901 Cells. Int. J. Mol. Sci. 2018, 19, 1013.
Note that from the first issue of 2016, MDPI journals use article numbers instead of page numbers. See further details here.
Related Articles
Comments
[Return to top]