Open Access This article is
freely available
re-usable
Article
An Anion Conductance, the Essential Component of the Hydroxyl-Radical-Induced Ion Current in Plant Roots
1
Centro Universitario de Investigaciones Biomédicas, Universidad de Colima; Av. 25 de julio 965, Villa de San Sebastian, Colima, Col. 28045, Mexico
2
School of Land and Food, University of Tasmania, Private Bag 54, Hobart, Tas. 7001, Australia
3
Genómica Alimentaria, Universidad de La Ciénega del Estado de Michoacán de Ocampo, Av. Universidad 3000, Lomas de la Universidad, Sahuayo, Mich. 59103, Mexico
4
Australian Research Council Centre of Excellence in Plant Energy Biology, School of Agriculture, Food and Wine, University of Adelaide, Adelaide SA 5064, Australia
*
Author to whom correspondence should be addressed.
Received: 17 February 2018 / Accepted: 16 March 2018 / Published: 18 March 2018
Abstract
:
Oxidative stress signaling is essential for plant adaptation to hostile environments. Previous studies revealed the essentiality of hydroxyl radicals (HO•)-induced activation of massive K+ efflux and a smaller Ca2+ influx as an important component of plant adaptation to a broad range of abiotic stresses. Such activation would modify membrane potential making it more negative. Contrary to these expectations, here, we provide experimental evidence that HO• induces a strong depolarization, from −130 to −70 mV, which could only be explained by a substantial HO•-induced efflux of intracellular anions. Application of Gd3+ and NPPB, non-specific blockers of cation and anion conductance, respectively, reduced HO•-induced ion fluxes instantaneously, implying a direct block of the dual conductance. The selectivity of an early instantaneous HO•-induced whole cell current fluctuated from more anionic to more cationic and vice versa, developing a higher cation selectivity at later times. The parallel electroneutral efflux of K+ and anions should underlie a substantial leak of the cellular electrolyte, which may affect the cell's turgor and metabolic status. The physiological implications of these findings are discussed in the context of cell fate determination, and ROS and cytosolic K+ signaling.
Keywords:
anion conductance; electrolyte leakage; hydroxyl radical; membrane potential; MIFE; oxidative stress; patch-clamp
Acknowledgments
This work supported by the Australian Research Council Discovery and CONACYT (Mexico) Basic Science grants to Sergey Shabala, Igor Pottosin and Isaac Zepeda-Jazo.
Author Contributions
Igor Pottosin designed experiments, performed and analysed patch-clamp experiments, interpreted the data, composed the draft of the text drawings; Isaac Zepeda-Jazo performed some MIFE experiments, along with respective data acquisition and analysis, edited the Materials and Methods section; Jayakumar Bose performed membrane potential and MIFE measurements, along with respective data acquisition and analysis, edited respective results; Sergey Shabala made a substantial contribution to the conception of the study, participated in patch-clamp and MIFE experiments; all authors (Igor Pottosin, Isaac Zepeda-Jazo, Jayakumar Bose, and Sergey Shabala) made a substantial contribution to the critical revision of the whole paper.
Conflicts of Interest
The authors declare no conflict of interest.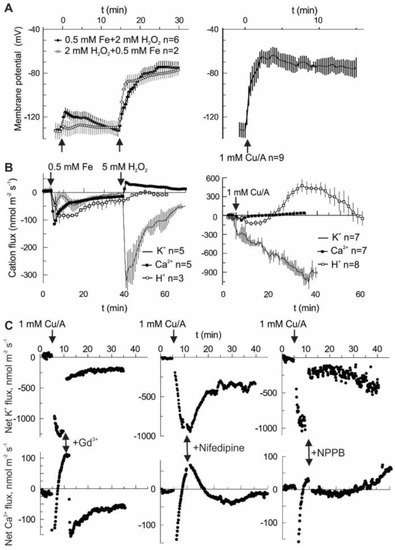 Figure 1.
Evidence for the anionic component of HO•-induced ion flux in vivo. (
A
) HO• but not H
2
O
2
provokes a substantial sustained depolarization in the mature zone of intact pea roots. HO• are generated either by mixing of copper with ascorbate in aerated BSM solution or by reducing of H
2
O
2
by iron. (
B
) Cationic (Ca
2+
, K
+
and H
+
) fluxes evoked by same treatments as in (
A
). The negative flux corresponds to
efflux
of cation. It can be seen that at all times there is net cation efflux, so that membrane depolarization requires even larger efflux of intracellular anions. (
C
) Passive cationic (Ca
2+
and K
+
) fluxes are blocked not only by the direct application of cationic blockers (Gd
3+
and nifedipine) but also by the anionic blocker NPPB. Blockers were applied at the moment, when passive Ca
2+
influx clearly dominated over the Ca
2+
pumping. Note the instantly developed block by Gd
3+
and NPPB.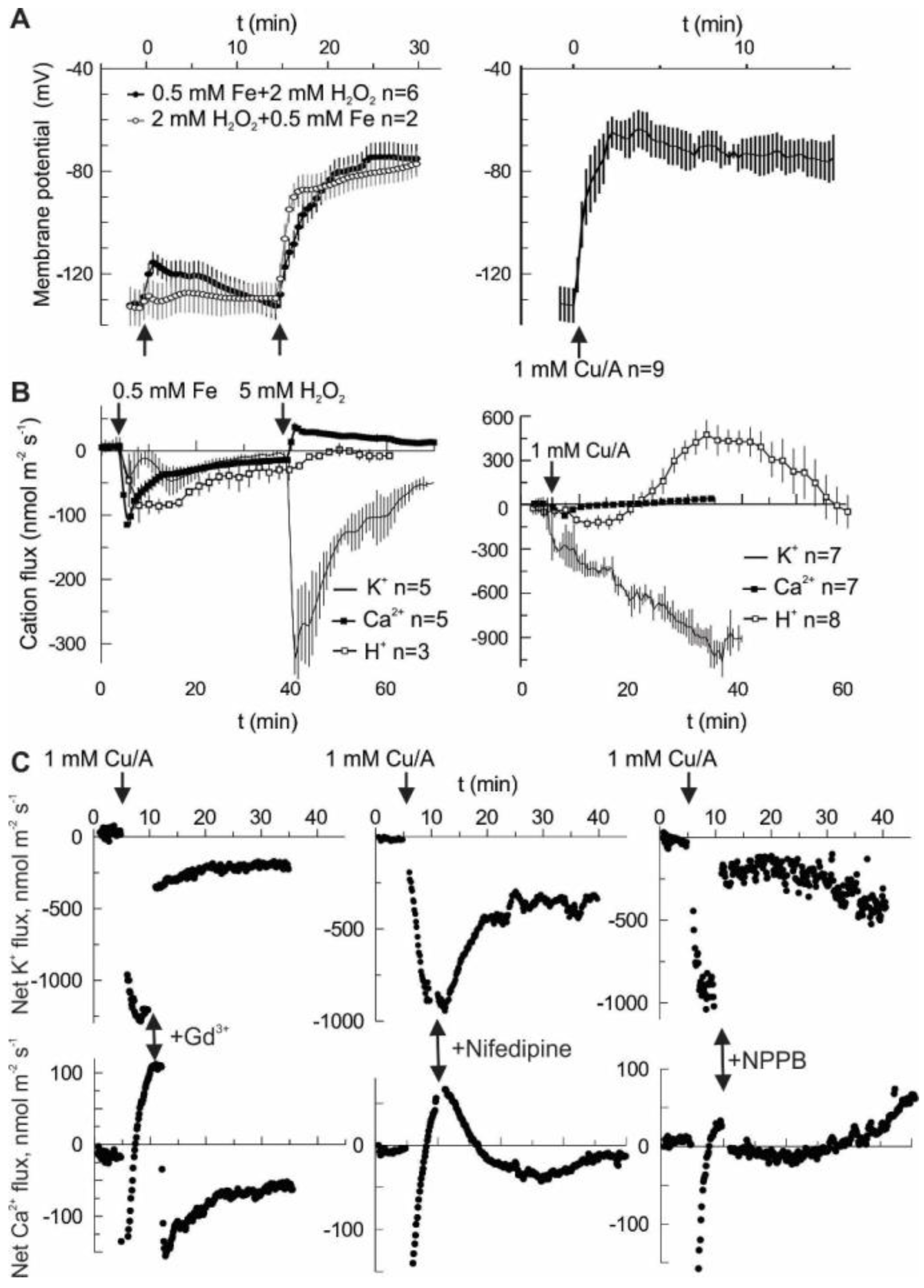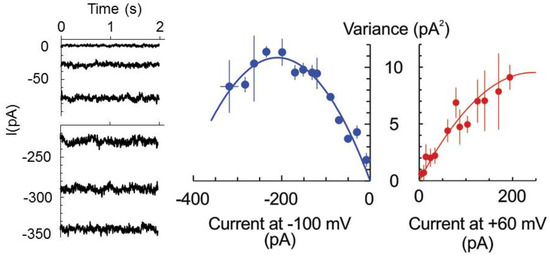 Figure 2.
HO•-induced current is mediated by low conductance pores. Example of a steady-state HO•-induced whole-cell current at −100 mV, measured in the epidermal protoplast isolated from the mature zone of pea root. Measurements were taken at different time points after the initiation of treatment, reflecting the development of whole-cell current and respective noise pattern. The records are low-pass filtered at 2 KHz. Currents were averaged at fixed voltages of −100 and +60 mV, and the current variance (σ
2
) was calculated by subtracting this value from the actual current value and then raising the respective numbers to a second power. Mean σ
2
values were plotted against the respective mean current values for three individual protoplasts, which displayed comparative magnitudes of limiting HO•-induced whole-cell currents (in the range of −300–−350 pA at −100 mV). Data are means ± SE. Solid lines are best fits to equation σ
2
=
i
I − I
2
/N, with unitary current values,
i
, of −110 fA and +80 fA for −100 and +60 mV. See text for more details.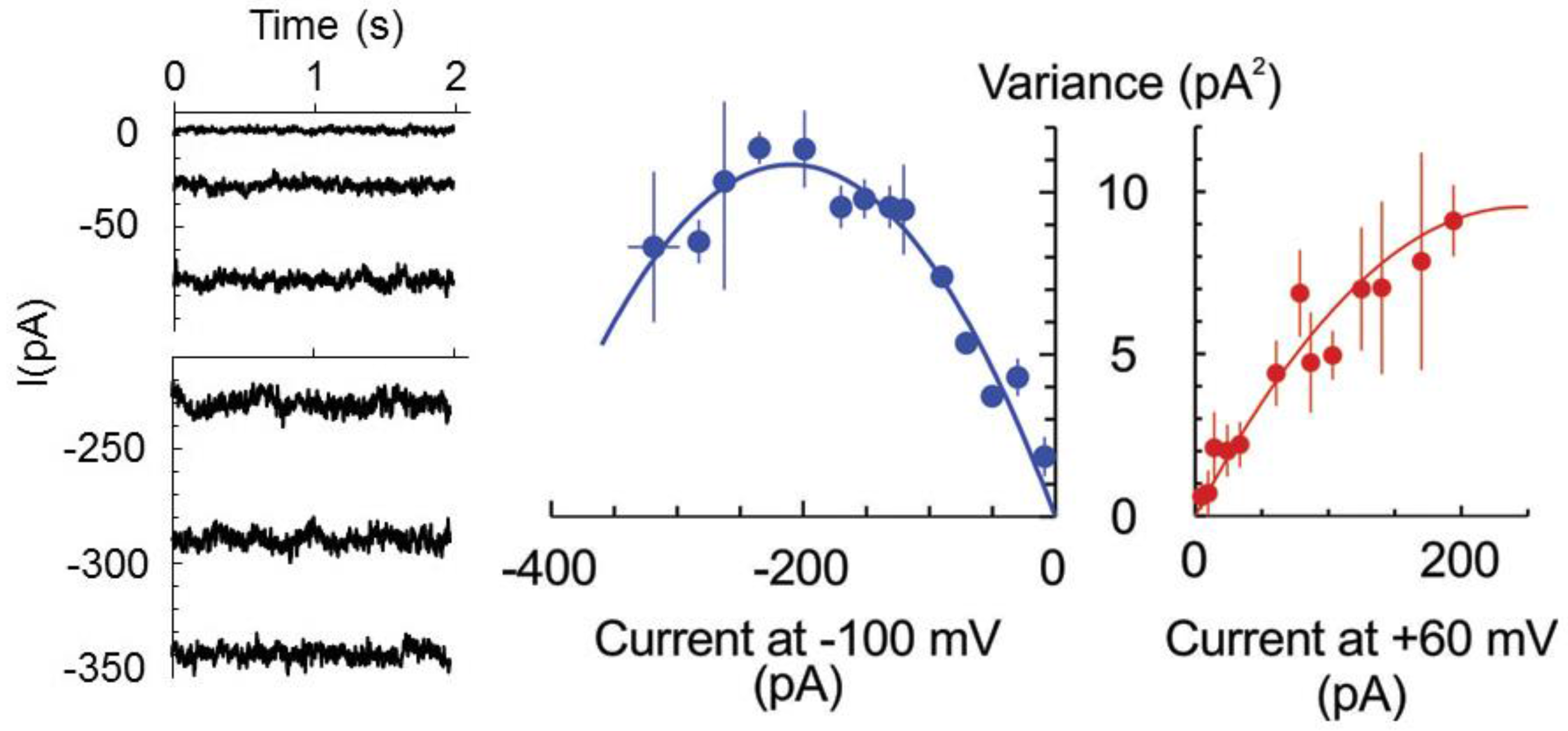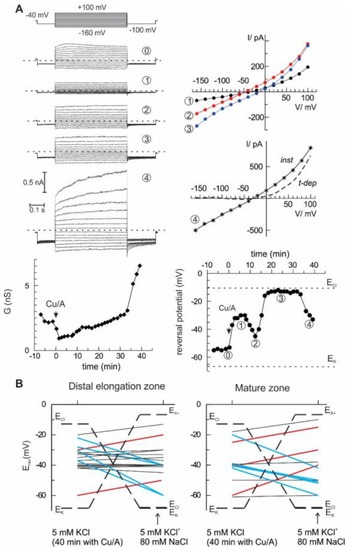 Figure 3.
Ionic selectivity of the HO•-induced whole-cell current is variable. (
A
) An example of the development of HO•-induced current in isolated barley root epidermis protoplast from the elongation zone. The current responses to a sequence of voltage steps were recorded at different time points (examples are at the left-hand side; dotted lines indicate zero current). The current-voltage relationships for HO•-induced currents are plotted at the right (for the last record both instantaneous,
inst
, and time-dependent components,
t-dep
). Beneath are the time course for the changes in whole cell conductance and zero current potential; dotted lines are equilibrium potential values for K
+
and Cl
−
. (
B
) A variability of the cation/anion selectivity of the HO•-induced whole-cell current between individual protoplasts. After 40 min of HO• treatment, the reversal potential of the whole cell current was evaluated, and then low salt bath was supplemented with 80 mM NaCl and reversal potential was evaluated again. E
K
and E
Cl
are Nernst potentials for K
+
and Cl
−
, E
X
+
corresponds to a theoretical reversal potential for a hypothetical current, strictly selective for monovalent cations over anions, but which does not differentiate between K
+
and Na
+
. The lines connect reversal potential values before and after addition of high-NaCl bath, red and blue ones are for preferential anionic and cationic selectivity, respectively.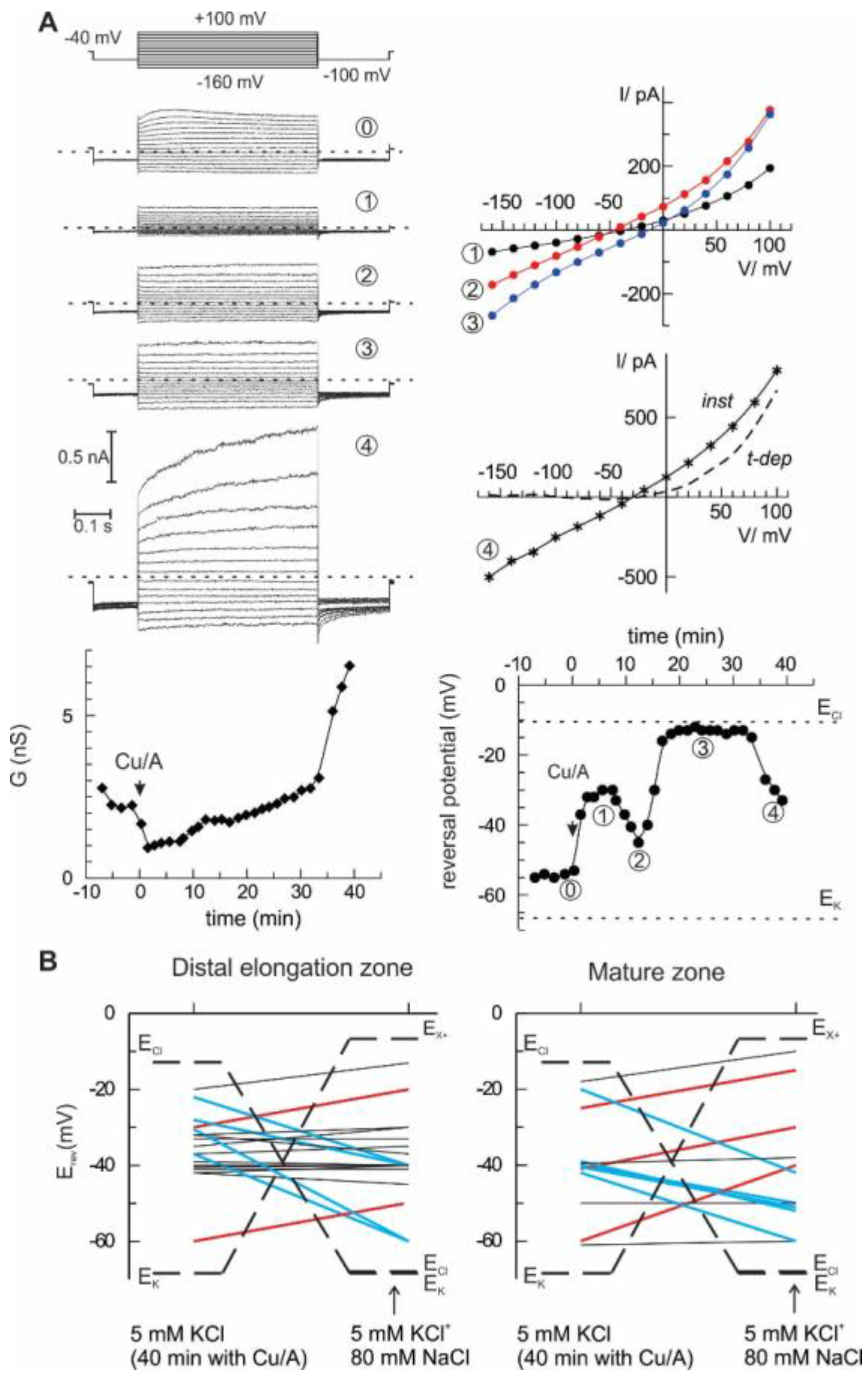 © 2018 by the authors. Licensee MDPI, Basel, Switzerland. This article is an open access article distributed under the terms and conditions of the Creative Commons Attribution (CC BY) license (http://creativecommons.org/licenses/by/4.0/).