Open Access This article is
freely available
re-usable
Review
Health Risks of Hypovitaminosis D: A Review of New Molecular Insights
Department of Biomedical Sciences, Dental Sciences, and Morpho-functional Imaging, University of Messina, 98125 Messina, Italy
*
Author to whom correspondence should be addressed.
Received: 26 January 2018 / Accepted: 15 March 2018 / Published: 17 March 2018
Abstract
:
Hypovitaminosis D has become a pandemic, being observed in all ethnicities and age groups worldwide. Environmental factors, such as increased air pollution and reduced ultraviolet B (UVB) irradiation, as well as lifestyle factors, i.e., decreased outdoor activities and/or poor intake of vitamin D-rich food, are likely involved in the etiology of a dramatic reduction of vitamin D circulating levels. The insufficiency/deficiency of vitamin D has long been known for its association with osteoporosis and rickets. However, in the last few decades it has become a serious public health concern since it has been shown to be independently associated with various chronic pathological conditions such as cancer, coronary heart disease, neurological diseases, type II diabetes, autoimmune diseases, depression, with various inflammatory disorders, and with increased risk for all-cause mortality in the general population. Prevention strategies for these disorders have recently involved supplementation with either vitamin D2 or vitamin D3 or their analogs at required daily doses and tolerable upper-limit levels. This review will focus on the emerging evidence about non-classical biological functions of vitamin D in various disorders.
Keywords:
vitamin D; VDR; cardiovascular diseases (CVD); central nervous system (CNS); allergy; microbioma
1. Introduction
Recent epidemiological studies have demonstrated that an insufficiency of vitamin D (<72.5 nmol/L; <30 ng/ml), affects 50% of the population worldwide, while 1 billion people show vitamin D deficiency (<25 nmol/L; <10 ng/ml), as per the cutoffs established by the Endocrine Society Clinical Practice Guidelines [
1
,
2
,
3
]. Notably, hypovitaminosis D has been observed in all ethnicities and age groups, and found to be more severe in men than in women and the elderly The etiology of this pandemic includes lifestyle factors, i.e., low dietary intake and decreased outdoor activities, and environmental factors, i.e., increased air pollution, these latter both reducing the exposure to sunlight needed for UVB-mediated activation of vitamin D synthesis starting from 7-dehydrocholesterol in the epidermis [
1
,
2
,
3
].
The insufficiency/deficiency of vitamin D raises public health concern since it has been shown to be independently associated with a higher risk of all-cause mortality [
4
,
5
]. In fact, hypovitaminosis D has long been known to increase the risk for osteoporosis and rickets, and only in the last decades it has been linked with various chronic pathological conditions, i.e., cancer, coronary heart disease (CHD), non-insulin dependent diabetes, neurological disorders, as well as autoimmune and inflammatory diseases [
5
,
6
].
This review will focus on the molecular mechanisms involved in the non-classical roles of vitamin D in various disease paradigms.
2. Vitamin D Analogs
To date, five natural analogs and four synthetic analogs of vitamin D, generally classified as secosteroids, are known.
Vitamin D active as a hormone in the human body is obtained from dietary intake of its natural precursors cholecalciferol and ergocalciferol, also known as vitamin D3 and vitamin D2, having animal and vegetable origin, respectively. Vitamin D3 can also be obtained by UVB-activated photochemical conversion of pro-vitamin D3 (7-dehydrocholesterol) to pre-vitamin D3 (cholecalciferol) in the skin. Bound to vitamin D binding protein (DBP), pre-vitamin D3 is transported to the liver where it is converted into 25-hydroxyvitamin D upon 25-hydroxylase (CYP2R1)-mediated hydroxylation. A further 1-alpha-hydroxylase (CYP27B1)-mediated hydroxylation step, occurring in the kidney, is required to obtain the active form of vitamin D, 1,25-dihydroxyvitamin D, also known as calcitriol [
7
]. Other natural analogs of vitamin D are represented by vitamin D1 (ergocalciferol:lumisterol 1:1), vitamin D4 (22-dihydroergocalciferol) and vitamin D5 (sitocalciferol).
There are thousands of synthetic vitamin D analogs, having a wide range of therapeutic applications [
7
,
8
,
9
], and these include: 22-oxacalcitriol (OCT), having a wider pleiotropic action than 1,25-dihydroxyvitamin D3; falecalcitriol, that is more active than calcitriol due to a slower metabolism; two calcitriol-derived molecules, calcipotriol and paricalcitol, this latter having a side chain represented by vitamin D
2
; dihydrotachysterol (DHT), activated in the liver without need for further hydroxylation in the kidney; doxercalciferol, a pro-drug undergoing in vivo activation that displays less toxic effects than 1α-hydroxyvitamin D3 when chronically administered; and tacalcitol, derived from vitamin D
3
[
8
].
Vitamin D and its analogs are natural ligands of a nuclear receptor, the vitamin D receptor (VDR), widely distributed in various cell types, organs and tissues (
Figure 1
) [
10
]. Recent epidemiological investigations suggest that the prevention of chronic diseases may be achieved by increasing vitamin D levels in the normal range. Thus, as the dietary intake of vitamin D is often inadequate, supplementation with either vitamin D2 or vitamin D3 or their analogs, at a daily dose and tolerable upper-limit levels, should be considered. However, despite demonstrated health benefits coming from vitamin D supplementation [
10
], evidence on how vitamin D might function in the case of the aforementioned diseases, except osteoporosis and rickets, is still lacking.
3. Vitamin D Genomic, Epigenomic and Non-Genomic Actions
4. Regulation of Redox/Detoxification Metabolism by Vitamin D
Normal cell functions and survival are guaranteed by the maintenance of a highly reduced internal environment of cells. A shift towards an oxidized state, caused by the increase in the levels of intracellular reactive oxygen species (ROS), leads to redox stress-induced impairment of cell homeostasis [
17
]. ROS formation occurs at two main sites, the mitochondria and the cell membrane. In mitochondria, ROS are generated as a consequence of transmembrane mitochondrial potential disruption induced by toxic stimuli [
18
]. The stimulation of G protein-coupled receptors (GPCR) and receptor tyrosine kinases (RTKs) on the cell membrane by growth factors, hormones and cytokines, leads to the activation of their downstream effector phosphatidyl-inositol-3-kinase (PI 3-K). Activated PI-3K produces the second messenger phosphatidyl-inositol-3,4,5-phosphate (PIP3), stimulating NADPH oxidase (NOX) to generate the anion superoxide (O
2
−.
), which is transformed to hydrogen peroxide (H
2
O
2
) by superoxide dismutase (SOD). NOX may be also activated by the receptor for advanced glycation-end products (RAGE), the expression of which is modulated by vitamin D [
19
]. RAGE-induced inflammation is observed in several pathological conditions associated with vitamin D deficiency, i.e., diabetes, cancer, cardiovascular disorders, and neurodegenerative diseases [
20
].
Cells have evolved sophisticated defenses against oxidative stress that are represented by detoxifying and antioxidant enzymes able to remove ROS and also to reverse the oxidative changes occurring upon the physiological production of ROS needed for intracellular signaling [
21
]. Vitamin D is able to regulate the expression of many antioxidant systems. As an example, vitamin D performs a control action on the expression of the nuclear factor-erythroid-2-related factor 2 (Nrf2), a redox-sensitive transcription factor able to activate numerous genes encoding for antioxidant and detoxifying enzymes [
19
]. The transcriptional activity of Nrf2 is usually inhibited through its binding with Keap 1, acting as the adapter protein for Cullin 3, an ubiquitin ligase driving the degradation of Nrf2 via the ubiquitine/proteasome pathway. However, when ROS levels increase, Nrf2 is released upon Keap 1 oxidation, enters the nucleus and promotes gene transcription through the binding to antioxidant response elements (ARE) present in the promoter region of genes encoding for detoxifying and antioxidant enzymes, such as cytochrome P450, glutathione S-transferase, sulfotransferase, glutamate cysteine ligase, heme oxigenase 1, superoxide dismutase 1 and 2 (SOD1, SOD2), catalase, glutathione peroxidase , NAD(P)H quinone oxidase 1, peroxyredoxins (Prxs), and thioredoxin (Trx). Notably, Nrf2 is able to induce the up-regulation of VDR and RXR, through increased expression of Fos and Jun, in order to enhance cell sensitivity to low vitamin D levels [
22
].
Vitamin D is also able to regulate the expression of Klotho, a trans-membrane protein having a small cytosolic domain and a large extracellular domain, which is cleaved by ADAM 10 and ADAM17 and released as a humoral factor to influence several signaling pathways and cellular processes [
23
]. Klotho displays an antioxidant action through two main pathways: (1) inhibition of insulin/IGF1, resulting in FoxO activation that, in turn, induces the up-regulation of mitochondrial SOD2 and catalase [
24
]; (2) induced phosphorylation of the PI3K/Akt pathway, resulting in the increased expression of peroxiredoxins and thioredoxin reductase 1 [
25
].
Vitamin D deficiency likely leads to a reduced expression of Klotho and Nrf2 and, as a consequence, to the disruption of redox system homeostasis. The loss of this control is determinant for the onset of numerous age-related disorders.
5. Vitamin D, its Analogs and Cardiovascular Disorders
6. Vitamin D and Neurological Disorders
6.1. Vitamin D, Cognitive Impairment, Vascular Dementia and AD
6.2. Vitamin D, Dopaminergic Signaling and PD
6.3. Vitamin D and Neuroinflammation
6.4. Vitamin D and Stroke
High levels of C reactive protein (CRP) have been found in vitamin D-deficient subjects with acute ischemic stroke. Negative feedback between increased levels of vitamin d and low CRP levels explains the anti-inflammatory function of vitamin D during acute ischemic stroke [
99
].
It has also been shown that vitamin D prevents hypoxia/re-oxygenation occurring after the destruction of BBB because of NF-κB activation [
100
]. Moreover, intranasal administration of vitamin D protects against subaracnoid haemorrhagic stroke induced by the destruction of BBB through the up-regulation of P-gp in endothelial cells [
101
].
7. Vitamin D and Immune System
7.1. Hypovitaminos D and Mast Cell Activation
7.2. Hypovitaminosis D and Hematological Malignancies
Since VDR is expressed in peripheral blood mononucleocytes (PBMCs), several investigations have addressed whether vitamin D plays a role in haematological disorders, particularly focusing on blood cancers. Vitamin D deficiency has been associated with hematological malignancies, including leukemia, lymphoma and myeloma, and with a poor prognosis for these diseases [
110
]. Despite advances in the therapeutic management of lymphatic neoplasias, no significant improvement of overall survival has been achieved so far.
Macrophage infiltration is a pathognomonic sign of high-grade lymphatic malignancies. However, it has been observed that macrophage-mediated antibody-dependent cytotoxicity regularly fail in these disorders for still unexplained reasons. Recent work demonstrated that vitamin D is able to stimulate an effective cytotoxic action of inflammatory M1 macrophages against proliferating high-grade B cell lymphoma cells through the release of cathelicidin, an antimicrobial peptide. Cathelicidin-mediated cell death occur by mitochondria-targeting in tumor cells. Notably, the treatment of anti-inflammatory M2 macrophages and M2-like tumor associated macrophages with 1,25 (OH)2 vitamin D3 or synthetic analogs, makes them able to synthetize and release cathelicidin, eventually killing lymphoma cells. The supplementation of vitamin D in vitamin D-deficient lymphoma patients improves the efficacy of rituximab cytotoxic activity, which is cathelicidin-dependent [
111
].
The treatment with either vitamin D3 or its analogs has been shown to be effective against acute myeloid leukemia, and has recently been regarded as a potential therapeutic approach for other hematological tumors. In particular, experimental studies have shown that VDAs display cytotoxic effects in a time- and concentration-dependent manner on large B-cells' lymphoma and healthy B-cells [
112
]. Moreover, vitamin D and VDAs have been shown to induce proliferation inhibition and onset of differentiation, apoptosis, reduction of pro-inflammatory cytokine release, and tumor-cell sensitization to other anti-cancer therapies in blood tumor cells [
113
].
8. Vitamin D and the Gastrointestinal Microbioma
The restoration of VDR expression on the surface of inflammatory intestinal mucosa through the administration of selected probiotics strains would represent a treatment strategy for IBDs and other inflammatory diseases.
9. Conclusions and Perspectives
In recent years, thousands of VDRE sites on the DNA sequence have been identified. Given the almost ubiquitous expression of VDR and CYP27B1, a great effort still has to be made to characterize molecular pathways regulated through genomic and non-genomic actions of this vitamin. Moreover, it is also very important to look for strategies to target specific cells with vitamin D analogs that do not display adverse side effects, such as increased intestinal calcium absorption and/or bone resorption. At present, analogs have been developed only for the therapeutic management of osteoporosis, hyperparathyroidism, and skin hyperproliferative disorders [
10
]. However, there is still a great demand for solid data from randomized clinical trials aimed at the treatment/prevention of cancer, CVD, neurodegenerative disorders, infections, and autoimmune diseases.
Findings from genome-wide analyses suggest the occurrence of several variants of key proteins of vitamin D metabolism that may affect circulating concentrations of vitamin D metabolites. These proteins include VDR, DBP, and 7-dehydrocholesterol synthase [
6
].
It is reasonable to expect in the near future that these protein variants will be in vivo detected and the above cited issues will be overcome, so that the management of disorders developing in association with vitamin D deficiency will be greatly improved.
Acknowledgments
Publication costs were covered by the Master in Advanced Medical Biotechnologies for Laboratory Diagnostics of the Department of Biomedical Sciences, Dental Sciences and Morpho-functional Imaging.
Author Contributions
Daniela Caccamo conceived the work, and substantively revised the manuscript, Sergio Ricca and Monica Currò drafted the manuscript, and Riccardo Ientile approved the final version of the manuscript.
Conflicts of Interest
The authors declare no conflict of interest.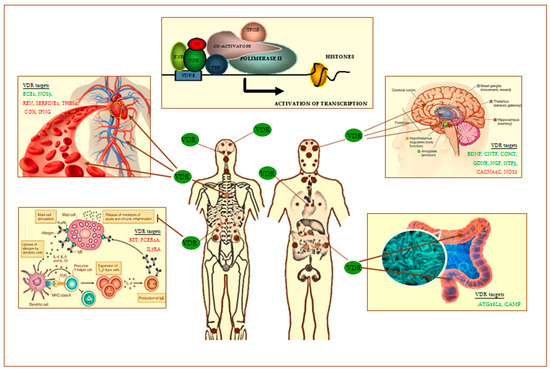 Figure 1.
VDR heterodimer transcription complex and VDR distribution throughout the human body (brown small and big dots) and. Tissue targets of VDR are the following: skin, brain regions, spinal cord, pituitary gland, salivary glands, nasal-oral mucosa, teeth, parathyroid, thymus, lung, heart, spleen, pancreas, adrenal gland, kidney, esophagus, stomach, pylorus, small intestine, large intestine, testis, prostate, bone, immune cells, others. On the left and right of the figure are shown some of VDR old (cardiovascular system) and emerging tissue targets (brain, intestinal microbioma, mast cells). Some of main known VDR gene targets in these latter are shown (
in green
, up-regulated;
in red
, down-regulated):
ATG16L1
, Autophagy-related protein 16-1;
BDNF
, brain-derived neurotrophic factor;
CACNA1C
, L-type voltage-sensitive calcium channel subunit A1C;
CAMP
, cathelicidin antimicrobial peptide;
CNTF
, ciliary neurotrophic factor;
COMT
, catechol-O-methyl-transferase;
COX
, cycloxygenase;
DRD2
, dopamine receptor D2;
ECE1
, Endothelin 1-converting enzyme;
FCER1A
, Fc fragment of IgE receptor IA;
GDNF
, glia-derived neurotrophic factor;
IFNG
, Interferon-γ;
IL3RA
, IL-3 receptor-alpha chain;
KIT
, gene-encoding CD117;
NGF
, nerve growth factor;
NOS3
, endothelial nitric oxide synthase;
NT3
, neurotrophin 3; Nurr1, nuclear receptor related 1 protein;
SERPINE1
, serine-protease inhibitor 1 (PAI-1);
REN
, Renin;
RXR
, retinoid X receptor;
TBP
, TATA-binding protein;
TFIIB
, transcripton factor IIB;
THBS1
, Thrombospondin-1;
TRPV6
, transient receptor potential cation channel subfamily V member 6;
VDRE
, vitamin D response elements on DNA sequence;
VD
, vitamin D.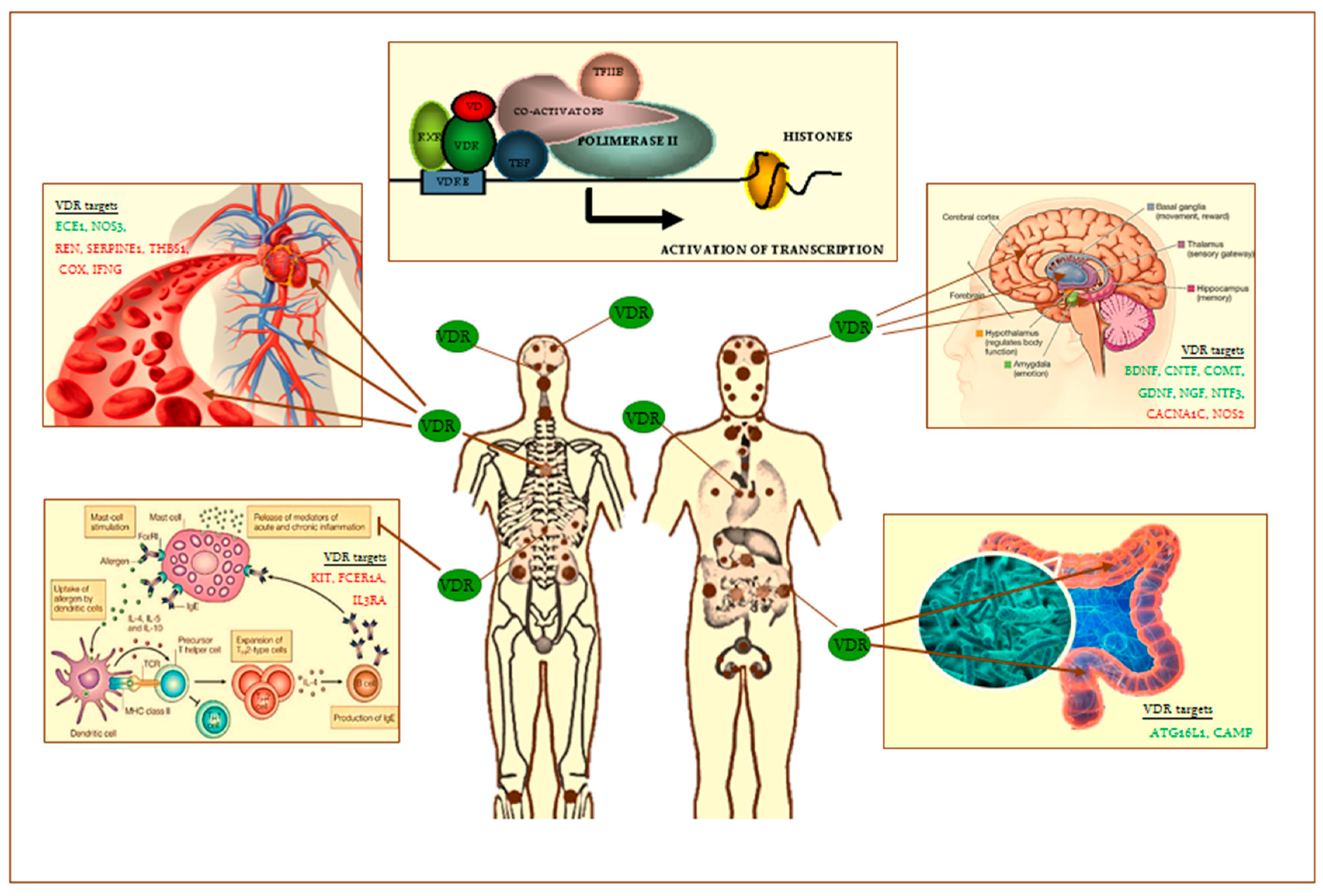 © 2018 by the authors. Licensee MDPI, Basel, Switzerland. This article is an open access article distributed under the terms and conditions of the Creative Commons Attribution (CC BY) license (http://creativecommons.org/licenses/by/4.0/).