Novel Bacterial Topoisomerase Inhibitors Exploit Asp83 and the Intrinsic Flexibility of the DNA Gyrase Binding Site
1
COBO Computational Bio-Organic Chemistry Bogotá, Chemistry Department, Universidad de los Andes, Cra 1 No 18A-12, 111711 Bogotá, Colombia
2
Laboratory of Molecular Modeling and Drug Discovery, Istituto Italiano di Tecnologia, via Morego 30, 16163 Genova, Italy
3
IAS-5/INM-9 Computational Biomedicine Forschungszentrum Jülich Wilhelm-Johnen-Straße, 52428 Jülich, Germany
†
These authors contributed equally to this work.
‡
Current Address: BiKi Technologies S.r.l., Via XX Settembre 33, 16121 Genoa, Italy.
*
Authors to whom correspondence should be addressed.
Received: 24 January 2018 / Revised: 29 January 2018 / Accepted: 30 January 2018 / Published: 3 February 2018
Abstract
DNA gyrases are enzymes that control the topology of DNA in bacteria cells. This is a vital function for bacteria. For this reason, DNA gyrases are targeted by widely used antibiotics such as quinolones. Recently, structural and biochemical investigations identified a new class of DNA gyrase inhibitors called NBTIs (i.e., novel bacterial topoisomerase inhibitors). NBTIs are particularly promising because they are active against multi-drug resistant bacteria, an alarming clinical issue. Structural data recently demonstrated that these NBTIs bind tightly to a newly identified pocket at the dimer interface of the DNA–protein complex. In the present study, we used molecular dynamics (MD) simulations and docking calculations to shed new light on the binding of NBTIs to this site. Interestingly, our MD simulations demonstrate the intrinsic flexibility of this binding site, which allows the pocket to adapt its conformation and form optimal interactions with the ligand. In particular, we examined two ligands, AM8085 and AM8191, which induced a repositioning of a key aspartate (Asp83B), whose side chain can rotate within the binding site. The conformational rearrangement of Asp83B allows the formation of a newly identified H-bond interaction with an NH on the bound NBTI, which seems important for the binding of NBTIs having such functionality. We validated these findings through docking calculations using an extended set of cognate oxabicyclooctane-linked NBTIs derivatives (~150, in total), screened against multiple target conformations. The newly identified H-bond interaction significantly improves the docking enrichment. These insights could be helpful for future virtual screening campaigns against DNA gyrase.
View Full-Text
►

▼

Figures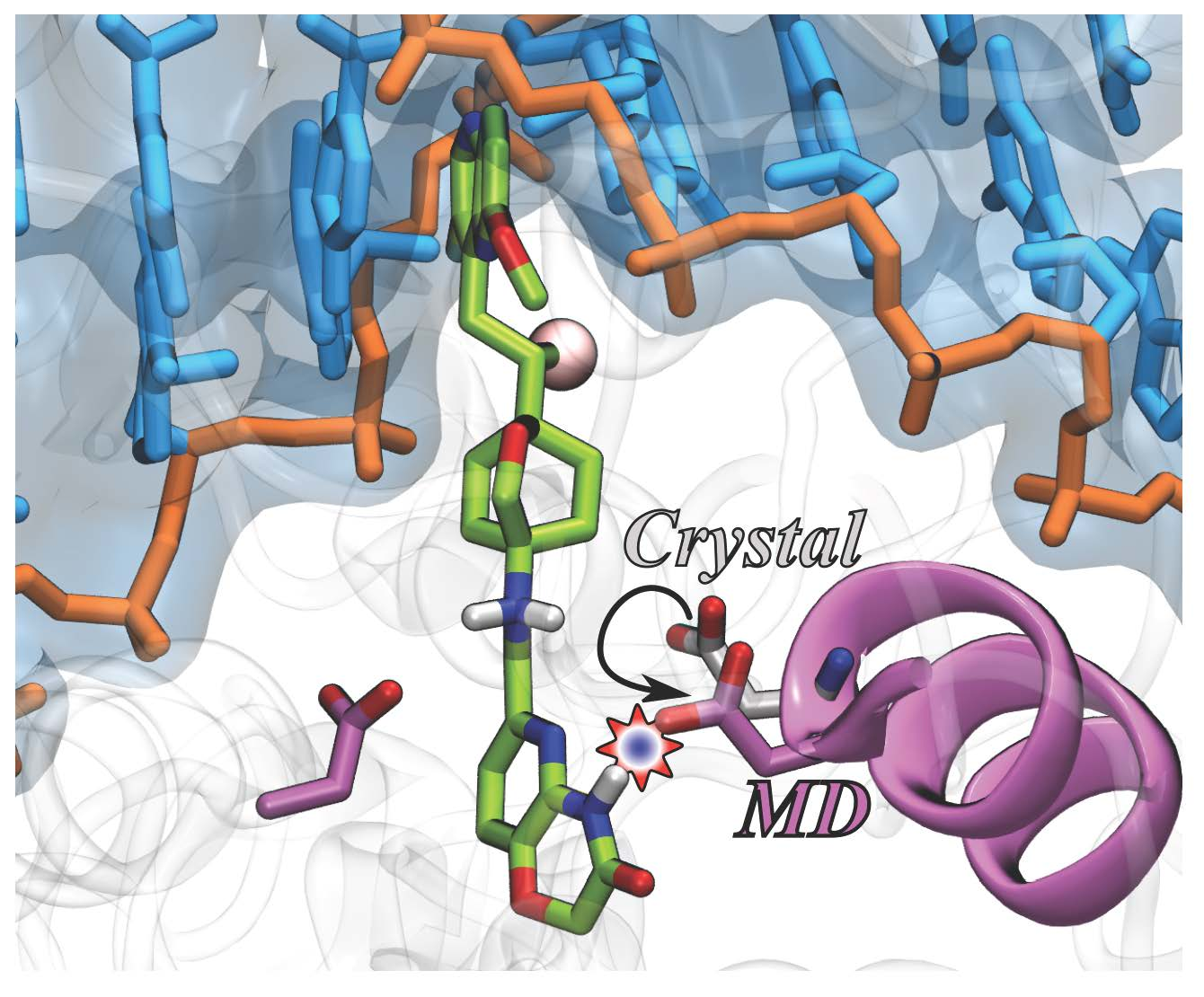 Graphical abstract
This is an open access article distributed under the
Creative Commons Attribution License
which permits unrestricted use, distribution, and reproduction in any medium, provided the original work is properly cited (CC BY 4.0).

Share & Cite This Article
MDPI and ACS Style
Franco-Ulloa, S.; La Sala, G.; Miscione, G.P.; De Vivo, M. Novel Bacterial Topoisomerase Inhibitors Exploit Asp83 and the Intrinsic Flexibility of the DNA Gyrase Binding Site. Int. J. Mol. Sci. 2018, 19, 453.
Note that from the first issue of 2016, MDPI journals use article numbers instead of page numbers. See further details here.
Related Articles
Comments
[Return to top]