Analysis of Transcriptional Responses of the Inflorescence Meristems in
Jatropha

curcas

Following Gibberellin Treatment

1

National Engineering Laboratory for Forest Tree Breeding, College of Biological Science and Technology, Beijing Forestry University, Beijing 100083, China

2

State Key Laboratory for Conservation and Utilization of Subtropical Agro-Bioresources, Guangdong Key Laboratory for Innovative Development and Utilization of Forest Plant Germplasm, College of Forestry and Landscape Architecture, South China Agricultural University, Guangzhou 510642, China

3

Forestry and Wood Technology Department, Faculty of Agriculture (EL-Shatby), Alexandria University, Alexandria 21527, Egypt

4

Key Laboratory of Plant Resources Conservation and Sustainable Utilization, South China Botanical Garden, Chinese Academy of Sciences, Guangzhou 510650, China

*

Authors to whom correspondence should be addressed.

Received: 27 December 2017 / Revised: 16 January 2018 / Accepted: 25 January 2018 / Published: 1 February 2018
Abstract
Jatropha curcas
L. seeds an oilseed plant with great potential for biodiesel production. However, low seed yield, which was limited by its lower female flowers, was a major drawback for its utilization. Our previous study found that the flower number and female-to-male ratio were increased by gibberellin treatment. Here, we compared the transcriptomic profiles of inflorescence meristem at different time points after gibberellic acid A3 (GA
3
) treatment. The present study showed that 951 differentially expressed genes were obtained in response to gibberellin treatment, compared with control samples. The 6-h time point was an important phase in the response to exogenous gibberellin. Furthermore, the plant endogenous gibberellin, auxin, ethylene, abscisic acid, and brassinolide-signaling transduction pathways were repressed, whereas the genes associated with cytokinin and jasmonic acid signaling were upregulated for 24-h time point following GA
3
treatment. In addition, the floral meristem determinacy genes (
JcLFY
,
JcSOC1
) and floral organ identity genes (
JcAP3
,
JcPI
,
JcSEP1-3
) were significantly upregulated, but their negative regulator (
JcSVP
) was downregulated after GA
3
treatment. Moreover, the effects of phytohormone, which was induced by exogenous plant growth regulator, mainly acted on the female floral differentiation process. To the best of our knowledge, this data is the first comprehensive analysis of the underlying transcriptional response mechanism of floral differentiation following GA
3
treatment in
J. curcas
, which helps in engineering high-yielding varieties of
Jatropha
.
View Full-Text
►

▼

Figures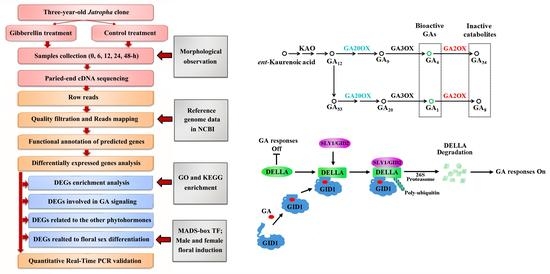 Graphical abstract
This is an open access article distributed under the
Creative Commons Attribution License
which permits unrestricted use, distribution, and reproduction in any medium, provided the original work is properly cited (CC BY 4.0).

Share & Cite This Article
MDPI and ACS Style
Hui, W.-K.; Wang, Y.; Chen, X.-Y.; Zayed, M.Z.; Wu, G.-J. Analysis of Transcriptional Responses of the Inflorescence Meristems in Jatropha curcas Following Gibberellin Treatment. Int. J. Mol. Sci. 2018, 19, 432.
Note that from the first issue of 2016, MDPI journals use article numbers instead of page numbers. See further details here.
Related Articles
Comments
[Return to top]