Open Access This article is
freely available
re-usable
Communication
Nanobody Based Dual Specific CARs
1
Department of Clinical Chemistry, Microbiology and Immunology, Ghent University, 9000 Ghent, Belgium
2
Center for Molecular Medicine Cologne (CMMC) and Departement of Internal Medicine, University of Cologne, 50923 Cologne, Germany
*
Author to whom correspondence should be addressed.
Received: 27 December 2017 / Accepted: 24 January 2018 / Published: 30 January 2018
Abstract
:
Recent clinical trials have shown that adoptive chimeric antigen receptor (CAR) T cell therapy is a very potent and possibly curative option in the treatment of B cell leukemias and lymphomas. However, targeting a single antigen may not be sufficient, and relapse due to the emergence of antigen negative leukemic cells may occur. A potential strategy to counter the outgrowth of antigen escape variants is to broaden the specificity of the CAR by incorporation of multiple antigen recognition domains in tandem. As a proof of concept, we here describe a bispecific CAR in which the single chain variable fragment (scFv) is replaced by a tandem of two single-antibody domains or nanobodies (nanoCAR). High membrane nanoCAR expression levels are observed in retrovirally transduced T cells. NanoCARs specific for CD20 and HER2 induce T cell activation, cytokine production and tumor lysis upon incubation with transgenic Jurkat cells expressing either antigen or both antigens simultaneously. The use of nanobody technology allows for the production of compact CARs with dual specificity and predefined affinity.
Keywords:
CAR T cell; nanobody; antigen escape
1. Introduction
As a proof of principle, we generated and validated a bispecific CAR, based on nanobodies (nanoCAR). The variable domains of the scFv were replaced by two nanobody VHs, each specific for a different antigen: CD20 and HER2. T cells expressing the bispecific nanoCAR were able to kill tumor cells expressing CD20, HER2 or both. The affinity of the nanoCAR for the antigen was similar to the original nanobodies, allowing the straightforward design of a bispecific CAR with predetermined affinities.
2. Results and Discussion
Both the cytokine secretion and cytotoxicity assay clearly showed that the bivalent nanobody based CAR acts in a Boolean OR-gate fashion. However, we observed no additive or synergistic effects. Furthermore, the functionality of the tandem nanoCAR T cells was lower, compared to the CD20 mono-specific nanoCAR T cells, when these were stimulated with CD20 single positive Jurkat cells.
We have shown for the first time that it is possible to generate a bispecific CAR based on nanobodies. This CAR act as a typical Boolean OR-gate: one of the two antigens is sufficient to elicit robust T cell activation, cytokine production and cytotoxic activity.
In conclusion, we have shown that bivalent nanobody based CARs are easily designed, expressed and are functional. An optimally designed nanoCAR may be advantageous in the treatment of leukemias as it should be able to prevent antigen escape.
3. Materials and Methods
3.1. Culture of Cell Lines
All the Jurkat lines were cultured, as per American Type Culture Collection (ATCC, Manassas, Virginia) recommendations, in standard complete medium, consisting of IMDM (Gibco, Invitrogen, Merelbeke, Belgium), supplemented with 10% fetal calf serum (FCS, Gibco, Invitrogen), 2 mM L-glutamine (Gibco, Invitrogen), 100 IU/mL penicillin (Gibco, Invitrogen) and 100 IU/mL streptomycin (Gibco, Invitrogen) (complete IMDM, cIMDM). The JY cell line, a human HLA-A2+ Eppstein Barr virus (EBV)-immortalized B-cell line, was obtained from the ATCC and cultured in cIMDM.
3.2. Production of Retroviral Vectors
The different constructs, as shown in
Figure 1
A, were generated by cloning a gBlock (IDT) coding for the murine kappa leader and the antigen-binding domain into the LZRS-IRES-eGFP vector that already contained a second generation CAR, using BamHI [
47
]. Viral particles were produced using the Phoenix packaging cell line. Retroviral supernatant was collected at day 14 after transfection and puromycin selection and frozen until use.
3.3. Generation of NanoCAR Expressing Human T Cells
Buffy coats from healthy donors were obtained from the Belgian Red Cross and used following the guidelines of the Medical Ethical Committee of Ghent University Hospital (CG20171208A, 8 December 2017), after informed consent had been obtained, in accordance with the Declaration of Helsinki. Mononuclear cells were isolated by Lymphoprep (Axis-shield, Dundee, UK) gradient centrifugation. T cells were enriched by magnetic activated cell sorting using Streptavidin microbeads (MACS beads, Milteyni, Leiden, The Netherlands), after staining with homemade CD4-biotin (OKT4) and CD8-biotin (OKT8). T cells were stimulated with CD3/CD28 T-cell activation Dynabeads (Life Technologies, Merelbeke, Belgium) at a 1:1 bead:cell ratio, in cIMDM medium, in the presence of 10 ng/mL IL-12, and retrovirally transduced on retronectin coated plates (TaKaRa, Saint-Germain-en-Laye, France) 72 h after stimulation. Cells resuspended in retroviral supernatant were centrifuged for 90 min at 2300 rpm at 32 °C. Dynabeads were removed before transduction.
Transduced cells were detected by eGFP expression or by an anti-IgG antibody directed against the human IgG1 spacer domain present in the extracellular domain of both CARs. Transduced cells were sorted and expanded on irradiated allogenic feeder cells, consisting of a mixture of 40-Gy irradiated peripheral blood mononuclear cells and 50-Gy irradiated JY cells. Cells were cultured in cIMDM (Gibco, Merelbeke, Belgium), supplemented with 1 μg/mL phytohemagglutinin (PHA, Sigma–Aldrich, Diegem, Belgium). IL-2 (40 IU/mL) (Roche, Vilvoorde, Belgium) was added on day 5 and day 10. Cells were restimulated every 7–14 days.
3.4. Flow Cytometry and Antibodies
Staining of surface markers was performed in DPBS with 1% FCS using the antibody concentration recommended by the supplier. Intracellular staining was performed following the supplier's protocol using BD Cytofix&Cytoperm (BD Biosciences, Erebodegem, Belgium). Flow cytometric analysis was performed on the LSR II and cell sorting on the ARIA II (both BD Biosciences). All populations analyzed were devoid of dead cells based on propidium iodide negativity and of doublets based on FSC-A FSC-W ratios. The following anti-human monoclonal antibodies were used: PE-conjugated—IgG-Fc (eBioscience, Merelbeke, Belgium); allophycocyanin (APC)-conjugated—CD20 (BD Biosciences), HER2 (BD Biosciences), CD8α (BD Biosciences), CD4 (BD Biosciences); APC-Cy7-conjugated—CD8α (BD Biosciences); biotine-conjugated—CD4 (OKT4, homemade), CD8 (OKT8, homemade).
3.5. 51Chromium Release Assay
Target cells were labelled with 51Chromium (Perkin Elmer, Zaventem, Belgium) for 90 min at 37 °C, washed and added at 103 cells per well to various ratios of effector T cells in 96 well V-bottomed plates (NUNC, Thermo Fisher Scientific, Merelbeke, Belgium). After 4 h of co-incubation, the supernatant was harvested and measured in a 1450 LSC & Luminescence Counter (Perkin Elmer, Zaventem, Belgium). Specific lysis was calculated, as follows: (experimental release–spontaneous release)/(maximal release–spontaneous release) × 100%.
3.6. Flowcytometric Determination of Cytokine Production
Two hundred thousand feeder culture expanded T cells were stimulated by co-incubation with Jurkat lines expressing the relevant antigen at 105 cells in 96-well U-bottom plates. After 1 h of stimulation, BD GolgiPlug (BD Biosciences) was added and after an additional 16 h of stimulation, the cells were harvested, permeabilized, labelled and analyzed by flowcytometry for cytokine expression using TNF-α-PE-Cy7, IFN-γ-PE and IL-2-APC (all three from BD Biosciences).
3.7. Affinity Determination
Jurkat lines expressing CD20, HER2 or both were coated in 96-well U-bottom plates (NUNC, Thermo Fisher Scientific) and nanobody was added in different dilutions. After incubation for 30 min at 4 °C, cells were labelled with mouse anti-FLAG antibody (Sigma-Aldrich) for 30 min at 4 °C, washed and labelled with goat anti-mouse-APC (Jackson ImmunoResearch Laboratories, St-Martens-Latem, Belgium) for 30 min at 4 °C. Cells were analyzed by flowcytometry after a final wash step.
Acknowledgments
We thank Sophie Vermaut for help with flow cytometry and cell sorting, Tom Boterberg for the irradiation procedures. This work was supported by the Research Foundation—Flanders (Fonds voor Wetenschappelijk Onderzoek), Stichting tegen Kanker, Kinderkankerfonds.
Author Contributions
Stijn De Munter and Bart Vandekerckhove conceived and designed the experiments; Stijn De Munter, Joline Ingels and Glenn Goetgeluk performed the experiments; Stijn De Munter, Joline Ingels and Bart Vandekerckhove analyzed the data; Sarah Bonte, Melissa Pille, Karin Weening and Tessa Kerre participated in the discussion; Hinrich Abken contributed reagents and materials. Stijn De Munter and Bart Vandekerckhove wrote the manuscript.
Conflicts of Interest
The authors declare no conflict of interest.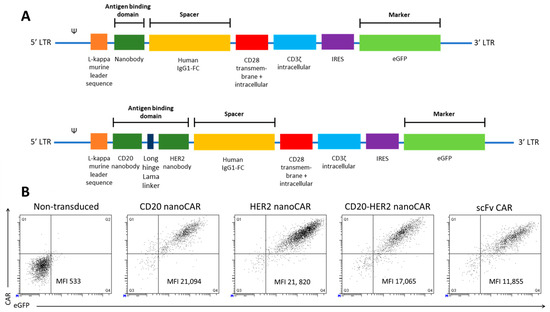 Figure 1. Nano chimeric antigen receptorS (CARs) are stably expressed on T cells at levels comparable to an scFv based CAR. (A) Scheme of the second generation nanoCAR constructs used to retrovirally transduce T cells. The antigen-binding domain is linked to the constant regions of the Fc tail of the human IgG1 antibody heavy chain, which is linked to the transmembrane and intracellular CD28 and intracellular CD3ζ chain. (B) Human peripheral blood T cells were activated and retrovirally transduced to express a nanoCAR. CAR expression was measured by flowcytometry on eGFP+ sorted cells after staining with a phycoerythrin (PE)-conjugated human anti-IgG antibody, which binds the spacer domain in the CAR. Non-transduced and scFv-CAR transduced T cells were used as controls. The figure is representative of five different healthy donors.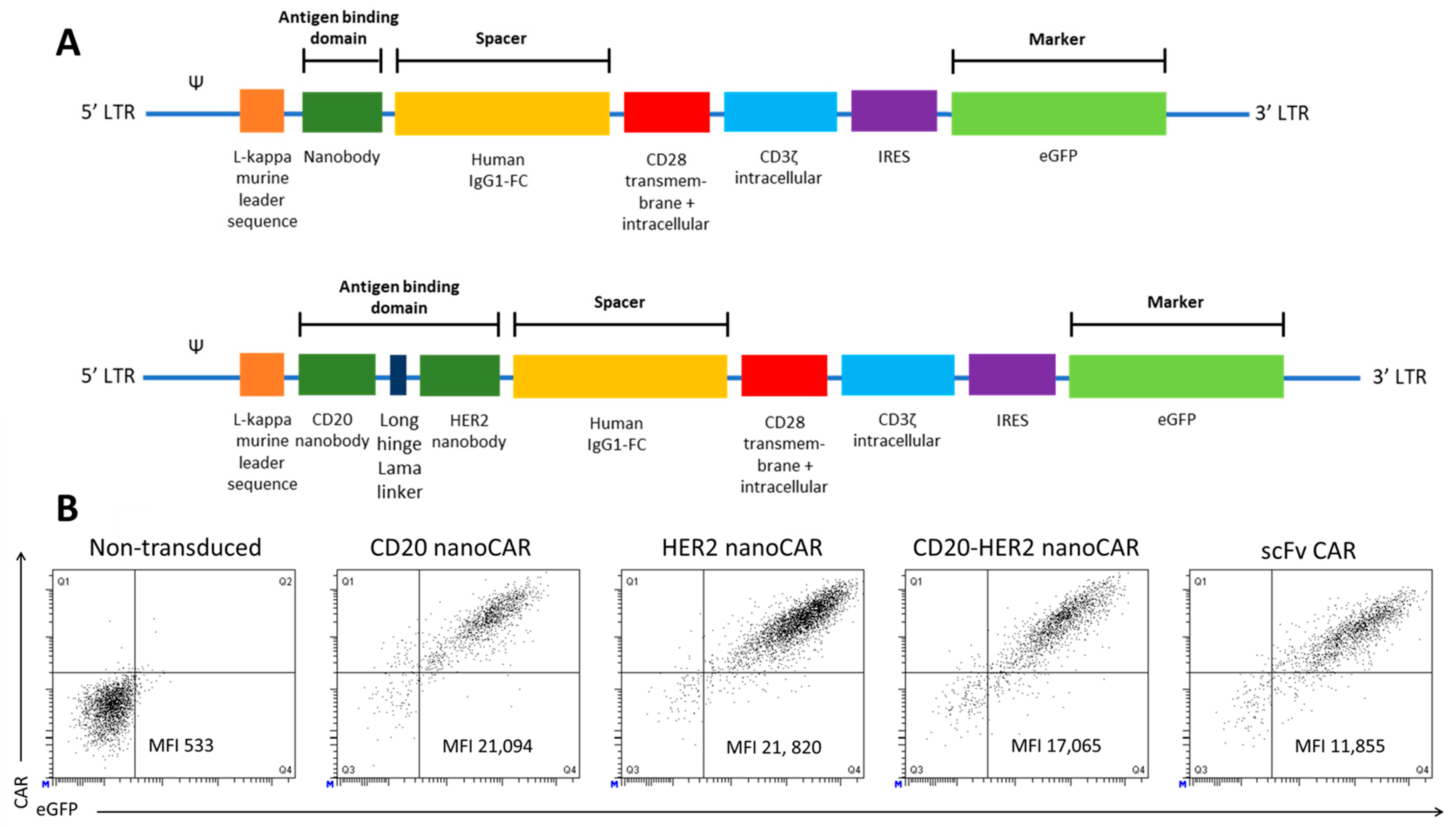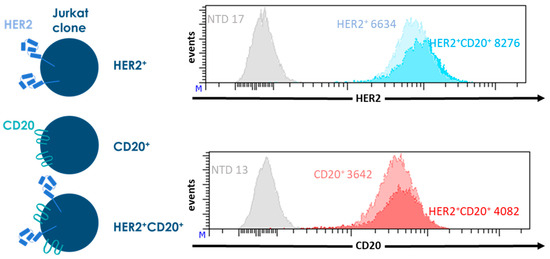 Figure 2.
Characterization of the transgenic Jurkat lines expressing CD20, HER2, or both, that are used as target cells in the experiments shown in
Figure 3
. Jurkat cells were retrovirally transduced with the sequences coding for CD20 of for HER2 truncated at position 695 (HER2Δ695). The transgenic Jurkat cells were stained for CD20 and HER2 expression and analyzed by flowcytometry. As antigen negative control, non-transduced Jurkat cells (NTD) were used, MFIs are shown for each Jurkat clone.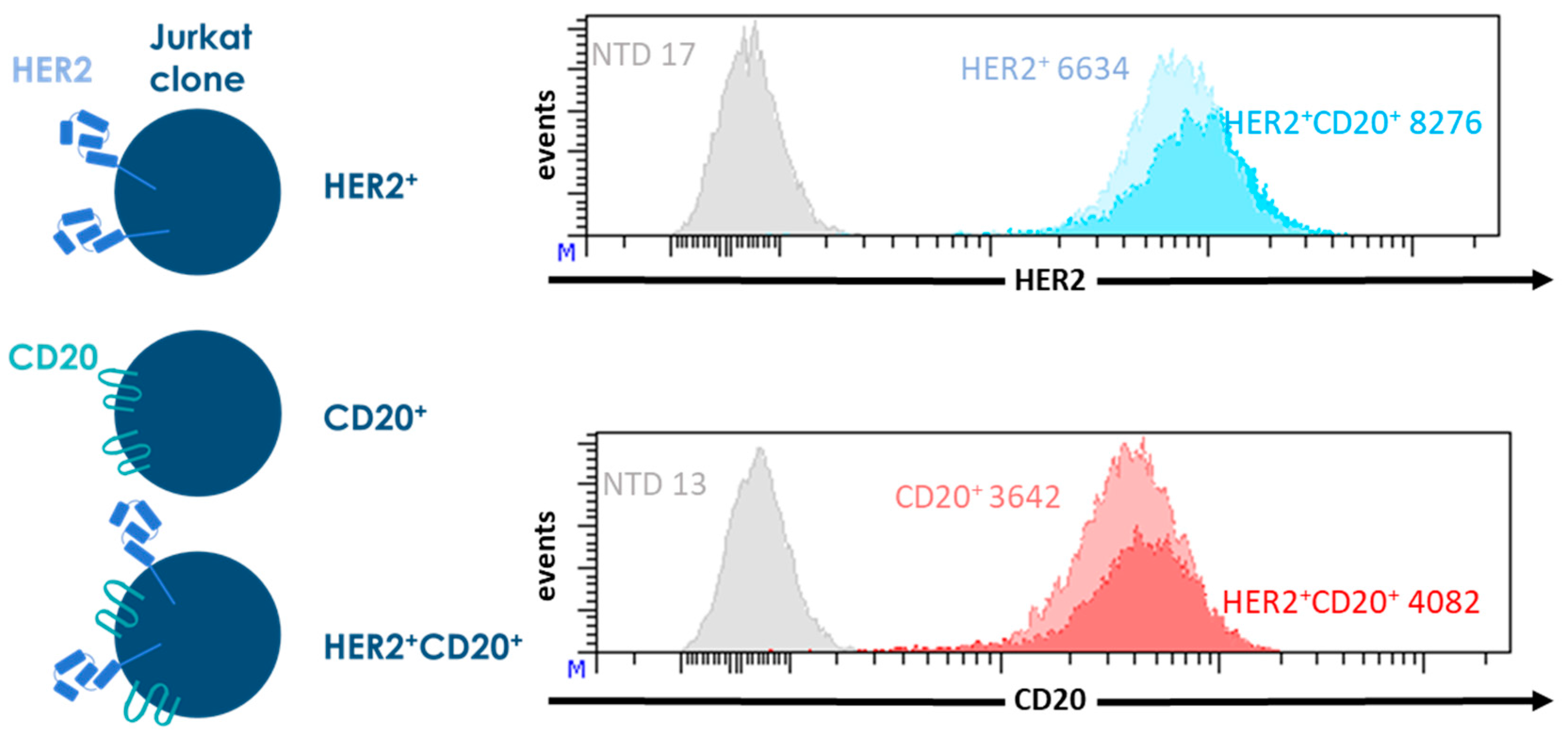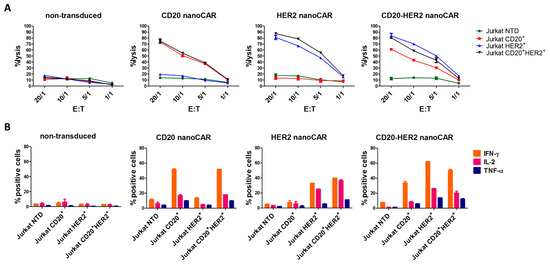 Figure 3. Validation of the monospecific and tandem nanoCARs. (A) Cell lysis of Jurkat target cells expressing CD20, HER2, or both, after 4 h co-incubation with T cells expressing the monospecific or tandem nanoCAR in different effector-target ratios. Reported values are means of duplicate determinations with error bars indicating the standard deviation. Results are representative of two independent experiments, performed with three different donors. (B) Cytokine production of nanoCAR transduced T cells was analysed by intracellular staining after co-incubation with Jurkat cells. Mean percentages of interferon-γ (IFN-γ), interleukin-2 (IL-2) and tumor necrosis factor-α (TNF-α) positive cells are shown. Error bars represent standard deviations. The data is representative of two independent experiments, performed with three different donors.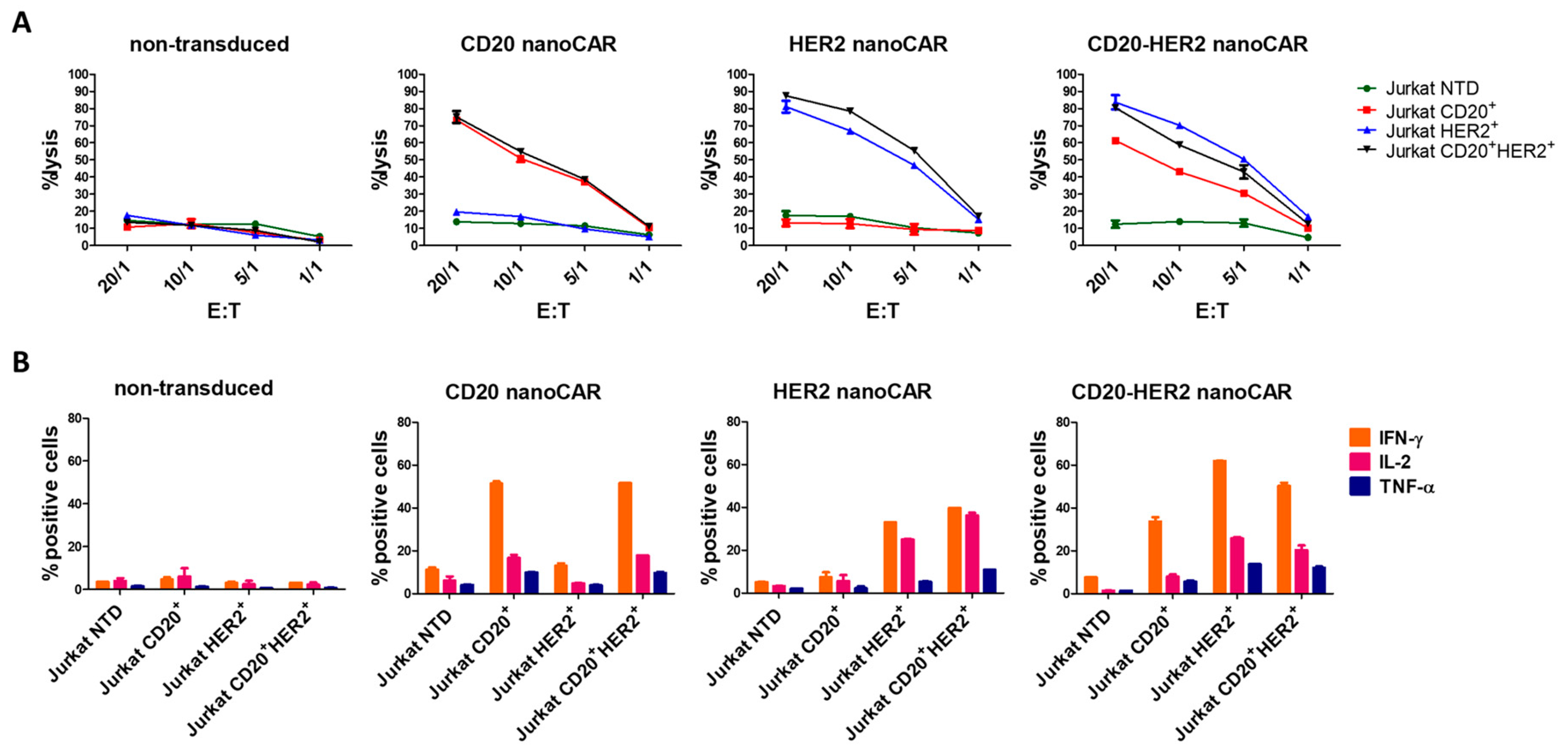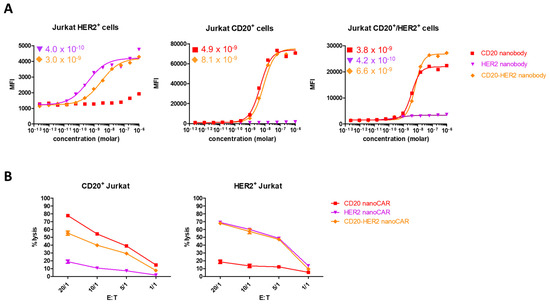 Figure 4. It is not the affinity of the different CAR structures that affects their function, but rather, the CAR structure. (A) Affinity determination of the monospecific of bispecific nanobody constructs. Affinities are shown in molar concentration. (B) Lysis by mono-specific or tandem nanoCAR T cells against Jurkat target cells expressing one antigen. Data show the mean values of duplicates and are representative of three independent experiments on three different donors.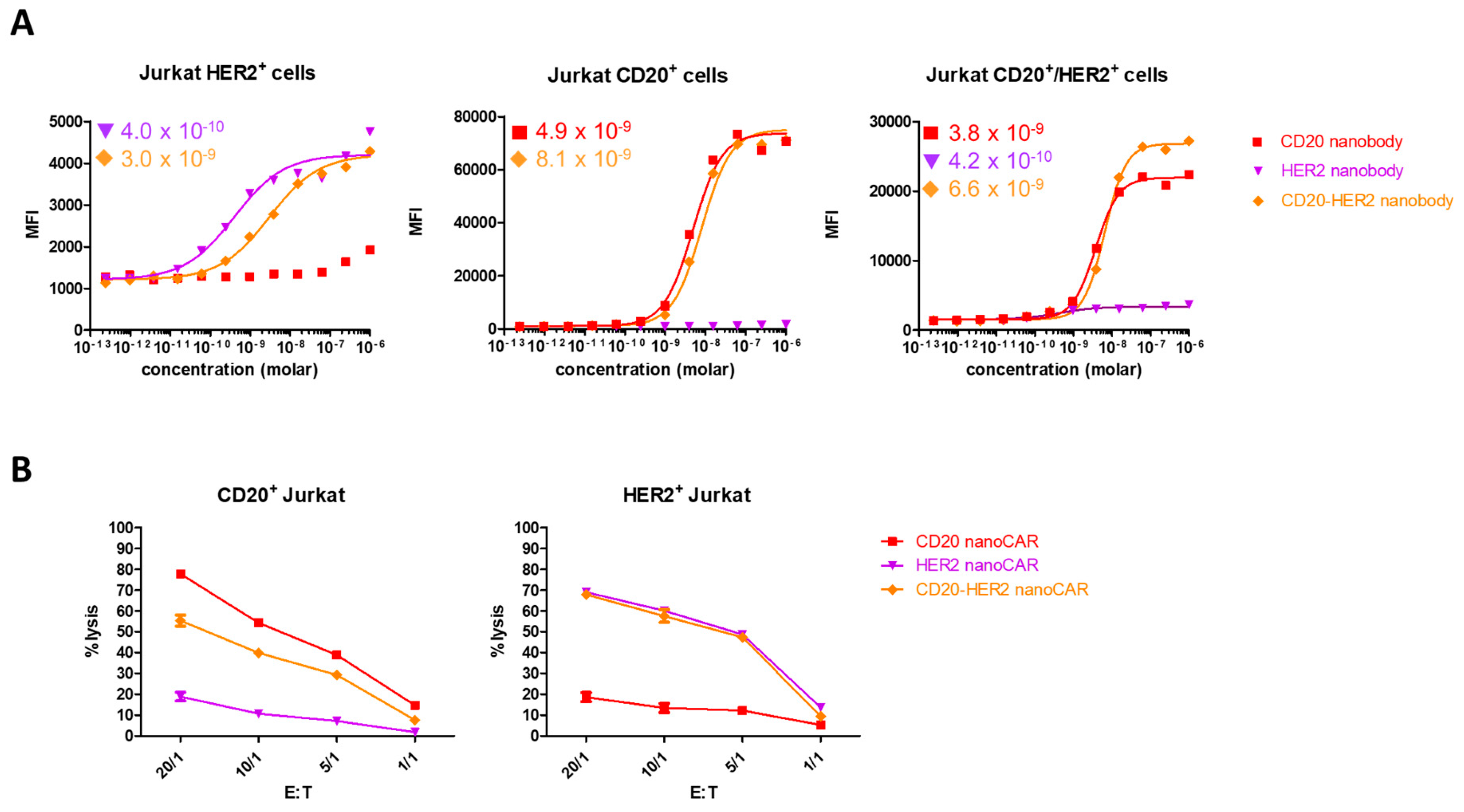 © 2018 by the authors. Licensee MDPI, Basel, Switzerland. This article is an open access article distributed under the terms and conditions of the Creative Commons Attribution (CC BY) license (http://creativecommons.org/licenses/by/4.0/).