Unveiling a Selective Mechanism for the Inhibition of α-Synuclein Aggregation by β-Synuclein
1
European Molecular Biology Laboratory (EMBL), Australia Node in Single Molecule Science, Sydney NSW 2031, Australia
2
School of Medical Sciences, The University of New South Wales, Sydney NSW 2031, Australia
3
Institute for Molecular Bioscience, The University of Queensland, St Lucia QLD 4076, Australia
*
Authors to whom correspondence should be addressed.
Received: 8 December 2017 / Revised: 15 January 2018 / Accepted: 19 January 2018 / Published: 24 January 2018
Abstract
α-Synuclein (αS) is an intrinsically disordered protein that is associated with Parkinson's disease (PD) through its ability to self-assemble into oligomers and fibrils. Inhibition of this oligomerization cascade is an interesting approach to developing therapeutical strategies and β-synuclein (βS) has been described as a natural negative regulator of this process. However, the biological background and molecular mechanisms by which this inhibition occurs is unclear. Herein, we focused on assessing the effect of βS on the aggregation of five αS pathological mutants linked to early-onset PD (A30P, E46K, H50Q, G51D and A53T). By coupling single molecule fluorescence spectroscopy to a cell-free protein expression system, we validated the ability of βS to act as a chaperone of αS, effectively inhibiting its aggregation. Interestingly, we found that βS does so in a selective manner, i.e., is a more effective inhibitor for certain αS pathological mutants—A30P and G51D—as compared to E46K, H50Q and A53T. Moreover, two-color coincidence experiments proved that this discrepancy is due to a preferential incorporation of βS into smaller oligomers of αS. This was validated by showing that the chaperoning effect was lost when proteins were mixed after being expressed individually. This study highlights the potential of fluorescence spectroscopy to deconstruct αS aggregation cascade and its interplay with βS.
View Full-Text
►

▼

Figures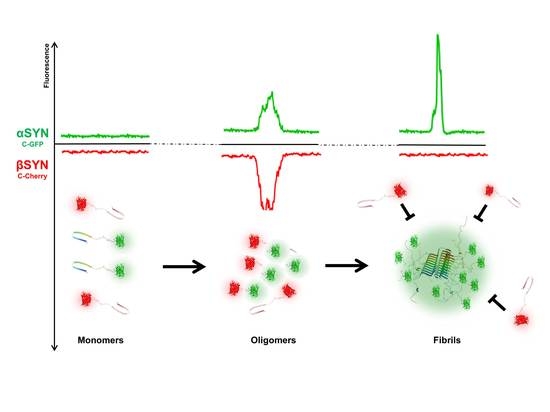 Graphical abstract
This is an open access article distributed under the
Creative Commons Attribution License
which permits unrestricted use, distribution, and reproduction in any medium, provided the original work is properly cited (CC BY 4.0).

Share & Cite This Article
MDPI and ACS Style
Leitao, A.; Bhumkar, A.; Hunter, D.J.B.; Gambin, Y.; Sierecki, E. Unveiling a Selective Mechanism for the Inhibition of α-Synuclein Aggregation by β-Synuclein. Int. J. Mol. Sci. 2018, 19, 334.
Note that from the first issue of 2016, MDPI journals use article numbers instead of page numbers. See further details here.
Related Articles
Comments
[Return to top]