The Xanthine Oxidase Inhibitor Febuxostat Suppresses the Progression of IgA Nephropathy, Possibly via Its Anti-Inflammatory and Anti-Fibrotic Effects in the gddY Mouse Model
1
Department of Medical Science, Graduate School of Medicine, Hiroshima University, 1-2-3 Kasumi, Minami-ku, Hiroshima City, Hiroshima 734-8551, Japan
2
Center for Translational Research in Infection & Inflammation, School of Medicine, Tulane University, 6823 St. Charles Avenue, New Orleans, LA 70118, USA
3
Division of Neurology, Respirology, Endocrinology and Metabolism, Department of Internal Medicine, Faculty of Medicine, University of Miyazaki, 5200 Kihara, Kiyotake, Miyazaki 889-1692, Japan
4
Division of Diabetes and Metabolic Diseases, Nihon University School of Medicine, Itabashi, Tokyo 173-8610, Japan
5
Department of Clinical Cell Biology, Graduate School of Medicine, Chiba University, 1-8-1 Inohana, Chuo-ku, Chiba City, Chiba 260-8670, Japan
6
Department of Nephrology, Hiroshima University Hospital, 1-2-3 Kasumi, Minami-ku, Hiroshima City, Hiroshima 734-8551, Japan
7
Division of Nephrology, Department of Internal Medicine, Juntendo University Faculty of Medicine, Hongo 2-1-1, Bunkyo-ku, Tokyo 113-8421, Japan
8
Division of Diabetes and Metabolism, The Institute for Adult Diseases, Asahi Life Foundation, Chuo-ku, Tokyo 103-0002, Japan
*
Authors to whom correspondence should be addressed.
Received: 29 October 2018 / Revised: 28 November 2018 / Accepted: 5 December 2018 / Published: 10 December 2018
Abstract
Recent clinical studies have demonstrated the protective effect of xanthine oxidase (XO) inhibitors against chronic kidney diseases, although the underlying molecular mechanisms remain unclear. However, to date, neither clinical nor basic research has been carried out to elucidate the efficacy of XO inhibitor administration for IgA nephropathy. We thus investigated whether febuxostat, an XO inhibitor, exerts a protective effect against the development of IgA nephropathy, using gddY mice as an IgA nephropathy rodent model. Eight-week-old gddY mice were provided drinking water with (15 μg/mL) or without febuxostat for nine weeks and then subjected to experimentation. Elevated serum creatinine and degrees of glomerular sclerosis and fibrosis, judged by microscopic observations, were significantly milder in the febuxostat-treated than in the untreated gddY mice, while body weights and serum IgA concentrations did not differ between the two groups. In addition, elevated mRNA levels of inflammatory cytokines such as TNFα, MCP-1, IL-1β, and IL-6, collagen isoforms and chemokines in the gddY mouse kidneys were clearly normalized by the administration of febuxostat. These data suggest a protective effect of XO inhibitors against the development of IgA nephropathy, possibly via suppression of inflammation and its resultant fibrotic changes, without affecting the serum IgA concentration.
View Full-Text
►

▼

Figures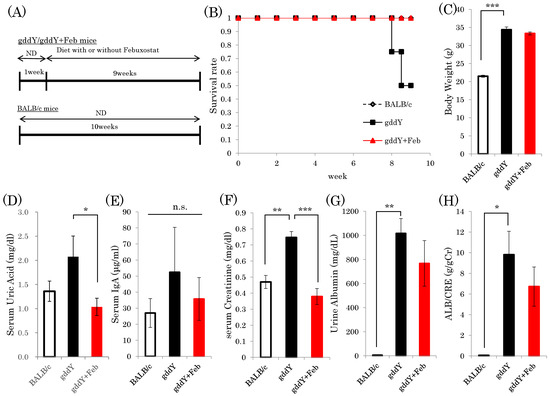 Figure 1
This is an open access article distributed under the
Creative Commons Attribution License
which permits unrestricted use, distribution, and reproduction in any medium, provided the original work is properly cited (CC BY 4.0).

Share & Cite This Article
MDPI and ACS Style
Inoue, M.-K.; Yamamotoya, T.; Nakatsu, Y.; Ueda, K.; Inoue, Y.; Matsunaga, Y.; Sakoda, H.; Fujishiro, M.; Ono, H.; Morii, K.; Sasaki, K.; Masaki, T.; Suzuki, Y.; Asano, T.; Kushiyama, A. The Xanthine Oxidase Inhibitor Febuxostat Suppresses the Progression of IgA Nephropathy, Possibly via Its Anti-Inflammatory and Anti-Fibrotic Effects in the gddY Mouse Model. Int. J. Mol. Sci. 2018, 19, 3967.
Note that from the first issue of 2016, MDPI journals use article numbers instead of page numbers. See further details here.
Related Articles
Comments
[Return to top]