The Role of Tumor Necrosis Factor α in the Biology of Uterine Fibroids and the Related Symptoms
1
Second Department of Obstetrics and Gynecology, The Center of Postgraduate Medical Education, 01-809 Warsaw, Poland
2
Department of Biochemistry and Clinical Chemistry, Department of Pharmacogenomics, Medical University of Warsaw, 02-097 Warsaw, Poland
3
Students' Scientific Association at the I Department of Obstetrics and Gynecology, Medical University of Warsaw, 02-015 Warsaw, Poland
4
Department of Obstetrics and Gynecological Nursing, Faculty of Health Sciences, Medical University of Gdansk, 80-210 Gdansk, Poland
5
INVICTA Fertility and Reproductive Center, 80-172 Gdansk, Poland
6
Department of Gynecological Endocrinology, Poznan University of Medical Sciences, 60-513 Poznan, Poland
7
Division of Histology and Embryology, Department of Human Morphology and Embryology, Wroclaw Medical University, 50-368 Wroclaw, Poland
8
Department of Obstetrics and Gynecology Pro-Familia Hospital, 35-001 Rzeszów, Poland
9
First Department of Obstetrics and Gynecology, The Center of Postgraduate Medical Education, 01-004 Warsaw, Poland
*
Author to whom correspondence should be addressed.
Received: 18 October 2018 / Revised: 27 November 2018 / Accepted: 28 November 2018 / Published: 4 December 2018
Abstract
Uterine fibroids (UFs) are the most common benign tumors of the female genital tract. The incidence of UFs has been estimated at 25–80% depending on selected population. The pathophysiology of UFs remains poorly understood. The transformation of smooth muscle cells of the uterus into abnormal, immortal cells, capable of clonal division, is the main component of all pathways leading to UF tumor formation and tumor necrosis factor α (TNF-α) is believed to be one of the key factors in this field. TNF-α is a cell signaling protein involved in systemic inflammation and is one of the cytokines responsible for the acute phase reaction. This publication presents current data about the role of tumor necrosis factor α in the biology of UFs and the related symptoms. TNF-α is an extremely important cytokine associated with the biology of UFs, UF-related symptoms and complaints. Its concentration has been proven to be elevated in women with clinically symptomatic UFs. The presented data suggest the presence of an "inflammation-like" state in women with UFs where TNF-α is a potent inflammation inducer. The origin of numerous symptoms reported by women with UFs can be traced back to the TNF-α influence. Nevertheless, our knowledge on this subject remains limited and TNF-α dependent pathways in UF pathophysiology should be investigated further.
View Full-Text
►

▼

Figures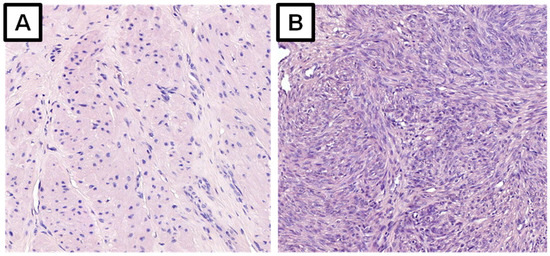 Figure 1
This is an open access article distributed under the
Creative Commons Attribution License
which permits unrestricted use, distribution, and reproduction in any medium, provided the original work is properly cited (CC BY 4.0).

Share & Cite This Article
MDPI and ACS Style
Ciebiera, M.; Włodarczyk, M.; Zgliczyńska, M.; Łukaszuk, K.; Męczekalski, B.; Kobierzycki, C.; Łoziński, T.; Jakiel, G. The Role of Tumor Necrosis Factor α in the Biology of Uterine Fibroids and the Related Symptoms. Int. J. Mol. Sci. 2018, 19, 3869.
Note that from the first issue of 2016, MDPI journals use article numbers instead of page numbers. See further details here.
Related Articles
Comments
[Return to top]