Methyl-β-Cyclodextrin Impairs the Phosphorylation of the β2 Subunit of L-Type Calcium Channels and Cytosolic Calcium Homeostasis in Mature Cerebellar Granule Neurons
Department of Biochemistry and Molecular Biology of the Faculty of Sciences and Institute of Molecular Pathology Biomarkers, University of Extremadura, 06006-Badajoz, Spain
*
Author to whom correspondence should be addressed.
†
These authors contributed equally to this paper.
Received: 25 September 2018 / Revised: 29 October 2018 / Accepted: 12 November 2018 / Published: 20 November 2018
Abstract
The activation of L-type calcium channels (LTCCs) prevents cerebellar granule neurons (CGNs) from entering low-K
+
-induced apoptosis. In previous works, we showed that LTCCs are largely associated with caveolin-1-rich lipid rafts in the CGN plasma membrane. In this work, we show that protein kinase A (PKA) and calmodulin-dependent protein kinase II (CaMK-II) are associated with caveolin-1-rich lipid rafts of mature CGNs, and we further show that treatment with the cholesterol-trapping and lipid raft-disrupting agent methyl-β-cyclodextrin decreases the phosphorylation level of the LTCC β
2
subunit and the steady-state calcium concentration in neuronal somas ([Ca
2+
]
i
) to values close to those measured in 5 mM KCl proapoptotic conditions. These effects correlate with the effects produced by a short (15 min) treatment of CGNs with H-89 and KN-93—inhibitors of PKA and CaMK-II, respectively—in 25 mM KCl medium. Moreover, only a 15 min incubation of CGNs with H-89 produces about a 90% inhibition of the calcium entry that would normally occur through LTCCs to increase [Ca
2+
]
i
upon raising the extracellular K
+
from 5 to 25 mM, i.e., from proapoptotic to survival conditions. In conclusion, the results of this work suggest that caveolin-1-rich lipid rafts play a major role in the control of the PKA- and CaMK-II-induced phosphorylation level of the LTCC β
2
subunit, thus preventing CGNs from entering apoptosis.
View Full-Text
►

▼

Figures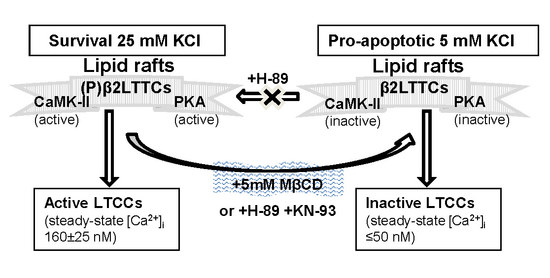 Graphical abstract
This is an open access article distributed under the
Creative Commons Attribution License
which permits unrestricted use, distribution, and reproduction in any medium, provided the original work is properly cited (CC BY 4.0).

Share & Cite This Article
MDPI and ACS Style
Fortalezas, S.; Marques-da-Silva, D.; Gutierrez-Merino, C. Methyl-β-Cyclodextrin Impairs the Phosphorylation of the β2 Subunit of L-Type Calcium Channels and Cytosolic Calcium Homeostasis in Mature Cerebellar Granule Neurons. Int. J. Mol. Sci. 2018, 19, 3667.
Note that from the first issue of 2016, MDPI journals use article numbers instead of page numbers. See further details here.
Related Articles
Comments
[Return to top]