Comparative Characterization of the Complete Mitochondrial Genomes of the Three Apple Snails (Gastropoda: Ampullariidae) and the Phylogenetic Analyses
1
College of Marine Sciences, South China Agricultural University, Guangzhou 510640, China
2
Department of Human Nutrition, Food and Animal Sciences, University of Hawaii at Manoa, Honolulu, HI 96822, USA
3
Institute of Tropical and Subtropical Ecology, South China Agricultural University, Guangzhou 510642, China
4
Xinjiang Acadamy of Animal Sciences, Institute of Veterinary Medicine (Research Center of Animal Clinical), Urumqi 830000, China
5
Guangdong Engineering Research Center for Modern Eco-Agriculture and Circular Agriculture, Guangzhou 510642, China
*
Author to whom correspondence should be addressed.
Received: 11 October 2018 / Revised: 31 October 2018 / Accepted: 2 November 2018 / Published: 19 November 2018
Abstract
The apple snails
Pomacea canaliculata
,
Pomacea diffusa
and
Pomacea maculate
(Gastropoda: Caenogastropoda: Ampullariidae) are invasive pests causing massive economic losses and ecological damage. We sequenced and characterized the complete mitochondrial genomes of these snails to conduct phylogenetic analyses based on comparisons with the mitochondrial protein coding sequences of 47 Caenogastropoda species. The gene arrangements, distribution and content were canonically identical and consistent with typical Mollusca except for the
tRNA-Gln
absent in
P. diffusa
. An identifiable control region (
d
-loop) was absent. Bayesian phylogenetic analysis indicated that all the Ampullariidae species clustered on the same branch. The genus
Pomacea
clustered together and then with the genus
Marisa
. The orders Architaenioglossa and Sorbeoconcha clustered together and then with the order Hypsogastropoda. Furthermore, the intergenic and interspecific taxonomic positions were defined. Unexpectedly,
Ceraesignum maximum
,
Dendropoma gregarium
,
Eualetes tulipa
and
Thylacodes squamigerus
, traditionally classified in order Hypsogastropoda, were isolated from the order Hypsogastropoda in the most external branch of the Bayesian inference tree. The divergence times of the Caenogastropoda indicated that their evolutionary process covered four geological epochs that included the Quaternary, Neogene, Paleogene and Cretaceous periods. This study will facilitate further investigation of species identification to aid in the implementation of effective management and control strategies of these invasive species.
View Full-Text
►

▼

Figures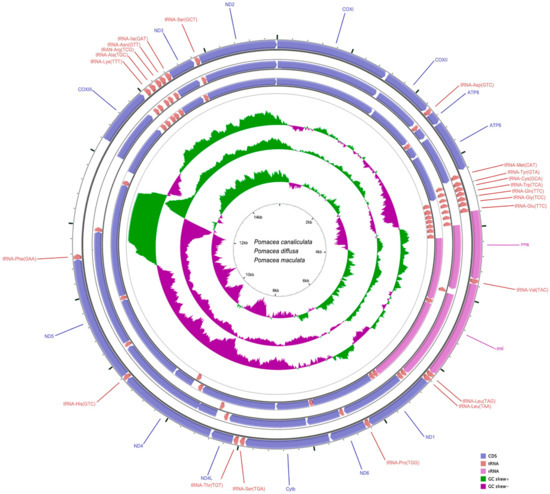 Figure 1
This is an open access article distributed under the
Creative Commons Attribution License
which permits unrestricted use, distribution, and reproduction in any medium, provided the original work is properly cited (CC BY 4.0).

Share & Cite This Article
MDPI and ACS Style
Yang, H.; Zhang, J.-E.; Xia, J.; Yang, J.; Guo, J.; Deng, Z.; Luo, M. Comparative Characterization of the Complete Mitochondrial Genomes of the Three Apple Snails (Gastropoda: Ampullariidae) and the Phylogenetic Analyses. Int. J. Mol. Sci. 2018, 19, 3646.
Note that from the first issue of 2016, MDPI journals use article numbers instead of page numbers. See further details here.
Related Articles
Comments
[Return to top]