Open Access This article is
freely available
re-usable
Review
Proteoglycans Are Attractive Biomarkers and Therapeutic Targets in Hepatocellular Carcinoma
Graduate School of Medicine, Department of Gastroenterology, The University of Tokyo, 7-3-1, Hongo, Bunkyo-ku, Tokyo 113-8655, Japan
*
Author to whom correspondence should be addressed.
Received: 10 September 2018 / Accepted: 4 October 2018 / Published: 8 October 2018
Abstract
:
Proteoglycans, which consist of a protein core and glycosaminoglycan chains, are major components of the extracellular matrix and play physiological roles in maintaining tissue homeostasis. In the carcinogenic tissue microenvironment, proteoglycan expression changes dramatically. Altered proteoglycan expression on tumor and stromal cells affects cancer cell signaling pathways, which alters growth, migration, and angiogenesis and could facilitate tumorigenesis. This dysregulation of proteoglycans has been implicated in the pathogenesis of diseases such as hepatocellular carcinoma (HCC) and the underlying mechanism has been studied extensively. This review summarizes the current knowledge of the roles of proteoglycans in the genesis and progression of HCC. It focuses on well-investigated proteoglycans such as serglycin, syndecan-1, glypican 3, agrin, collagen XVIII/endostatin, versican, and decorin, with particular emphasis on the potential of these factors as biomarkers and therapeutic targets in HCC regarding the future perspective of precision medicine toward the "cure of HCC".
Keywords:
proteoglycan; hepatocellular carcinoma; serglycin; syndecan-1; glypican 3; agrin; collagen XVIII; endostatin; versican; decorin
1. Introduction
Hepatocellular carcinoma (HCC) is among the most common cancers worldwide and the leading cause of cancer-related deaths, especially in less economically developed regions [
1
]. HCC is highly resistant and refractory to therapeutic interventions, such as surgical resection or radiofrequency ablation (RFA) therapy. In our institution, the 5- and 10-year survival rates of HCC patients treated with RFA were 60.2% and 27.3%, respectively [
2
]. One of the reasons for this is that the carcinogenic tissue microenvironment in the liver can give rise to recurrent de novo HCC tumors; therefore, it is almost impossible to "cure HCC".
The liver microenvironment consists of several components including the extracellular matrix (ECM), immune cells, Kupffer cells, endothelial cells, fibroblasts, cytokines, and various growth factors [
3
]. Proteoglycans are one of the major components of the ECM; they contain at least one glycosaminoglycan chain (heparan sulfate, chondroitin sulfate, keratan sulfate, and heparin) that is covalently attached to the core protein. Proteoglycans are classified based on three criteria: Cellular and subcellular location (intracellular, cell surface, pericellular, and extracellular), overall gene/protein homology, and the presence of specific protein modules within the protein cores (
Table 1
) [
4
].
In healthy tissues, proteoglycans are essential for proper structural development, organization, and hydration and also exert functional effects by interacting with other matrix structures, cells, and cellular mediators. In a carcinogenic tissue microenvironment, the expression of proteoglycans is altered markedly. Modified proteoglycan expression on tumor and stromal cell membranes affects cancer cell signaling, resulting in changes in growth, migration, and angiogenesis that facilitate tumorigenesis by modulating proteoglycan function [
5
].
Although more than three dozen proteoglycans have been discovered, physiological roles in the liver have only been investigated for a small number. In addition, the number of proteoglycans of which the function and precise mechanisms of action are understood is very limited.
Herein, we provide an overview of the current understanding of proteoglycans in HCC development and progression, with a particular focus on well-investigated proteoglycans, including serglycin, syndecan-1, glypican 3, agrin, collagen XVIII/endostatin, versican, and decorin. Among them, glypican 3 is the most promising molecule for both diagnosis and therapeutic applications in HCC, and follow syndecan-1 and collagen XVIII/endostatin. We also discuss the potential of proteoglycans as biomarkers and therapeutic targets for HCC to obtain an opportunity for much more precise personalized patient care in this "precision medicine" era.
2. Intracellular Proteoglycan: Serglycin
Serglycin is a proteoglycan with a small protein core (158 amino acids (aa) in humans). It is unique since it is the only intracellular proteoglycan discovered to date and is covalently substituted with heparin as a glycosaminoglycan in its consecutive Ser-Gly repeats [
4
]. Serglycin is mainly expressed in hematopoietic lineage cells and contributes to the proper storage and secretion of inflammatory mediators such as proteases, histamine, cytokines, and chemokines [
6
]. Recent studies have demonstrated that serglycin is overexpressed in a variety of cancers, including colon, breast [
7
], and lung [
8
] cancers, and that serglycin overexpression was correlated with a more aggressive malignant phenotype. In the normal liver, serglycin is weakly expressed mainly in the cytoplasm. In contrast, serglycin levels were significantly upregulated in HCC tissues, which was positively associated with vascular invasion, advanced Barcelona clinic liver cancer (BCLC) staging, early recurrence, and unfavorable prognosis in HCC patients. Furthermore, serglycin expression levels were an independent predictor of overall survival and time to recurrence in HCC patients, suggesting that it could predict a malignant phenotype similar to other types of cancer [
9
].
Although serglycin is an intracellular proteoglycan, it can also be secreted into serum or incorporated into the ECM [
10
]. Serglycin levels have been shown to be increased in the sera of HCC patients with bone metastasis. A diagnostic model established with serglycin and six other peptides (α-fetoprotein, prothrombin, isoform 2 of inter-alpha-trypsin inhibitor heavy chain H4, isoform 1 of autophagy-related protein 16-2, and transthyretin and fibrinogen beta chains) achieved a high recognition rate and predictive power for HCC patients with bone metastasis. Therefore, these serum peptides might serve as a diagnostic tool for HCC bone metastasis [
11
], although this requires further validation.
Mechanistically, serglycin can activate several cancer-associated signaling pathways in other types of cancer, including mitogen-activated protein kinase (MAPK)/β-catenin signaling [
12
], transforming growth factor-β2 (TGF-β2) signaling via interaction with CD44 [
13
], and the NF-κB pathway [
8
]. However, the function of serglycin in the liver is not well understood and needs to be investigated further.
3. Cell Surface Proteoglycan (Transmembrane): Syndecan-1/CD138
4. Cell Surface Proteoglycan (Glycosylphosphatidylinositol-Anchored): Glypican-3
5. Pericellular Proteoglycan: Agrin
6. Pericellular Proteoglycan: Collagen XVIII/Endostatin
7. Extracellular Proteoglycan (Hyalectan): Versican
8. Extracellular Proteoglycan (Small Leucine-Rich Proteoglycans): Decorin
Decorin is a small cellular or pericellular matrix proteoglycan that belongs to the small leucine-rich proteoglycan family. It is most abundant in the skin, connective tissues, muscles, and kidney [
4
]. In the healthy liver, decorin levels are generally low. However, decorin accumulates in chronic liver injury and is deposited along the sinusoidal walls [
123
]. Interestingly, decorin colocalizes with large amounts of TGF-β1, a key stimulator of fibrillogenesis and fibrogenesis, in fibrotic areas in chronic hepatitis and cirrhosis [
124
]. Decorin blocks signaling through TGF-β and modulates degradation of the ECM by inducing expression of the MMP collagenase-1 [
125
,
126
]. In HCC,
decorin
gene knockout enhanced experimental hepatic fibrosis and impaired the healing of hepatic fibrosis in mice [
127
]. Therapeutically, in a human hepatic stellate cell line, decorin inhibited TGF-β signaling, downregulated α-smooth muscle actin expression, and decreased cell proliferation [
128
].
Decorin acts as a tumor suppressor in a variety of cancers, mainly by blocking the action of receptor tyrosine kinases such as the receptors for hepatocytes and epidermal and insulin-like growth factors. In a model of chemical carcinogen-induced HCC,
decorin
knockout mice exhibited enhanced tumor prevalence and higher tumor count compared with wild-type mice [
129
]. Mechanistically, PDGFRα, EGFR, IGF-IR, and macrophage-stimulating 1 receptor (MST1R) were activated in
decorin
-deficient mice, suggesting that decorin acts as a secreted tumor suppressor during hepatocarcinogenesis by hindering the action of another receptor tyrosine kinase. Therefore, decorin could be a novel antitumor agent in HCC.
9. Future Perspectives
As discussed in this review, proteoglycans are ECM components that play a crucial role in the progression of HCC and have received significant attention as potential biomarkers and therapeutic targets (summarized in
Table 2
and
Table 3
and
Figure 1
.). Although proteoglycans have been investigated extensively and a large amount of knowledge regarding their roles in HCC has been collected, prognostic (recurrence, metastasis, and overall survival) or predictive (response to specific therapy) markers are still not available and only a few clinical trials targeting GPC3 are ongoing.
President Obama's Precision Medicine Initiative was launched on 30 January 2015 [
130
]; however, it is still far away from achieving precision medicine targeting proteoglycans. One hope is that, as mentioned in
Section 4
above, GPC3 could be an attractive target antigen for CAR-T cell therapy. A recent study showed that chondroitin sulfate proteoglycan 4 (CSPG4) is also an attractive target antigen for glioblastoma [
131
]. Intratumoral heterogeneity of proteoglycan expression may promote tumor immune escape due to antigen loss in this kind of therapy. Furthermore, CAR-T cell therapy-associated toxicities, including cytokine-release syndrome, CAR-T-cell-related encephalopathy syndrome, and fulminant hemophagocytic lymphohistiocytosis need to be well monitored and managed [
132
]. This novel immunotherapy targeting proteoglycans overexpressed in malignant tumors has powerful potential to help attain complete responses to different types of cancer, including HCC.
Novel therapeutic approaches that take into account individual differences in "proteoglycans" expression may pave the way for the realization of "precision medicine" to cure this currently untreatable cancer.
Author Contributions
Y.T. wrote the manuscript and prepared figures and tables; R.T. revised the manuscript; K.K. supervised the entire project.
Acknowledgments
This research is supported by the Research Program on Hepatitis from Japan Agency for Medical Research and Development, AMED, JSPS KAKENHI Grant Numbers JP25460981, JP16K09342, Grants-in-Aid of The Fugaku Trust for Medicinal Research, The Tokyo Society of Medical Sciences, and Takeda Science Foundation.
Conflicts of Interest
The authors declare no conflict of interest.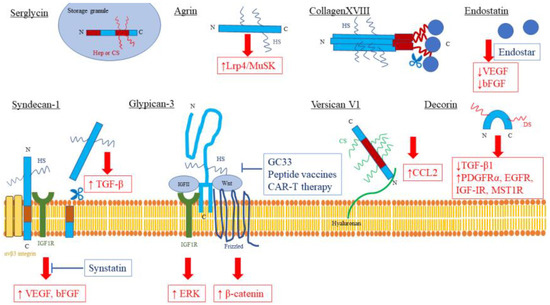 Figure 1. Proteoglycans as therapeutic targets in liver diseases. Therapeutic targets are highlighted in red boxes, and developing therapies are highlighted in blue boxes. N: amino-terminal, C: Carboxy-terminal, HS: Heparan Sulfate, CS: Chondroitin Sulfate, DS: Dermatan Sulfate, ↑: activated, ↓: inactivated, T-bar: inhibitor.

Table 1.
A comprehensive classification of proteoglycans. (modified from Reference [
4
], Reproduced with permission from Iozzo, R.V. et al., Matrix Biology; published by Elsevier, 2015).
Location
Classification
Eponym
Predominant GAG
Intracellular
Secretory granules

Serglycin

Hep
Cell surface
Transmembrane
Syndecan, 1–4
HS
NG2
CS
Betaglycan
CS/HS
Phosphacan
CS
GPI-anchored

Glypican, 1–6

HS
Pericellular
Basement membrane zone
Perlecan
HS
Agrin
HS
Collagen XVIII
HS
Collagen XV
CS/HS
Extracellular
Hyalectan Lectican
Aggrecan
CS/KS
Versican
CS
Neurocan
CS
Brevican
CS
SLRPs:canonical class I
Biglycan
CS
Decorin
DS
Asporin
ECM2
ECMX
SLRPs:canonical class II
Fibromodulin
KS
Lumican
KS
PRELP
Keratocan
KS
Osteoadherin
KS
SLRPs:canonical class III
Epiphycan
DS/CS
Optican
Osteoglycin
SLRPs:non-canonical class VI
Chondroadherin
Nyctalopin
Tsukushi
SLRPs:non-canonical class V
Podocan
Podocan-Like 1
SPOCK
Testican, 1–3
HS
GAG: Glycosaminoglycan, Hep: Heparin, HS: Heparan Sulfate, CS: Chondroitin Sulfate, KS: Keratan Sulfate, DS: Dermatan Sulfate, GPI: Glycosylphosphatidylinositol, SLRPs: Small leucine-rich proteoglycans. The proteoglycans that are discussed in this review are in red.
Proteoglycan
Sample
Biomarker
Serglycin
Tissue
↑ HCC with vascular invasion, advanced BCLC staging, and unfavorable prognosis [9]
Serum
↑ HCC with bone metastasis [11]
Syndecan-1
Tissue
↓ HCC with poor differentiation and high metastatic potential [16,17]
Serum
↑ CLD with fibrosis [19]
↑ HCC with advanced BCLC staging [20]
↑ HCC recurrence [21]
Glypican-3 *
Tissue
↑ HCC with poor prognosis [38,39]
↑ HCC recurrence after operation [40,41,42]
↑ HCC recurrence after liver transplantation [43]
Serum
↑ HCC (Independent to AFP) [34,48]
Agrin
Tissue
↑ CLD and HCC [73]
Serum
N/A
CollagenXVIII/Endostatin
Tissue
N/A
Serum
N/A
Versican
Tissue
↑ CLD with fibrosis [102,103,105]
↑ HCC with poor prognosis [104,105]
↑ early-stage HCC [106]
Serum
↑ CLD with fibrosis [103]
Decorin
Tissue
↑ CLD with fibrosis [123]
Serum
N/A
BCLC: Barcelona clinic liver cancer, CLD: Chronic liver disease, N/A: Not available, *: Applied for diagnosis, ↑: increased, ↓: decreased.
Proteoglycan
Therapeutic Target and Agent
Serglycin
Therapeutic target
N/A
Agent
N/A
Syndecan-1 *
Therapeutic target
↑ MMP-7/syndecan-1/TGF-β [23]
↑ Syndecan-1-IGF1R-αvβ3 integrin complex / VEGF, bFGF [27,28,29]
Agent
Synstatin (Syndecan-1-IGF1R-αvβ3 integrin complex inhibitor) (Preclinical) [27,28,29]
Glypican-3 **
Therapeutic target
↑ Wnt/Frizzled/β-catenin [53,54]
↑ IGF-II/IGF-1R/ERK [56,57]
↓ SHH/Patched-1 [52]
Agent
GC33(recombinant humanized monoclonal antibody) (Phase II) [60,61]
Peptide vaccines (Phase II) [65,66]
CAR-T therapy (preclinical) [68,69,70]
Agrin
Therapeutic target
↑ Lrp4/MuSK [76]
Agent
N/A
CollagenXVIII/Endostatin *
Therapeutic target
↓ VEGF [86]
↓ bFGF/FGF-2 [87]
Agent
Gene therapy (preclinical) [92,93,94,95]
Endostar (Recombinant human endostatin) (preclinical) [98,99]
Versican
Therapeutic target
↑ Versican/CCL2 [104]
Agent
N/A
Decorin
Therapeutic target
↓ TGF-β1 [125,126]
↑ PDGFRα, EGFR, IGF-IR, MST1R [129]
Agent
N/A
N/A: not available. CAR-T therapy: A chimeric antigen receptor-T cell therapy. **: Clinical trials ongoing. *: Preclinical, ↑: activated, ↓: inactivated.

© 2018 by the authors. Licensee MDPI, Basel, Switzerland. This article is an open access article distributed under the terms and conditions of the Creative Commons Attribution (CC BY) license (http://creativecommons.org/licenses/by/4.0/).