Open Access This article is
freely available
re-usable
Article
CytoCluster: A Cytoscape Plugin for Cluster Analysis and Visualization of Biological Networks
1
School of Information Science and Engineering, Central South University, Changsha 410083, China
2
School of software, Central South University, Changsha 410083, China
3
Department of Mechanical Engineering and Division of Biomedical Engineering, University of Saskatchewan, Saskatoon, SK S7N 5A9, Canada
*
Author to whom correspondence should be addressed.
Received: 7 August 2017 / Accepted: 23 August 2017 / Published: 31 August 2017
Abstract
:
Nowadays, cluster analysis of biological networks has become one of the most important approaches to identifying functional modules as well as predicting protein complexes and network biomarkers. Furthermore, the visualization of clustering results is crucial to display the structure of biological networks. Here we present CytoCluster, a cytoscape plugin integrating six clustering algorithms, HC-PIN (Hierarchical Clustering algorithm in Protein Interaction Networks), OH-PIN (identifying Overlapping and Hierarchical modules in Protein Interaction Networks), IPCA (Identifying Protein Complex Algorithm), ClusterONE (Clustering with Overlapping Neighborhood Expansion), DCU (Detecting Complexes based on Uncertain graph model), IPC-MCE (Identifying Protein Complexes based on Maximal Complex Extension), and BinGO (the Biological networks Gene Ontology) function. Users can select different clustering algorithms according to their requirements. The main function of these six clustering algorithms is to detect protein complexes or functional modules. In addition, BinGO is used to determine which Gene Ontology (GO) categories are statistically overrepresented in a set of genes or a subgraph of a biological network. CytoCluster can be easily expanded, so that more clustering algorithms and functions can be added to this plugin. Since it was created in July 2013, CytoCluster has been downloaded more than 9700 times in the Cytoscape App store and has already been applied to the analysis of different biological networks. CytoCluster is available from
http://apps.cytoscape.org/apps/cytocluster
.
Keywords:
biological networks; cluster analysis; cytoscape; visualization
Acknowledgment
This work was supported in part by the National Natural Science Foundation of China under Grants (No. 61622213, No. 61370024 and No. 61420106009).
Author Contributions
Min Li, Dongyan Li and Yu Tang conceived and designed the software, test and experiments; Dongyan Li and Yu Tang implemented the software and performed the experiments; Min Li and Dongyan Li wrote the paper. Min Li, Dongyan Li, Yu Tang, FangXiang Wu and Jianxin Wang revised the manuscript.
Conflicts of Interest
The authors declare no conflict of interest.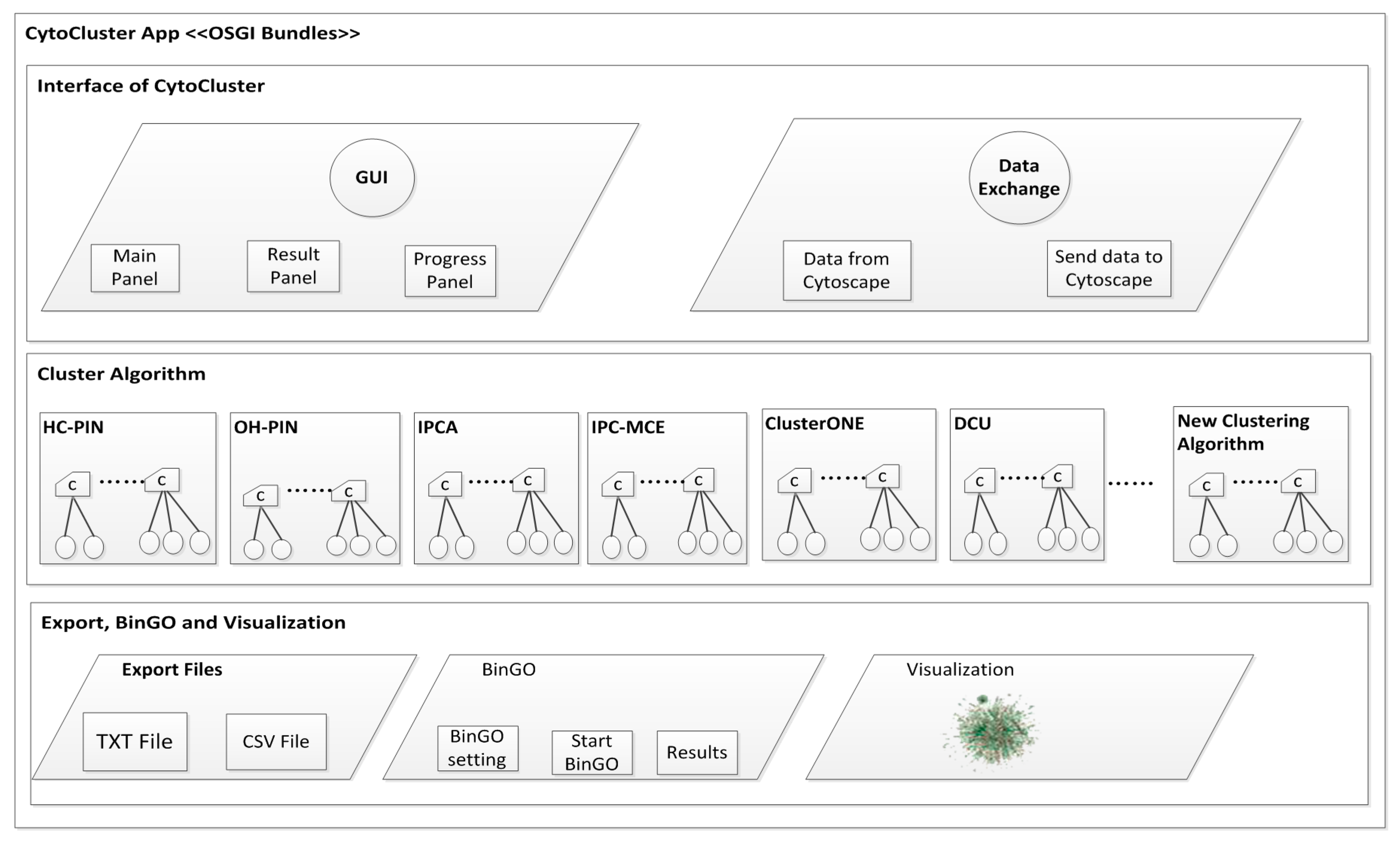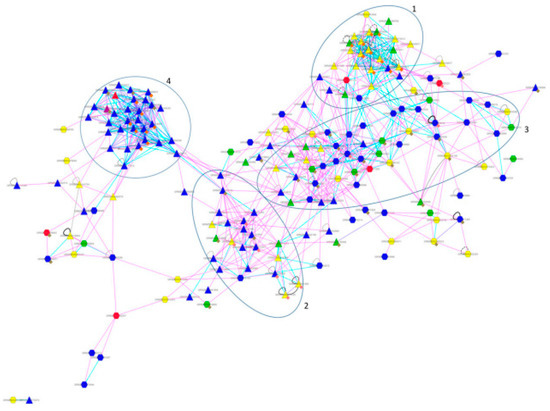 Figure 2.
Four subnetworks achieved in the first case [
58
].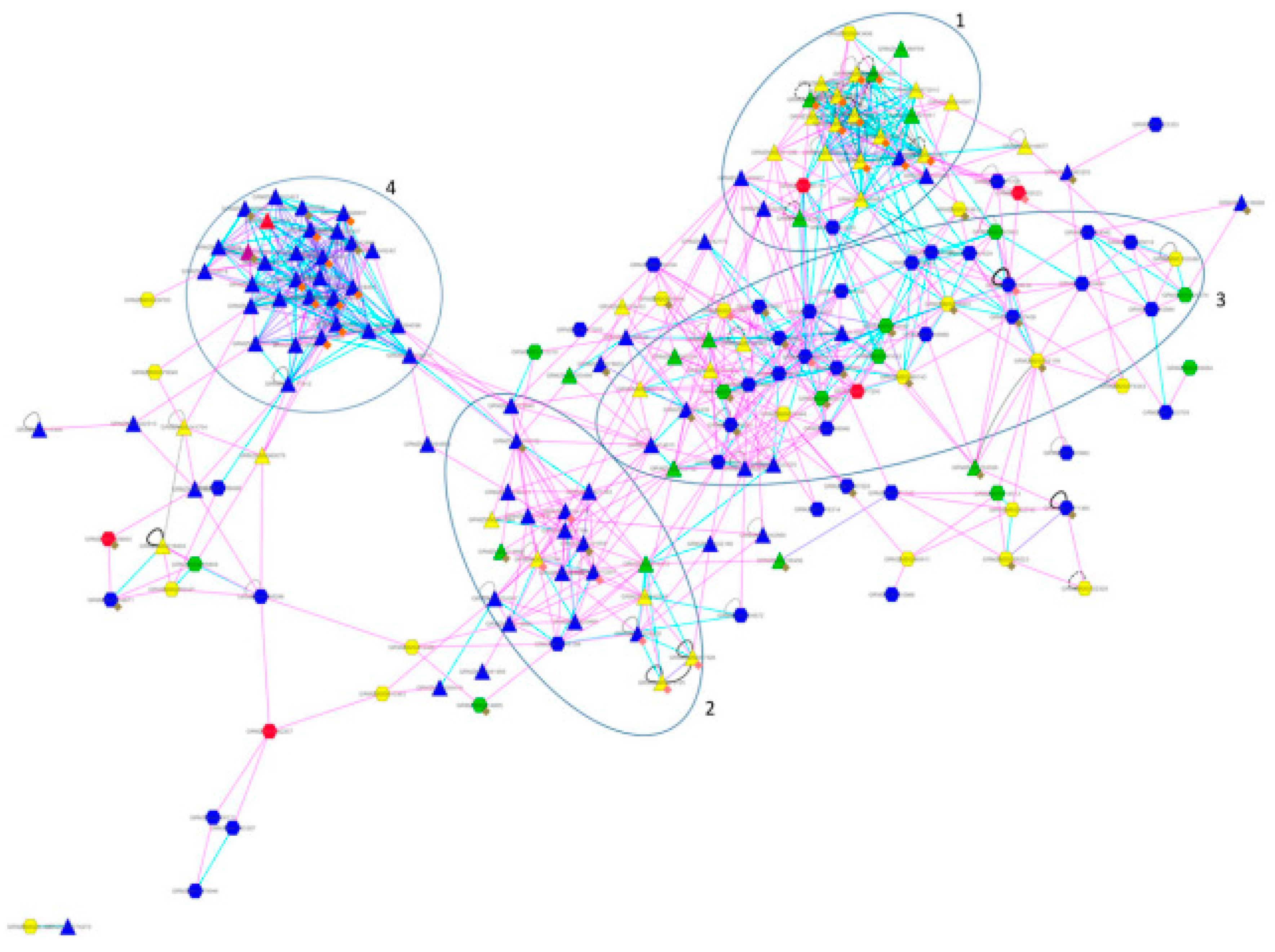 Algorithms
Application
Network
Description
Reference
IPCA
Exploring tomato gene functions
The tomato co-expression network was chosen and 465 complexes were found
IPCA was used to identity a densely connected network
[40]
Unravelling gene function
The tomato co-expression network was chosen and 465 complexes were found
IPCA was choosen to identify thick connected nodes
[41]
Predicting colon adenocarcinoma
The networks from IntAct and reactome were merged
IPCA was used to identify highly connected subnetworks
[42]
The correlation between cold and heat patterns
The network from RA 18 was diagnosed with defciency pattern and 15 others were diagnosed with nondefciency pattern
IPCA was used to analyze the characteristics of networks
[43]
Evidence-based complementary and alternative medicine
PPI network from genes was chosen so that the ratio of cold patterns to heat patterns in patients with RA was more or less than 1:1.4
IPCA was used to detect highly connected subnetworks
[44]
Cold and heat patterns of rheumatoid arthritis
PPI network from these genes was chose that the ratio of cold patterns to heat patterns in patients with RA was more or less than 1:2
Highly connected regions associated with typical TCM cold patterns and heat patterns were identified
[45]
Cold and heat pattern of rheumatoid arthritis
Network for differentially expressed genes between RA patients with TCM cold and heat patterns
IPCA was used to infer significant complexes or pathways in the PPI network
[46]
Functional networks
Network contained some gene expressions or regulated proteins
Then eight highly connected regions were found by IPCA to infer complexes or pathways
[47]
The molecular mechanism of interventions
PPI networks of biomedical combination was chosen and 11 complexes were found
IPCA was used to analyze the characteristics of the network
[48]
The synergistic sechanisms
Network associated with Salvia miltiorrhiza and Panax notoginseng
Significant complexes or pathways were inferred
[49]
HC-PIN
Constraints on community
Associations between bacteria OTUs and four subnetworks were found
Subnetworks of OTUs were detected
[50]
Strategies between two reef building cold-water coral species
Association network of the cold-water scleractinian corals bacterial communities
HC-PIN was used to identify OTUs
[51]
Biomarkers
The network was extracted from the TCGA database
miRNA-gene clusters were identified
[52]
Finding the candidate biomarkers for POAG disease
Network was extracted from previous studies with 474 proteins and nine subnetworks were found
HC-PIN was choosen to perform the clustering with a complex size threshold of 3
[53]
OH-PIN
Bacterial associations
Bulk soil DNA was extracted
The subnetworks were partitioned into modulars
[54]
ClusterONE
A census of human soluble protein complexes
Network was extracted from human HeLa S3 and HEK293 cells grown
ClusterONE was used to detect protein complexes
[55]
An arabidopsis
A network with 8900 nodes and 6382 edges was chosen and 701 clusters were found
ClusterONE was used to obtain subnetworks
[56]
Fndinge disease-drug modules
Disease-gene and drug-target associations were found from drug-target data
Overlapping subnetworks were identified
[57]
PPI: Protein-protein interaction; IPCA: Identifying Protein Complex Algorithm; TCM:Traditional Chinese Medicine; RA:Rheumatoid Arthritis; POAG: Primary Open Angle Glaucoma; OTU: Opearating Taxonomic Unit; TCGA:The Cancer Genome Atlas; OH-PIN: Identifying Overlapping and Hierarchical Modules in Protein Interaction Networks.

© 2017 by the authors. Licensee MDPI, Basel, Switzerland. This article is an open access article distributed under the terms and conditions of the Creative Commons Attribution (CC BY) license (http://creativecommons.org/licenses/by/4.0/).