Treatment of the First Acute Relapse Following Therapeutic Plasma Exchange in Formerly Glucocorticosteroid-Unresponsive Multiple Sclerosis Patients—A Multicenter Study to Evaluate Glucocorticosteroid Responsiveness
1
Department of Anaesthesiology and Intensive Care Medicine, University of Rostock, 18057 Rostock, Germany
2
Department of Neurology, Neuroimmunology Section, University of Rostock, 18147 Rostock, Germany
3
Department of Neurology, Medical University of Vienna, 1090 Vienna, Austria
4
Division of Nephrology, Department of Internal Medicine, University of Rostock, 18057 Rostock, Germany
5
Department of Neurology, Medical Faculty, Heinrich-Heine-University, 40225 Düsseldorf, Germany
*
Author to whom correspondence should be addressed.
Received: 27 June 2017 / Revised: 1 August 2017 / Accepted: 8 August 2017 / Published: 11 August 2017
Abstract
Therapeutic options to treat multiple sclerosis (MS) relapses comprise glucocorticosteroids (GCS) as first-line and therapeutic plasma exchange (TPE) as second-line treatments in GCS-unresponsive patients. No guidelines exist for the treatment of another relapse following TPE. We retrospectively analyzed the responsiveness to GCS in a subsequent relapse following TPE in previously GCS-unresponsive MS patients. Thirty-seven patients with GCS-unresponsive MS relapses received TPE (relapse A). All patients developed another relapse after the completion of TPE and received GCS again (relapse B). The primary study endpoint was the clinical response to GCS and TPE. Marked improvement was defined as clinically significant improvement in function, moderate improvement as a definite change of symptoms without significant impact on function, no effect comprised unchanged symptoms, and deterioration a worsening of symptoms or new deficits. The secondary endpoint was an improvement in expanded disability status scale (EDSS) scoring. All patients were GCS-unresponsive during relapse A and received TPE. During GCS treatment of relapse B, marked improvement was observed in 10, moderate improvement in 24, and no effect in three patients. The EDSS decreased in 15 patients. GCS might remain the first-line relapse treatment following TPE in formerly GCS-unresponsive MS patients.
View Full-Text
►

▼

Figures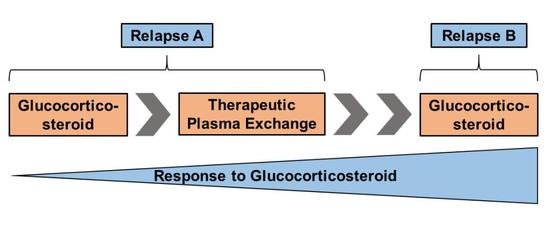 Graphical abstract
This is an open access article distributed under the
Creative Commons Attribution License
which permits unrestricted use, distribution, and reproduction in any medium, provided the original work is properly cited (CC BY 4.0).

Share & Cite This Article
MDPI and ACS Style
Ehler, J.; Blechinger, S.; Rommer, P.S.; Koball, S.; Mitzner, S.; Hartung, H.-P.; Leutmezer, F.; Sauer, M.; Zettl, U.K. Treatment of the First Acute Relapse Following Therapeutic Plasma Exchange in Formerly Glucocorticosteroid-Unresponsive Multiple Sclerosis Patients—A Multicenter Study to Evaluate Glucocorticosteroid Responsiveness. Int. J. Mol. Sci. 2017, 18, 1749.
Note that from the first issue of 2016, MDPI journals use article numbers instead of page numbers. See further details here.
Related Articles
Comments
[Return to top]