Open Access This article is
freely available
re-usable
Article
In Situ Forming Gelatin Hydrogels-Directed Angiogenic Differentiation and Activity of Patient-Derived Human Mesenchymal Stem Cells
1
Department of Biomedical Engineering, Vanderbilt University, Nasville, TN 37235, USA
2
Severance Biomedical Science Institute, College of Medicine, Yonsei University, Seoul 120-752, Korea
3
Department of Urology, College of Medicine, Yonsei University, Seoul 120-752, Korea
4
Department of Food Science and Biotechnology, College of Life Science, CHA University, Gyeonggi 443-742, Korea
5
Department of Molecular Science and Technology, Ajou University, Suwon 443-749, Korea
†
These authors contributed equally to this work.
*
Author to whom correspondence should be addressed.
Received: 16 July 2017 / Accepted: 1 August 2017 / Published: 4 August 2017
Abstract
:
Directing angiogenic differentiation of mesenchymal stem cells (MSCs) still remains challenging for successful tissue engineering. Without blood vessel formation, stem cell-based approaches are unable to fully regenerate damaged tissues due to limited support for cell viability and desired tissue/organ functionality. Herein, we report in situ cross-linkable gelatin−hydroxyphenyl propionic acid (GH) hydrogels that can induce pro-angiogenic profiles of MSCs via purely material-driven effects. This hydrogel directed endothelial differentiation of mouse and human patient-derived MSCs through integrin-mediated interactions at the cell-material interface, thereby promoting perfusable blood vessel formation in vitro and in vivo. The causative roles of specific integrin types (α1 and αvβ3) in directing endothelial differentiation were verified by blocking the integrin functions with chemical inhibitors. In addition, to verify the material-driven effect is not species-specific, we confirmed in vitro endothelial differentiation and in vivo blood vessel formation of patient-derived human MSCs by this hydrogel. These findings provide new insight into how purely material-driven effects can direct endothelial differentiation of MSCs, thereby promoting vascularization of scaffolds towards tissue engineering and regenerative medicine applications in humans.
Keywords:
injectable gelatin hydrogels; patient-derived mesenchymal stem cells; integrin-mediated interactions; material-driven endothelial differentiation; angiogenesis
Acknowledgments
This study was financially supported by the Basic Science Research Program through the National Research Foundation of Korea (NRF) funded by the Ministry of Science, ICT & Future Planning (NRF-2016M3A9E9941743 and NRF-2015R1A2A1A14027221).
Author Contributions
Yunki Lee, Ki Dong Park, and Hak-Joon Sung conceived and designed the study; Yunki Lee, Daniel A. Balikov, and Sue Hyun Lee performed the in vitro and in vivo experiments; Yunki Lee, Daniel A. Balikov, Jung Bok Lee, Seung Hwan Lee, and Jong Hun Lee performed the data analysis; Hak-Joon Sung provided guidance on the whole study. Yunki Lee wrote the paper. All authors read and approved the manuscript.
Conflicts of Interest
The authors declare no conflict of interest.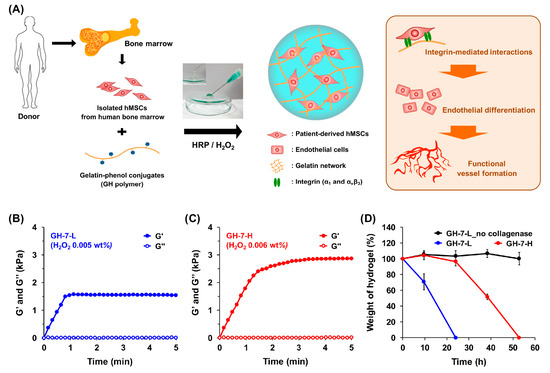 Figure 1.
In situ forming gelatin−hydroxyphenyl propionic acid (GH) hydrogels as a translatable platform for mesenchymal stem cell (MSC) delivery. Schematic illustration of GH hydrogels that direct endothelial differentiation of MSCs and induce robust vascularization via integrin-mediated interactions. MSCs are collected from three patients' bone marrow (>65 years old) and loaded in GH hydrogel matrices during HRP/H
2
O
2
cross-linking reaction (
A
); Time-sweep elastic modulus (G') and viscous modulus (G") of GH hydrogels with different concentration of H
2
O
2
(0.005 wt % for GH-7-L and 0.006 wt % for GH-7-H) and HRP (2.5 µg/mL) measured by rheometer (
B
,
C
); In vitro degradation profiles of GH-7-L and GH-7-H hydrogels in the presence or absence of collagenase (0.4 µg/mL) treatment (
n
= 3) (
D
).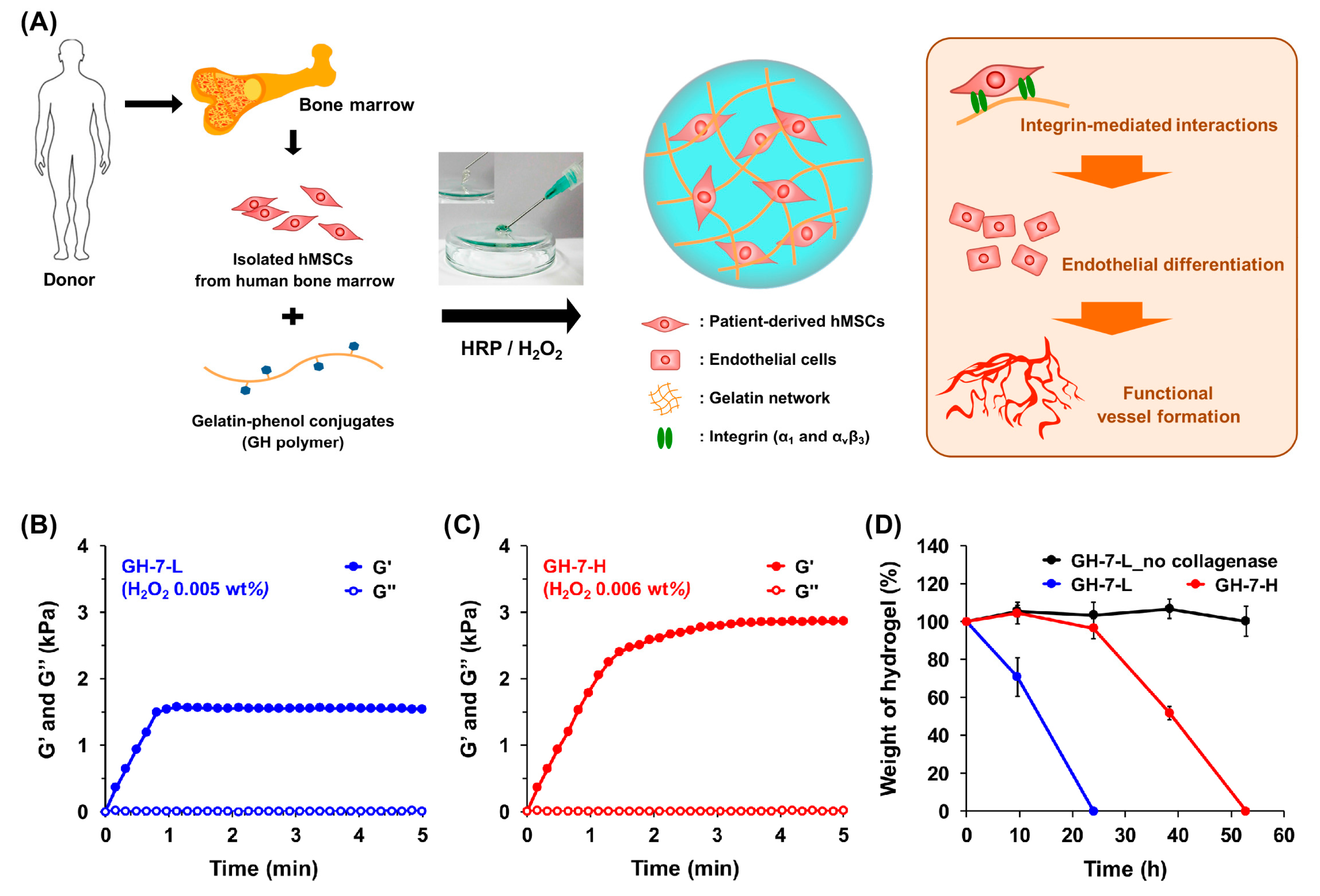 Figure 2.
Integrin-mediated mechanisms at the cell–material interface. mRNA expression levels of mMSCs cultured for 15 days either on tissue culture polystyrene (TCPS) (control) or embedded in GH-7-L and GH-7-H hydrogels, *
p
< 0.05 vs. TCPS (
n
= 3) (
A
); Integrin inhibition effects on connectivity of blood vessels formed when mMSCs were cultured in GH-7-L and GH-7-H hydrogels. The experiment groups include mMSCs cultured on TCPS, GH-7-L, and GH-7-H gels for 15 days with no treatment, soluble vascular endothelial growth factor (VEGF), P11 (integrin α
v
β
3
inhibitor), and obtustatin (integrin α
1
inhibitor). Scale bars indicate 200 µm (
B
).

Figure 3.
In vitro endothelial differentiation of patient-derived MSCs cultured in GH hydrogels. Live/dead staining images of hMSCs in GH-7-L and GH-7-H gels on days 1 and 14 post culture. Scale bars = 100 µm (
A
); Quantification of viable cells (%) at day 1 and 14 (
B
); mRNA expression levels of endothelial cell markers (FLK1 and CD31) in hMSCs determined by qRT-PCR after 21 days of culture in GH gels. As a control, the same number of cells was seed on TCPS. *
p
< 0.05 vs. TCPS (
n
= 3) (
C
).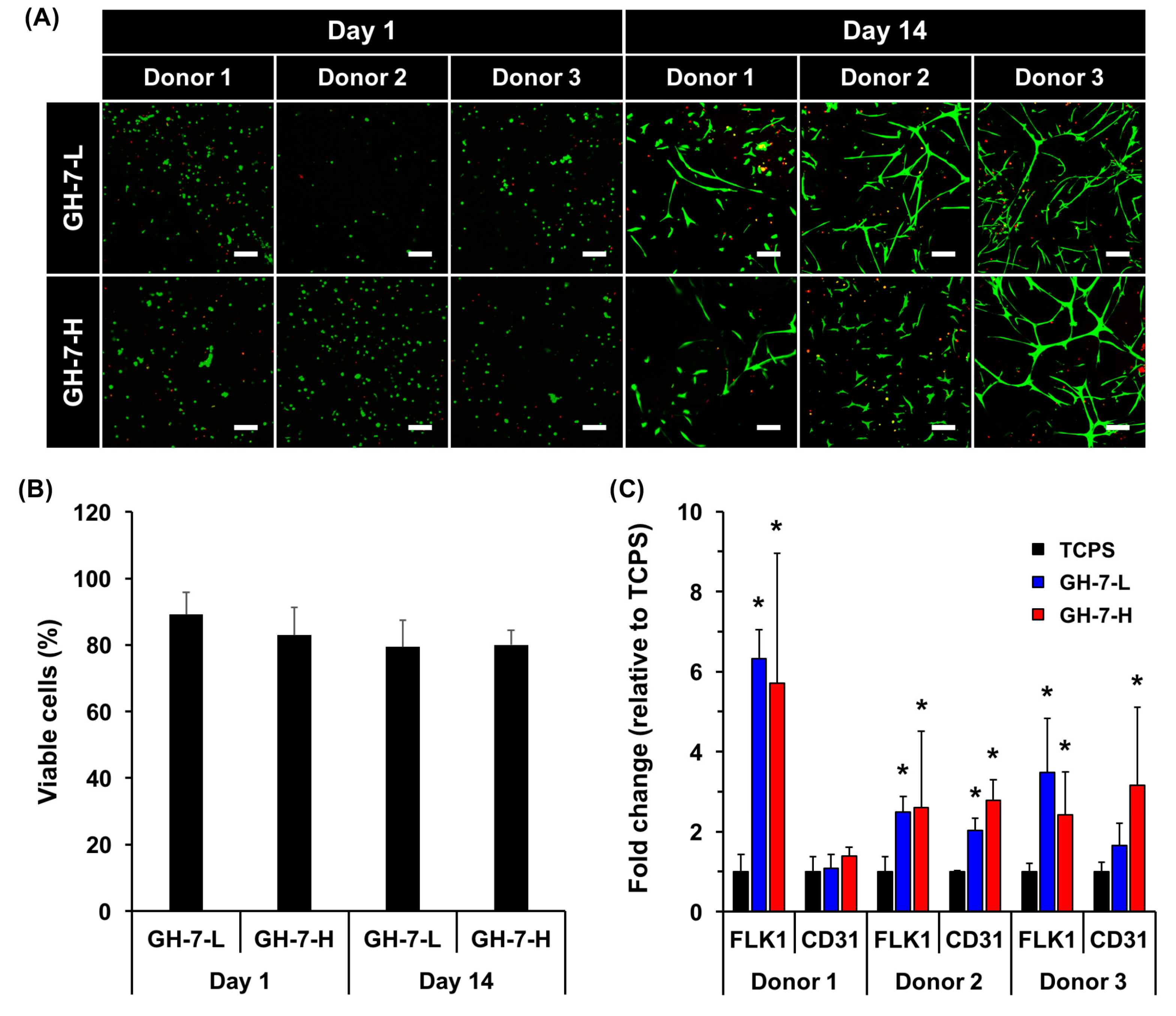 Figure 4.
In vivo vascularization of hMSCs with GH hydrogels subcuntaneously delivered into nude mice. Representative images (surface and cross-section) of perfusable vasculature from delivered hMSCs in the GH gel loaded on polyvinyl alcohol (PVA) implants at two weeks post implantation. Yellow lines mark the surface boundaries of implants, and scale bars indicate 200 µm (
A
); Relative ratio of functional blood vessels by crosslinked GH-7-L and GH-7-H gels compared to non-crosslinked GH control (ratio = 1). *
p
< 0.05 vs. Control (
n
= 3, from mixed donor cell groups) (
B
).
Table 1. Primer sequences used for quantitative real-time polymerase chain reaction (qRT-PCR).

| Gene | Accession Number | Forward Primer (5′–3′) | Reverse Primer (3′–5′) | Species |
| --- | --- | --- | --- | --- |
| Integrin α1 | NM_001033228.3 | TCAGTGGAGAGCAGATCGGA | CCCACAGGGCTCATTCTTGT | Mouse |
| Integrin αv | NM_008402.3 | GTGCCAGCCCATTGAGTTTG | TGGAGCACAGGCCAAGATTT | Mouse |
| Integrin β3 | NM_016780.2 | GCCTGGTGCTCAGATGAGACT | GATCTTCGAATCATCTGGCCG | Mouse |
| ERK1 | NM_011952.2 | CAACCCAAACAAGCGCATCA | AGGAGCAGGACCAGATCCAA | Mouse |
| GAPDH | NM_001289726 | TGAAGCAGGCATCTGAGGG | CGAAGGTGGAAGAGTGGGAG | Mouse |
| FLK1 | NM_002253.2 | GAGGGGAACTGAAGACAGGC | GGCCAAGAGGCTTACCTAGC | Human |
| CD31 | NM_000442.4 | CCAAGCCCGAACTGGAATCT | CACTGTCCGACTTTGAGGCT | Human |
| GAPDH | NM_002046.4 | GCACCGTCAAGGCTGAGAAC | TGGTGAAGACGCCAGTGGA | Human |
© 2017 by the authors. Licensee MDPI, Basel, Switzerland. This article is an open access article distributed under the terms and conditions of the Creative Commons Attribution (CC BY) license (http://creativecommons.org/licenses/by/4.0/).