Regulation of NKG2D-Dependent NK Cell Functions: The Yin and the Yang of Receptor Endocytosis
1
Department of Molecular Medicine, Sapienza University of Rome, Laboratory Affiliated to Istituto Pasteur Italia—Fondazione Cenci Bolognetti, Viale Regina Elena 291, 00161 Rome, Italy
2
Centre d'Immunologie de Marseille-Luminy, Aix Marseille Université UM2, Inserm, U1104, CNRS UMR7280, 13288 Marseille, France
*
Author to whom correspondence should be addressed.
Received: 12 July 2017 / Revised: 27 July 2017 / Accepted: 30 July 2017 / Published: 2 August 2017
Abstract
Natural-killer receptor group 2, member D (NKG2D) is a well characterized natural killer (NK) cell activating receptor that recognizes several ligands poorly expressed on healthy cells but up-regulated upon stressing stimuli in the context of cancer or viral infection. Although NKG2D ligands represent danger signals that render target cells more susceptible to NK cell lysis, accumulating evidence demonstrates that persistent exposure to ligand-expressing cells causes the decrease of NKG2D surface expression leading to a functional impairment of NKG2D-dependent NK cell functions. Upon ligand binding, NKG2D is internalized from the plasma membrane and sorted to lysosomes for degradation. However, receptor endocytosis is not only a mechanism of receptor clearance from the cell surface, but is also required for the proper activation of signalling events leading to the functional program of NK cells. This review is aimed at providing a summary of current literature relevant to the molecular mechanisms leading to NKG2D down-modulation with particular emphasis given to the role of NKG2D endocytosis in both receptor degradation and signal propagation. Examples of chronic ligand-induced down-regulation of NK cell activating receptors other than NKG2D, including natural cytotoxicity receptors (NCRs), DNAX accessory molecule-1 (DNAM1) and CD16, will be also discussed.
View Full-Text
►

▼

Figures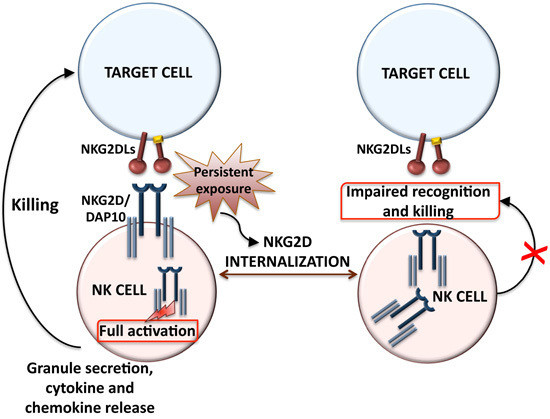 Graphical abstract
This is an open access article distributed under the
Creative Commons Attribution License
which permits unrestricted use, distribution, and reproduction in any medium, provided the original work is properly cited (CC BY 4.0).

Share & Cite This Article
MDPI and ACS Style
Molfetta, R.; Quatrini, L.; Santoni, A.; Paolini, R. Regulation of NKG2D-Dependent NK Cell Functions: The Yin and the Yang of Receptor Endocytosis. Int. J. Mol. Sci. 2017, 18, 1677.
Note that from the first issue of 2016, MDPI journals use article numbers instead of page numbers. See further details here.
Related Articles
Comments
[Return to top]