Open Access This article is
freely available
re-usable
Review
Roles of Wnt Target Genes in the Journey of Cancer Stem Cells
1
School of Life Sciences, Gwangju Institute of Science and Technology, Gwangju 61005, Korea
2
Cell Logistics Research Center, Gwangju Institute of Science and Technology, Gwangju 61005, Korea
3
Silver Health Bio Research Center, Gwangju Institute of Science and Technology, Gwangju 61005, Korea
4
Laboratory Animal Resource Center, Gwangju Institute of Science and Technology, Gwnagju 61005, Korea
†
These authors contributed equally to this work.

Received: 28 June 2017 / Accepted: 20 July 2017 / Published: 25 July 2017
Abstract
:
The importance of Wnt/β-catenin signaling in cancer stem cells (CSCs) has been acknowledged; however, the mechanism through which it regulates the biological function of CSCs and promotes cancer progression remains elusive. Hence, to understand the intricate mechanism by which Wnt controls stemness, the specific downstream target genes of Wnt were established by analyzing the genetic signatures of multiple types of metastatic cancers based on gene set enrichment. By focusing on the molecular function of Wnt target genes, the biological roles of Wnt were interpreted in terms of CSC dynamics from initiation to metastasis. Wnt signaling participates in cancer initiation by generating CSCs from normal stem cells or non-CSCs and augmenting persistent growth at the primary region, which is resistant to anti-cancer therapy. Moreover, it assists CSCs in invading nearby tissues and in entering the blood stream, during which the negative feedback of the Wnt signaling pathway maintains CSCs in a dormant state that is suitable for survival. When CSCs arrive at distant organs, another burst of Wnt signaling induces CSCs to succeed in re-initiation and colonization. This comprehensive understanding of Wnt target genes provides a plausible explanation for how Wnt allows CSCs variation during cancer progression.
Keywords:
cancer stem cell; Wnt signaling; initiation; persistence; invasion; migration; metastasis
1. Introduction
Wnt signaling is a highly complex and evolutionarily conserved pathway that maintains pluripotency during embryonic development and regulates homeostasis in somatic stem cells from various tissues [
1
]. In recent decades, aberrant activation of Wnt signaling in various types of cancer has been documented and its roles in healthy tissues have been recognized. Genetic mutations that activate Wnt signaling reportedly contribute to cancer initiation [
2
], and nuclear accumulation of the Wnt signaling molecules β-catenin and lymphoid enhancer-binding factor 1 (LEF1) have been shown to be positively correlated with poor clinical outcomes, such as cancer progression, invasion, metastasis, and recurrence, resulting in low survival rates [
2
,
3
,
4
]. Accordingly, multiple studies on Wnt signaling have reported specific mechanisms that promote cancer initiation and progression and can therefore be investigated as therapeutic targets. In these studies, cancer stem cells (CSCs) have emerged as key players in Wnt-mediated carcinogenesis of various types. CSCs are a subpopulation of cancer cells with properties, such as self-renewal, slow cell cycle, persistent proliferation, homing, and mobilization, similar to those of normal stem cells and are central mediators of radio- and chemo-resistance in cancers as well as recurrence and metastasis [
5
,
6
]. Growing evidence has indicated increased Wnt signaling in CSCs compared with that in non-CSCs in multiple solid cancers and leukemia. Similarly, CSCs have elevated expression of Wnt downstream molecules compared with that in non-CSCs, as indicated by the high expression of frizzled receptors (FZD4/5) and increased sensitivity to Wnt3a-induced canonical Wnt signaling [
7
]. Moreover, Wnt signaling inhibition using genetic modifications or small molecule inhibitors has been shown to limit cancer stemness [
8
]. Specifically, deletion of the β-catenin gene results in complete regression of CD34
+
CSCs in skin tumors. Conversely, expression of a non-degradable β-catenin expands the CSC population [
9
]. In the context of Wnt ligand secretion, inhibition of porcupine, which palmitoylates Wnt ligands for secretion, effectively decreases colony formation by limiting long-term self-renewal [
10
]. Similarly, the specific antibody OMP-18R5 blocks the binding of Wnt ligands to FZD [
11
] and the small molecule inhibitor CWP23228 prevents the formation of β-catenin/T-cell factor (TCF)/LEF complexes, leading to significant suppression of cancer growth, metastasis, and chemo-resistance through CSC inhibition in breast [
12
] and liver cancers [
8
]. Although the effects of Wnt on CSC stemness have been investigated in numerous studies, recent studies have suggested that Wnt signaling also plays roles in the generation of CSCs from normal stem cells and cancer cells that lack stemness. Accordingly, loss of adenomatous polyposis coli (APC) elevates the nuclear accumulation of β-catenin in leucine-rich repeat-containing G-protein-coupled receptor 5 LGR5
+
normal stem cells and triggers neoplasia by transforming these cells into CSCs [
13
]. In addition, sustained high level of Wnt signaling leads to the transformation of differentiated gastrointestinal cells, which expressing high levels of doublecortin-like kinase (DCLK1), into CSCs [
14
]. Hence, Wnt signaling likely plays important roles in the initiation and maintenance of CSCs. However, although phenotypes and consequences of altered Wnt signaling have been reported, details of the associated regulatory mechanisms in CSCs remain unknown. Contributions of Wnt signaling to CSC initiation, persistence, resistance, invasion, and metastasis have been characterized in multiple studies, and upon CSC initiation, persistent growth in primary regions follows enhanced survival, reduced apoptosis, and altered metabolic activities in CSCs and in bulk tumor cells [
2
,
3
,
4
]. Subsequently, the epithelial-to-mesenchymal transition (EMT) allows entry into the process of invasion comprising detachment, intravasation, migration, and extravasation stages [
2
]. CSCs then progress to metastasis through dormancy, re-initiation, escape of immune surveillance, and establishment of microenvironments. In addition, defense mechanisms against chemo- and radiotherapy are highly activated in CSCs, which desensitize cells to DNA strand breaks, cell cycle arrest, and cytoskeleton or microtubule arrest, allowing continued survival and metastasis [
5
,
6
]. In this review, we investigated Wnt-mediated mechanisms that control stemness by examining downstream target genes involved in the characteristic features of CSCs from initiation to metastasis.
2. Target Genes of Wnt/β-Catenin Signaling
Wnt signaling regulates the expression of various genes through multiple pathways. In the canonical pathway, low β-catenin expression is maintained through phosphorylation of Ser/Thr residues and ubiquitination by protein degradation complexes. Following the stimulation of Wnt signaling by canonical ligands, degradation complexes are disrupted and de-phosphorylated β-catenin is translocated into the nucleus to bind LEF1/TCF4 family transcription factors, thereby transforming them from transcriptional repressors into transcriptional activators. In contrast, binding of non-canonical ligands to Wnt/FZD receptors transduces signals through intracellular calcium ions, c-Jun N-terminal kinases (JNK), receptor tyrosine kinase (RYK) or receptor tyrosine kinase-like orphan receptor (ROR), but not through β-catenin [
15
]. The canonical pathway has been studied more comprehensively than the non-canonical pathway and has been found to be activated by multiple mechanisms, including the destruction of degradation complexes, such as APC, and the consequent nuclear accumulation of β-catenin, in various types of cancer. Furthermore, the notion that CSCs possess higher activity of Wnt signaling covers canonical pathway as the LEF/TCF binding element showed higher transcriptional activity in CSCs than non-CSCs [
16
,
17
,
18
,
19
]. Therefore, to investigate the contributions of Wnt signaling to CSC regulation, we considered genes that are regulated by the canonical pathway and discuss their specific molecular mechanisms. Initially, we performed gene set enrichment analysis (GSEA) and identified a group of genes that are induced by β-catenin/LEF1/TCF4 complexes and are significantly upregulated in metastatic liver, colon, gastric and ovarian cancers compared with non-metastatic ones (
Figure 1
). In addition, we compared gene expression profiles in metastatic primary cancer (duke stage D) and early-stage non-metastatic primary cancers (duke stage A) using microarray data of colon cancers (GSE14333) and ovarian cancers (GSE2109) from the Gene Expression Omnibus. Subsequently, we identified genetic profiles that drive metastasis and applied gene expression data to GSEA to determine whether expression levels of the a priori defined set of genes differ significantly between the biological states. In these computations, genes that are upregulated by LEF1 were significantly enriched in metastatic cancers. Moreover, metastatic liver and gastric cancers showed increased expression of LEF1 target genes (TCGA). Thus, to further investigate the ensuing molecular mechanisms in CSC regulation, we generated target gene list from various source e.g., LEF1_UP.v1_UP gene set browsed from MSigDB, β-catenin target gene [
20
], and β-catenin chip assay result [
21
], and considered the biological functions of these genes and accordingly categorized them using Ingenuity Pathway Analysis (Ingenuity
®
System, Available online:
http://www.ingenuity.com
, Redwood City, CA, USA). Subsequently, we interpreted these biological functions in terms of initiation, persistence, maintenance, resistance to anticancer therapy, invasion of neighboring tissues, and metastasis of CSCs (
Table 1
). The full list of gene (
Table S1
) and the detailed analytical method can be found in
Supplementary Materials
.
3. Initiation
Cancer initiation is associated with various intrinsic and extrinsic factors, including direct DNA damage by genotoxic compounds, viral infection, and inherent and acquired genetic mutations. Tumorigenesis is strongly associated with the presence of CSCs, which cause heterogeneity of cancer cells according to proposed hierarchical models [
36
]. Although the exact mechanisms behind the production of CSCs and acquisition of pluripotency remain unknown, transformation of normal stem cells into CSCs or re-acquisition of stemness in subpopulations of cancer cells have been related to Wnt signaling and the expression of its target molecules [
37
]. For example, the intestinal stem cell marker LGR5 is expressed in 5–10% of adenoma cells and is a direct Wnt target gene that is induced by direct β-catenin binding [
21
]. In addition, β-catenin accumulation upon APC loss increases RAC1 expression, leading to increased generation of reactive oxygen species (ROS) and nuclear transcription factor-κB (NF-κB) signaling, which are known to stimulate the expansion of LGR5
+
cell populations [
38
]. The positive correlation between LGR5
+
cells and Wnt activation was also confirmed in localization analyses of LGR5
+
cells [
13
], which were transformed into neoplasia following nuclear accumulation of β-catenin due to APC deletion [
13
]. A recent study has also shown that LGR5 regulates the tumor-initiating ability of CSCs and that selective apoptosis of LGR5
+
cells decreases tumor formation in human organoids [
39
]. Moreover, LGR5 is known to bind the Wnt receptor component R-spondin [
37
], creating a positive feedback loop between aberrant Wnt signaling and expansion of LGR5
+
cell populations and contributing to tumor initiation [
40
].
DCLK1, the transcription factor, is regulated by Wnt signaling through the LEF-binding site at its promoter region [
22
] and has been shown to be enriched in metastatic liver and colon cancers [
41
,
42
,
43
]. DCLK1 is generally known as a marker for gastrointestinal tuft cells but has recently been considered a CSC marker because it is expressed in quiescent cancer cells and because high fractions of DCLK1
+
cells exhibit the stem-like characteristics and the ability to overcome quiescence with sufficient niche signals [
44
,
45
]. Although DCLK1 has been associated with various signaling pathways, such as those mediated by Notch, Hedgehog, and NF-kB, the resulting control of stemness has not yet been clearly elucidated [
46
,
47
,
48
]. DCLK1 is positively correlated with nuclear translocation of β-catenin upon APC deletion [
49
], and β-catenin knockdown in APC
min/+
mice leads to significant reduction in DCLK1 protein levels, which consequently attenuates crypt hyperplasia and tumorigenesis in APC
min/+
mice without affecting downstream NF-kB signaling [
50
]. In addition, DCLK1 knockdown in APC
min/+
mice attenuates intestinal adenoma and adenocarcinoma, whereas DCLK1 overexpression facilitates intestinal tumorigenesis in this model [
51
]. Wang et al. have investigated DCLK1 expression under normal and pathological conditions and have demonstrated their roles in colon cancer initiation [
45
]. In their study, DCLK1 expression was specifically increased in long-lived tuft cells, which originated from LGR5
+
stem cells. Long-lived DCLK1
+
tuft cells were also involved in regeneration upon chemical or microbial-induced injury and likely contributed to colon cancer as a tumor-initiating population with persistent Wnt activation [
45
]. Taken together, these studies have suggested that DCLK1 is a downstream molecule of the Wnt signaling pathway and is associated with direct LEF binding and cancer initiation.
Other CSC biomarkers include cluster of differentiation 44 (CD44), cluster of differentiation 133 (CD133), and aldehyde dehydrogenase (ALDH), which are positively regulated by Wnt/β-catenin signaling. Accordingly, compared with non-CSCs, ALDH
+
or CD44
+
/CD24
−
breast CSCs exhibit higher TCF/LEF-dependent transcriptional activity and treatment with Wnt3a further increases relative numbers of CSCs, whereas Wnt ligand knockdown decreases them [
52
]. Similarly, relative numbers of ALDH1
+
/CD133
+
liver CSCs decrease following the blockade of β-catenin-dependent transcription [
8
]. However, further studies are needed to determine whether these CSC biomarkers are involved in Wnt-mediated generation of CSCs.
5. Invasion and Migration
7. Conclusions
Wnt signaling is considered as a major contributor to CSC biology. In this review, we summarized and characterized Wnt signaling mechanisms that regulate CSCs from initiation to metastasis. Initially, continuously upregulated Wnt signaling converts normal stem cells and differentiated cells into CSCs. Subsequently, abnormally hyperactivated Wnt signaling allows entry into the early stages of metastasis and then facilitates persistent growth, invasion, migration, and homing. Negative feedback of Wnt signaling pathway then induces CSC dormancy, and subsequent hyperactivated Wnt signaling is central to re-initiation and colonization of metastatic sites. Although Wnt signaling inhibitors have been developed in multiple studies, their use is limited by the involvement of Wnt signaling in homeostasis and development, leading to potential side effects. Moreover, Wnt signaling is dynamic throughout the process from initiation to metastasis, complicating the timing of therapeutic interventions that target Wnt. Therefore, further comprehensive studies on the downstream mechanisms of Wnt are required to develop novel therapeutic agents.
Acknowledgments
This work was supported by a grant from Cell Logistics Research Center, National Research Foundation of Korea (NFR-2016R1A5A1007318). And this research was supported by a grant of the Korea Health Technology R&D Project through the Korea Health Industry Development Institute (KHIDI), funded by the Ministry of Health & Welfare, Republic of Korea (grant number: HI15C2056). This work was also supported by Gwangju Institute of Science and Technology (GIST) Research Institute (GRI) grant funded by the GIST in 2017.
Author Contributions
Jee-Heun Kim and So-Yeon Park performed systematic literature review, and wrote and edited manuscript; Youngsoo Jun and Ji-Young Kim critically revised the manuscript; Jeong-Seok Nam organized and provided the frame for the manuscript and critically revised the manuscript. All authors read and approved the final manuscript.
Conflicts of Interest
The authors declare no conflict of interest.
Abbreviations
| | |
| --- | --- |
| LEF1 | Lymphoid Enhancer-binding factor 1 |
| CSC | Cancer stem cell |
| FZD | Frizzled receptor |
| TCF | T-cell factor |
| APC | Adenomatous polyposis coli |
| LGR5 | Leucine-rich repeat-containing G-protein-coupled receptor 5 |
| DCLK1 | Doublecortin-like kinase 1 |
| EMT | Epithelial-to-mesenchymal transition |
| JNK | c-Jun N-terminal kinases |
| RYK | Receptor tyrosine kinase |
| ROR | Receptor tyrosine kinase-like orphan receptor |
| GSEA | Gene set enrichment analysis |
| ROS | Reactive oxygen species |
| NF-κB | Nuclear transcription factor-κB |
| CD44 | Cluster of differentiation 44 |
| CD133 | Cluster of differentiation 133 |
| ALDH | Aldehyde dehydrogenase |
| KLF5 | Kruppel-like factor |
| HDAC1 | Histone deacetylase 1 |
| EDN1 | Endothelin 1 |
| ASCL2 | Achaete-scute homolog 2 |
| FRA1 | Fos-related antigen-1 |
| CD47 | Cluster of differentiation 47 |
| PD-L1 | Programmed death-ligand 1 |
| CCND1 | Cyclin D1 |
| ABCB1 | ATP-binding cassette subfamily B member 1l |
| MDR | Multiple drug resistance |
| GSK-3β | Glycogen synthase kinase-3β |
| MMP7 | Matrix metalloproteinase-7 |
| ECM | Extracellular matrix |
| MT1-MMP | Membrane type 1-matrix metalloproteinase 1 |
| HA | Hyaluronan |
| HAS-2 | Hyaluronan synthase-2 |
| CXCR4 | C-X-C chemokine receptor 4 |
| CXCL12 | C-X-C motif chemokine ligand 12 |
| Src | Proto-oncogene tyrosine-protein kinase |
| DKK1 | Dickkopf-related protein |
| LRP6 | LDL receptor related protein 6 |
| CLDN1 | Claudin1 |
| TJP | Tight junction protein |
| CD44v | CD44 variant |
| HGF | Hepatocellular growth factor |
| OPN | Ostepontin |
| VEGF | Vascular endothelial growth factor |
| FGF | Fibroblast growth factors |
| FN1 | Fibronectin |
| COX2 | Cyclooxygenase 2 |
| PGE2 | Prostaglandin E2 |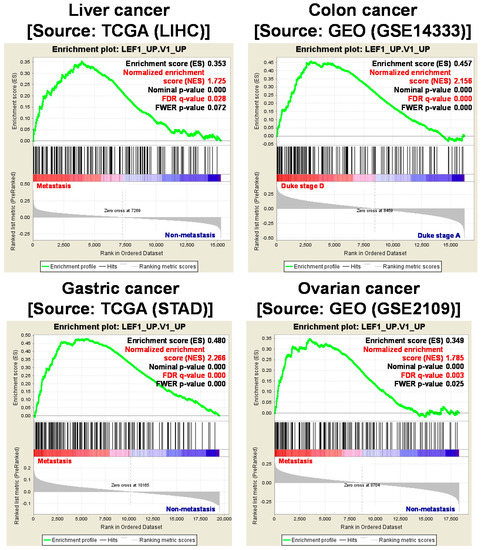 Figure 1.
Enrichment of Wnt target genes in multiple metastatic cancer types. A group of genes that are induced by β-catenin/LEF1/TCF4 complex were identified through performed gene set enrichment analysis (GSEA). Microarray data of four different cancer, liver (LIHC), colon (GSE14333), gastric (STAD) and ovarian cancer (GSE2109), were analyzed. Genes upregulated by LEF1 were significantly enriched in metastatic cancers. The detailed methods are described in
Supplementary Materials
. TCGA; The Cancer Genome Atlas, LEF1; lymphoid enhancer-binding factor 1, GEO; Gene Expression Omnibus.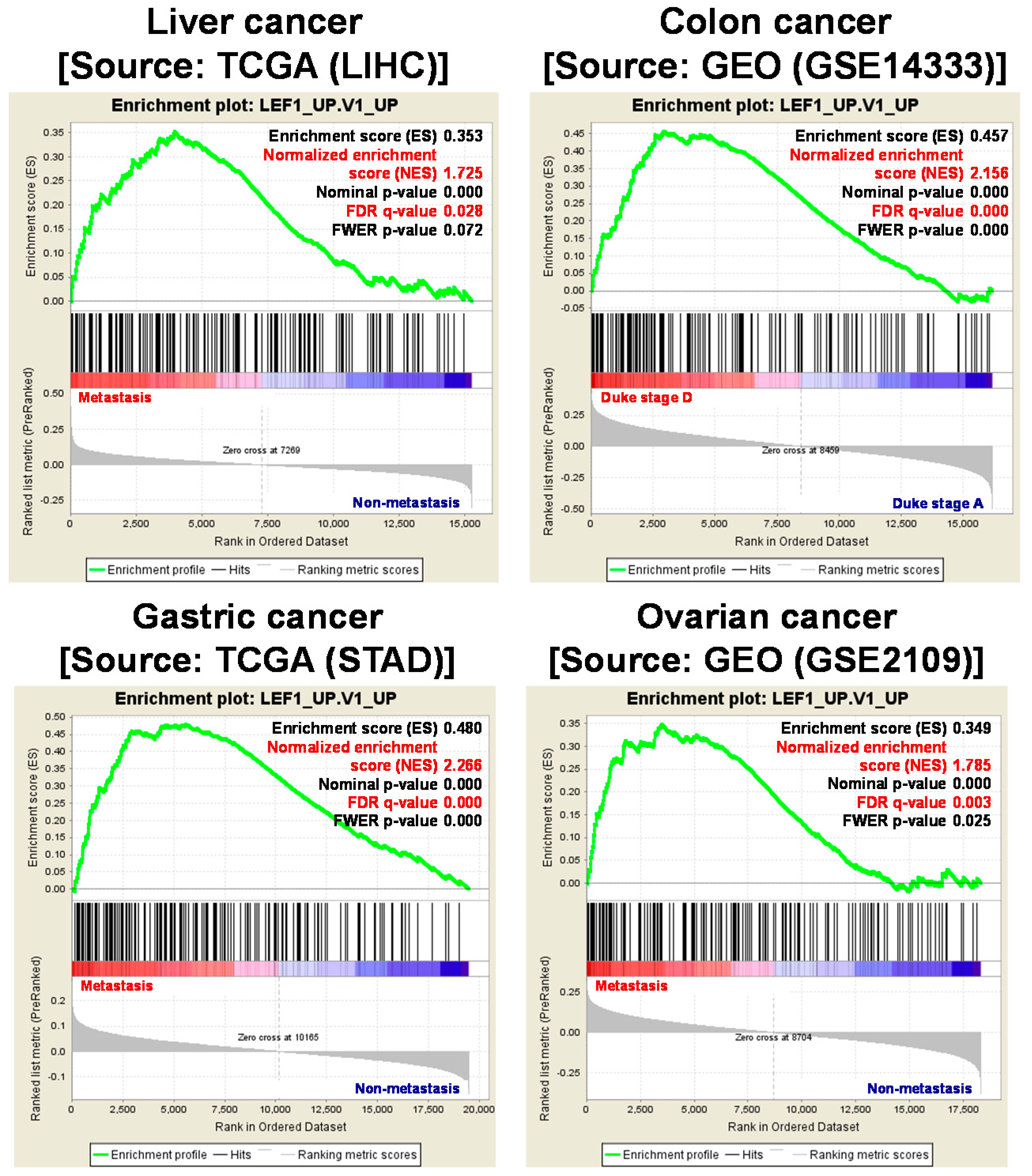 Biological Function
Gene
Full Name
Direct/Indirect Target
Reference
Initiation

LGR5

Leucine-rich repeat-containing G-protein-coupled receptor 5
Direct
[21]

DCLK1

Doublecortin-like kinase
Direct
[22]
Persistence

KLF5

Krueppel-like factor 5
Direct
[21]

EDN1

Endothelin-1
Direct
[23]

ASCL2

Achaete-scute homolog 2
Direct
[24]

FRA1

Fos-related antigen 1
Direct
[21]

MYC

Myc proto-oncogene protein
Direct
[21]

CCND1

CyclinD1
Direct
[21]

ABCB1

ABC multidrug transporter
Direct
[25]
Invasion

MMP7

Matrix Metallopeptidase 7
Direct
[26]

HAS2

Hyaluronan synthase-2
Direct
[27]

CD44

Cluster of differentiation 44
Indirect
[28]

CXCL12

C-X-C motif chemokine ligand 12
Direct
[29]

CXCR4

Chemokine receptor type 4
Direct
[30]
Metastasis

CXCL12

C-X-C motif chemokine ligand 12
Direct
[29]

CXCR4

Chemokine receptor type 4
Direct
[30]

DKK1

Dickkopf-related protein 1
Direct
[31]

CLDN1

Claudin-1
Direct
[32]

CD44v6

Cluster of differentiation 44 variant exon 6
Indirect
[33]

FN1

Fibronectin
Direct
[34]

COX2

Cyclooxygenase-2
Direct
[35]

© 2017 by the authors. Licensee MDPI, Basel, Switzerland. This article is an open access article distributed under the terms and conditions of the Creative Commons Attribution (CC BY) license (http://creativecommons.org/licenses/by/4.0/).