TRAIL, Wnt, Sonic Hedgehog, TGFβ, and miRNA Signalings Are Potential Targets for Oral Cancer Therapy
1
Institute of Biomedical and Genetic Engineering (IBGE), Islamabad 54000, Pakistan
2
Department of Medical Education and Research, Kaohsiung Veterans General Hospital, Kaohsiung 81362, Taiwan
3
Institute of Biomedical Science, National Sun Yat-Sen University, Kaohsiung 80424, Taiwan
4
Doctoral Degree Program in Marine Biotechnology, National Sun Yat-sen University, Kaohsiung 80424, Taiwan
5
Doctoral Degree Program in Marine Biotechnology, Academia Sinica, Taipei 11529, Taiwan
6
Laboratory for Translational Oncology and Personalized Medicine, Rashid Latif Medical College, Lahore 44000, Pakistan
7
Cancer Center, Kaohsiung Medical University Hospital, Kaohsiung Medical University, Kaohsiung 80708, Taiwan
8
Translational Research Center, Kaohsiung Medical University Hospital, Kaohsiung Medical University, Kaohsiung 80708, Taiwan
9
Department of Radiation Oncology, Faculty of Medicine, College of Medicine, Kaohsiung Medical University, Kaohsiung 80708, Taiwan
10
Department of Radiation Oncology, Kaohsiung Medical University Hospital, Kaohsiung 80708, Taiwan
11
Department of Radiation Oncology, Kaohsiung Municipal Ta-Tung Hospital, Kaohsiung 80145, Taiwan
12
Institute of Medical Science and Technology, National Sun Yat-sen University, Kaohsiung 80424, Taiwan
13
Department of Medical Research, Kaohsiung Medical University Hospital; Kaohsiung Medical University, Kaohsiung 80708, Taiwan
14
Research Center for Natural Products & Drug Development, Kaohsiung Medical University, Kaohsiung 80708, Taiwan
15
Department of Biomedical Science and Environmental Biology, Kaohsiung Medical University, Kaohsiung 80708, Taiwan
*
Authors to whom correspondence should be addressed.
Received: 7 June 2017 / Revised: 9 July 2017 / Accepted: 13 July 2017 / Published: 14 July 2017
Abstract
Clinical studies and cancer cell models emphasize the importance of targeting therapies for oral cancer. The tumor necrosis factor-related apoptosis-inducing ligand (TRAIL) is highly expressed in cancer, and is a selective killing ligand for oral cancer. Signaling proteins in the wingless-type mouse mammary tumor virus (MMTV) integration site family (Wnt), Sonic hedgehog (SHH), and transforming growth factor β (TGFβ) pathways may regulate cell proliferation, migration, and apoptosis. Accordingly, the genes encoding these signaling proteins are potential targets for oral cancer therapy. In this review, we focus on recent advances in targeting therapies for oral cancer and discuss the gene targets within TRAIL, Wnt, SHH, and TGFβ signaling for oral cancer therapies. Oncogenic microRNAs (miRNAs) and tumor suppressor miRNAs targeting the genes encoding these signaling proteins are summarized, and the interactions between Wnt, SHH, TGFβ, and miRNAs are interpreted. With suitable combination treatments, synergistic effects are expected to improve targeting therapies for oral cancer.
View Full-Text
►

▼

Figures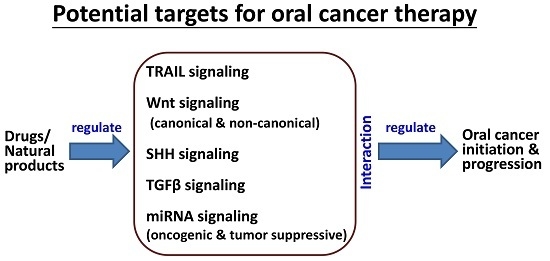 Graphical abstract
This is an open access article distributed under the
Creative Commons Attribution License
which permits unrestricted use, distribution, and reproduction in any medium, provided the original work is properly cited (CC BY 4.0).

Share & Cite This Article
MDPI and ACS Style
Farooqi, A.A.; Shu, C.-W.; Huang, H.-W.; Wang, H.-R.; Chang, Y.-T.; Fayyaz, S.; Yuan, S.-S.F.; Tang, J.-Y.; Chang, H.-W. TRAIL, Wnt, Sonic Hedgehog, TGFβ, and miRNA Signalings Are Potential Targets for Oral Cancer Therapy. Int. J. Mol. Sci. 2017, 18, 1523.
Note that from the first issue of 2016, MDPI journals use article numbers instead of page numbers. See further details here.
Related Articles
Comments
[Return to top]