Open Access This article is
freely available
re-usable
Review
Macrophages and Phospholipases at the Intersection between Inflammation and the Pathogenesis of HIV-1 Infection
1
Confocal Microscopy Unit, Core Facilities, Istituto Superiore di Sanità, Viale Regina Elena 299, 00161 Rome, Italy
2
Center for Global Health, Istituto Superiore di Sanità, Viale Regina Elena 299, 00161 Rome, Italy
†
These authors contributed equally to this work.
*
Authors to whom correspondence should be addressed.
Received: 11 May 2017 / Accepted: 26 June 2017 / Published: 29 June 2017
Abstract
:
Persistent low grade immune activation and chronic inflammation are nowadays considered main driving forces of the progressive immunologic failure in effective antiretroviral therapy treated HIV-1 infected individuals. Among the factors contributing to this phenomenon, microbial translocation has emerged as a key driver of persistent immune activation. Indeed, the rapid depletion of gastrointestinal CD4+ T lymphocytes occurring during the early phases of infection leads to a deterioration of the gut epithelium followed by the translocation of microbial products into the systemic circulation and the subsequent activation of innate immunity. In this context, monocytes/macrophages are increasingly recognized as an important source of inflammation, linked to HIV-1 disease progression and to non-AIDS complications, such as cardiovascular disease and neurocognitive decline, which are currently main challenges in treated patients. Lipid signaling plays a central role in modulating monocyte/macrophage activation, immune functions and inflammatory responses. Phospholipase-mediated phospholipid hydrolysis leads to the production of lipid mediators or second messengers that affect signal transduction, thus regulating a variety of physiologic and pathophysiologic processes. In this review, we discuss the contribution of phospholipases to monocyte/macrophage activation in the context of HIV-1 infection, focusing on their involvement in virus-associated chronic inflammation and co-morbidities.
Keywords:
monocyte/macrophage; phospholipases; HIV-1; inflammation
2. Macrophage and Phospholipase Biology
2.1. Phospholipases
Growing evidence is accumulating on the importance of PLs as key players in HIV-1 infection and host immune-metabolic dysfunctions. PLs hydrolyze phospholipids into fatty acids (FAs) and other lipophilic substances. They are classified into four distinct families, named PLA, PLB, PLC and PLD, based on the stereospecifically numbered sites within phospholipids where they promote cleavage (for and extensive review see [
12
]). Phospholipid hydrolysis is a widespread response triggered by most cytokines, growth factors, neurotransmitters, hormones, and other extracellular signals, and its products include many of the most important second messengers, such as inositol 1,4,5-trisphosphate (IP
3
) and diacylglycerol (DAG), that are implicated in cellular responses. Major substrates of catalytically active PLs are the glycerophospholipids phosphoinositides (PIs) and phosphatidylcholines (PCs). However, these enzymes can also act on other phospholipids, such as phosphatidylethanolamine, sphingomyelin, lysophosphatidylcholine (LPC) and lysophosphatidylinositol [
13
]. The PC cycle generates second messengers, growth factors, mitogens, and mediators of inflammation, such as DAG, phosphatidic acid, lysophosphatidate, LPC, arachidonic acid (AA), glycerophosphate, and free FAs (FFAs), through the action of different stimulated PL activities (i.e., PLA
2
, PC-PLC and PLD) [
14
]. AA is a signaling molecule or, upon downstream modification by various enzymes (mainly cyclooxygenases and lipoxygenases), it is modified into eicosanoids, including prostaglandins (PGs) and leukotrienes (LTs), which act in the body as the "AA cascade" and play a relevant role in inflammation [
12
,
15
]. In this review we will focus on cytosolic PLA
2
s (cPLA
2
and iPLA
2
) isoforms, lipoprotein-associated PLA
2
s (Lp-PLA
2
s, or platelet-activating factor-acetylhydrolases PAF-AHs, or groups VII and VIII PLA
2
s), different groups of secreted PLA
2
s (sPLA
2
s) and PC-PLC [
12
]. PIs are inositol-containing phospholipids comprising phosphatidylinositol and its phosphorylated derivatives. They have a specific function correlated to distinct membrane compartments and exert a key role in signaling, trafficking and actin cytoskeletal dynamics [
16
]. PI-PLC isozymes comprise a related group of proteins that cleave the polar head group from PIs, releasing IP
3
and DAG [
12
,
17
].
2.2. Role of Phospholipases in Regulating Differentiation, Polarization and Immune Functions of Monocytes/Macrophages
2.3. A Loop Intersecting Phospholipases, Macrophages and Chronic Inflammation
3. Macrophage and Phospholipase Contribution to Immune Activation and Inflammation in HIV-1 Infection
3.1. Microbial Translocation in HIV-1 Infection
Notably, several lines of evidence suggest that microbial translocation may play a central role in the early onset of non-AIDS co-morbidities, particularly atherosclerosis and CVD as well as neurocognitive impairment.
3.2. HIV-1-Associated Cardiovascular Disease
Future investigations on the complex interplay between monocytes/macrophages, vascular endothelium and chronic inflammation may lead to improved CVD prevention and treatment in the HIV-1-infected population. In this context, PLs might be taken into consideration as potential biomarkers and/or targets for intervention, in virtue of their remarkable contribution to monocyte/macrophage-mediated inflammatory processes.
3.3. HIV-1-Associated Neurocognitive Disorders
4. Conclusions
Immune activation has long been considered as an important consequence of untreated HIV-1 infection and an indicator of AIDS progression, which declines but does not normalize in patients undergoing HAART, where it continues to predict disease. Persistent low levels of immune activation are associated with residual levels of viral replication during therapy, suggesting that chronic inflammation can support the replenishment of tissue HIV-1 reservoirs. Therefore, a major research agenda is to develop new treatments to counteract persistent immune activation and inflammation in virally suppressed HIV-1+ individuals. Thus far, the best targets for interventions remain uncertain. Monocyte and tissue macrophage activation has become increasingly recognized as a potential mediator of non-AIDS morbidity and mortality in the HAART era. Interestingly, PLs are critically involved in monocyte/macrophage functions as well as in their activation in HIV-1 infection, thus representing key players in serious non-AIDS morbidities, such as cardiovascular and neurological diseases. Then, interfering with these mechanisms may represent a strategy to attenuate the effects of inflammation and immune activation, ultimately reducing the viral reservoir, a prerequisite to remission in individuals receiving HAART. This should result in further improving quality of care and life expectancy of HIV-1-infected patients in the post-HAART era.
Acknowledgments
We thank Cosimo Curianò for excellent assistance with figure preparation. As a result of space limitations, we apologize for being unable to cite many primary references relevant to the topic of this Review. Our previous work on this topic was supported by grants from the Italian Ministry of Health, Bando Nazionale AIDS. Our current research is in part supported by the Italian Ministry of Health, Giovani Ricercatori to Serena Cecchetti (GR-2011-02351400) and Ricerca Finalizzata to Laura Fantuzzi (RF-2011-02347224).
Conflicts of Interest
The authors declare no conflict of interest.
Abbreviations
| | |
| --- | --- |
| AA | arachidonic acid |
| AIDS | acquired immunodeficiency syndrome |
| BBB | blood–brain barrier |
| CCL2 | C-C motif chemokine ligand 2 |
| CNS | central nervous system |
| CVD | cardiovascular disease |
| DAG | diacylglycerol |
| FA | fatty acid |
| HAART | highly active antiretroviral therapy |
| HAND | HIV-associated neurocognitive disorder |
| HIV-1 | human immunodeficiency virus type I |
| IP3 | inositol 1,4,5-trisphosphate |
| LDL | low-density lipoprotein |
| LPA | lysophosphatidate |
| LPC | lysophosphatidylcholine |
| Lp-PLA2 | lipoprotein-associated phospholipase A2 |
| LPS | lipopolysaccharide |
| LT | leukotriene |
| NF-kB | nuclear factor kappa-light-chain-enhancer of activated B cells |
| NO | nitric oxide |
| PAF | platelet-activating factor |
| PC | phosphatidylcholine |
| PC-PLC | phosphatidylcholine specific phospholipase C |
| PG | prostaglandin |
| PI | phosphoinositide |
| PI-PLC | phosphoinositide-specific phospholipase C |
| PL | phospholipase |
| PLA2 | phospholipase A2 |
| cPLA2 | cytosolic PLA2 |
| iPLA2 | Ca2+-insensitive phospholipase A2 |
| sPLA2 | secretory phospholipase A2 |
| ROS | reactive oxygen species |
| SIV | simian immunodeficiency virus |
| TNF | tumor necrosis factor |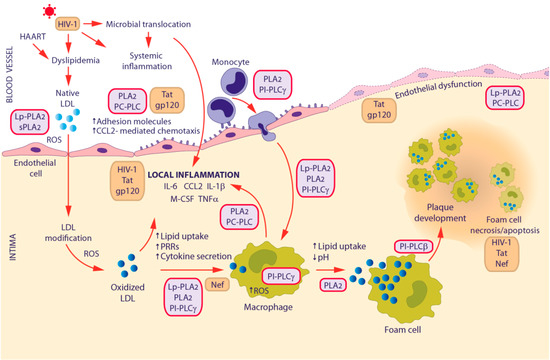 Figure 1. Schematic representation of the involvement of inflammation, phospholipases and HIV-1 infection in the pathogenesis of atherosclerosis. The figure depicts the major pathogenic events involved in atherosclerosis progression. Key sequential steps are: (i) accumulation and oxidation of LDL by ROS within the artery wall; (ii) recruitment/infiltration of monocytes and their differentiation into macrophages, which become foam cells on uptake of oxidized LDL; and (iii) foam cell coalescence into a lipid necrotic core leading to plaque development. Local chronic inflammation is the major trigger of atherogenesis. Light purple and orange boxes represent PL and HIV-1 contribution to these processes, respectively. CCL2, C-C motif chemokine ligand 2; HAART, highly active antiretroviral therapy; IL, interleukin; LDL, low-density lipoprotein; M-CSF, macrophage colony-stimulating factor; PRRs, pattern recognition receptors; ROS, reactive oxygen species; TNF-α, tumor necrosis factor α.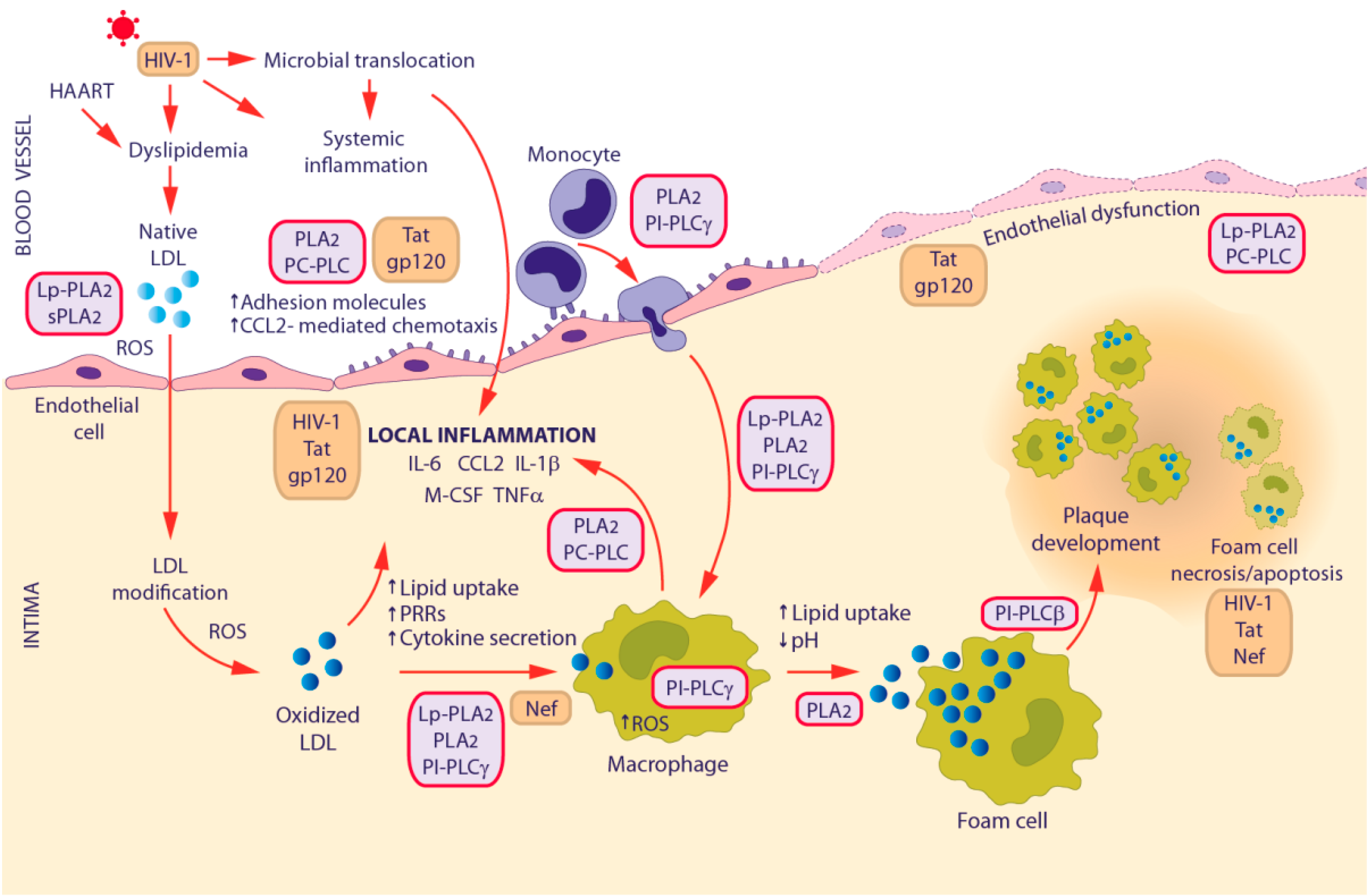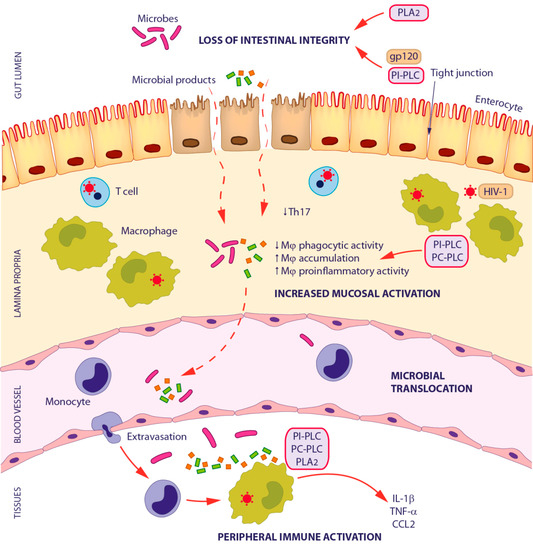 Figure 2. Schematic model of the contribution of phospholipases in the pathogenesis of microbial translocation in HIV-1 infection. Multiple mechanisms account for the loss of intestinal integrity in HIV-1 infection (enterocyte apoptosis, loss of tight junctions, local immune activation, depletion of Th17 cells, and macrophage dysfunction). Consequently, microbial products and pathogenic bacteria pass from the gut lumen to the lamina propria, then to the systemic circulation and finally to peripheral tissues. At these sites, microbes and their products further intensify local immune activation, which may be an underlying cause of disease progression and co-morbidities, such as neurological impairment and cardiovascular diseases. Light purple and orange boxes represent PL and HIV-1 contribution to these processes, respectively. Th17, T helper 17; Mϕ, macrophage; IL-1, interleukin-1; TNF-α, tumor necrosis factor-α; CCL2, CC chemokine ligand 2.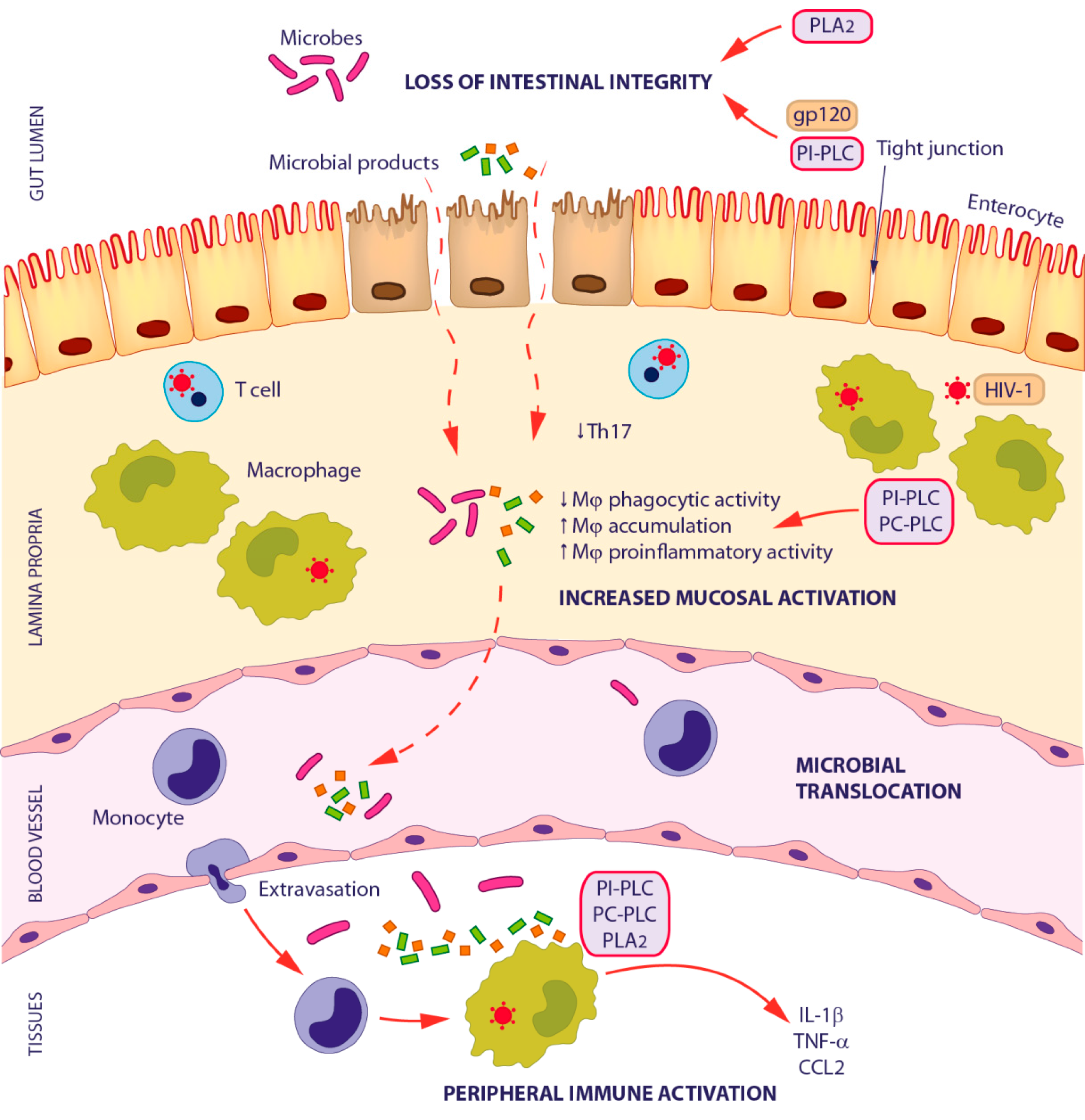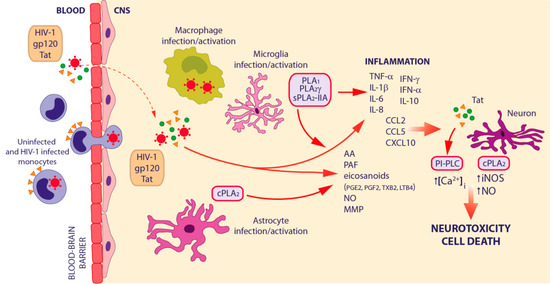 Figure 3. Schematic representation of concerted effects of the "direct" and the "indirect" models of HIV-1 neuropathogenesis and the involvement of different families of phospholipases. The direct effects of the virus and the secreted viral proteins (Tat, gp120) on neurons are shown, as well as the neuronal death as a consequence of the inflammatory response mounted by both infected and uninfected brain cells (macrophages, microglia, and astrocytes) against HIV-1 infection. Light purple and orange boxes represent phospholipase and HIV-1 contribution to different steps of neuropathogenesis, respectively. AA, arachidonic acid; Ca2+, calcium; CCL, C-C motif chemokine ligand; CNS, central nervous system; CXCL, C-X-C motif chemokine ligand; IFN, interferon; IL, interleukin; iNOS, inducible nitric oxide synthase; LT, leukotriene; MMP, matrix metalloproteinase; NO, nitric oxide; PAF, platelet-activating factor; PG, prostaglandin; TNF-α, tumor necrosis factor α; TX, thromboxane.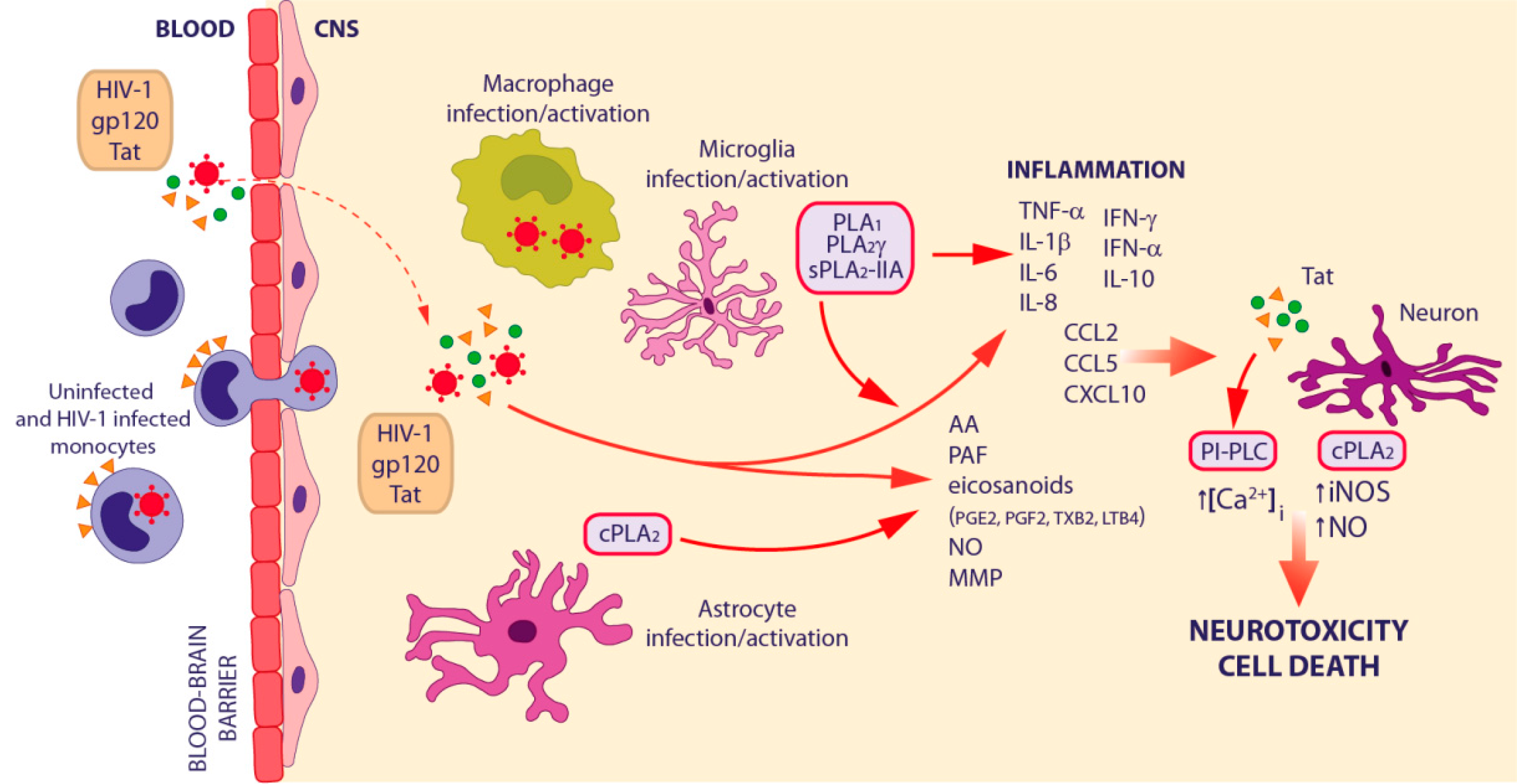 © 2017 by the authors. Licensee MDPI, Basel, Switzerland. This article is an open access article distributed under the terms and conditions of the Creative Commons Attribution (CC BY) license (http://creativecommons.org/licenses/by/4.0/).