Open Access This article is
freely available
re-usable
Review
PD-1/PD-L1 Blockade Therapy for Tumors with Downregulated MHC Class I Expression
Department of Genetics and Microbiology, Faculty of Science, Charles University, BIOCEV, Průmyslová 595, 25250 Vestec, Czech Republic
Received: 26 May 2017 / Accepted: 17 June 2017 / Published: 21 June 2017
Abstract
:
The therapy of different advanced-stage malignancies with monoclonal antibodies blocking programmed cell death protein 1 (PD-1)/PD-1 ligand 1 (PD-L1) signaling has had an impressive long-lasting effect in a portion of patients, but in most cases, this therapy was not successful, or a secondary resistance developed. To enhance its efficacy in treated patients, predictive biomarkers are searched for and various combination treatments are intensively investigated. As the downregulation of major histocompatibility complex (MHC) class I molecules is one of the most frequent mechanisms of tumor escape from the host's immunity, it should be considered in PD-1/PD-L1 checkpoint inhibition. The potential for the use of a PD-1/PD-L1 blockade in the treatment of tumors with aberrant MHC class I expression is discussed, and some strategies of combination therapy are suggested.
Keywords:
PD-1; PD-L1; checkpoint blockade; MHC class I; tumor escape; cancer immunotherapy; biomarker; interferon gamma
1. Introduction
The blockade of inhibitory immune checkpoints with monoclonal antibodies contributed to the revival of interest and belief in cancer immunotherapy. After pioneering studies with a cytotoxic T-lymphocyte associated antigen 4 (CTLA-4; cluster of differentiation (CD) 152) blockade that resulted in the Food and Drug Administration (FDA)'s approval of ipilimumab for the treatment of advanced melanoma in 2011, programmed cell death protein 1 (PD-1; CD279)/PD-1 ligand 1 (PD-L1) signaling is in the focus of the current research on, and the development of, anti-tumor therapy in this field. This is because the blocking of PD-1 or PD-L1 molecules exhibited higher efficacy and lower toxicity for several types of human cancers, including melanoma, non-small cell lung cancer (NSCLC), and renal cell cancer (RCC). However, most patients did not respond to the PD-1/PD-L1 blockade, and secondary resistance to this treatment developed in some patients. The mechanisms implicated in this failure are being gradually uncovered, but the biomarkers predicting successful therapy with PD-1/PD-L1 monoclonal antibodies still have not been satisfactorily revealed. The effect of the PD-1 receptor inhibition is usually attributed to the activation of cytotoxic T lymphocytes, and their direct killing of tumor cells producing major histocompatibility complex class I (MHC-I) molecules. Surprisingly, while MHC-I downregulation is one of the most frequent mechanisms of tumor escape from the host's immune system, little attention has been devoted to surface MHC-I expression in studies of the PD-1/PD-L1 blockade. In this review, we will deal with the relationship between the inhibition of PD-1/PD-L1 signaling and MHC-I expression, and suggest a possible use of the PD-1/PD-L1 blockade for tumors with a reduced MHC-I expression.
3. Tumor Escape by MHC-I Downregulation
4. PD-1/PD-L1 Blockade and Predictive Biomarkers
5. PD-1/PD-L1 Blockade and MHC-I Expression
Considering the commonly accepted key roles of CTLs in tumor eradication and that of a PD-1/PD-L1 blockade in the activation of these cells, MHC-I expression on tumor cells should be a prerequisite for successful anti-PD-1/PD-L1 therapy. However, as described above, MHC-I downregulation is frequent in human tumors. The surface expression of MHC-I molecules could thus be an important predictive biomarker. Surprisingly, special attention has not usually been devoted to MHC-I expression in studies looking for biomarkers of response to checkpoint blockade.
The expression of MHC-I genes (HLA-A, -B, and -C) in human tumors can be found in studies comparing the transcriptoms in samples taken from patients before anti-PD-1/PD-L1 therapy. In melanomas, MHC-I expression was higher (without statistical significance) in responders to therapy [
51
]. In another study with melanomas [
52
], differences in MHC-I expression have not been reported in pretreatment samples, but the expression of genes that are associated with antigen processing and presentation, including MHC-I genes, was increased in responders early during the course of anti-PD-1 therapy. Inoue et al. [
53
] detected the mRNA expression of one MHC-I locus—HLA-A—in melanoma patients, and showed a significantly higher expression in responders to a PD-1 blockade. They also observed that a combination of three predictive biomarkers—PD-L1, granzyme A (GZMA), and HLA-A—distinguished responders from nonresponders.
An IHC analysis of HLA-A molecules on tumor cells in melanomas revealed almost ubiquitous expression, without a statistically significant difference between responders and nonresponders [
54
]. However, this study also demonstrated that MHC-II (HLA-DR) expression, evaluated by IHC staining, correlated with a response to a PD-1 blockade.
An analysis of the genetic changes in melanoma samples from four patients with an acquired resistance to a PD-1 blockade suggested an association of the resistance with MHC-I downregulation [
55
]. After the clonal selection of resistant tumor cells, IFN-γ signaling was abrogated in two patients due to the loss of JAK1 or JAK2 kinases, and, in one patient, the gene encoding β2-microglobulin was truncated, which led to the elimination of surface MHC-I expression. Loss-of-function mutations in JAK1 or JAK2 genes can also be involved in the primary resistance to a PD-1/PD-L1 blockade. Genetic alterations in JAK1 and JAK2 have been found in different types of human tumors, with a range of 6–12% and 5–17%, respectively [
56
]. The abrogation of IFN-γ signaling was also associated with the primary resistance to anti-CTLA-4 therapy [
57
].
6. Utilization of PD-1/PD-L1 Blockade for Tumors with MHC-I Downregulation
7. Future Perspectives
To improve the clinical efficacy of an antitumor PD-1/PD-L1 blockade, combinations with other therapeutic drugs or approaches are necessary. Some combined treatments are already under way [
85
], including combinations with other immunotherapies, e.g., vaccines or antibodies against other checkpoint receptors, and co-stimulatory molecules. As the list of potentially usable immunotherapies, either already approved for practical use or clinically tested, is extensive [
86
], standardized and optimized immunomonitoring will be crucial for tailoring cancer immunotherapy. With respect to MHC-I downregulation, multicolor IHC detection should particularly analyze MHC-I and PD-L1 expression on tumor cells and also on myeloid cells in the case of PD-L1, and evaluate the infiltration of tumors not only by T lymphocytes but also by myeloid cells, especially macrophages. As these cells can potentially eliminate tumor cells irrespective of MHC-I expression and predominate in some tumors, their repolarization from M2 to M1 phenotype [
87
], accompanied by a checkpoint blockade of PD-1/PD-L1 and/or T-cell immunoglobulin and mucin domain 3 (Tim3) molecules, might be a universal therapy for tumors heavily infiltrated by macrophages. For the treatment of tumors with reversibly downregulated MHC-I expression, a combination of a PD-1/PD-L1 blockade with the epigenetic alteration of gene expression could be beneficial. Inhibitors of histone deacetylases (HDAC) enhanced MHC-I molecules on tumor cells, even when these cells did not respond to IFN-γ stimulation [
88
]. HDAC inhibitors can also support antitumor immunity by other mechanisms [
89
], and have augmented the antitumor effect of a PD-1/PD-L1 blockade in several experimental studies [
90
,
91
,
92
]. The increased production of chemokines attracting T cells into tumors [
92
] and the elimination of MDSCs [
90
] have been described as contributing mechanisms. To verify the efficacy of the aforementioned approaches for the treatment of tumors with a downregulation of MHC-I expression, appropriate animal models should be developed and utilized, e.g., tumor cells lacking β2-microglobulin production, or cells with a reversible reduction of MHC-I molecules and abolished IFN-γ signaling. In the latter model, a combination with radiotherapy could be particularly useful, as it supports MHC-I expression by the induction of IFN-β production and restores the responsiveness of resistant cells to a PD-1 blockade [
93
]. To conclude, the focus on MHC-I downregulation in tumor cells might substantially improve the efficacy of cancer therapies including a PD-1/PD-L1 blockade (
Figure 1
).
Acknowledgments
This work was supported by grants from the Ministry of Education, Youth and Sports of CR (MEYS) (Grant No. LQ1604; National Sustainability Program II, Project BIOCEV-FAR), European Regional Development Fund and MEYS (Grant No. CZ.1.05/1.1.00/02.0109; Project BIOCEV), and Czech Science Foundation (Grant No. GA16-04477S).
Conflicts of Interest
The author declares no conflict of interest.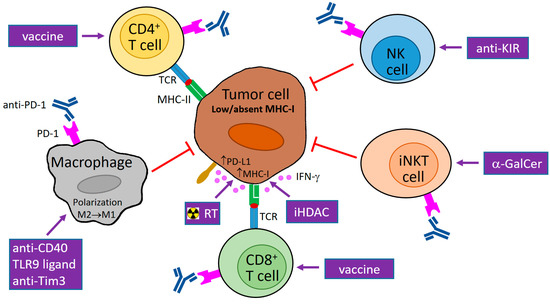 Figure 1. Potential usage of programmed cell death protein 1 (PD-1) blockade in combination therapy of tumors with downregulated major histocompatibility class I (MHC-I) expression. MHC-I expression in tumor cells can be reduced reversibly by epigenetic regulations or irreversibly by genetic aberrations. Abrogated interferon (IFN)-γ signaling can contribute to low MHC-I expression. The blockade of PD-1 molecules on natural killer (NK), invariant NKT (iNKT), and cluster of differentiation 4+ (CD4+) T cells supports the direct cytotoxicity of these cells to tumor cells that is not restricted by MHC-I molecules (and is dependent on MHC-II expression in the case of CD4+ T cells). In tumor cells with reversible MHC-I downregulation and functional IFN-γ signaling, MHC-I molecules are upregulated by IFN-γ produced by activated immune cells, e.g., iNKT cells, NK cells, and T lymphocytes stimulated by α-galactosylceramide (α-GalCer), antibody against a killer-cell immunoglobulin-like receptor (KIR), and a vaccine, respectively. As this enhancement of MHC-I expression is accompanied by PD-1 ligand 1 (PD-L1) upregulation, a PD-1/PD-L1 blockade is needed for the restoration of anti-tumor activity of cytotoxic CD8+ T cells, which can be augmented by tumor-specific vaccination. MHC-I expression in tumor cells is further inducible by radiotherapy (RT) and inhibitors of histone deacetylases (iHDAC). Anti-PD-1 therapy also stimulates the secretion of T helper type 1 (Th1) cytokines (including IFN-γ) and chemokines by immune cells, and could induce the polarization of tumor macrophages to the M1 phenotype, which is associated with the killing of tumor cells. This polarization can further be supported by different stimuli, e.g., CD40 agonists, toll-like receptor 9 (TLR9) ligands, and a T-cell immunoglobulin and mucin domain 3 (Tim3) blockade. TCR: T-cell receptor; M1/M2: macrophage subtype 1/subtype 2; purple arrow: activation/stimulation; red T-bar arrow: inhibition/cytotoxicity.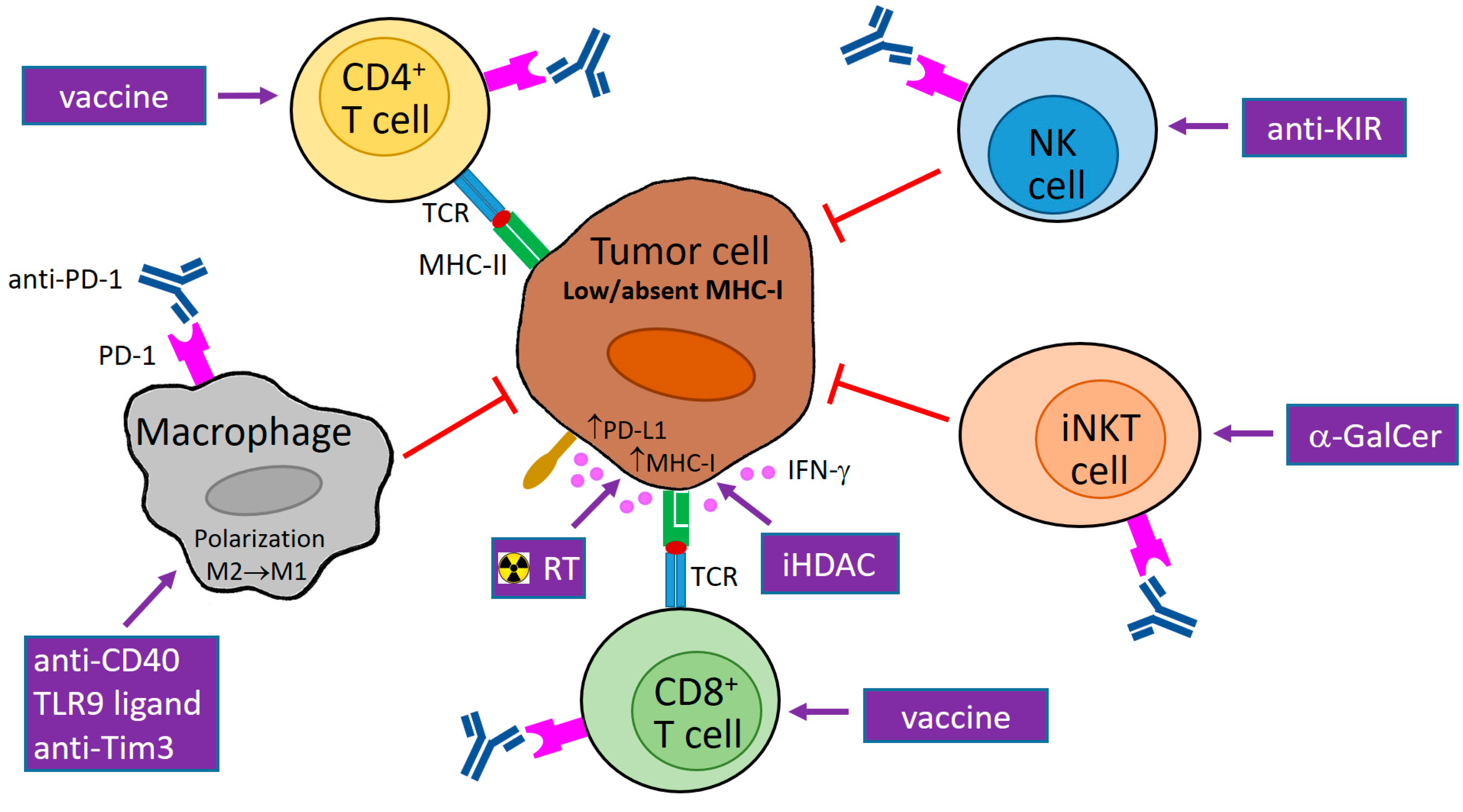 © 2017 by the author. Licensee MDPI, Basel, Switzerland. This article is an open access article distributed under the terms and conditions of the Creative Commons Attribution (CC BY) license ( http://creativecommons.org/licenses/by/4.0/).