Globular Adiponectin Inhibits Lipopolysaccharide-Primed Inflammasomes Activation in Macrophages via Autophagy Induction: The Critical Role of AMPK Signaling
1
College of Pharmacy, Yeungnam University, Gyeongsan 712-749, Korea
2
Department of Pharmacology, School of Medicine, Kyungpook National University, Daegu 700-422, Korea
*
Author to whom correspondence should be addressed.
Received: 21 April 2017 / Revised: 13 June 2017 / Accepted: 14 June 2017 / Published: 15 June 2017
Abstract
The inflammasome acts as a key platform for the activation of pro-inflammatory cytokines. Adiponectin exhibits potent anti-inflammatory properties. However, the effect of adiponectin on the modulation of the inflammasome has not been explored. Herein, we show that globular adiponectin (gAcrp) suppressed lipopolysaccharide (LPS)-primed inflammasomes activation in murine peritoneal macrophages judged by prevention of interleukin-1β (IL-1β) maturation, caspase-1 activation, apoptosis-associated speck-like protein containing a caspase recruitment domain (ASC) speck formation, and pyroptotic cell death. Interestingly, pretreatment with 3-methyl adenine, a pharmacological inhibitor of autophagy, abrogated the suppressive effects of gAcrp on IL-1β secretion and caspase-1 activation, indicating the crucial role of autophagy induction in gAcrp-modulation of the inflammasome activation. In addition, inhibition of 5′Adenosine monophaspahate (AMP)-activated protein kinase (AMPK) signaling abolished suppressive effect of gAcrp on inflammasomes activation. Furthermore, autophagy induction or inhibition of the inflammasome activation by gAcrp was not observed in macrophages deficient in AMPK. Taken together, these results indicate that adiponectin inhibits LPS-primed inflammasomes activation in macrophages via autophagy induction and AMPK signaling-dependent mechanisms.
View Full-Text
►

▼

Figures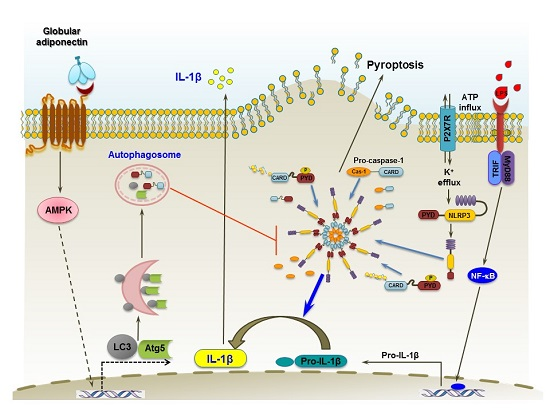 Graphical abstract
This is an open access article distributed under the
Creative Commons Attribution License
which permits unrestricted use, distribution, and reproduction in any medium, provided the original work is properly cited (CC BY 4.0).

Share & Cite This Article
MDPI and ACS Style
Kim, M.J.; Kim, E.H.; Pun, N.T.; Chang, J.-H.; Kim, J.-A.; Jeong, J.-H.; Choi, D.Y.; Kim, S.-H.; Park, P.-H. Globular Adiponectin Inhibits Lipopolysaccharide-Primed Inflammasomes Activation in Macrophages via Autophagy Induction: The Critical Role of AMPK Signaling. Int. J. Mol. Sci. 2017, 18, 1275.
Note that from the first issue of 2016, MDPI journals use article numbers instead of page numbers. See further details here.
Related Articles
Comments
[Return to top]