Open Access This article is
freely available
re-usable
Review
Flavonoids, Thyroid Iodide Uptake and Thyroid Cancer—A Review
1
Carlos Frederico Lima Gonçalves, Laboratory of Endocrine Physiology, Instituto de Biofísica Carlos Chagas Filho, Universidade Federal do Rio de Janeiro, 21941-902 Rio de Janeiro, Brazil
2
Mariana Lopes de Freitas, Laboratory of Endocrine Physiology, Instituto de Biofísica Carlos Chagas Filho, Universidade Federal do Rio de Janeiro, 21941-902 Rio de Janeiro, Brazil
3
Andrea Claudia Freitas Ferreira, Laboratory of Endocrine Physiology, Instituto de Biofísica Carlos Chagas Filho, Universidade Federal do Rio de Janeiro, 21941-902 Rio de Janeiro, Brazil
4
NUMPEX, Campus Duque de Caxias, Universidade Federal do Rio de Janeiro, Duque de Caxias, 25245-390 Rio de Janeiro, Brazil
*
Author to whom correspondence should be addressed.
Received: 30 April 2017 / Accepted: 7 June 2017 / Published: 12 June 2017
Abstract
:
Thyroid cancer is the most common malignant tumor of the endocrine system and the incidence has been increasing in recent years. In a great part of the differentiated carcinomas, thyrocytes are capable of uptaking iodide. In these cases, the main therapeutic approach includes thyroidectomy followed by ablative therapy with radioiodine. However, in part of the patients, the capacity to concentrate iodide is lost due to down-regulation of the sodium-iodide symporter (NIS), the protein responsible for transporting iodide into the thyrocytes. Thus, therapy with radioiodide becomes ineffective, limiting therapeutic options and reducing the life expectancy of the patient. Excessive ingestion of some flavonoids has been associated with thyroid dysfunction and goiter. Nevertheless, studies have shown that some flavonoids can be beneficial for thyroid cancer, by reducing cell proliferation and increasing cell death, besides increasing NIS mRNA levels and iodide uptake. Recent data show that the flavonoids apingenin and rutin are capable of increasing NIS function and expression in vivo. Herein we review literature data regarding the effect of flavonoids on thyroid cancer, besides the effect of these compounds on the expression and function of the sodium-iodide symporter. We will also discuss the possibility of using flavonoids as adjuvants for therapy of thyroid cancer.
Keywords:
thyroid; cancer; flavonoid; phytochemical; sodium iodide symporter (NIS); iodide uptake; radioiodine therapy; proliferation; invasiveness
2. Sodium-Iodide Symporter
4. Flavonoids
Flavonoids are polyphenolic compounds widely spread in the vegetable kingdom. The basic chemical structure is C6-C3-C6 (
Figure 2
), composed of two aromatic rings linked by a three-carbon chain [
84
]. Most flavonoids are conjugated to carbohydrates, but they can also be found in a free form, known as aglycones [
85
]. Many biological actions are attributed to flavonoids in vegetables, among them we can cite: protection against ultraviolet and visible rays; protection against insects, fungi, viruses and bacteria invasion; attraction of insects to pollination; antioxidant effect and hormonal modulation [
85
].
The in vivo effect of a dietetic compound depends on its bioavailability. A study regarding the bioactivity and bioavailability of isoflavones and flavonoids revealed that they are influenced by the intestinal microflora [
86
]. Despite the appreciable degradation of these compounds in the intestines, 10% to 60% of the total reaches the plasma, and depending on the type and quantity of flavonoids in the diet, significant concentrations can be achieved. The amount of flavonoid available for absorption is also influenced by the processing and preparation of the food. For example, the isoflavone content in soybeans can be halved by cooking [
86
]. Thus, the application of in vitro data for in vivo situation should be considered, but with caution. Although some flavonoid metabolism may occur in peripheral tissues, most reactions seem to proceed in the digestive tube and in the liver, thus the levels in the target tissue are usually analogous to those in plasma. Some evidence indicates that the products of intestinal and hepatic metabolism of flavonoids and phytoestrogens can be biologically active too and mediate estrogen signaling, for example [
87
,
88
]. In conclusion, the great disparities in the effects of such compounds in humans can be due to differences in individual microflora, intestinal transit, and hepatic metabolism, among other factors, thus contributing to the inconsistency of the effects of flavonoids and phytoestrogens on humans [
89
,
90
].
5. Effect of Flavonoids on the Synthesis and Metabolism of Thyroid Hormones
6. Flavonoids and Cancer
Since cancer is a quite complex disease, with pathophysiology that varies greatly according to the cell type, the treatment has several difficulties and limitations. Depending on the kind of cancer, chemotherapy, surgery, hormone therapy and radiation are used in isolation or combination, aiming at the best results [
93
]. However, these treatments can lead to important side effects [
94
]. Therefore, the search for compounds able to prevent or treat cancer, leading to fewer side effects, has increased. Flavonoid administration has long been suggested to improve the tolerance to cancer treatment in an experimental model of cancer [
95
]. In addition, more recent studies suggest that flavonoids could be useful in the treatment of several types of cancer, such as skin, stomach, liver, lung and also thyroid cancer [
93
,
96
].
Epidemiological and pathological data suggest that thyroid cancer risk may be modified by flavonoids and phytoestrogen intake. Some phytoestrogens, such as those found in cruciferous vegetables, seem to be associated with a low risk of thyroid cancer [
97
]. On the other hand, soybeans have been associated with the development of goiter, which could be a risk factor for thyroid cancer [
8
,
98
]. In 2014, Xiao and collaborators published an epidemiological study, utilizing data from the NIH-AARP Diet and Health Study from 1995 to 1996. The authors observed that thyroid cancer risk was inversely associated with dietary flavan-3-ols, but positively associated with flavanones [
99
]. These epidemiological data suggest the important impact of dietary flavonoids on thyroid cancer and reinforce the potential of nutritional factors to the treatment of this disease. However, given the few studies in this field, additional research is still needed.
7. Effect of Flavonoids on Iodide Uptake and Thyroid Cancer
Therefore, data from literature reinforce the idea that many flavonoids, and maybe the association among them, could be useful in the therapy of thyroid cancer, both increasing radioiodide uptake and reducing tumor growth.
8. Conclusions
In summary, there are literature data showing that flavonoids can affect many parameters in thyroid cancer, including cell proliferation, invasiveness and differentiation. Moreover, some flavonoids were shown to stimulate iodide uptake, a fundamental step for thyroid cancer therapy. Therefore, these phytochemicals have a great potential as therapeutic agents both as adjuvant in radioiodine therapy and to limit tumor growth and invasiveness. Indeed, additional studies are needed to better clarify the mechanisms underlying the effect of the flavonoids on thyroid cancer and the possible side effects associated with the pharmacological use of these compounds, to enable the development of drugs that could be useful in the treatment of thyroid cancer.
Acknowledgments
This work was supported by Pro Onco Vivi Nabuco-Fundação do Câncer, Fundação de Amparo à Pesquisa do Rio de Janeiro (FAPERJ), Conselho Nacional de Desenvolvimento Científico e Tecnológico (CNPq) and Coordenação de Aperfeiçoamento de Pessoal de Nível Superior (CAPES).
Author Contributions
Carlos F.L. Gonçalves, Mariana L. de Freitas and Andrea C.F. Ferreira reviewed the literature, made substantial contributions to conception and design of the manuscript, wrote the manuscript, revised the manuscript and gave final approval of the version to be published.
Conflicts of Interest
The authors declare no conflict of interest.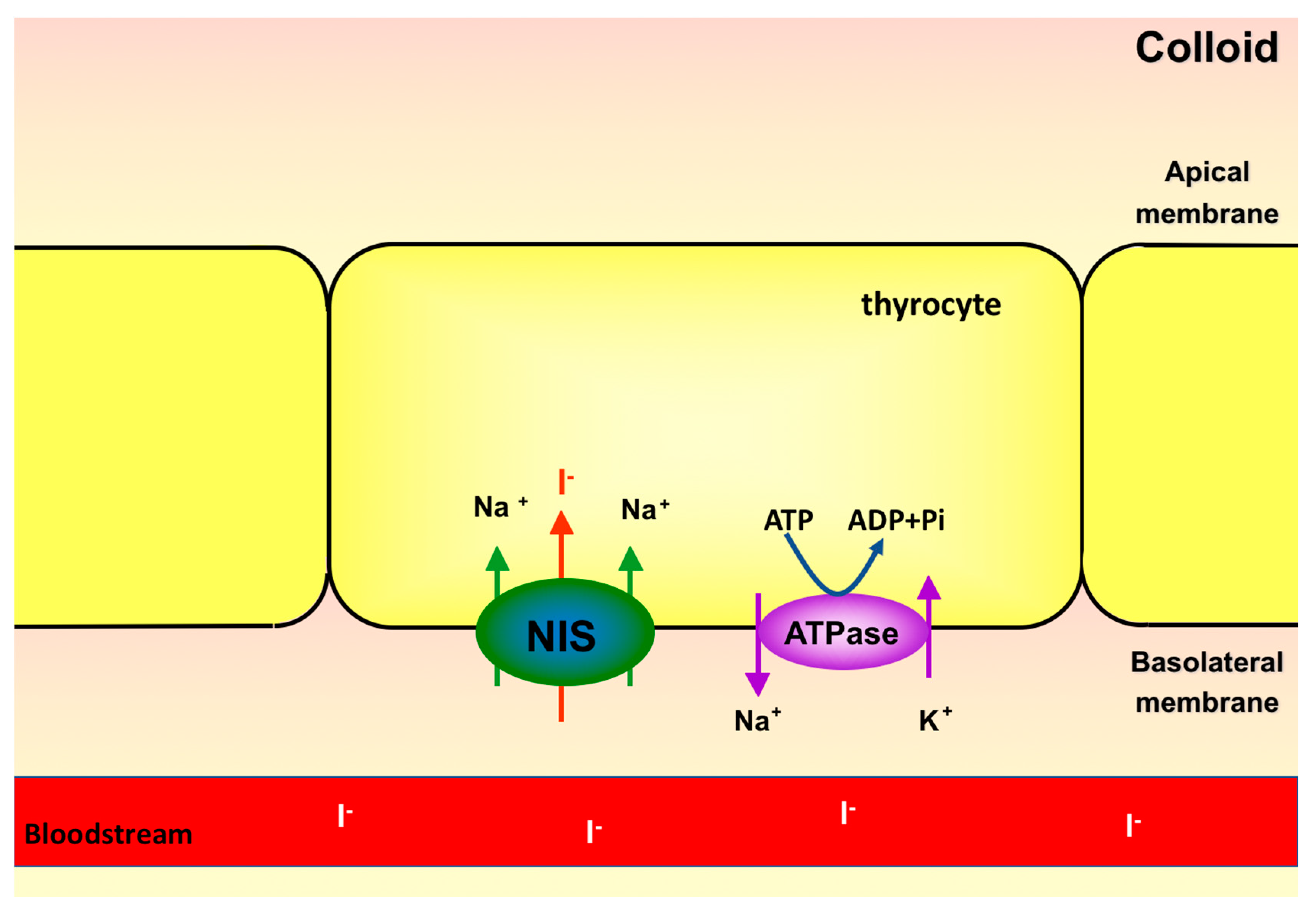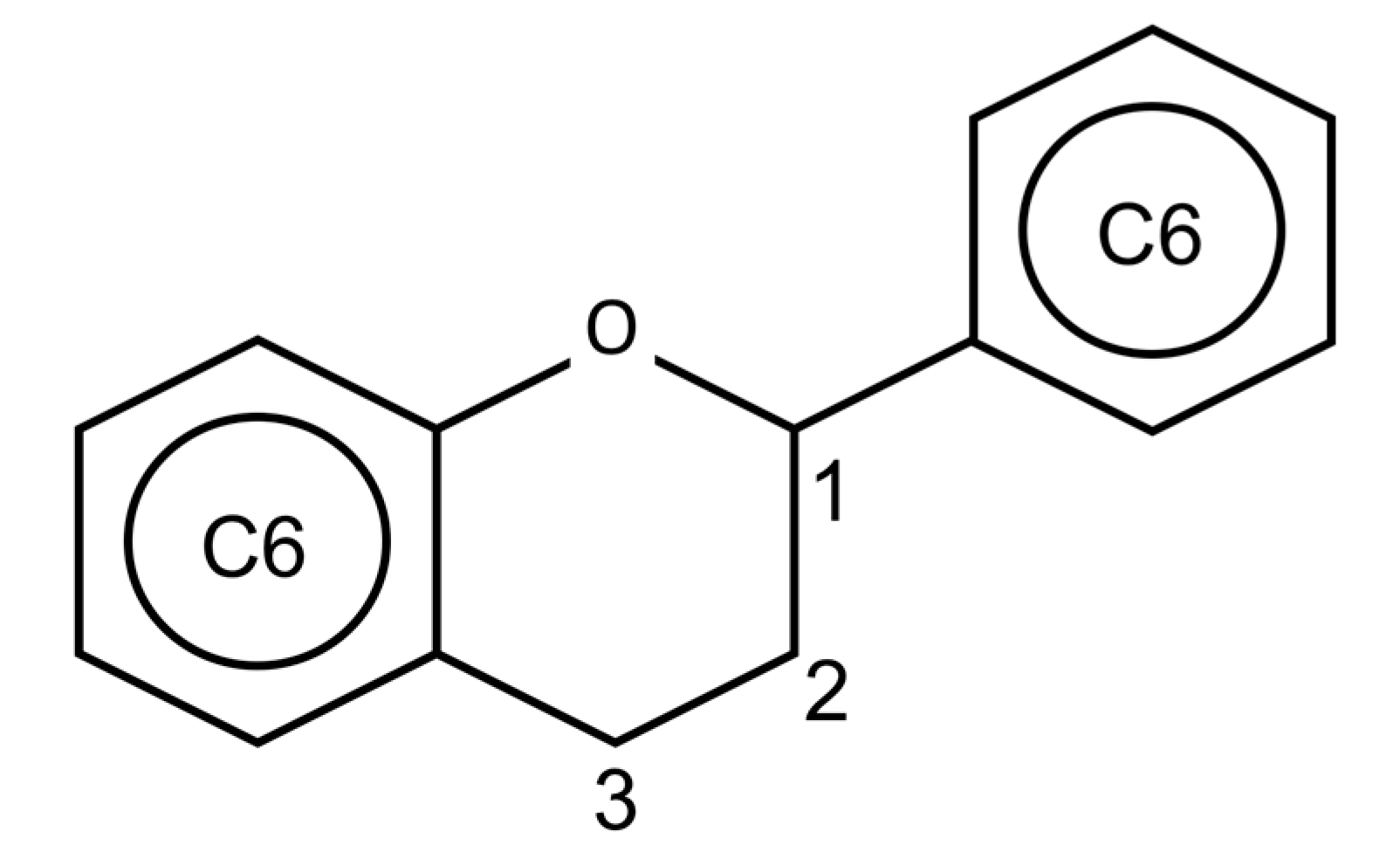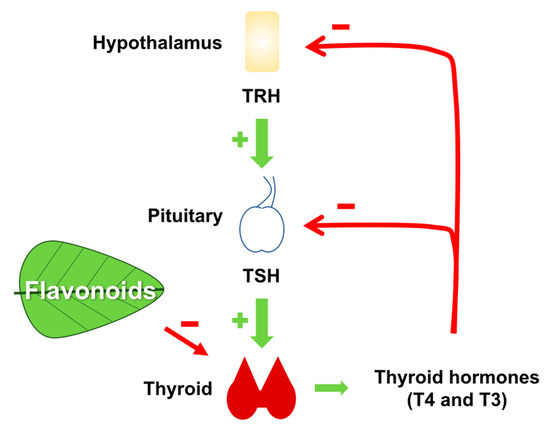 Figure 3. Some flavonoids can affect thyroid hormone synthesis. The inhibition of thyroperoxidase (TPO), the enzyme that catalyzes the synthesis of thyroid hormones, by some flavonoids can lead to reduction of thyroid hormone concentration in the serum, thus activating hypothalamus-pituitary-thyroid axis. Increased TSH then stimulates thyroid growth and can lead to goiter.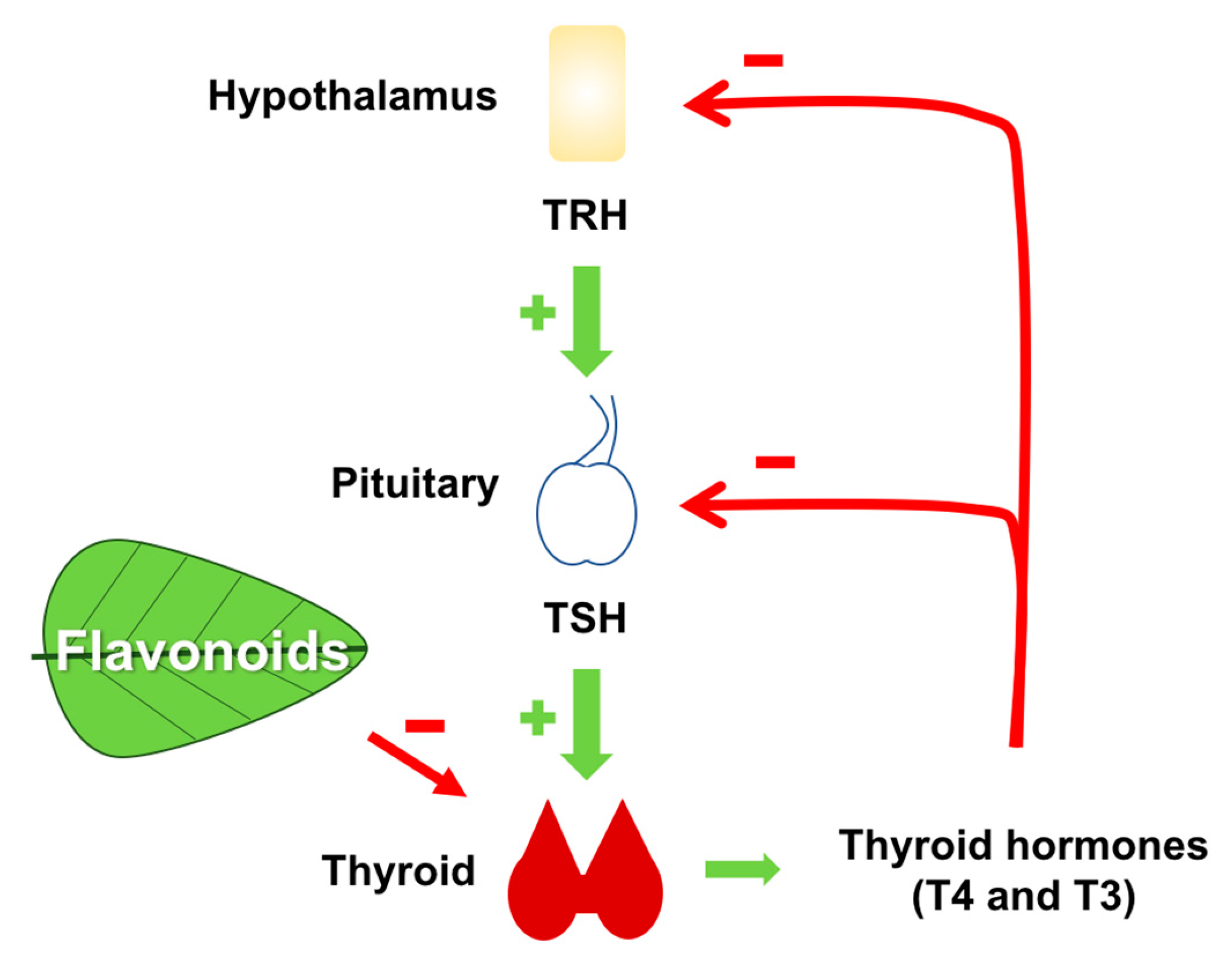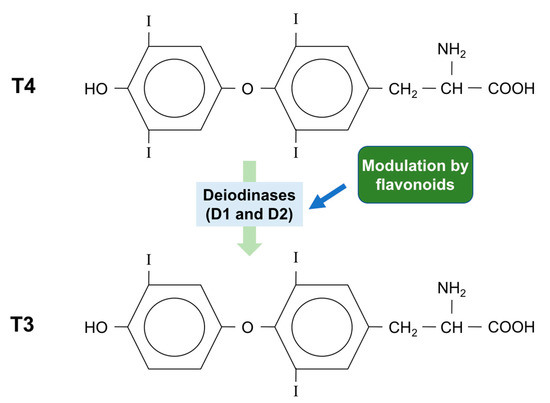 Figure 4. Some flavonoids can affect thyroid hormone metabolism. Type 1 (D1) and type 2 (D2) deiodinases catalyze the conversion of the pro-hormone T4 to the biologically active hormone T3. Some flavonoids affect this reaction by inactivating or activating deiodinases.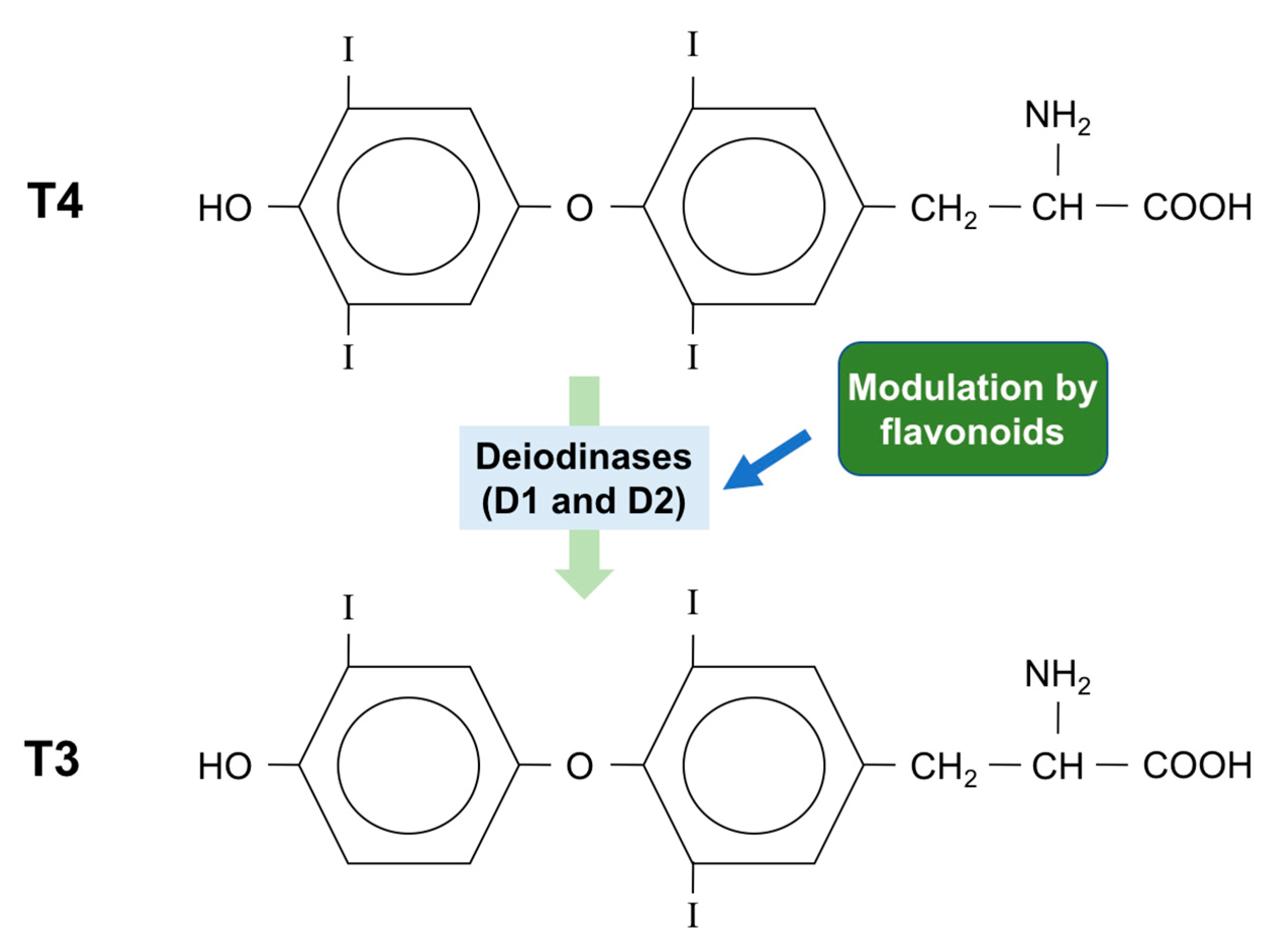 Table 1. Effect of some flavonoids on thyroid cancer.

| Reference | Experimental Design | Summary of Results |
| --- | --- | --- |
| Schröder-van der Elst et al., 2004 [24]. | Follicular thyroid cancer cell line (FTC-133) was treated with different flavonoids and 125I uptake, 125I efflux and DNA content of the cells were measured. | Most flavonoids inhibited cell growth. Myricetin was the only flavonoid studied that increased the influx and decreased the efflux of 125I. |
| Liu et al., 2004 [103]. | Human medullary carcinoma cell line (TT) was treated with a Src-specific tyrosine kinase inhibitor, PP2, or genistein and cell proliferation was examined. | Compared to control, genistein caused a modest decline in cell count and DNA synthesis, with minimal changes in apoptosis. |
| Phan et al., 2011 [102]. | HTH7 and KAT18 cells, derived from patients with anaplastic thyroid cancer (ATC), were treated with chrysin for up to 6 days. | Chrysin reduced ATC cell numbers by increasing apoptosis in vitro. |
| Kang et al., 2011 [101]. | Authors evaluated the effect of polyphenols (resveratrol, genistein, quercetin, kaempferol and resorcinol) on cell growth and NIS expression in thyroid cancer cell lines (TPC-1—papillary thyroid cancer; FTC-133—follicular thyroid cancer; NPA—poorly differentiated papillary thyroid cancer; FRO—undifferentiated/anaplastic thyroid cancer and ARO—undifferentiated/anaplastic thyroid cancer). | Growth of thyroid cancer cell lines was inhibited in response to genistein, resveratrol and quercetin. NIS mRNA increased in FTC-133 cells in response to genistein and resveratrol but there was no change in NPA, FRO and ARO cells. Quercetin induced NIS in FTC-133, NPA and FRO cells. |
| Lim and Cha, 2011 [104]. | Human ATC cell line, ARO, was treated with epigallocatechin-3-gallate (EGCG). | EGCG inhibited cell proliferation and induced apoptosis via suppression of the EGFR/ERK pathway and cyclin B1/CDK1 complex in ATC cells. |
| Ahn et al., 2012 [105]. | The effect of photodynamic therapy (PDT) and genistein was studied in a human anaplastic thyroid cancer cell line (SNU 80). | The individual treatment with PDT induced apoptosis in SNU 80 cells; however, the efficacy was greatly increased by association with genistein. |
| Mazumdar et al., 2013 [106]. | A human MTC cell line, TT, was incubated with theaflavins, the bioactive components of black tea. | Theaflavins induced apoptosis in human MTC cell line by downregulating both PI3K/Akt/Bad and Ras/Raf/ERK pathways. |
| Yu et al., 2013 [107]. | The effect of chrysin on tumor growth was evaluated using both in vitro model (ATC cell lines: HTh7 and KAT18) and in vivo using subcutaneous xenograft tumor model. | Chrysin inhibited tumor growth in ATC both in vitro and in vivo, which seems to be due to Notch1 signaling activation, leading to cancer cell apoptosis. |
| De Amicis et al., 2013 [108]. | Authors investigated the effect of EGCG, a major catechin in green tea, on the proliferation and motility of human thyroid papillary (FB-2) and follicular (WRO) carcinoma cell lines. | Epigallocatechin-3-gallate reduced proliferation of both thyroid cancer cell lines, besides decreasing cell motility and migration. Those effects seem to be mediated by loss of epithelial-to-mesenchymal transition markers. |
| Kim et al., 2013 [109]. | Authors studied the effect of apigenin on anaplastic thyroid carcinoma cell line (FRO) survival and c-Myc expression. | Apigenin induced apoptosis via c-Myc increment, along with increased phosphorylation of p53 and p38 in FRO cells. |
| Patel et al., 2014 [110]. | The effect of hesperetin on an ATC cell line (HTh7) proliferation and differentiation was evaluated. | Hesperetin reduced ATC cell proliferation and induced the expression of thyroid markers, including sodium-iodide symporter. |
| Zhang et al., 2015 [23]. | A papillary thyroid cancer cell line (BCPAP) was treated with apigenin and the effect on cell viability and the underlying mechanisms were studied. | Apigenin treatment reduced cell viability by inducing ROS generation, leading to DNA damage and a subsequent cell cycle arrest in G2/M phase. Autophagy was induced and eventually triggered human papillary thyroid cancer cell death. |
| Mutlu Altundag et al., 2016 [22]. | Human papillary thyroid cancer cells (BCPAP) were treated with quercetin and cell viability and apoptosis were evaluated. | Quercetin induced reduction of BCPAP cell viability by enhancing apoptosis. This effect seems to involve downregulation of HSP90, a heat shock protein important for stress response in cancer cells. |
FTC-133—Follicular thyroid cancer cell line; TT—Human medullary carcinoma cell line; PP2—Src-specific tyrosine kinase inhibitor; ATC—anaplastic thyroid cancer; HTH7 and KAT18—anaplastic thyroid cancer cells derived from patients with ATC; NIS—sodium-iodide symporter; TPC-1—papillary thyroid cancer; NPA—poorly differentiated papillary thyroid cancer; FRO—undifferentiated/anaplastic thyroid cancer and ARO—undifferentiated/anaplastic thyroid cancer; EGCG—epigallocatechin-3-gallate; PDT—photodynamic therapy; SNU 80—human anaplastic thyroid cancer cell line; FB-2—human thyroid papillary carcinoma cell line; WRO—human thyroid follicular carcinoma cell line; BCPAP—papillary thyroid cancer cell line.
© 2017 by the authors. Licensee MDPI, Basel, Switzerland. This article is an open access article distributed under the terms and conditions of the Creative Commons Attribution (CC BY) license ( http://creativecommons.org/licenses/by/4.0/).