The Cytokine Flt3-Ligand in Normal and Malignant Hematopoiesis
1
Developmental and Molecular Immunology, Department of Biomedicine, University of Basel, Mattenstrasse 28, Basel 4058, Switzerland
2
Institute of Immunology and Immunotherapy, College of Medical and Dental Sciences, University of Birmingham, Edbgaston, Birmingham B15 2TT, UK
3
Institute of Clinical Sciences, College of Medical and Dental Sciences, University of Birmingham, Edbgaston, Birmingham B15 2TT, UK
*
Author to whom correspondence should be addressed.
Academic Editor: Ewa Marcinkowska
Received: 27 April 2017 / Revised: 18 May 2017 / Accepted: 19 May 2017 / Published: 24 May 2017
The cytokine Fms-like tyrosine kinase 3 ligand (FL) is an important regulator of hematopoiesis. Its receptor, Flt3, is expressed on myeloid, lymphoid and dendritic cell progenitors and is considered an important growth and differentiation factor for several hematopoietic lineages. Activating mutations of Flt3 are frequently found in acute myeloid leukemia (AML) patients and associated with a poor clinical prognosis. In the present review we provide an overview of our current knowledge on the role of FL in the generation of blood cell lineages. We examine recent studies on Flt3 expression by hematopoietic stem cells and its potential instructive action at early stages of hematopoiesis. In addition, we review current findings on the role of mutated FLT3 in leukemia and the development of FLT3 inhibitors for therapeutic use to treat AML. The importance of mouse models in elucidating the role of Flt3-ligand in normal and malignant hematopoiesis is discussed.
1. Introduction
Leukemias occur as a result of the de-regulation of normal hematopoiesis, as evidenced by the significant number of genes important for hematopoietic development that are mutated in leukemias. Therefore, understanding how hematopoiesis is regulated is of utmost importance for the elucidation of the mechanisms that lead to the blood cell malignancies. Cytokines are important regulators of hematopoietic development: they transfer extra-cellular signals to cells to affect their survival, proliferation, differentiation and maturation [
1
]. The cytokine "Fms-like tyrosine kinase 3 ligand" (hereafter FL) represents a typical example of a hematopoietic cytokine whose receptor is often found to be mutated or over-expressed in leukemias. Therefore, there has been a great deal of attention on the precise role of FL in hematopoiesis.
In this review we will give a general outline of our current knowledge of the role of FL in normal and malignant hematopoiesis and will briefly discuss recent findings from us and others that offer new insights on how FL regulates the generation of blood cells. Furthermore, the potential relevance of these findings to the role of FL in hematopoietic malignancies will be discussed.
2. FL and Its Receptor, Flt3
3. The Role of FL in Normal Hematopoiesis
4. FL and Flt3 in Hematopoietic Malignancies
Aberrant expression of FLT3 is very commonly found in hematopoietic malignancies. In most cases, this is due to activating mutations in the
FLT3
gene but a significant number of leukemias are also characterized by a higher than normal expression level of un-mutated, wild-type FLT3, thus underscoring the importance of FLT3 signaling perturbations in malignant transformation. In most cases FLT3 mutations are associated with a poor clinical prognosis [
104
]. FLT3 mutations are most commonly found in AML patients, almost one third of which harbor such a mutation. In addition, 5–10% of patients with Myelodysplasia (MDS) and 1–3% of Acute Lymphoblastic Leukemia (ALL) patients have mutations in the
FLT3
gene. In pediatric leukemias FLT3 mutations are somewhat more rare, but they also clearly associate with poor clinical prognosis [
105
].
There are two types of FLT3 mutations found in AML: internal tandem duplications of the juxta-membrane domain (the mutated receptor thus termed FLT3-ITD) and point mutations in the tyrosine kinase domains (collectively named FLT3-TKD).
4.1. FLT3-ITD
In 1996, Nakao et al. described for the first time the presence of a mutated FLT3 receptor in AML patients, which exhibited tandem duplications in the juxta-membrane domain [
106
]. Since then this particular type of mutation has been studied extensively and identified as one of the most common mutations in AML [
107
,
108
,
109
]. The mutation consists of a head-to-tail replication of sequences coding part of the juxta-membrane domain of the receptor (
Figure 3
). These sequences can be variable in length (from 3 to >400 base pairs) and, as they are always found to be in-frame, they result in the transcription and translation of a receptor with an elongated juxta-membrane domain. The consequence of this elongation is that the mutated receptor can dimerize, phosphorylate and activate the kinase domains without the need to bind FL, therefore resulting in ligand-independent, constitutive activation of FLT3 [
110
,
111
,
112
]. This probably occurs by eliminating an auto-inhibitory function of the wild-type receptor, which ensures that, without ligand binding and dimerization, the kinase domains cannot be activated [
110
,
113
]. It has been proposed that these tandem duplications occur as a result of DNA replication mistakes and they provide a growth advantage to the cells harboring them [
111
].
Studies on the signaling events occurring downstream of the constitutively activated FLT3-ITD have initially been carried out using cell lines transduced with the mutated receptor and have indicated that there are qualitative differences between FLT3-ITD and wild-type FLT3 signaling. In addition to activating the Ras/MEK/Erk and PI3K pathways [
111
,
112
], which are also activated by wild-type FLT3, FLT3-ITD has been shown to promote STAT5 phosphorylation and subsequent DNA binding [
114
]. As a consequence, FLT3-ITD can activate an array of STAT5 target genes, which would normally not be expressed upon binding of FL to its wild-type receptor [
115
]. Interestingly, amongst them are not only cell-cycle regulating genes, which would account for a growth advantage of FLT3-ITD harboring cells, but also myeloid differentiation transcription factors, such as PU1 and C/EBPα, which seem to be suppressed by FLT3-ITD [
115
,
116
]. Another outcome of the aberrant STAT5 activation triggered by FLT3-ITD seems to be an increase in reactive oxygen species production and in the frequency of double-strand DNA breaks, therefore resulting in genomic instability and providing a potential mechanism for the apparent poor clinical prognosis of patients harboring FLT3-ITD mutations [
117
,
118
]. In addition, a potential mechanism by which FLT3-ITD might promote survival and proliferation of AML cells is through phosphorylation and subsequent suppression of the Forkhead family of transcription factors member FOXO3a, an important pro-apoptotic regulator [
119
].
Important insights into the mechanisms by which FLT3-ITD can promote leukemogenesis have come from in vivo studies. Apart from injecting FLT3-ITD transduced cell lines into mice [
114
,
120
], early attempts to create mouse models where the mechanism of FLT3-ITD leukemogenesis could be studied involved retroviral transduction of bone marrow cells and subsequent transplantation into recipient mice. These experiments showed that FLT3-ITD expressing bone marrow cells caused a myeloproliferative disease in the recipient mice, characterized by splenomegaly, leukocytosis and expansion of myeloid lineages, but without developing an AML phenotype similar to human patients [
121
,
122
]. Similar results were obtained from a transgenic mouse model expressing FLT3-ITD under the control of the
vav
promoter, with the difference that few transgenic lines in this system developed a lymphoid disease as well [
123
]. Mouse models that resemble more closely the leukemogenic effect of FLT3-ITD in humans have been generated by two groups, through a knock-in approach, whereby the human FLT3-ITD gene was inserted into the endogenous
Flt3
locus [
124
,
125
]. In both studies, mice developed symptoms of myeloproliferative disease, with splenomegaly, leukocytosis, expansion of myeloid progenitors and dendritic cells, as well as a decrease in the numbers of B cell progenitors. Interestingly, while both mouse models exhibited a significant increase in early LSK progenitors, further analysis of LSK subpopulations in one of them revealed a reduction in the number of CD48
−
CD150
+
HSC [
126
]. This reduction was shown to be the result of increased proliferation and cell-cycle entry of HSC, eventually leading to their exhaustion. Considering that FLT3-ITD in this mouse model is expressed under the control of the endogenous
Flt
3 regulatory elements, these results would argue in favor of Flt3 expression within the HSC compartment, as discussed previously (
Figure 1
) [
54
].
4.2. FLT3-TKD
Point mutations in the tyrosine kinase domain of FLT3 are the second most common type of FLT3 mutations found in AML. They have also been associated with an unfavorable clinical outcome in patients although, due to their somewhat lower frequency, very large studies are needed to precisely evaluate their impact on clinical outcome [
113
]. FLT3-TKD point mutations also promote ligand-independent phosphorylation of the receptor and cell growth [
127
,
128
]. In wild-type FLT3, in the absence of ligand binding, the activation loop of the kinase domain remains in a closed conformation, therefore preventing ATP and protein binding [
129
]. It is believed that TKD mutations result in opening of this region and subsequent activation without the need for ligand binding. Even though both FLT3-ITD and FLT3-TKD mutations confer ligand-independent receptor activation, the mechanisms by which they contribute to the development of leukemia might be different. Indeed, signaling downstream of both mutated receptors seems to differ as to which signal transduction pathways get activated [
130
], and a study comparing gene expression profiles of the two types of mutations in childhood AML patients showed significant differences in the genetic program they induce [
131
]. FLT3-ITD has been shown to localize to a large extent intra-cellularly [
132
], resulting in aberrant interactions with signaling molecules [
133
], and this has been hypothesized to be one mechanism responsible for differential signaling by FLT3-ITD and FLT3-TKD [
134
]. Furthermore, in a mouse bone marrow transplantation model, FLT3-TKD not only manifested a malignancy with longer latency compared to FLT3-ITD, but it was also found to cause an oligoclonal lymphoid disease, in contrast to FLT3-ITD, which led to the development of a myeloproliferative disorder [
121
]. The reason for the difference in lineage outcome of the disease was differential activation of STAT5 from the two types of mutations, since the FLT3-TKD mutation expressed in this model did not result in STAT5 phosphorylation, as was the case with FLT3-ITD. Intriguingly, STAT5 phosphorylation seemed to be the decisive factor as to the lineage phenotype of the disorder, since deletion of STAT5 in FLT3-ITD-mediated malignancy significantly increased survival and switched the immunophenotype of the disease from a myeloid to a lymphoid one [
135
]. The differences in the in vivo effects of FLT3-ITD and FLT3-TKD were also demonstrated in a knock-in mouse model expressing the FLT3-TKD most commonly found in AML [
136
]. In agreement with the previous study, this mouse model showed that FLT3-TKD manifested a less aggressive malignancy than FLT3-ITD, and even though myeloid progenitors were increased, a significant expansion of B cell progenitors was also observed.
Apart from activating mutations, increased expression levels of the wild-type FLT3 receptor have also been observed in cases of leukemia [
137
,
138
,
139
,
140
]. Consequently, high FLT3 expression and/or constitutively active mutated FLT3 are found in 70–100% of AML cases, as well as in a high percentage of ALL cases [
104
]. The importance or potential mechanism of high FLT3 expression in leukemias remains unknown. Some receptor tyrosine kinases can exhibit dimerization even in the absence of ligand binding [
141
]. Therefore, a significant increase in the amount of FLT3 on the cell surface might facilitate some degree of ligand-independent dimerization and activation of the receptor [
142
]. Alternatively, it could be hypothesized that in steady-state conditions the amount of FLT3 on the cell surface is the limiting factor for FLT3 signaling, with FL being abundant in the bone marrow. Therefore, higher FLT3 expression could result in stronger downstream signaling. In that context, it should be noted that there is evidence for autocrine FL signaling from studies of AML patients' cells and leukemic cell lines [
143
].
4.3. FLT3 Inhibitors
The poor response of FLT3-ITD AML patients to conventional therapies has prompted investigation of the use of FLT3 tyrosine kinase inhibitors (TKIs) to treat relapsed and refractory AML. Interestingly, blast cells from FLT3-ITD AML patients at the time of relapse are more sensitive to FLT3 TKIs when compared to presentation blasts [
144
]. This suggests that chemotherapy selects for cells that are dependent on FLT3-ITD signalling, underscoring the potential of FLT3 TKIs in treating relapsed AML.
First generation FLT3 inhibitors were non-specific TKIs and inhibited other tyrosine kinase receptors, such as c-KIT and vascular endothelial growth factor receptor [
145
,
146
,
147
,
148
]. These include two TKIs, sunitinib and sorfenib, which have been approved for the treatment of solid tumours [
149
,
150
,
151
,
152
,
153
]. Phase I and Phase I/II clinical trials have demonstrated that sunitinib inhibits FLT3 signalling in AML patients' cells [
154
] and is well tolerated as both a monotherapy and with intensive chemotherapy [
155
,
156
]. As a monotherapy, sunitinib induces short-term (4–16 weeks) and partial remission [
156
]. Sunitinib with conventional chemotherapy seems promising, but this combination has only been investigated in a single-arm Phase I/II study [
155
]. Sorefenib has been more intensely studied as to its use in AML. Early studies of sorefenib as a monotherapy to treat AML generated conflicting outcomes [
157
,
158
,
159
]. However, when combined with chemotherapy, sorefenib has been shown to increase event- and relapse-free survival in patients with previously untreated AML who are above, but not below, the age of 60 [
160
], though toxicity is increased [
161
,
162
]. Sorafenib also sustains remission in AML patients harbouring FLT3-ITD mutations following allogenic stem cell transplant [
163
,
164
] and a Phase IV trial is currently underway to investigate this further (NCT02474290). Midostaurin is another FLT3 TKI that has shown promise in young AML patients. Stone et al. have shown that midostaurin with intense chemotherapy increases both event-free and overall survival in patients with newly diagnosed AML (≤60 years) [
165
,
166
]. Lestaurnib has been studied as a potential treatment for AML but has shown limited clinical benefit and achieving sustained FLT3 inhibition with lestaurnib has proven challenging [
167
,
168
]. Second generation FLT3 TKIs are highly selective for FLT3 and have shown significant promise in treating relapsed and refractory AML. Quizartnib is one of the most effective monotherapies for the treatment of FLT3-ITD AML and in one Phase II study complete remission was seen in approximately half of the patients and was sustained for an average of 11–13 weeks [
169
,
170
]. A pilot study has also shown that quizartnib is an effective treatment of newly diagnosed AML when combined with chemotherapy (a complete remission seen in 79% of patients) [
171
], and a phase III clinical trial is currently investigating the use of quizartnib in combination with chemotherapy in newly diagnosed FLT3-ITD AML (NCT02668653). Two other second generation FLT3 TKIs, gilteritinib and crenolanib, have also been shown to have activity against AML cells with FLT3-ITD and FLT3-TKD mutations. A phase I/II clinical trial has demonstrated that gilteritinib is effective as a monotherapy in the treatment of relapsed and refractory AML [
172
]. Complete remission was observed in 49% and 29% of FLT3-ITD and FLT3-TKD AML patients, respectively. Crenolanib is effective in treating relapsed and refractory AML [
173
] and has been shown to be particularly useful in the treatment of cases of AML that are resistant to previous TKI therapy [
174
,
175
,
176
]. In a recent trial of crenolanib in patients with relapsed or refractory AML harbouring
FLT3
mutations, the overall response rate was 31% in patients that had received prior FLT3 TKI treatment and 39% in FLT3 TKI naïve patients [
177
].
Mechanisms of FLT3-TKI resistance in AML have been identified, such as the FLT3-TKD mutations that commonly confer resistance to quizartnib [
178
,
179
]. One proposed mechanism is that elevated plasma FL levels that are induced following chemotherapy reduce the activity of FLT3-TKIs, and this is supported by in vitro studies [
180
]. Therefore, several studies have investigated the use of FLT3-TKIs with azacytidine, a hypomethylating agent that reduces plasma FL concentrations, in the treatment of AML. An interim report of a study examining the combination of quizartinib with azacitidine has shown promising results, with a response observed in 69% of patients with relapsed or refractory MDS, chronic myelomonocytic leukemia or AML, including 4 of 7 patients that had received prior FLT3 TKI treatment [
181
]. Another approach to overcoming resistance is the use of antibodies to FL in combination with FLT3-TKIs ([
182
] and NCT02789254).
5. Open Questions and Future Challenges
The studies that have been briefly outlined herein have greatly advanced our understanding not only of how the cytokine FL exerts its function in hematopoiesis, but also of how normal blood cell generation is regulated. The clinical importance of Flt3 signaling requires further investigations into the role of FL and its receptor in leukemia.
Acknowledgments
This project has received funding from the European Union's Seventh Framework Programme for research, technological development and demonstration under grant agreement no. 315902. Geoffrey Brown and Antonius Rolink are partners within the Marie Curie Initial Training Network DECIDE (Decision-making within cells and differentiation entity therapies). Ciaran Mooney gratefully acknowledges receipt of a Marie Curie Research Associate post. Panagiotis Tsapogas and Antonius Rolink are supported by the Swiss National Science Foundation and the Novartis Foundation for Medical and Biological Research. Antonius Rolink is holder of the chair in Immunology endowed by Fritz Hoffman—La Roche Ltd.
Conflicts of Interest
The authors declare no conflict of interest.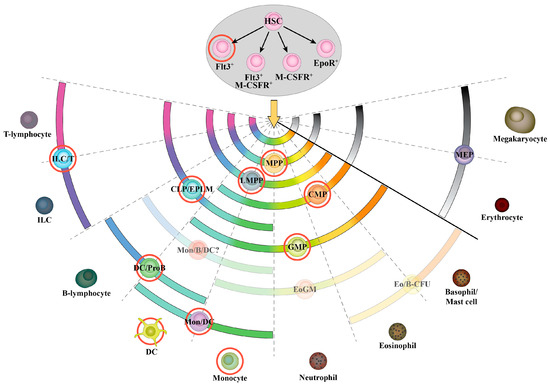 Figure 1. Flt3 expression in murine hematopoietic cells. Flt3 expression in progenitor and mature hematopoietic cells. The fate choices that are available to HSC are a continuum as shown by the short central arc below the yellow arrow. The fates choices of each of the indicated progenitors are shown as a shorter arc that spans the end cell types each progenitor cell population can give rise to. Red circles indicate Flt3 expression by the corresponding cell type. The grey section of the spectrum and grey shading of the MEP and mature cells indicates that these cells do not express Flt3. Progenitor cells that have not been investigated for expression of Flt3 are shown in a faded color. Expression is confined to myeloid and lymphoid progenitors as opposed to megakaryocyte/erythroid progenitors. HSC: Hematopoietic Stem Cell; MPP: Multi-Potent Progenitor; LMPP: Lymphoid-primed Multi-potent Progenitor; MEP: Megakaryocyte-Erythrocyte Progenitor; CMP: Common Myeloid Progenitor; GMP: Granulocyte-Macrophage Progenitor; CLP: Common Lymphoid Progenitor; EPLM: Early Progenitors with Lymphoid and Myeloid potential; ILC: Innate Lymphoid Cell; DC: Dendritic Cell; Eo: Eosinophil; CFU: Colony Forming Unit; Mon: Monocyte; M-CSFR: Macrophage–Colony Stimulating Factor Receptor; EpoR: Erythropoietin Receptor; GM: Granulocyte-Macrophage; ProB: progenitor B-lymphocyte; B: B-lymphocyte; T: T-lymphocyte.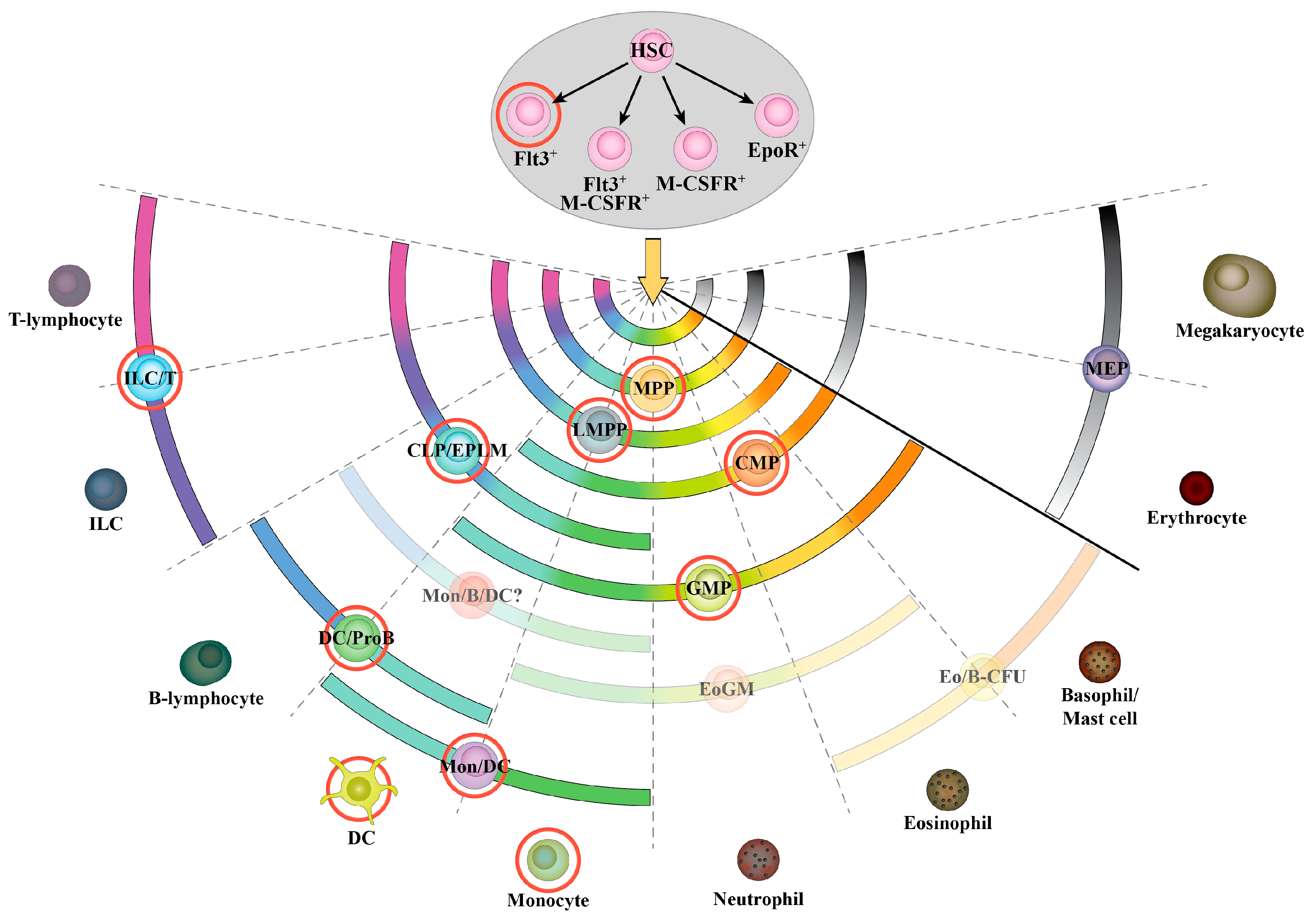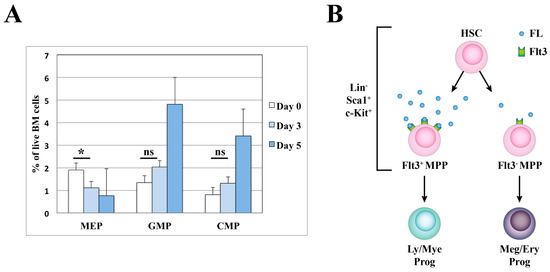 Figure 2.
Potential instructive role of FL in early hematopoiesis. (
A
) Relative percentages of MEP, GMP and CMP populations in wild-type mice (
n
= 4) injected with 10 μg of FL daily, for a period of 5 days. Cells were pre-gated as Live, Lin
−
kit
+
Sca1/CD127
−
and identified as: MEP: CD16
low
CD34
−
, GMP: CD16
+
CD34
+
, CMP: CD16
low
CD34
+
. *: significant (
p
= 0.017), ns: not significant. FL: Fms-like tyrosine kinase 3 ligand, MEP: Megakaryocyte-Erythrocyte Progenitor, GMP: Granulocyte-Macrophage Progenitor, CMP: Common Lymphoid Progenitor. BM: Bone Marrow. (
B
) Schematic representation of the proposed model for the instructive action of FL. HSC: Hematopoietic Stem Cell; MPP: Multipotent Progenitor; Ly/Mye Prog: Lymphoid/Myeloid Progenitor; Meg/Ery Prog: Megakaryocyte/Erythrocyte Progenitor; FL: Fms-like tyrosine kinase 3 ligand.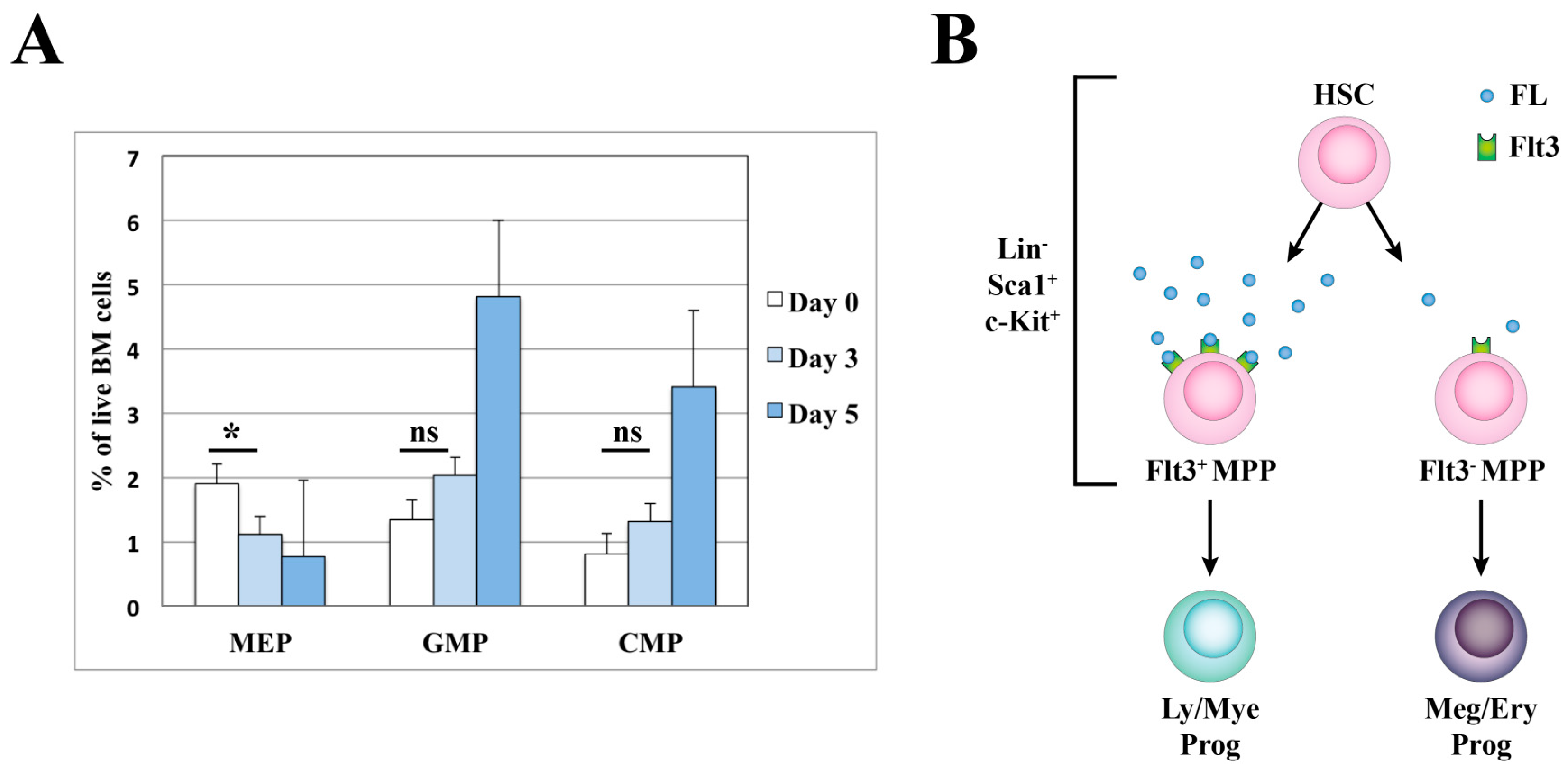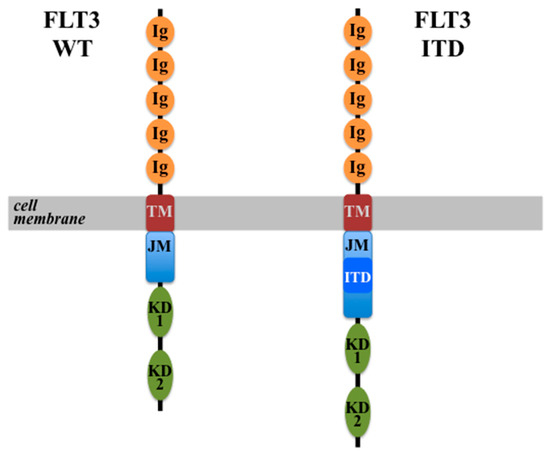 Figure 3. Schematic diagram of the structure of wild-type FLT3 (left) and FLT3-ITD (right) receptors. Ig: Immunoglobulin-like domain; TM: transmembrane domain; JM: juxta-membrane domain; KD: kinase domain; ITD: internal tandem duplications.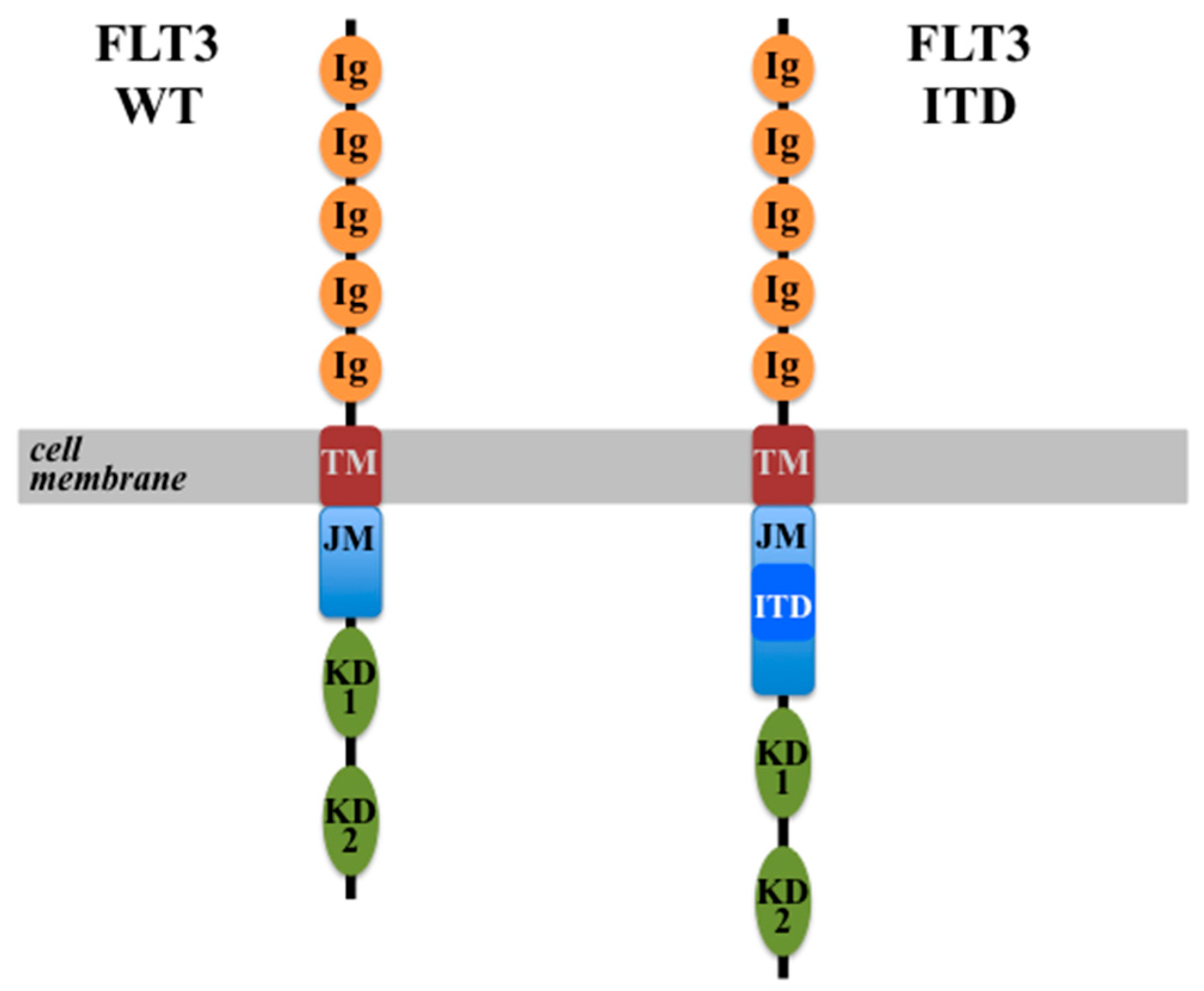 © 2017 by the authors. Licensee MDPI, Basel, Switzerland. This article is an open access article distributed under the terms and conditions of the Creative Commons Attribution (CC BY) license (http://creativecommons.org/licenses/by/4.0/).