Nrf2 Inhibits Periodontal Ligament Stem Cell Apoptosis under Excessive Oxidative Stress
1
State Key Laboratory of Military Stomatology and National Clinical Research Center for Oral Diseases and Shaanxi International Joint Research Center for Oral Diseases, Department of General Dentistry and Emergency, School of Stomatology, the Fourth Military Medical University, 145 Changle West Road, Xi'an 710032, China
2
State Key Laboratory of Military Stomatology and National Clinical Research Center for Oral Diseases and Shaanxi International Joint Research Center for Oral Diseases, Department of Oral Anatomy and Physiology and TMD, School of Stomatology, the Fourth Military Medical University, 145 Changle West Road, Xi'an 710032, China
3
State Key Laboratory of Military Stomatology and National Clinical Research Center for Oral Diseases and Shaanxi Clinical Research Center for Oral Diseases, Department of Orthodontics, School of Stomatology, the Fourth Military Medical University, 145 Changle West Road, Xi'an 710032, China
4
The cadet brigade, the Fourth Military Medical University, 169 Changle West Road, Xi'an 710032, China
*
Authors to whom correspondence should be addressed.
†
Theses authors contributed equally to this work.
Academic Editor: Charles J. Malemud
Received: 3 April 2017 / Revised: 11 May 2017 / Accepted: 13 May 2017 / Published: 17 May 2017
Abstract
The present study aimed to analyze novel mechanisms underlying Nrf2-mediated anti-apoptosis in periodontal ligament stem cells (PDLSCs) in the periodontitis oxidative microenvironment. We created an oxidative stress model with H
2
O
2
-treated PDLSCs. We used real-time PCR, Western blotting, TUNEL staining, fluorogenic assay and transfer genetics to confirm the degree of oxidative stress and apoptosis as well as the function of nuclear factor-erythroid 2-related factor 2 (Nrf2). We demonstrated that with upregulated levels of reactive oxygen species (ROS) and malondialdehyde (MDA), the effect of oxidative stress was obvious under H
2
O
2
treatment. Oxidative molecules were altered after the H
2
O
2
exposure, whereby the signaling of Nrf2 was activated with an increase in its downstream effectors, heme oxygenase-1 (HO-1), NAD(P)H:quinone oxidoreductase 1 (NQO1) and γ-glutamyl cysteine synthetase (γ-GCS). Additionally, the apoptosis levels gradually increased with oxidative stress by the upregulation of caspase-9, caspase-3, Bax and c-Fos levels in addition to the downregulation of Bcl-2. However, there was no alterations in levels of caspase-8. The enhanced antioxidant effect could not mitigate the occurrence of apoptosis. Furthermore, Nrf2 overexpression effectively improved the anti-oxidative levels and increased cell proliferation. At the same time, overexpression effectively restrained TUNEL staining and decreased the molecular levels of caspase-9, caspase-3, Bax and c-Fos, but not that of caspase-8. In contrast, silencing the expression of Nrf2 levels had the opposite effect. Collectively, Nrf2 alleviates PDLSCs via its effects on regulating oxidative stress and anti-intrinsic apoptosis by the activation of oxidative enzymes.
View Full-Text
►

▼

Figures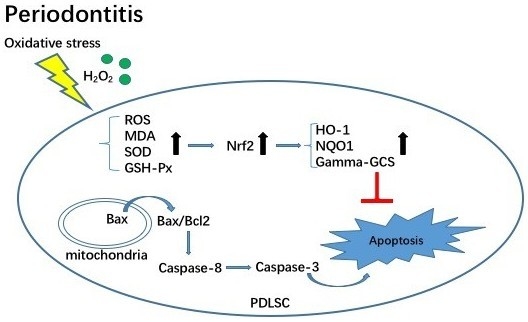 Graphical abstract
This is an open access article distributed under the
Creative Commons Attribution License
which permits unrestricted use, distribution, and reproduction in any medium, provided the original work is properly cited (CC BY 4.0).

Share & Cite This Article
MDPI and ACS Style
Liu, Y.; Yang, H.; Wen, Y.; Li, B.; Zhao, Y.; Xing, J.; Zhang, M.; Chen, Y. Nrf2 Inhibits Periodontal Ligament Stem Cell Apoptosis under Excessive Oxidative Stress. Int. J. Mol. Sci. 2017, 18, 1076.
Note that from the first issue of 2016, MDPI journals use article numbers instead of page numbers. See further details here.
Related Articles
Comments
[Return to top]