Adiponectin Is Involved in Connective Tissue Growth Factor-Induced Proliferation, Migration and Overproduction of the Extracellular Matrix in Keloid Fibroblasts
1
Department of Dermatology, No. 1 Hospital of China Medical University, Key Laboratory of Immunodermatology, Ministry of Health (China Medical University), 155 North Nanjing Street, Shenyang 110001, China
2
Department of Dermatology, Dongfeng General Hospital, Hubei University of Medicine, Shiyan 442000, China
3
Department of Cardiology, Taihe Hospital, Hubei University of Medicine, Shiyan 442000, China
4
Department of Cardiology, the First Hospital of Peking University, Beijing 100034, China
*
Author to whom correspondence should be addressed.
†
These authors contributed equally to this work.
Academic Editor: Terrence Piva
Received: 17 March 2017 / Revised: 5 May 2017 / Accepted: 8 May 2017 / Published: 12 May 2017
Abstract
Adiponectin, an adipocyte-derived hormone, exerts pleiotropic biological effects on metabolism, inflammation, vascular homeostasis, apoptosis and immunity. Recently, adiponectin has been suggested to attenuate the progression of human dermal fibrosis. Connective tissue growth factor (CTGF) is induced in keloids and is thought to be participated in the formation of keloid fibrosis. However, the roles played by adiponectin in keloids remain unclear. In this study, we explored the effects of adiponectin on CTGF-induced cell proliferation, migration and the deposition of extracellular matrix (ECM) and their associated intracellular signalling pathways in keloid fibroblasts (KFs). We also explored possible mechanisms of keloid pathogenesis. Primary fibroblast cultures were established from foreskin biopsies and skin biopsies from patients with keloids. The expression of adiponectin and adiponectin receptors (adipoRs) was evaluated by reverse transcription-PCR (RT-PCR), quantitative real-time RT-PCR, immunofluorescence staining, and immunohistochemical analysis. Next, KFs and normal dermal fibroblasts (NFs) were treated with CTGF in the presence or absence of adiponectin. A cell counting kit-8 (CCK-8) and the Transwell assay were used to examine cell proliferation and migration. The level of the collagen I, fibronectin (FN) and α-smooth muscle actin (α-SMA) mRNAs and proteins were determined by quantitative real-time RT-PCR and western blotting. The effects of RNA interference (RNAi) targeting the adipoR genes were detected. Phosphorylation of adenosine 5′-monophosphate (AMP)-activated protein kinase (AMPK), mitogen-activated protein kinase (MAPK) and phosphatidylinositol 3 kinase-protein kinase (PI3K-Akt) were examined by western blotting to further investigate the signalling pathways. Furthermore, inhibitors of signal transduction pathways were investigated. The expression levels of adiponectin and adipoRs were significantly decreased in keloids compared with those in normal skin tissue. Adiponectin suppressed the CTGF-induced KFs, but not NFs, proliferation, migration and ECM production. Moreover, adiponectin inhibited the phosphorylation of AMPK, p38 and extracellular-regulated kinase (ERK), but not that of Jun N-terminal kinase (JNK) or Akt, in CTGF-treated KFs. The activity of adiponectin-mediated signalling pathways was attenuated by small interfering RNAs (siRNAs) targeting adipoR1 (but not siRNAs targeting adipoR2, T-cadherin or calreticulin), AMPK (Compound C), p38 (SB203580) inhibitors, and mitogen-activated protein kinase kinase (MEK) inhibitor (PD98059). Based on our results, adiponectin suppresses CTGF-induced KFs proliferation, migration and ECM overproduction. One of the underlying mechanisms is the activation of the adipoR1, AMPK, p38, and ERK signalling pathways. Therefore, adiponectin may play an important role in the progression of keloids, suggesting a potential novel target for keloid treatment.
View Full-Text
►

▼

Figures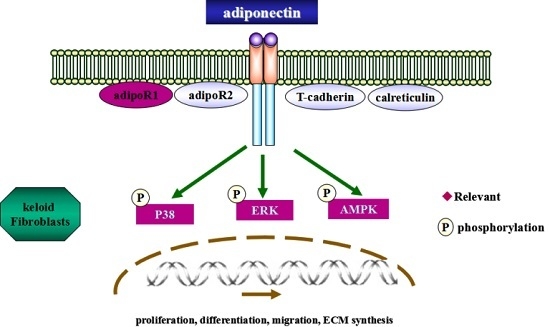 Graphical abstract
This is an open access article distributed under the
Creative Commons Attribution License
which permits unrestricted use, distribution, and reproduction in any medium, provided the original work is properly cited (CC BY 4.0).

Share & Cite This Article
MDPI and ACS Style
Luo, L.; Li, J.; Liu, H.; Jian, X.; Zou, Q.; Zhao, Q.; Le, Q.; Chen, H.; Gao, X.; He, C. Adiponectin Is Involved in Connective Tissue Growth Factor-Induced Proliferation, Migration and Overproduction of the Extracellular Matrix in Keloid Fibroblasts. Int. J. Mol. Sci. 2017, 18, 1044.
Note that from the first issue of 2016, MDPI journals use article numbers instead of page numbers. See further details here.
Related Articles
Comments
[Return to top]