Plasticizing Effects of Polyamines in Protein-Based Films
1
Department of Chemical Sciences, University of Naples "Federico II", 80126 Naples, Italy
2
Department of Nutrition and Food Technology, An-Najah National University, P.O. Box: 7 Nablus, Palestine
3
Departamento de Investigacion y Posgrado en Alimentos, Facultad de Quimica, Universidad Autonoma de Queretaro, 76010 Queretaro, Mexico
*
Author to whom correspondence should be addressed.
Academic Editors: Carl J. Schaschke and Jean-Luc Audic
Received: 7 April 2017 / Revised: 5 May 2017 / Accepted: 6 May 2017 / Published: 10 May 2017
Abstract
Zeta potential and nanoparticle size were determined on film forming solutions of native and heat-denatured proteins of bitter vetch as a function of pH and of different concentrations of the polyamines spermidine and spermine, both in the absence and presence of the plasticizer glycerol. Our results showed that both polyamines decreased the negative zeta potential of all samples under pH 8.0 as a consequence of their ionic interaction with proteins. At the same time, they enhanced the dimension of nanoparticles under pH 8.0 as a result of macromolecular aggregations. By using native protein solutions, handleable films were obtained only from samples containing either a minimum of 33 mM glycerol or 4 mM spermidine, or both compounds together at lower glycerol concentrations. However, 2 mM spermidine was sufficient to obtain handleable film by using heat-treated samples without glycerol. Conversely, brittle materials were obtained by spermine alone, thus indicating that only spermidine was able to act as an ionic plasticizer. Lastly, both polyamines, mainly spermine, were found able to act as "glycerol-like" plasticizers at concentrations higher than 5 mM under experimental conditions at which their amino groups are undissociated. Our findings open new perspectives in obtaining protein-based films by using aliphatic polycations as components.
View Full-Text
►

▼

Figures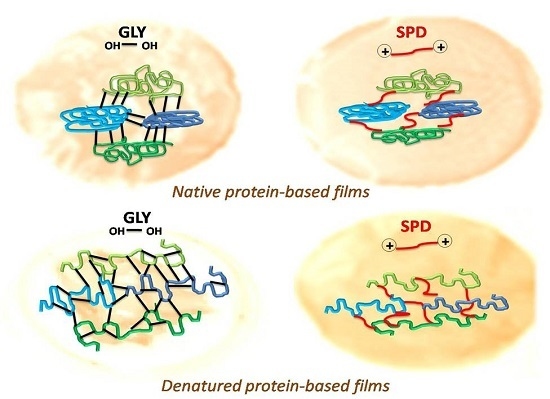 Graphical abstract
This is an open access article distributed under the
Creative Commons Attribution License
which permits unrestricted use, distribution, and reproduction in any medium, provided the original work is properly cited (CC BY 4.0).

Share & Cite This Article
MDPI and ACS Style
Sabbah, M.; Di Pierro, P.; Giosafatto, C.V.L.; Esposito, M.; Mariniello, L.; Regalado-Gonzales, C.; Porta, R. Plasticizing Effects of Polyamines in Protein-Based Films. Int. J. Mol. Sci. 2017, 18, 1026.
Note that from the first issue of 2016, MDPI journals use article numbers instead of page numbers. See further details here.
Related Articles
Comments
[Return to top]