Open Access This article is
freely available
re-usable
Review
Effects of Melatonin and Its Analogues on Pancreatic Inflammation, Enzyme Secretion, and Tumorigenesis
1
Department of Medical Physiology, Faculty of Health Sciences, Jagiellonian University Medical College, 31-126 Kraków, Poland
2
Department of Physiology, Faculty of Medicine, Jagiellonian University Medical College, 31-531 Kraków, Poland
*
Author to whom correspondence should be addressed.
Academic Editor: Russel J. Reiter
Received: 30 March 2017 / Accepted: 2 May 2017 / Published: 8 May 2017
Abstract
:
Melatonin is an indoleamine produced from the amino acid
l
-tryptophan, whereas metabolites of melatonin are known as kynuramines. One of the best-known kynuramines is
N
1
-acetyl-
N
1
-formyl-5-methoxykynuramine (AFMK). Melatonin has attracted scientific attention as a potent antioxidant and protector of tissue against oxidative stress.
l
-Tryptophan and kynuramines share common beneficial features with melatonin. Melatonin was originally discovered as a pineal product, has been detected in the gastrointestinal tract, and its receptors have been identified in the pancreas. The role of melatonin in the pancreatic gland is not explained, however several arguments support the opinion that melatonin is probably implicated in the physiology and pathophysiology of the pancreas. (1) Melatonin stimulates pancreatic enzyme secretion through the activation of entero-pancreatic reflex and cholecystokinin (CCK) release.
l
-Tryptophan and AFMK are less effective than melatonin in the stimulation of pancreatic exocrine function; (2) Melatonin is a successful pancreatic protector, which prevents the pancreas from developing of acute pancreatitis and reduces pancreatic damage. This effect is related to its direct and indirect antioxidant action, to the strengthening of immune defense, and to the modulation of apoptosis. Like melatonin, its precursor and AFMK are able to mimic its protective effect, and it is commonly accepted that all these substances create an antioxidant cascade to intensify the pancreatic protection and acinar cells viability; (3) In pancreatic cancer cells, melatonin and AFMK activated a signal transduction pathway for apoptosis and stimulated heat shock proteins. The role of melatonin and AFMK in pancreatic tumorigenesis remains to be elucidated.
Keywords:
melatonin; AFMK; enzyme secretion; acute pancreatitis; pancreatic cancer
1. Melatonin, Its Precursor and Derivatives
2. Melatonin and Its Receptors in the Pancreas
Melatonin—previously identified as an exceptional pineal product—can be synthetized in many other tissues, such as retina, brain, heart, blood vessels, immune cells, and the gastrointestinal system [
18
,
34
,
37
,
38
,
39
,
40
]. The main source of melatonin is probably the gastrointestinal tract, with the estimated amount of produced melatonin ranging 400 times higher than that in the pineal gland [
37
,
39
,
40
].
It is of interest that the pancreas is probably also able to synthetize melatonin, as was evidenced by the presence of mRNA signals for AA-NAT and HIOMT in the rat pancreatic acini and in human pancreatic tissue [
26
,
27
,
40
]. Melatonin concentration in the pancreatic tissue undergoes circadian fluctuation and mimics the characteristic changes of melatonin in the pineal gland, with a higher amount during the dark phase and lower during the day (10 and 5 pg/100 mg of tissue, respectively) [
20
]. These changes are independent of the pineal gland, but can be associated with ingested food [
41
].
3. Role of Melatonin and Its Analogues in Pancreatic Enzyme Secretion
4. Melatonin System and Acute Pancreatitis
All above results of experimental studies together with clinical observations supported the notion of the important role of the melatonin system in the innate defense protecting the pancreatic gland from inflammatory damage. The prolonged and effective pancreatic protection results from the common beneficial action of melatonin, its precursor, and its metabolites. All these substances create an antioxidant cascade, and work together to increase antioxidant resistance of pancreatic tissue and to protect acinar cells viability.
5. Melatonin System and Pancreatic Cancer
6. Conclusions
The melatonin system, including melatonin precursor
l
-tryptophan and the melatonin derivatives kynuramines, is probably implicated in pancreatic physiology and its malfunctioning, resulting in the impairment of pancreatic functions and pancreatic resistance to inflammation and cancer. The role of the melatonin system in the pancreas can be summarized as follows:
Melatonin and its related molecules may be involved in the physiological stimulation of pancreatic exocrine secretion dependent on the stimulation of CCK release and activation of duodeno-pancreatic neural reflex (

Figure 1

).

Melatonin might be implicated in the activation of the innate defense system of pancreatic protection, and its derivatives are responsible for a considerable part of the protective action of melatonin on the pancreas as part of its scavenging cascade (

Figure 2

).

Melatonin and its metabolites take part in the control of the increased production of heat shock proteins as well as in the signal transmission pathways modulating the process of apoptosis in pancreatic cancer cells, however its effect is not completely clear and requires further study (

Figure 2

).
Acknowledgments
The studies were supported by projects nr K/ZDS/00366 and nr K/ZDS/005477. Costs of publication were paid by the Leading National Research Center in Krakow (KNOW).
Author Contributions
Jolanta Jaworek conceived, designed, analyzed the data and wrote parts 1-4, 6 of paper; Anna Leja-Szpak wrote part 5 of paper, Katarzyna Nawrot-Porąbka, Joanna Szklarczyk, Michalina Kot, Piotr Pierzchalski, Marta Góralska, Piotr Ceranowicz, Zygmunt Warzecha, Artur Dembinski and Joanna Bonior performed the literature search, analyzed the data and contributed to writing the paper.
Conflicts of Interest
The authors declare no conflict of interest.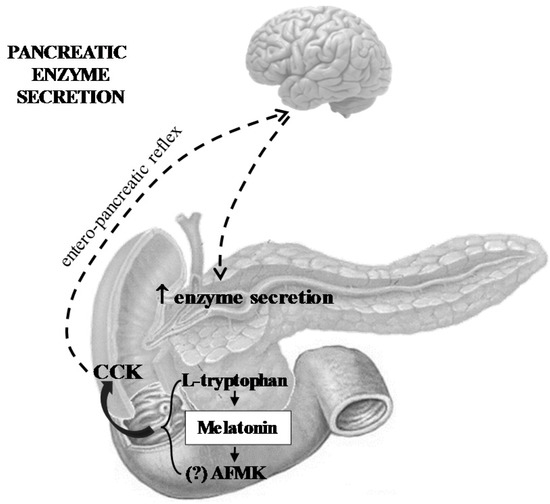 Figure 1.
The effect of melatonin, its precursor
l
-tryptophan, and melatonin metabolite AFMK on pancreatic enzyme secretion. AFMK:
N
1
-acetyl-
N
1
-formyl-5-metoxykynuramine, CCK: cholecystokinin, dotted line arrow: nervous signal transmission via vago-vagal, entero-pancreatic reflex, up arrow: nervous signal delivery, bold arrow: CCK release stimulated by L-tryptophan, melatonin, and probably (?) by AFMK.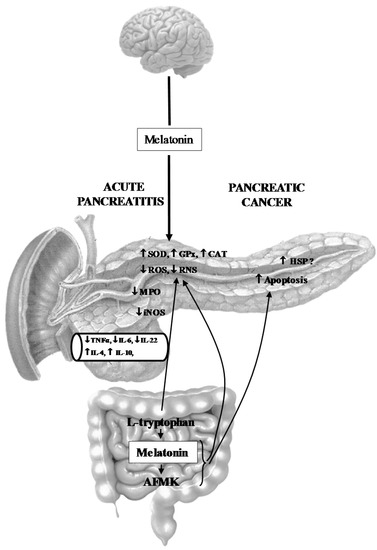 Figure 2.
Effect of melatonin and its analogues on acute pancreatitis and on pancreatic tumorigenesis. CAT: catalase; GPx: glutathione peroxidase; HSP: heat shock protein; IL: interleukin; iNOS: inducible nitric oxide synthase; MPO: myeloperoxidase; ROS and RNS: reactive oxygen and nitrogen species; SOD: superoxide dismutase; TNFα: tumor necrosis factor α, AFMK:
N
1
-acetyl-
N
1
-formyl-5-metoxykynuramine, up arrow: effect of melatonin and its analogues on inflammatory mediators in acute pancreatitis and on molecular mechanism of pancreatic tumorigenesis, ?: possible activation of HSP by melatonin and AFMK, down arrow: pineal melatonin alleviated acute pancreatitis.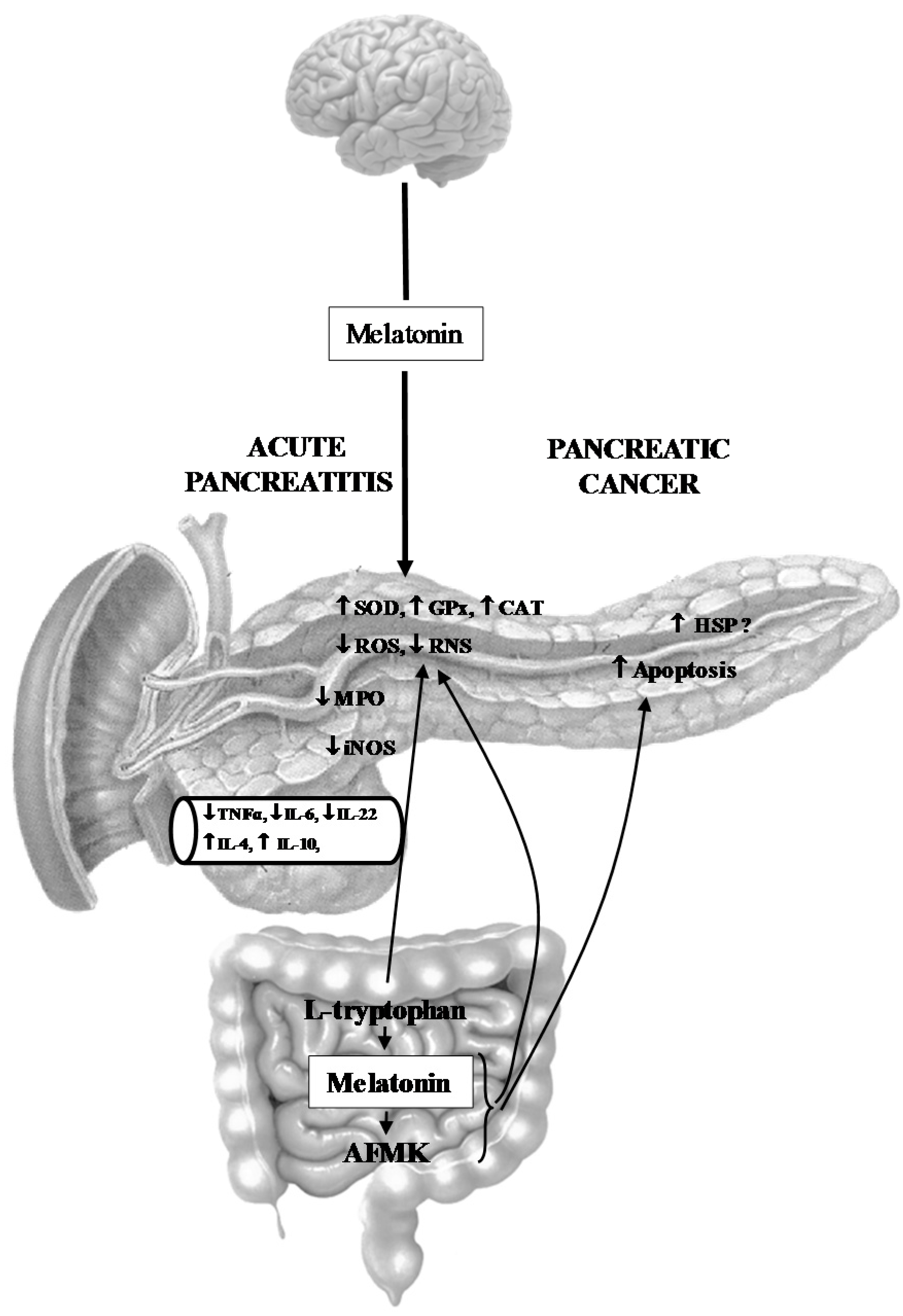 © 2017 by the authors. Licensee MDPI, Basel, Switzerland. This article is an open access article distributed under the terms and conditions of the Creative Commons Attribution (CC BY) license (http://creativecommons.org/licenses/by/4.0/).