Therapeutic Effect of Low Doses of Acenocoumarol in the Course of Ischemia/Reperfusion-Induced Acute Pancreatitis in Rats
1
Department of Physiology, Faculty of Medicine, Jagiellonian University Medical College, 16 Grzegórzecka St., 31-531 Cracow, Poland
2
The University Hospital in Cracow, 31-531 Cracow, Poland
3
Second Department of General Surgery, Faculty of Medicine, Jagiellonian University Medical College, 31-531 Cracow, Poland
4
Department of Medical Physiology, Faculty of Health Sciences, Jagiellonian University Medical College, 31-531 Cracow, Poland
5
Department of Theory of Sport and Kinesiology, Faculty of Physical Education and Sport, University of Physical Education, 31-571 Cracow, Poland
6
Department of Pharmacology, Faculty of Medicine, Jagiellonian University Medical College, 31-531 Cracow, Poland
7
Department of Clinical Biochemistry, Faculty of Medicine, Jagiellonian University Medical College, 31-531 Cracow, Poland
8
Department of Oral Surgery, Faculty of Medicine, Jagiellonian University Medical College, 31-531 Cracow, Poland
9
Department of Pathology, Faculty of Medicine, Jagiellonian University Medical College, 31-531 Cracow, Poland
*
Author to whom correspondence should be addressed.
Academic Editors: Srikumar Chellappan and Jaya Padmanabhan
Received: 15 February 2017 / Revised: 4 April 2017 / Accepted: 13 April 2017 / Published: 21 April 2017
Abstract
Intravascular activation of coagulation is observed in acute pancreatitis and is related to the severity of this inflammation. The aim of our study was to evaluate the impact of acenocoumarol therapy on the course of acute pancreatitis induced in male rats by pancreatic ischemia followed by reperfusion. Acenocoumarol at a dose of 50, 100, or 150 µg/kg/dose was administered intragastrically once a day, starting the first dose 24 h after the initiation of pancreatic reperfusion. Results: Histological examination showed that treatment with acenocoumarol reduces pancreatic edema, necrosis, and hemorrhages in rats with pancreatitis. Moreover, the administration of acenocoumarol decreased pancreatic inflammatory infiltration and vacuolization of pancreatic acinar cells. These findings were accompanied with a reduction in the serum activity of lipase and amylase, concentration of interleukin-1β, and plasma
d
-Dimer concentration. Moreover, the administration of acenocoumarol improved pancreatic blood flow and pancreatic DNA synthesis. Acenocoumarol given at a dose of 150 µg/kg/dose was the most effective in the treatment of early phase acute pancreatitis. However later, acenocoumarol given at the highest dose failed to exhibit any therapeutic effect; whereas lower doses of acenocoumarol were still effective in the treatment of acute pancreatitis. Conclusion: Treatment with acenocoumarol accelerates the recovery of ischemia/reperfusion-induced acute pancreatitis in rats.
View Full-Text
►

▼

Figures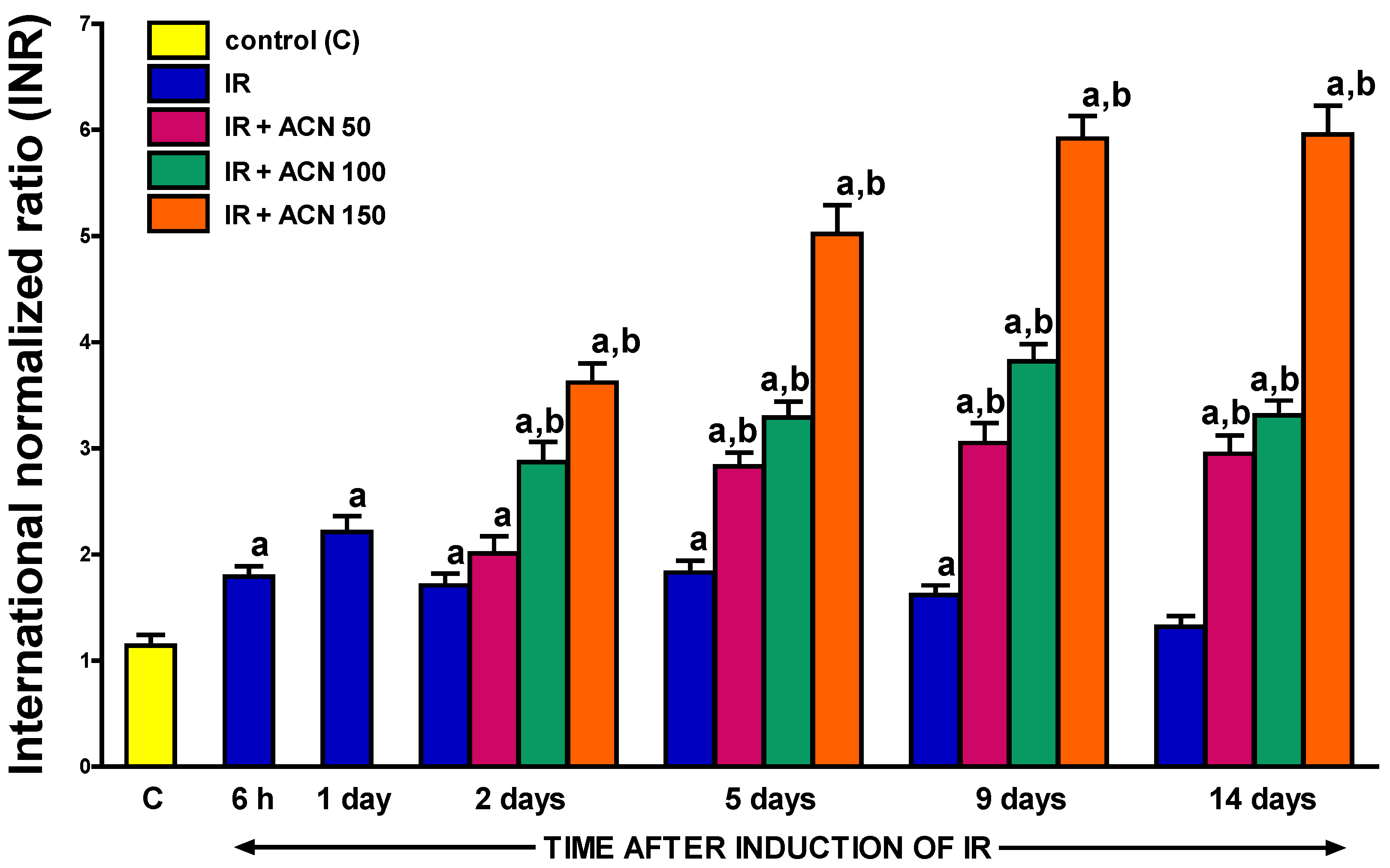 Figure 1
This is an open access article distributed under the
Creative Commons Attribution License
which permits unrestricted use, distribution, and reproduction in any medium, provided the original work is properly cited (CC BY 4.0).

Share & Cite This Article
MDPI and ACS Style
Warzecha, Z.; Sendur, P.; Ceranowicz, P.; Cieszkowski, J.; Dembiński, M.; Sendur, R.; Bonior, J.; Jaworek, J.; Ambroży, T.; Olszanecki, R.; Kuśnierz-Cabala, B.; Tomasz, K.; Tomaszewska, R.; Dembiński, A. Therapeutic Effect of Low Doses of Acenocoumarol in the Course of Ischemia/Reperfusion-Induced Acute Pancreatitis in Rats. Int. J. Mol. Sci. 2017, 18, 882.
Note that from the first issue of 2016, MDPI journals use article numbers instead of page numbers. See further details here.
Related Articles
Comments
[Return to top]