Long Coding RNA XIST Contributes to Neuronal Apoptosis through the Downregulation of AKT Phosphorylation and Is Negatively Regulated by miR-494 in Rat Spinal Cord Injury
Department of Neurosurgery, Huashan Hospital, Fudan University, Shanghai 200040, China
*
Author to whom correspondence should be addressed.
†
The authors contributed equally to this work.
Academic Editor: Martin Pichler
Received: 9 February 2017 / Revised: 17 March 2017 / Accepted: 22 March 2017 / Published: 1 April 2017
Abstract
Recent evidence has suggested that long non-coding RNAs (lncRNAs) may play a significant role in the pathogenesis of several neurological diseases, including spinal cord injury (SCI). However, little is known about the role of lncRNAs in SCI. The aim of the present study was to evaluate the potential functions of lncRNAs in SCI and to identify the underlying mechanisms of action. We firstly analyzed Gene Expression Omnibus (GEO) datasets to investigate aberrantly-expressed lncRNAs which might be involved in the pathogenesis of SCI. The long non-coding RNA X-inactive specific transcript (XIST) was found to be one of the most significantly upregulated lncRNAs in the GEO dataset analysis, and is associated with apoptosis. We, therefore, selected this as a candidate lncRNA and investigated its function. We found that knockdown of lncRNA-XIST by Lv-shRNA had a prominent protective effect on SCI recovery by suppressing apoptosis through reactivation of the PI3K/AKT signaling pathway in rat spinal cord tissue. In particular, our results suggested that lncRNA-XIST may act as a competitive endogenous RNA, effectively becoming a sink for miR-494, leading to derepression of its target gene, phosphatase and tensin homolog deleted on chromosome ten (PTEN). In addition, an inverse relationship between lncRNA-XIST and miR-494 was observed in spinal cord tissues of SCI rats. Further study demonstrated that antagomiR-494 could reverse the protective effects of lncRNA-XIST knockdown on SCI rats through blocking the PTEN/PI3K/AKT signaling pathway. These results suggested that lncRNA-XIST knockdown may play an important role in limiting neuronal apoptosis in rats following SCI, and that the observed protective effects of lncRNA-XIST knockdown might have been mediated by its regulation on the phosphorylation of AKT by competitively binding miR-494. These findings have revealed, for the first time, the importance of the XIST/miR-494/PTEN/AKT signaling axis in the pathogenesis of SCI and suggest that lncRNA-XIST may be a promising molecular target for SCI therapy.
View Full-Text
►

▼

Figures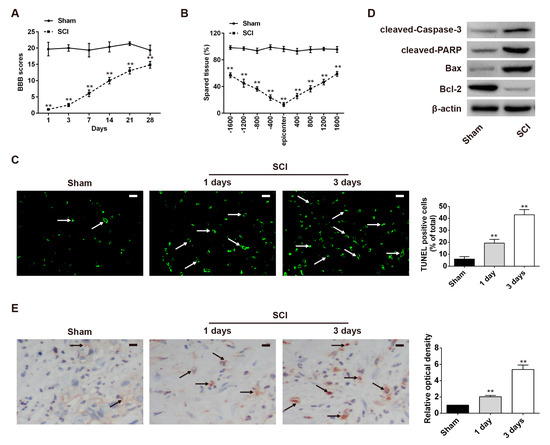 Figure 1
This is an open access article distributed under the
Creative Commons Attribution License
which permits unrestricted use, distribution, and reproduction in any medium, provided the original work is properly cited (CC BY 4.0).

Share & Cite This Article
MDPI and ACS Style
Gu, S.; Xie, R.; Liu, X.; Shou, J.; Gu, W.; Che, X. Long Coding RNA XIST Contributes to Neuronal Apoptosis through the Downregulation of AKT Phosphorylation and Is Negatively Regulated by miR-494 in Rat Spinal Cord Injury. Int. J. Mol. Sci. 2017, 18, 732.
Note that from the first issue of 2016, MDPI journals use article numbers instead of page numbers. See further details here.
Related Articles
Comments
[Return to top]