Open Access This article is
freely available
re-usable
Review
The Impacts of Cellular Senescence in Elderly Pneumonia and in Age-Related Lung Diseases That Increase the Risk of Respiratory Infections
Division of Neurology, Respirology, Endocrinology and Metabolism, Department of Internal Medicine, Faculty of Medicine, University of Miyazaki; Kihara 5200, Kiyotake, Miyazaki 889-1692, Japan
*
Author to whom correspondence should be addressed.
Academic Editor: Susanna Esposito
Received: 6 January 2017 / Accepted: 21 February 2017 / Published: 25 February 2017
Abstract
:
Pneumonia generates considerable negative impacts on the elderly. Despite the widespread uses of vaccines and appropriate antibiotics, the morbidity and mortality of elderly pneumonia are significantly higher compared to the counterparts of young populations. The definitive mechanisms of high vulnerability in the elderly against pathogen threats are unclear. Age-associated, chronic low-grade inflammation augments the susceptibility and severity of pneumonia in the elderly. Cellular senescence, one of the hallmarks of aging, has its own characteristics, cell growth arrest and senescence-associated secretory phenotype (SASP). These properties are beneficial if the sequence of senescence–clearance–regeneration is transient in manner. However, persisting senescent cell accumulation and excessive SASP might induce sustained low-grade inflammation and disruption of normal tissue microenvironments in aged tissue. Emerging evidence indicates that cellular senescence is a key component in the pathogenesis of chronic obstructive pulmonary disease (COPD) and idiopathic pulmonary fibrosis (IPF), which are known to be age-related and increase the risk of pneumonia. In addition to their structural collapses, COPD and IPF might increase the vulnerability to pathogen insults through SASP. Here, we discuss the current advances in understanding of the impacts of cellular senescence in elderly pneumonia and in these chronic lung disorders that heighten the risk of respiratory infections.
Keywords:
elderly pneumonia; aging; cellular senescence; senescence-associated secretory phenotype; antimicrobial defense system; chronic obstructive pulmonary disease; idiopathic pulmonary fibrosis
Acknowledgments
We thank Keiko Sakaguchi and Sumie Tajiri for their invaluable assistants in preparing the manuscript. This study was supported by Grant-in-Aid for Challenging Exploratory Research (No. 16K15460) from the Japan Society for Promotion of Science and by the Suzuken Memorial Foundation.
Author Contributions
Shigehisa Yanagi described the chapters "Introduction", "The Impacts of Aging in Respiratory Tract Antimicrobial Defense System", and "Conclusion". Shigehisa Yanagi and Ayako Miura described the chapter "Cellular Senescence, SASP, and Aging". Shigehisa Yanagi, Hironobu Tsubouchi, and Ayako Matsuo described the chapter "The Impacts of Cellular Senescence in Age-Related Lung Diseases". Nobuhiro Matsumoto and Masamitsu Nakazato reviewed manuscripts and corrected errors and description about aging. All authors approved the final version of the present manuscript.
Conflicts of Interest
The authors declare no conflict of interest.
Abbreviations
| | |
| --- | --- |
| TNF | Tumor necrosis factor |
| IL | Interleukin |
| SASP | Senescence-associated secretory phenotype |
| ECM | Extracellular matrix |
| COPD | Chronic obstructive pulmonary disease |
| IPF | Idiopathic pulmonary fibrosis |
| SAβGAL | Senescence-associated β-galactosidase |
| TGF-β1 | Transforming growth factor-β1 |
| IGFBP | Insulin-like growth factor 1 binding protein |
| CDK | Cyclin-dependent kinase |
| NF-κB | Nuclear factor-κB |
| MMP | Matrix metalloproteinase |
| AEC | Alveolar epithelial cell |
| TLR | Toll like receptor |
| SIRT1 | Sirtuin 1 |
| TRF | Telomere repeat binding factor |
| PINK1 | PTEN-induced putative kinase 1 |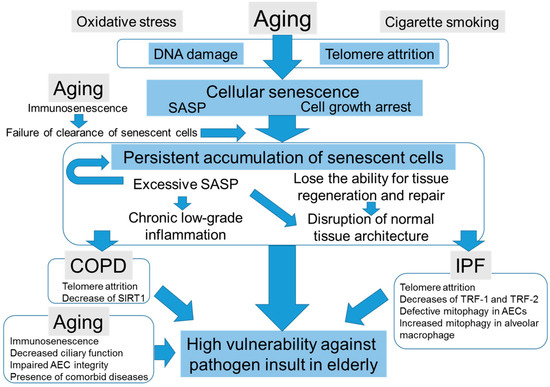 Figure 1. The correlation diagram among aging, cellular senescence, chronic obstructive pulmonary disease (COPD), idiopathic pulmonary fibrosis (IPF), and elderly pneumonia.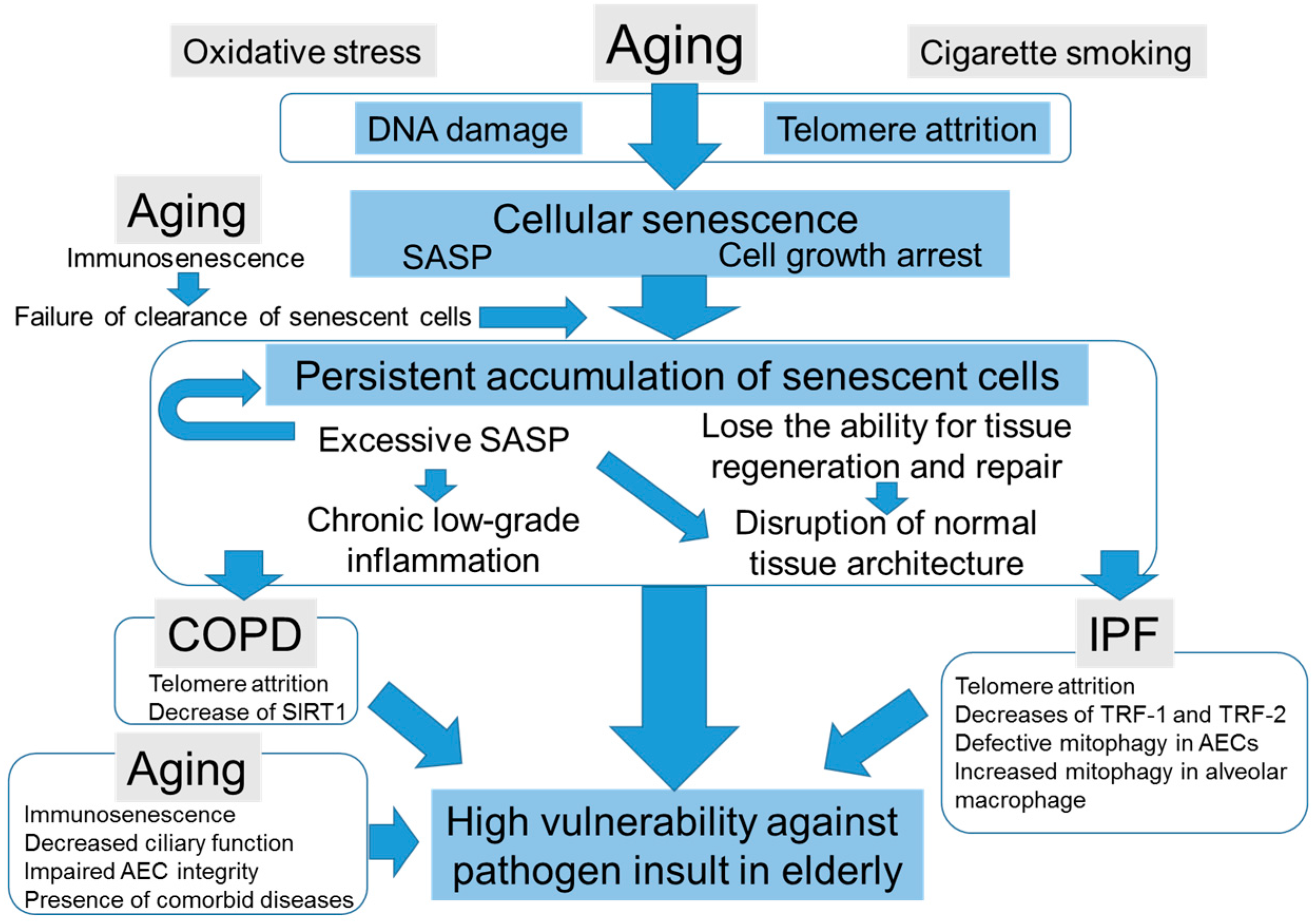 © 2017 by the authors. Licensee MDPI, Basel, Switzerland. This article is an open access article distributed under the terms and conditions of the Creative Commons Attribution (CC BY) license ( http://creativecommons.org/licenses/by/4.0/).