A Lipid Emulsion Reverses Toxic-Dose Bupivacaine-Induced Vasodilation during Tyrosine Phosphorylation-Evoked Contraction in Isolated Rat Aortae
1
Department of Anesthesiology and Pain Medicine, Gyeongsang National University School of Medicine, Gyeongsang National University Hospital, 79 Gangnam-ro, Jinju 52727, Korea
2
Department of Physiology, Institute of Clinical and Translational Research, Catholic Kwandong University, College of Medicine, Gangneung 25601, Korea
3
Department of Anesthesiology and Pain Medicine, Gyeongsang National University Changwon Hospital, Changwon 51472, Korea
4
Department of Anesthesia and Pain Medicine, School of Medicine, Pusan National University, Biomedical Research Institute, Pusan National University Hospital, Busan 49241, Korea
5
Institute of Health Sciences, Gyeongsang National University, Jinju 52727, Korea
*
Author to whom correspondence should be addressed.
Academic Editor: Guido R.M.M. Haenen
Received: 11 January 2017 / Revised: 3 February 2017 / Accepted: 7 February 2017 / Published: 13 February 2017
Abstract
The goal of this in vitro study was to examine the effect of a lipid emulsion on toxic-dose bupivacaine-induced vasodilation in a model of tyrosine phosphatase inhibitor sodium orthovanadate-induced contraction in endothelium-denuded rat aortae and to elucidate the associated cellular mechanism. The effect of a lipid emulsion on vasodilation induced by a toxic dose of a local anesthetic during sodium orthovanadate-induced contraction was examined. In addition, the effects of various inhibitors, either bupivacaine alone or a lipid emulsion plus bupivacaine, on protein kinase phosphorylation induced by sodium orthovanadate in rat aortic vascular smooth muscle cells was examined. A lipid emulsion reversed the vasodilation induced by bupivacaine during sodium orthovanadate-induced contraction. The lipid emulsion attenuated the bupivacaine-mediated inhibition of the sodium orthovanadate-induced phosphorylation of protein tyrosine, c-Jun NH
2
-terminal kinase (JNK), myosin phosphatase target subunit 1 (MYPT1), phospholipase C (PLC) γ-1 and extracellular signal-regulated kinase (ERK). These results suggest that a lipid emulsion reverses toxic-dose bupivacaine-induced vasodilation during sodium orthovanadate-induced contraction via the activation of a pathway involving either tyrosine kinase, JNK, Rho-kinase and MYPT1 or tyrosine kinase, PLC γ-1 and ERK, and this reversal is associated with the lipid solubility of the local anesthetic and the induction of calcium sensitization.
View Full-Text
►

▼

Figures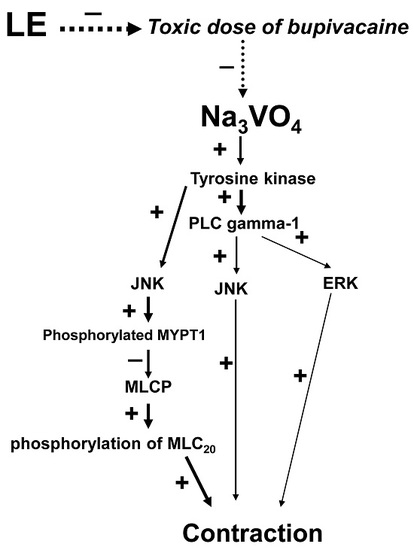 Graphical abstract
This is an open access article distributed under the
Creative Commons Attribution License
which permits unrestricted use, distribution, and reproduction in any medium, provided the original work is properly cited (CC BY 4.0).

Share & Cite This Article
MDPI and ACS Style
Ok, S.-H.; Lee, S.H.; Kwon, S.-C.; Choi, M.H.; Shin, I.-W.; Kang, S.; Park, M.; Hong, J.-M.; Sohn, J.-T. A Lipid Emulsion Reverses Toxic-Dose Bupivacaine-Induced Vasodilation during Tyrosine Phosphorylation-Evoked Contraction in Isolated Rat Aortae. Int. J. Mol. Sci. 2017, 18, 394.
Note that from the first issue of 2016, MDPI journals use article numbers instead of page numbers. See further details here.
Related Articles
Comments
[Return to top]