Genetic Variation in Choline-Metabolizing Enzymes Alters Choline Metabolism in Young Women Consuming Choline Intakes Meeting Current Recommendations
Division of Nutritional Sciences, Cornell University, Ithaca, NY 14853, USA
*
Author to whom correspondence should be addressed.
Academic Editor: Marica Bakovic
Received: 24 December 2016 / Revised: 14 January 2017 / Accepted: 17 January 2017 / Published: 26 January 2017
Abstract
Single nucleotide polymorphisms (SNPs) in choline metabolizing genes are associated with disease risk and greater susceptibility to organ dysfunction under conditions of dietary choline restriction. However, the underlying metabolic signatures of these variants are not well characterized and it is unknown whether genotypic differences persist at recommended choline intakes. Thus, we sought to determine if common genetic risk factors alter choline dynamics in pregnant, lactating, and non-pregnant women consuming choline intakes meeting and exceeding current recommendations. Women (
n
= 75) consumed 480 or 930 mg choline/day (22% as a metabolic tracer, choline-d9) for 10–12 weeks in a controlled feeding study. Genotyping was performed for eight variant SNPs and genetic differences in metabolic flux and partitioning of plasma choline metabolites were evaluated using stable isotope methodology.
CHKA
rs10791957,
CHDH
rs9001,
CHDH
rs12676,
PEMT
rs4646343,
PEMT
rs7946,
FMO3
rs2266782,
SLC44A1
rs7873937, and
SLC44A1
rs3199966 altered the use of choline as a methyl donor;
CHDH
rs9001 and
BHMT
rs3733890 altered the partitioning of dietary choline between betaine and phosphatidylcholine synthesis via the cytidine diphosphate (CDP)-choline pathway; and
CHKA
rs10791957,
CHDH
rs12676,
PEMT
rs4646343,
PEMT
rs7946 and
SLC44A1
rs7873937 altered the distribution of dietary choline between the CDP-choline and phosphatidylethanolamine
N
-methyltransferase (PEMT) denovo pathway. Such metabolic differences may contribute to disease pathogenesis and prognosis over the long-term.
View Full-Text
►

▼

Figures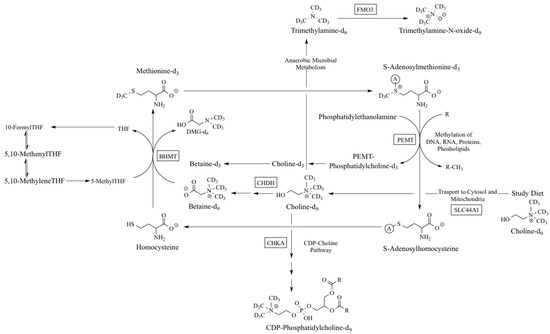 Figure 1
This is an open access article distributed under the
Creative Commons Attribution License
which permits unrestricted use, distribution, and reproduction in any medium, provided the original work is properly cited (CC BY 4.0).

Share & Cite This Article
MDPI and ACS Style
Ganz, A.B.; Cohen, V.V.; Swersky, C.C.; Stover, J.; Vitiello, G.A.; Lovesky, J.; Chuang, J.C.; Shields, K.; Fomin, V.G.; Lopez, Y.S.; Mohan, S.; Ganti, A.; Carrier, B.; Malysheva, O.V.; Caudill, M.A. Genetic Variation in Choline-Metabolizing Enzymes Alters Choline Metabolism in Young Women Consuming Choline Intakes Meeting Current Recommendations. Int. J. Mol. Sci. 2017, 18, 252.
Note that from the first issue of 2016, MDPI journals use article numbers instead of page numbers. See further details here.
Related Articles
Comments
[Return to top]