DFT Study of the Structure, Reactivity, Natural Bond Orbital and Hyperpolarizability of Thiazole Azo Dyes
1
Chemistry Department, Faculty of Science, P.O. Box 80203, Jeddah 21589, Saudi Arabia
2
Chemistry Department, Faculty of Science, University of Khartoum, P.O. Box 321, Khartoum 11111, Sudan
Received: 4 November 2016 / Accepted: 13 January 2017 / Published: 1 February 2017
Abstract
The structure, reactivity, natural bond orbital (NBO), linear and nonlinear optical (NLO) properties of three thiazole azo dyes (A, B and C) were monitored by applying B3LYP, CAM-B3LYP and ωB97XD functionals with 6-311++G** and aug-cc-pvdz basis sets. The geometrical parameters,dipolemoments,HOMO-LUMO(highest occupied molecular orbital,lowest unoccupied molecular orbital) energy gaps, absorption wavelengths and total hyperpolarizabilities were investigated in carbon tetrachloride (CCl4) chloroform (CHCl3), dichloromethane (CH2Cl2) and dimethlysulphoxide (DMSO). The donor methoxyphenyl group deviates from planarity with the thiazole azo moiety by ca. 38◦; while the acceptor dicyanovinyl, indandione and dicyanovinylindanone groups diverge by ca. 6◦. The HOMOs for the three dyes are identical. They spread over the methoxyphenyl donor moiety, the thiazole and benzene rings as π-bonding orbitals. The LUMOs are shaped up by the nature of the acceptor moieties. The LUMOs of the A, B and C dyes extend over the indandione, malononitrile and dicyanovinylindanone acceptor moieties, respectively, as π-antibonding orbitals. The HOMO-LUMO splittings showed that Dye C is much more reactive than dyes A and B. Compared to dyes A and B, Dye C yielded a longer maximum absorption wavelength because of the stabilization of its LUMOs relative to those of the other two. The three dyes show solvatochromism accompanied by significant increases in hyperpolarizability. The enhancement of the total hyperpolarizability of C compared to those of A and B is due to the cumulative action of the long π-conjugation of the indanone ring and the stronger electron-withdrawing ability of the dicyanovinyl moiety that form the dicyanovinylindanone acceptor group. These findings are facilitated by a natural bond orbital (NBO) technique. The very high total hyperpolarizabilities of the three dyes define their potent nonlinear optical (NLO) behaviour.
View Full-Text
►

▼

Figures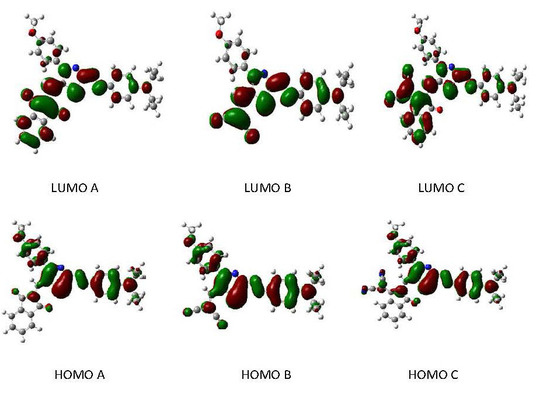 Graphical abstract
This is an open access article distributed under the
Creative Commons Attribution License
which permits unrestricted use, distribution, and reproduction in any medium, provided the original work is properly cited (CC BY 4.0).

Share & Cite This Article
MDPI and ACS Style
Osman, O.I. DFT Study of the Structure, Reactivity, Natural Bond Orbital and Hyperpolarizability of Thiazole Azo Dyes. Int. J. Mol. Sci. 2017, 18, 239.
Note that from the first issue of 2016, MDPI journals use article numbers instead of page numbers. See further details here.
Related Articles
Comments
[Return to top]