Open Access This article is
freely available
re-usable
Review
Role of Galectin-3 in Bone Cell Differentiation, Bone Pathophysiology and Vascular Osteogenesis
Department of Clinical and Molecular Medicine, La Sapienza University, 00185 Rome, Italy
*
Author to whom correspondence should be addressed.
Received: 31 October 2017 / Accepted: 19 November 2017 / Published: 21 November 2017
Abstract
:
Galectin-3 is expressed in various tissues, including the bone, where it is considered a marker of chondrogenic and osteogenic cell lineages. Galectin-3 protein was found to be increased in the differentiated chondrocytes of the metaphyseal plate cartilage, where it favors chondrocyte survival and cartilage matrix mineralization. It was also shown to be highly expressed in differentiating osteoblasts and osteoclasts, in concomitance with expression of osteogenic markers and Runt-related transcription factor 2 and with the appearance of a mature phenotype. Galectin-3 is expressed also by osteocytes, though its function in these cells has not been fully elucidated. The effects of galectin-3 on bone cells were also investigated in galectin-3 null mice, further supporting its role in all stages of bone biology, from development to remodeling. Galectin-3 was also shown to act as a receptor for advanced glycation endproducts, which have been implicated in age-dependent and diabetes-associated bone fragility. Moreover, its regulatory role in inflammatory bone and joint disorders entitles galectin-3 as a possible therapeutic target. Finally, galectin-3 capacity to commit mesenchymal stem cells to the osteoblastic lineage and to favor transdifferentiation of vascular smooth muscle cells into an osteoblast-like phenotype open a new area of interest in bone and vascular pathologies.
Keywords:
galectin-3; osteoblasts; osteoclasts; bone remodeling; vascular osteogenesis
2. Galectin-3 in Chondrocyte Differentiation and Endochondral Bone Formation
3. Galectin-3 in Bone Cell Differentiation and Function and Bone Homeostasis
4. Galectin-3 in Inflammatory Bone and Joint Disorders
5. Galectin-3 in Vascular Osteogenesis
6. Conclusions
Most of the study conducted to investigate the role of galectin-3 in the biology of bone and its cells date back to the late 90s of last century and the beginning of 2000s. Although they produced convincing evidence about the involvement of this lectin in multiple biologic processes of the bone, such as differentiation and activity of all major bone cells, they were not followed by an in-depth analysis of the role of galectin-3 in the bone physiology and pathology. Only recently, the skeleton of
Lgals3
−/−
mice has been analyzed and results demonstrated that, in fact, adult (3-month-old) mice have a bone phenotype, characterized by reduced trabecular bone compared with wild-type mice [
49
]. However, the analysis of the mechanisms underlying the structural abnormalities only investigated the resorption arm of the bone remodeling process, leaving completely unexplored the bone deposition arm and the cells responsible for bone formation. Since, galectin-3 has been shown to have a critical role for chondroblast and osteoblast differentiation and activity [
1
,
31
,
32
,
36
,
37
,
40
,
41
,
42
,
44
,
45
], an in-depth analysis of these cells and their function in
Lgals3
−/−
mice is necessary to understand the net effect of this lectin on bone homeostasis. It would also be desirable to extend the analysis to the skeleton of younger and older
Lgals3
−/−
to get information on the role of this lectin in growth and age-dependent changes of the bony structure. These analyses could provide valuable information possibly helping in identifying galectin-3 as potential therapeutic target in some bone pathologies, primarily senile osteoporosis. This concept is strengthened by the evidence that, in addition to its role in osteogenesis, (a) galectin-3 is able to stimulate osteogenic differentiation of MSCs [
46
]; (b) in osteoblast lineage cells [
43
,
44
,
45
], it acts as a receptor capable of degrading AGEs, which have been implicated in age-dependent [
118
] and diabetes-associated [
119
] bone fragility; and (c) it may favor resolution of chronic inflammation [
20
], also in the bone tissue [
20
,
97
,
98
,
99
].
Finally, the osteogenic properties of galectin-3 deserve to also be investigated in the process of ectopic calcification, primarily vascular osteogenesis. The possibility of modifying the amount and especially the type of calcification in the atherosclerotic plaque by modulating the expression of galectin-3 could be very useful in stabilizing the atherosclerotic lesions, thus reducing the risk of fatal events.
Acknowledgments
This work was supported by a research grant of the Research Foundation of the Italian Diabetes Society (Diabete Ricerca 2013) and Sapienza University of Rome—Progetti di Ateneo 2013 to Stefano Menini.
Author Contributions
Carla Iacobini, Blasetti Fantauzzi, and Giuseppe Pugliese critically revised the article for important intellectual content; Stefano Menini drafted the article.
Conflicts of Interest
The authors declare no conflict of interest.
Abbreviations
AGEs
Advanced Glycation
RAGE
Receptor for AGEs
RUNX2
Runt-Related Transcription Factor 2

Lgals3

−/−
Galectin-3 Null
MMPs
Metalloproteinases
MSC
Mesenchymal Stem Cell
BMPs
Bone Morphogenic Proteins
OCN
Osteocalcin
ALP
Alkaline Phosphatase
BSP
Bone Sialoprotein
OPN
Osteopontin
EVs
Extracellular Vesicles
RANKL
Receptor Activator of NF-κB Ligand
OPG
Osteoprotogerin
TRAP
Tartrate-Resistant Acid Phosphatase
RA
Rheumatoid Arthritis
OA
Osteoarthritis
MIA
Mono-Iodoacetate
AA
Adjuvant-Induced Arthritis
BRONJ
Bisphosphonate-Associated Osteonecrosis of the Jaw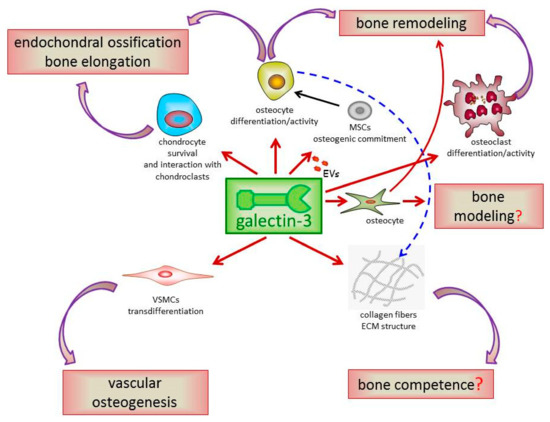 Figure 1. Galectin-3 osteogenic activities in bone and vascular tissue. Galectin-3 is considered a marker of chondrogenic and osteogenic cell lineages and is up-regulated in conjunction with other osteogenic markers during differentiation of bone cells. Consistent with a role in bone physiology, galectin-3 deficiency affects endochondral ossification and bone remodeling. Galectin-3 is also critical for maintaining proper extracellular matrix (ECM) structure and, possibly, bone competence. Being also expressed by osteocytes, it is possible to hypothesize its participation in the regulation of mechanosensory function of these cells and promotion of bone modeling and remodeling also through this mechanism. Finally, galectin-3 activity is central for vascular smooth muscle cells (VSMCs) transdifferentiation into an osteoblast-like phenotype and vascular osteogenesis. EVs = extracellular vesicles; MSCs = mesenchymal stem cells.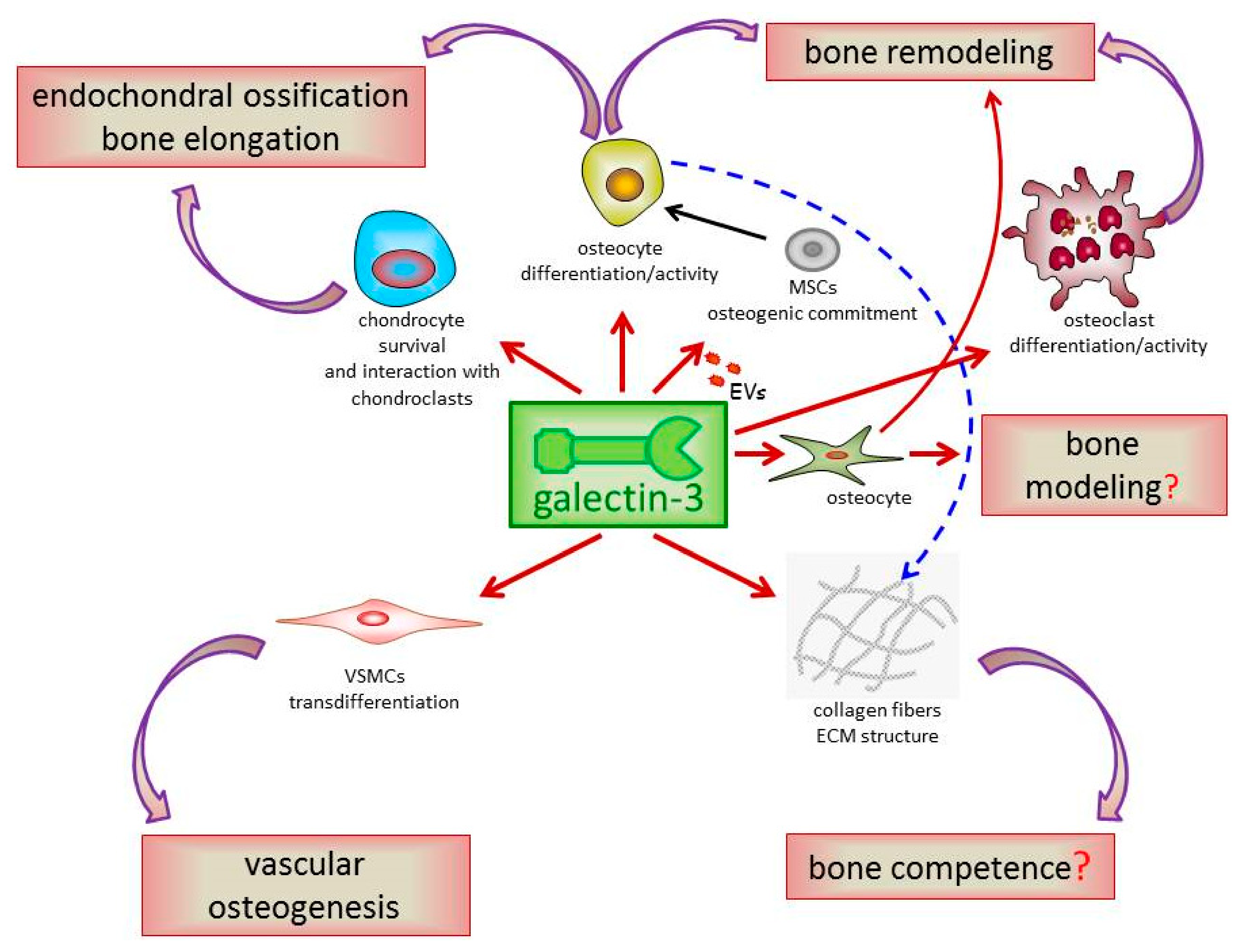 Table 1. Proven roles of galectin-3 in bone biology and supposed functions, to be investigated, in the pathophysiology of bone metabolism.
Table 1. Proven roles of galectin-3 in bone biology and supposed functions, to be investigated, in the pathophysiology of bone metabolism.
Cell
Proven
To Be Investigated
Chondrocyte
cell marker and pro-survival factor [1,36]
regulator of cell-to-cell interaction with chondroclasts [37]
target and regulator of MMPs activity [38,39,40]
mechanisms underlying the regulation of chondrocyte activity and survival
Osteoblast
RUNX2 target gene [32]
differentiation marker [41]
proper bone ECM structure by regulating collagen fibers synthesis [42]
protection against AGE mediated toxic effects by its AGE-receptor scavenger activity [43,44,45]
mechanisms underlying the regulation of osteoblast differentiationprotection from age- and diabetes-related bone fragility
Osteocyte
cell marker [1,41]
mechanosensory function and promotion of bone modelling and remodeling
MSC
increased osteoblastogenic differentiation capacity [46]
positive regulation of the master transcription factor RUNX2 [46]
stabilization and increase of β-catenin levels [46]
promotion of bone repair and homeostasis through modulation of β-catenin
Osteoclast
differentiation marker [47]
mediator of cell matrix adhesion [48]
regulation of differentiation from progenitors and pro-survival factor [40]
downstream regulator of MMP-9 activity [40] and ECM degradation [37]
negative regulation of osteoclastogenesis [49,50]
opposite effects depending on intra- and extracellular localization
MMPs = matrix metalloproteinases; RUNX2 = Runt-related transcription factor 2; ECM = extracellular matrix; AGEs = advanced glycation endproducts.
© 2017 by the authors. Licensee MDPI, Basel, Switzerland. This article is an open access article distributed under the terms and conditions of the Creative Commons Attribution (CC BY) license (http://creativecommons.org/licenses/by/4.0/).