Open Access This article is
freely available
re-usable
Review
Impact of Labile Zinc on Heart Function: From Physiology to Pathophysiology
Department of Biophysics, Ankara University, Faculty of Medicine, 06100 Ankara, Turkey
*
Author to whom correspondence should be addressed.
Received: 14 October 2017 / Accepted: 8 November 2017 / Published: 12 November 2017
Abstract
:
Zinc plays an important role in biological systems as bound and histochemically reactive labile Zn2+. Although Zn2+ concentration is in the nM range in cardiomyocytes at rest and increases dramatically under stimulation, very little is known about precise mechanisms controlling the intracellular distribution of Zn2+ and its variations during cardiac function. Recent studies are focused on molecular and cellular aspects of labile Zn2+ and its homeostasis in mammalian cells and growing evidence clarified the molecular mechanisms underlying Zn2+-diverse functions in the heart, leading to the discovery of novel physiological functions of labile Zn2+ in parallel to the discovery of subcellular localization of Zn2+-transporters in cardiomyocytes. Additionally, important experimental data suggest a central role of intracellular labile Zn2+ in excitation-contraction coupling in cardiomyocytes by shaping Ca2+ dynamics. Cellular labile Zn2+ is tightly regulated against its adverse effects through either Zn2+-transporters, Zn2+-binding molecules or Zn2+-sensors, and, therefore plays a critical role in cellular signaling pathways. The present review summarizes the current understanding of the physiological role of cellular labile Zn2+ distribution in cardiomyocytes and how a remodeling of cellular Zn2+-homeostasis can be important in proper cell function with Zn2+-transporters under hyperglycemia. We also emphasize the recent investigations on Zn2+-transporter functions from the standpoint of human heart health to diseases together with their clinical interest as target proteins in the heart under pathological condition, such as diabetes.
Keywords:
zinc transporters; intracellular labile zinc; heart failure; endoplasmic reticulum stress; left ventricle
1. Introduction
Zinc is a redox inactive element and presents in almost all biological tissues. Zinc is accepted to be a component of antioxidant defense system and contributes to maintain the cell redox balance through different mechanisms [
1
]. There is a close relation between cellular labile zinc (Zn
2+
), endogenous processes, and biological macromolecules under physiological condition, mainly due to its unique property being their structural component or major regulator of macromolecules [
2
]. Labile Zn
2+
plays an important role as a signaling molecule in large number of cells and tissues being a constituent of many proteins and enzymes in human body [
3
,
4
,
5
]. For this reason, even mild zinc-deficiency may impact numerous aspects of human health, including heart function [
6
]. Although Zn
2+
has traditionally been regarded as relatively nontoxic, recent studies have shown how high intracellular labile Zn
2+
level ([Zn
2+
]
i
) can be a potent killer of numerous cell types [
7
] including cardiomyocytes [
8
,
9
,
10
]. In cardiomyocytes, [Zn
2+
]
i
is measured to be less than one nanomolar under physiological conditions being much less than the intracellular free Ca
2+
([Ca
2+
]
i
) [
8
,
11
]. Moreover, oxidants caused about 30-fold increase in [Zn
2+
]
i
but only 2-fold in [Ca
2+
]
i
in cardiomyocytes [
8
]. Therefore, any increase in [Zn
2+
]
i
may be much more toxic biologically than is generally realized. Furthermore, any evolution of biomolecules to scavenge [Zn
2+
]
i
is crucially important in ameliorating the cellular toxicity. Supporting these above statements, early studies showed that any disruption in [Zn
2+
]
i
homeostasis could be associated with severe disorders, including injuries to cardiac tissues [
6
,
12
]. Another interesting action of [Zn
2+
]
i
has been shown its insulino-mimetic activity in diabetic patients [
13
].
It has been shown that [Zn
2+
]
i
in mammalian cardiomyocytes plays an important role in excitation-contraction coupling [
8
,
9
] and in excitation-transcription coupling [
14
]. In mammalian cells, [Zn
2+
]
i
homeostasis is regulated with different ways. Mainly, cellular [Zn
2+
]
i
is controlled via its pools. It can be released from metalloproteins (a structural component) or metalloenzymes (a cofactor) under pathological conditions. As up to 15% of the total cellular zinc can be bound to metallothioneins (MT), they can represent a significant pool of Zn
2+
[
15
,
16
]. Other type storage for Zn
2+
is intracellular compartments such as organelles and vesicles. Zn
2+
transport is mediated by Zn
2+
-dependent proteins, named Zn
2+
transporters, which are localized to both sarcolemma and intracellular membranes [
17
,
18
]. MTs and two Zn
2+
transporter families, solute carrier 39A [SLC39A] or Zrt-, Irt-like proteins 7ZIPs and solute carrier 30A (SLC30A) or ZnTs play crucial roles to maintain the cellular Zn
2+
homeostasis [
19
,
20
,
21
,
22
,
23
]. Although there are many recent very good review articles focused on recent progress to describe the physiological and biological functions of ZIP and ZnT transporters and provided a better understanding of Zn
2+
biology, in here, we aimed to review the recent data on Zn
2+
signaling by Zn
2+
transporters in the heart under physiological and pathological conditions, and therefore, to update our current understanding on the role of cellular [Zn
2+
]
i
regulation in heart function.
2. Role of Zinc in Human Health
As summary of this part, the body zinc level in humans as well as zinc intake with nutrition, are receiving increasing attention, also due to its putative role in the development of different pathological conditions, there are serious conflicts between publications.
3. Labile Zn2+ in Cardiac Physiology and Pathology
4. Role of Cellular Labile Zn2+ in Electrical Properties of Cardiomyocytes
5. Labile Zn2+ Pools in Cardiomyocytes
6. Zn2+ Transporters in Cardiomyocytes
Recent review articles well summarized the already published data, performed in different mammalian cells except cardiomyocytes, which showed the regulation of Zn
2+
homeostasis via a number of Zn
2+
-transporters and how they are crucial for proper cellular functions [
22
,
23
,
29
,
138
,
139
,
140
,
141
,
142
]. In the review by Kambe [
143
], it has been pointed out how the impaired Zn
2+
transporter functions into and out of cells strongly linked to clinical human diseases [
144
]. Since the membrane transporters having the great potential for drug targets [
145
,
146
], hence, cytosolic labile Zn
2+
and Zn
2+
transporters should be considered as novel therapeutic targets for diseases, including heart diseases. In this section, we aimed to describe the physiological and molecular functions of Zn
2+
-transporters, which regulate [Zn
2+
]
i
homeostasis and are involved in signal transduction and heart diseases, particularly such as diabetes.
Even in early reviews, tightly control of [Zn
2+
]
i
homeostasis is defined due to existence of specific Zn
2+
-transporters, including the coordinated regulation of [Zn
2+
]
i
homeostasis in terms of its uptake, efflux, distribution, and storage, which are documented in several review articles, nicely [
20
,
147
]. In general, Zn
2+
transporters belong to a family of transmembrane proteins that control the flux of Zn
2+
across cellular membranes into cytosol (ZIPs) and out of cytosol (ZnTs) in many types of cells, therefore, contribute to the distribution, storage, and compartmentalization of Zn
2+
. Additionally, these all predict proteins with multiple membrane spanning regions, and most have a histidine-rich intracellular loop. The first described Zn
2+
transporter in mammalian cells is ZnT-1 in kidney cells [
148
] while the second one is ZnT3 in regions of the brain [
149
]. The ZnT proteins (solute-linked carrier 30, SLC30) and the ZIP (zinc-regulated trans- porte /iron-regulated transporter Zrt/Irt)-like, solute-linked carrier, 39,
SLC39
) have been identified in mammalian tissues [
22
,
23
,
150
]. In mammals, there are 10 members of the Zn
2+
efflux transporters (ZnT1–10) and 14 members of the zinc influx transporters (ZIP1–14).
ZIP proteins are thought to form homodimers to transport Zn
2+
across the cellular membrane [
151
], while the conserved hydrophilic residue seems to sense metal specificity [
152
]. Supporting this statement, it has been demonstrated that ZIP8 and ZIP14, possessing glutamic acid instead of the conserved histidine, can efficiently transport Fe
2+
, Mn
2+
, and Cd
2+
in addition to Zn
2+
. Human genetic disorders caused by mutations and single-nucleotide polymorphisms in Zn
2+
transporter genes were summarized by Kambe et al. [
144
,
153
]. They documented that a number of genetic disorders are caused by mutations in the genes encoding ZIPs and ZnTs, such as ZIP4 in acrodermatitis enteropathica, ZIP13 in the spondylocheiro dysplastic form of Ehlers-Danlos syndrome, ZnT2 in transient neonatal zinc-deficiency, ZnT8 in type 1 and 2 diabetes mellitus, and ZnT10 in Parkinsonism and dystonia [
22
,
23
,
141
,
142
].
Furthermore, in the recent review article by Hara et al. [
29
], mechanisms of Zn
2+
-transporter expression and modification have been documented, very widely in different mammalian cells/tissues, focusing on their physiological roles from their molecular basis to genetic importance. In that review, they presented the role of ZnTs such as ZnT2, ZnT3, ZnT4, and ZnT8, which localize to acidic compartments and to vesicles such as endosomes/lysosomes, synaptic vesicles, and insulin granules as well as the ZIPs such as ZIP4, ZIP5, ZIP6, ZIP7, ZIP8, ZIP10, ZIP12, ZIP13, and ZIP14 in different cells. A number of cellular proteins, enzymes, kinases and phosphatases interact with Zn
2+
for their biological functions. Studies have revealed that Zn
2+
acts not only as an accessory molecule for proteins but also as a signaling molecule, much like Ca
2+
[
15
,
29
].
Among others, ZnT7 has been demonstrated to play an important role in both growth and the accumulation of body fat in mice [
154
] as well as the association between its deficiency and metabolic disorders such as insulin and glucose intolerance and hyperglycemia [
155
]. Furthermore, studies on ZnT8 showed that the ZnT8 is strongly related to type 1 and 2 diabetes [
156
,
157
]. In this regard, later studies emphasized that ZnT8 expressed in pancreatic β-cells is involved in secreting insulin, forming crystals [
158
,
159
,
160
], and eliminating insulin by the liver [
161
]. In this field, the recent review articles by Chabosseau and Rutter [
162
] and by Rutter et al. [
163
] reviewed the regulation and roles of Zn
2+
in islet cells and the mechanisms by which ZnT8 variants might affect glucose homeostasis and diabetes risk. Correspondingly, they presented that genetic variants in the ZnT8 gene, which encodes the diabetes-associated granule-resident ZnT8, are associated with an altered risk of type 2 diabetes. Additionally, they discussed the effects on insulin secretion and action of deleting or over-expressing ZnT8 highly selectively in the pancreatic β-cell, and the role of Zn
2+
in insulin signaling. Due to their own data together with the others' data, it has been concluded that maintenance of glucose homeostasis, and therefore lower diabetes risk, due to a proper intake level of dietary zinc at systemic level and a well-controlled [Zn
2+
]
i
homeostasis at cellular level is provided with both insulin release and insulin action at physiological levels.
In the content of ZIPs' roles, there are a limited number of studies in mammalian cells in the literature without any in cardiomyocytes except our study [
40
]. However, Ellis et al. [
126
] demonstrated that the zinc deficiency in ER leads to an unfolded protein response (UPR) in human cells. In a later study, Huang et al. [
155
] proposed that ZIP7 is localized to Golgi apparatus in Chinese-Hamster Ovary-cells, allowing Zn
2+
-release from Golgi lumen into cytosol. It has been also suggested that ZIP7 facilitates release of Zn
2+
from ER [
164
] and behaves as a critical component in sub-cellular re-distribution of Zn
2+
in other systems [
165
]. Additionally, it has been hypothesized that protein kinase-2 (CK2) triggers cytosolic Zn
2+
-signaling-pathways by phosphorylating ZIP7 [
116
], while some studies have also highlighted its important contribution to Zn
2+
-homeostasis under pathological conditions [
166
,
167
,
168
]. In addition, in a recent study, it was demonstrated that ZIP7, which predominantly localizes to the ER membrane, promotes rapid cell proliferation in intestinal crypts by maintaining ER function. They also found that mice with an intestinalepithelium-specific ZIP7 deletion exhibited extensive apoptosis in the stem-cell-derived transit-amplifying cells due to increased ER stress. They further showed that UPR signaling upregulates ZIP7, which maintains [Zn
2+
]
i
homeostasis under ER stress and facilitates epithelial proliferation. Therefore, ZIP7 is considered as a novel regulator of [Zn
2+
]
i
homeostasis of the intestinal epithelium [
169
].
Although studies have shown the presence of weakly expressed ZIP7 and ZnT7 in mammalian heart [
170
,
171
], their subcellular localizations and functional roles in cardiomyocytes were not yet known well. In that regard, we hypothesized that disruption of Zn
2+
-transporters and Zn
2+
-axis such as ZIP7 and ZnT7 might contribute to deleterious changes in diabetic cardiomyocytes. Therefore, we first clarified their subcellular localizations into S(E)R and then explored their functional roles in Zn
2+
homeostasis, particularly under hyperglycemia. Additionally, we tested their roles in cytosolic Zn
2+
re-distribution and development of ER-stress in hyperglycemic conditions, at most due to activation of casein kinase 2 alpha (CK2α) [
40
]. We observed markedly increased mRNA and protein levels of ZIP7 in ventricular cardiomyocytes from diabetic rats or high glucose-treated H9c2 cells whilst ZnT7 expression was low comparison to those of controls. Additionally, we observed increased ZIP7 phosphorylation in response to high glucose in vivo and in vitro in ventricular cardiomyocytes. Using recombinant targeted FRET-based sensors, we showed that hyperglycemia induced a marked redistribution of cellular labile Zn
2+
, increasing cytosolic labile Zn
2+
and lowering labile Zn
2+
in the S(E)R. These changes involve alterations in ZIP7-phosphorylation and were suppressed by siRNA-mediated silencing of CK2α. Due to our whole data, we, for the first time, demonstrated that opposing changes in the expression of ZIP7 and ZnT7 observed in hyperglycemia is very important for development of ER stress in the heart. In addition, we also pointed out an importance of sub-cellular labile Zn
2+
re-distribution in the hyperglycemic heart, which is resulting from altered ZIP7 and ZnT7 activity and contributing to cardiac dysfunction in diabetes [
40
]. Furthermore, Myers [
140
] previously discussed very widely the roles of Zn
2+
transporters and Zn
2+
signaling by using recent new roles of Zn
2+
and its transporters in the synthesis, secretion, and action of insulin are dependent on zinc and the transporters in type 2 diabetes. Author, particularly, emphasized the role of cellular Zn
2+
's dynamic as a "intracellular second messenger" to control insulin signaling and glucose homeostasis. Therefore, it was raised extensively a new research field into the pathophysiology of insulin resistance and possibility of new this-field related drug targets in diabetes [
13
,
172
,
173
,
174
,
175
].
In conclusion, the already known data associated with the role of ZIPs and ZnTs provide novel insights into regulation of cellular-Zn2+ and its role in the heart under pathological conditions, including hyperglycemia/diabetes-associated cardiac dysfunction. Additionally, all findings can provide new targets such as cellular [Zn2+]i-regulation via mediation of Zn2+-transporters and suggest that modulation of some endogenous kinases such as CK2α may provide a novel means to correct cardiac dysfunction under any pathological condition.
7. Concluding Remarks
Both early and recent studies strongly emphasized how [Zn
2+
]
i
homeostasis is tightly controlled by the coordinated regulation of its uptake, efflux, distribution, and storage in mammalian cells. A number of proteins involved in different signaling pathways, mitochondrial metabolism, and ion channels, which are also common targets of labile Zn
2+
, play pivotal roles in controlling cardiac contractility. The already known documents associated with the role of zinc in cardiac function are summarized in
Figure 4
. However, these regulatory actions of Zn
2+
are not limited to the function of the heart, but also extend to numerous other organ systems in mammalians. In this review, the regulation of cellular labile Zn
2+
levels, Zn
2+
-mediated signal transduction, impacts of Zn
2+
on ionic channels and S(E)R, and finally, the roles of Zn
2+
transporters in healthy and diseased heart, including diabetic heart, were outlined to help widen the current understanding of the versatile and complex roles of Zn
2+
. Although much has been learned from recent studies, revealed important relationships between Zn
2+
transporters and heart diseases and indicating the potential of Zn
2+
transporters as therapeutic targets, their precise physiological functions are not clear. Given the multiple roles of Zn
2+
in various cell types and the detailed research development of Zn
2+
-containing new markers/sensors will improve the ways to handle heart failure in humans.
Acknowledgments
We thank our many colleagues for their excellent works. This work is supported through grant TUBITAK SBAG-113S466.
Conflicts of Interest
The authors declare no conflict of interest.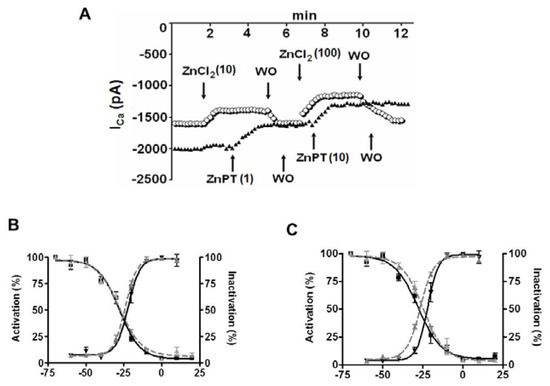 Figure 1. A patch-clamp study on the time course of L-type Ca2+-current (ICa), depressed by Zn2+ exposed either extracellulary (ZnCl2) or intracellularly (i.e., loaded with Zn2+-ionophore pyrithione, ZnPT). (A) The ICa was evoked at 0 mV from a holding potential −80 mV and ICa was recorded in the presence of either ZnCl2 (10 and 100 µM) or ZnPT (1 and 10 µM) in whole-cell patch-clamped ventricular cardiomyocytes in the presence of 1.8 mM external Ca2+. WO represents the washout of applications. Corresponding availability curves of the ICa by either ZnCl2 (B) or ZnPT (C). Note about 10 mV left-shift by ZnPT application in availability curve of ICa.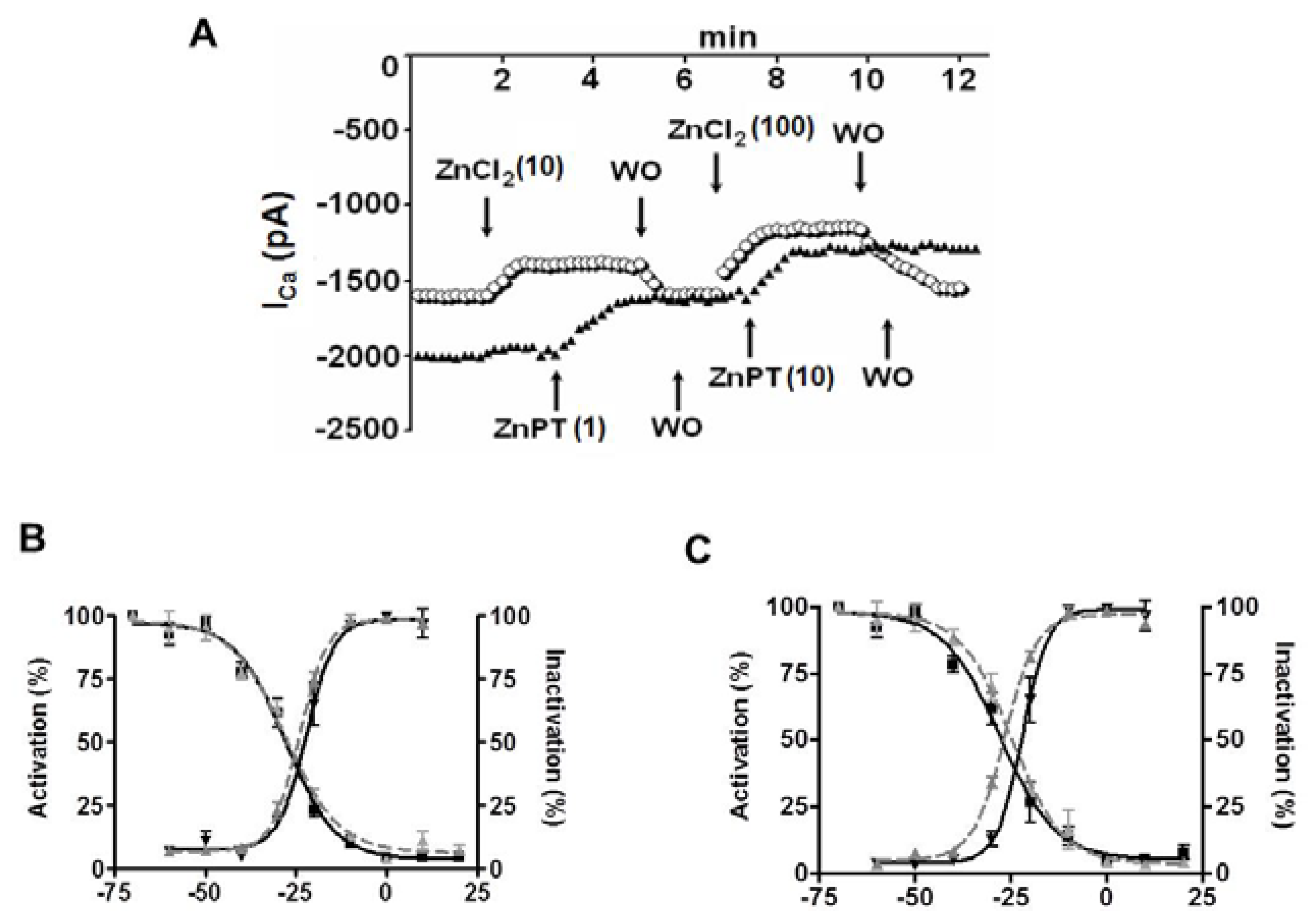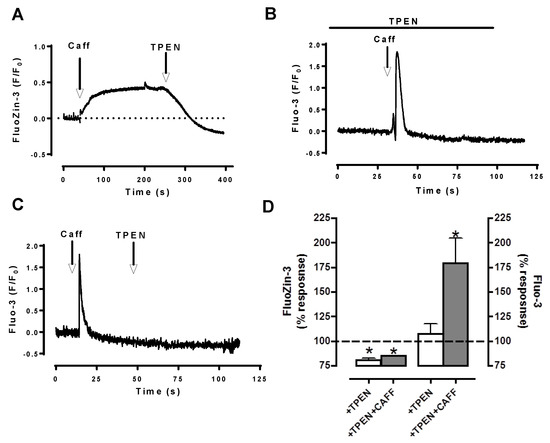 Figure 2.
FluoZin-3 and Fluo-3 responses to caffeine application demonstrate sarco(endo)plasmic reticulum as an intracellular labile Zn
2+
pool in cardiomyocytes performed with confocal imaging. We used either a Zn
2+
-specific fluorescence dye, FluoZin-3 (
A
) or a Ca
2+
-specific fluorescence dye, Fluo-3 (
B
) loaded ventricular cardiomyocytes isolated from rat heart and stimulated them with 10 mM caffeine (Caff) in the either absence (
A
and
B
, respectively) or presence of a membrane-permeant Zn
2+
chelator TPEN (
N
,
N
,
N′
,
N′
-tetrakis(2-pyridylmethyl) ethylenediamine, 30-µM) (
C
), respectively. Normalized caffeine responses are given as F/F0, where F is the fluorescence signal and F
0
is the diastolic fluorescence. The mean (± standard error of mean (SEM)) values are given for the protocols in (
D
),
n
= 5–6 for hearts/protocol. *
p
< 0.05 vs. before application.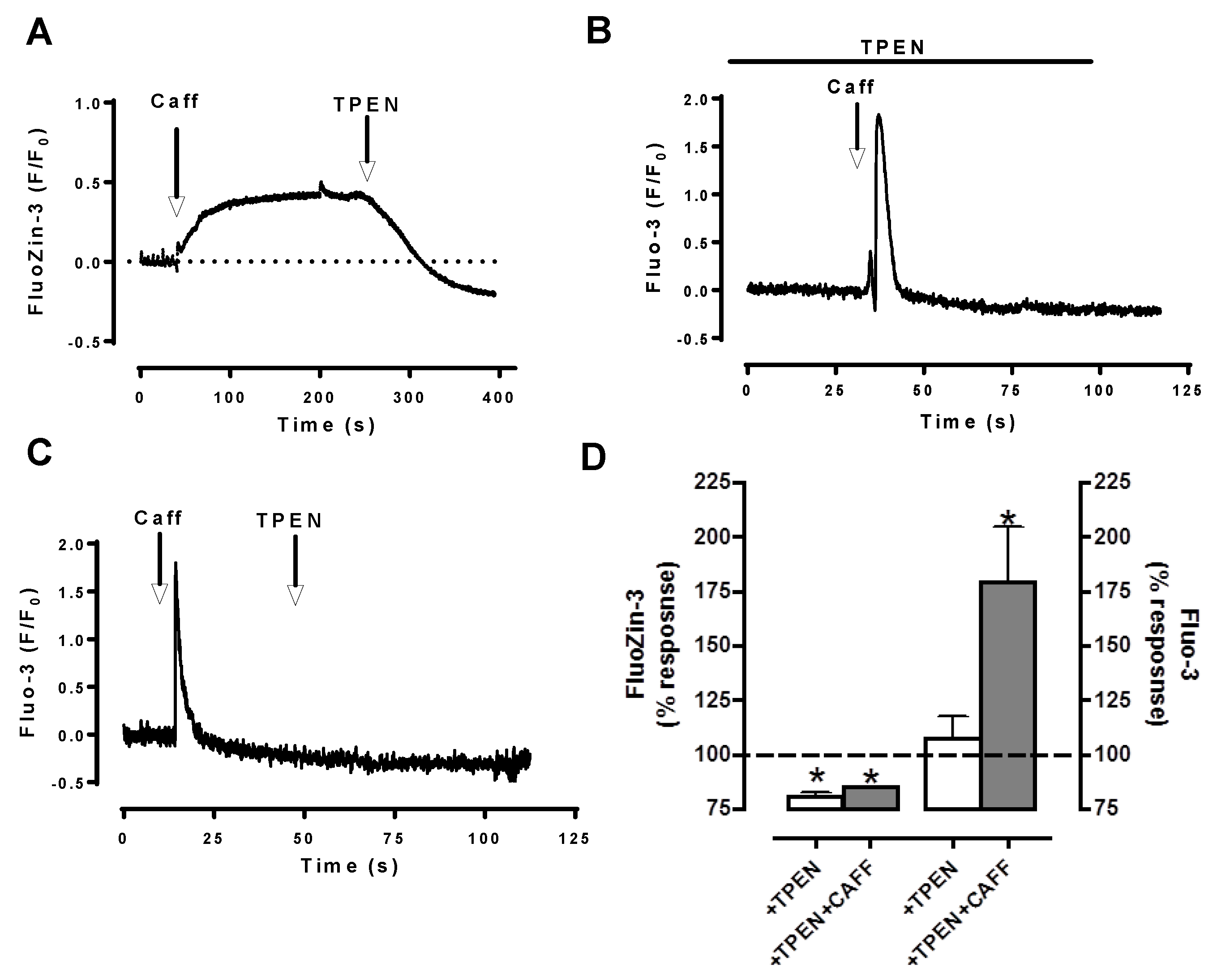 Figure 3. An electron microscopy examination of the effect of increased intracellular labile Zn2+ on ultrastructure of cardiomyocytes. The microscopic examination of freshly isolated cardiomyocytes under physiological condition (A) showing regular myofibrils and mitochondrial (m) structure and under 0.1 μM ZnPT incubation for 15–20 min (B) showing irregular mitochondrial cristae (white arrows). Magnification is ×21, 560 and bars represent 500 nm. On the right, cardiomyocytes showing clustered and degenerated mitochondria (m) under 1 μM ZnPT incubation for 15–20 min(C). Black arrows are showing irregular Z-lines. Magnification is ×12,930 and bar represents 1000 nm.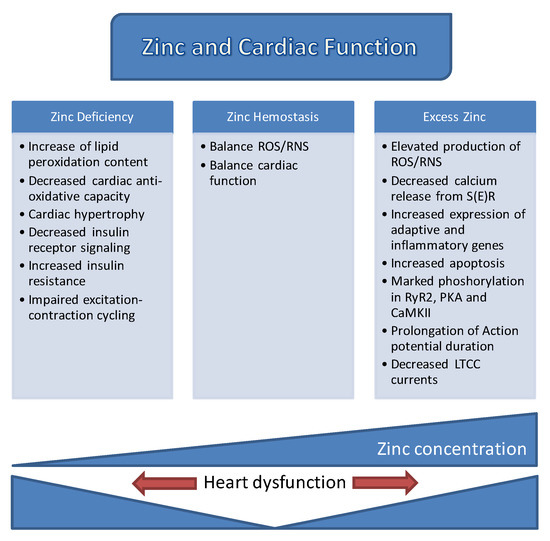 Figure 4. A summary of zinc and its role in cardiac function. Basic mechanisms affected with either zinc-deficiency or zinc-excess and, the, in turn, underline the heart dysfunction, mainly as a zinc-concentration dependent manner in the heart.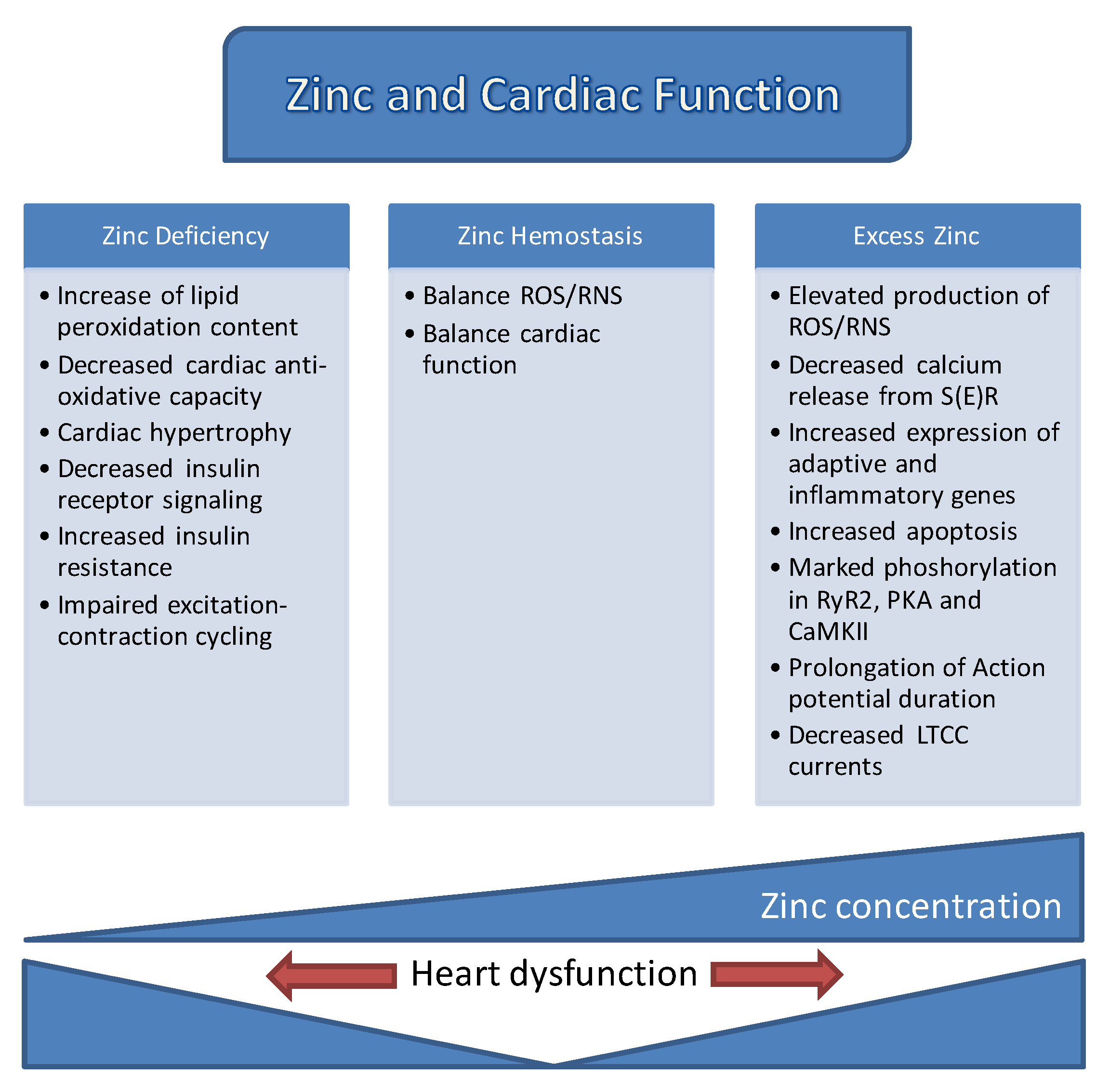 Table 1. Effect of excess Zn2+ on cardiomyocyte electrical and mechanical activity.
Parameters
Excess Zn2+
Parameters
Excess Zn2+

Electrical activity

Mechanical activity

Resting membrane potential
↔
Muscle Contraction
↓
Action potential duration (APD)
Time to peak AP amplitude (TP)
↔
↑
Contraction rate
Relaxation rate
↓
↓
Ca2+ transients
↓
Time to peak contraction
↔
L-type Ca2+ currents
↓
Time at 50% of relaxation
↔
Mitochondrial membrane potential
↑
Arrows represent the increased (↑) decreased (↓) or unchanged (↔) electrical and mechanical activity as time or amplitude of the parameters.
Table 2. Effects of excess Zn2+ on biochemical and ultrastructural parameters in cardiomycoytes.
Parameters
Excess Zn2+
Parameters
Excess Zn2+

Biochemical parameters

pRyR2/RyR2
↑
Promyelocytic leukemia(PML)
↑
pPKA/PKA
↑
Bcl-2/BAX
↓
FK506-binding protein(FKBP12.6)
↔
pAkt/Akt
↑
pCaMKII/CaMKII
↑
pNFκB/NFκB
↑
Calregulin
↑
pGSK/GSK
↑
Glucose regulated protein (GRP78)
↑

Ultrastructure parameters

Morphological changes in mitochondria
↑
Electron density of Z-lines
↓
Number of lysosomes
↑
Arrows represent the increased (↑), decreased (↓), or unchanged (↔) protein expression levels in biochemical parameters or number of lysosomes, Z-lines, and morphological changes in ultrastructure parameters.
© 2017 by the authors. Licensee MDPI, Basel, Switzerland. This article is an open access article distributed under the terms and conditions of the Creative Commons Attribution (CC BY) license (http://creativecommons.org/licenses/by/4.0/).