Relation among Aromatase P450 and Tumoral Growth in Human Prolactinomas
1
Department of Physiology and Pharmacology, Faculty of Medicine, University of Salamanca, 37007 Salamanca, Spain
2
Laboratory of Neuroendocrinology, INCyL and IBSAL, University of Salamanca, 37007 Salamanca, Spain
3
Department of Human Anatomy and Histology, Faculty of Medicine, University of Salamanca, 37007 Salamanca, Spain
4
Faculty of Human and Social Sciences, Pontifical University of Salamanca, 37002 Salamanca, Spain
5
Department of Surgery, Faculty of Medicine, University of Salamanca, 37007 Salamanca, Spain
*
Author to whom correspondence should be addressed.
Received: 15 September 2017 / Revised: 25 October 2017 / Accepted: 27 October 2017 / Published: 1 November 2017
Abstract
The pituitary gland is part of hypothalamic-pituitary–gonadal axis, which controls development, reproduction, and aging in humans and animals. In addition, the pituitary gland is regulated mainly by hormones and neurotransmitters released from the hypothalamus and by systemic hormones secreted by target glands. Aromatase P450, the enzyme responsible for the catabolization of aromatizable androgens to estrogens, is expressed in different parts of body, including the pituitary gland. Moreover, aromatase P450 is involved in sexual dimorphism where alteration in the level of aromatase can initiate a number of diseases in both genders. On the other hand, the direct actions of estrogens, mainly estradiol, are well known for stimulating prolactin release. Numerous studies have shown that changes in the levels of estrogens, among other factors, have been implicated in the genesis and development of prolactinoma. The pituitary gland can produce estradiol locally in several types of endocrine cells, and it is possible that aromatase could be responsible for the maintenance of the population of lactotroph cells and the modulation of the action of central or peripheral regulators. Aromatase overexpression due to inappropriate gene regulation has clinical effects such as the pathogenesis of prolactinomas. The present study reports on the synthesis of pituitary aromatase, its regulation by gonadal steroids, and the physiological roles of aromatase on pituitary endocrine cells. The involvement of aromatase in the pathogenesis of pituitary tumors, mainly prolactinomas, through the auto-paracrine production of estradiol is reviewed.
View Full-Text
►

▼

Figures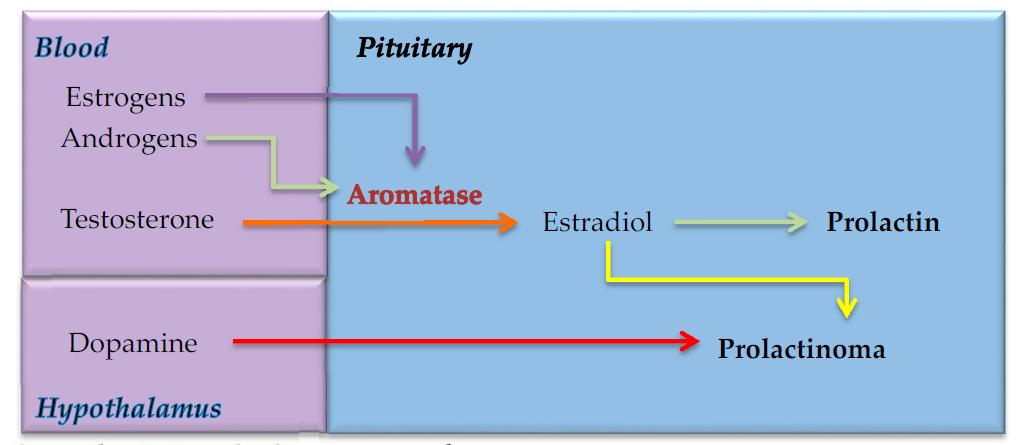 Graphical abstract
This is an open access article distributed under the
Creative Commons Attribution License
which permits unrestricted use, distribution, and reproduction in any medium, provided the original work is properly cited (CC BY 4.0).

Share & Cite This Article
MDPI and ACS Style
García-Barrado, M.J.; Blanco, E.J.; Iglesias-Osma, M.C.; Carretero-Hernández, M.; Catalano-Iniesta, L.; Sanchez-Robledo, V.; Carretero, M.; Herrero, J.J.; Carrero, S.; Carretero, J. Relation among Aromatase P450 and Tumoral Growth in Human Prolactinomas. Int. J. Mol. Sci. 2017, 18, 2299.
Note that from the first issue of 2016, MDPI journals use article numbers instead of page numbers. See further details here.
Related Articles
Comments
[Return to top]