Biochemical Analysis of Two Single Mutants that Give Rise to a Polymorphic G6PD A-Double Mutant
1
Laboratorio de Bioquímica Genética, Instituto Nacional de Pediatría, Secretaría de Salud, Mexico City 04530, Mexico
2
Laboratorio de Nutrición Experimental, Instituto Nacional de Pediatría, Secretaría de Salud, Mexico City 04530, Mexico
3
Consejo Nacional de Ciencia y Tecnología (CONACYT), Laboratorio de Agrobiotecnología, Tecnoparque CLQ, Universidad de Colima, Carretera los Limones-Loma de Juárez, Colima 28629, Mexico
4
Departamento de Biología Molecular y Biotecnología, Instituto de Investigaciones Biomédicas, Universidad Nacional Autónoma de México, Mexico City 04510, Mexico
5
Laboratorio de Neurociencias, Instituto Nacional de Pediatría, Secretaría de Salud, Mexico City 04530, Mexico
6
Laboratorio de Inmunoquímica, Hospital Infantil de México Federico Gómez, Secretaría de Salud, Mexico City 06720, Mexico
7
Colegio de Ciencias y Humanidades, Plantel Casa Libertad, Universidad Autónoma de la Ciudad de México, Mexico City 09620, Mexico
8
Departamento de Infectología e Inmunología, Instituto Nacional de Perinatología, Secretaría de Salud, Mexico City 11000, México
9
Departamento de Química de Biomacromoléculas, Instituto de Química, Universidad Nacional Autónoma de Mexico, Mexico City 04510, Mexico
10
Consejo Nacional de Ciencia y Tecnología (CONACYT), Instituto Nacional de Pediatría, Secretaría de Salud, Mexico City 04530, Mexico
*
Authors to whom correspondence should be addressed.
Received: 10 September 2017 / Revised: 19 October 2017 / Accepted: 20 October 2017 / Published: 26 October 2017
Abstract
Glucose-6-phosphate dehydrogenase (G6PD) is a key regulatory enzyme that plays a crucial role in the regulation of cellular energy and redox balance. Mutations in the gene encoding G6PD cause the most common enzymopathy that drives hereditary nonspherocytic hemolytic anemia. To gain insights into the effects of mutations in G6PD enzyme efficiency, we have investigated the biochemical, kinetic, and structural changes of three clinical G6PD variants, the single mutations G6PD A+ (Asn126AspD) and G6PD Nefza (Leu323Pro), and the double mutant G6PD A− (Asn126Asp + Leu323Pro). The mutants showed lower residual activity (≤50% of WT G6PD) and displayed important kinetic changes. Although all Class III mutants were located in different regions of the three-dimensional structure of the enzyme and were not close to the active site, these mutants had a deleterious effect over catalytic activity and structural stability. The results indicated that the G6PD Nefza mutation was mainly responsible for the functional and structural alterations observed in the double mutant G6PD A−. Moreover, our study suggests that the G6PD Nefza and G6PD A− mutations affect enzyme functions in a similar fashion to those reported for Class I mutations.
View Full-Text
►

▼

Figures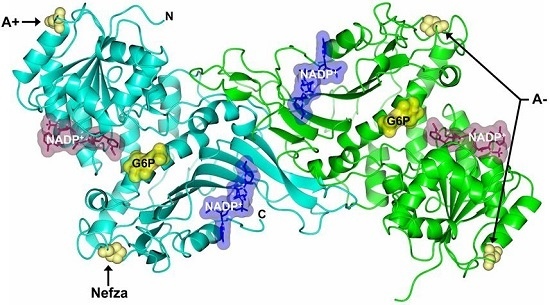 Graphical abstract
This is an open access article distributed under the
Creative Commons Attribution License
which permits unrestricted use, distribution, and reproduction in any medium, provided the original work is properly cited (CC BY 4.0).

Share & Cite This Article
MDPI and ACS Style
Ramírez-Nava, E.J.; Ortega-Cuellar, D.; Serrano-Posada, H.; González-Valdez, A.; Vanoye-Carlo, A.; Hernández-Ochoa, B.; Sierra-Palacios, E.; Hernández-Pineda, J.; Rodríguez-Bustamante, E.; Arreguin-Espinosa, R.; Oria-Hernández, J.; Reyes-Vivas, H.; Marcial-Quino, J.; Gómez-Manzo, S. Biochemical Analysis of Two Single Mutants that Give Rise to a Polymorphic G6PD A-Double Mutant. Int. J. Mol. Sci. 2017, 18, 2244.
Note that from the first issue of 2016, MDPI journals use article numbers instead of page numbers. See further details here.
Related Articles
Comments
[Return to top]