Laminin-Coated Poly(Methyl Methacrylate) (PMMA) Nanofiber Scaffold Facilitates the Enrichment of Skeletal Muscle Myoblast Population
1
Tissue Engineering Centre, Universiti Kebangsaan Malaysia Medical Centre, Cheras 56000, Kuala Lumpur, Malaysia
2
Department of Physiology, Faculty of Medicine, Universiti Kebangsaan Malaysia Medical Centre, Cheras 56000, Kuala Lumpur, Malaysia
*
Author to whom correspondence should be addressed.
Received: 29 September 2017 / Revised: 18 October 2017 / Accepted: 19 October 2017 / Published: 30 October 2017
Abstract
Myoblasts, the contractile cells of skeletal muscle, have been invaluable for fundamental studies of muscle development and clinical applications for muscle loss. A major limitation to the myoblast-based therapeutic approach is contamination with non-contractile fibroblasts, which overgrow during cell expansion. To overcome these limitations, this study was carried out to establish a 3D culture environment using nanofiber scaffolds to enrich the myoblast population during construct formation. Poly(methyl methacrylate) (PMMA) nanofiber (PM) scaffolds were fabricated using electrospinning techniques and coated with extracellular matrix (ECM) proteins, such as collagen or laminin, in the presence or absence of genipin. A mixed population of myoblasts and fibroblasts was isolated from human skeletal muscle tissues and cultured on plain surfaces, as well as coated and non-coated PM scaffolds. PMMA can produce smooth fibers with an average diameter of 360 ± 50 nm. Adsorption of collagen and laminin on PM scaffolds is significantly enhanced in the presence of genipin, which introduces roughness to the nanofiber surface without affecting fiber diameter and mechanical properties. It was also demonstrated that laminin-coated PM scaffolds significantly enhance myoblast proliferation (0.0081 ± 0.0007 h
−1
) and migration (0.26 ± 0.04 μm/min), while collagen-coated PM scaffolds favors fibroblasts proliferation (0.0097 ± 0.0009 h
−1
) and migration (0.23 ± 0.03 μm/min). Consequently, the myoblast population was enriched on laminin-coated PM scaffolds throughout the culture process. Therefore, laminin coating of nanofiber scaffolds could be a potential scaffold for the development of a tissue-engineered muscle substitute.
View Full-Text
►

▼

Figures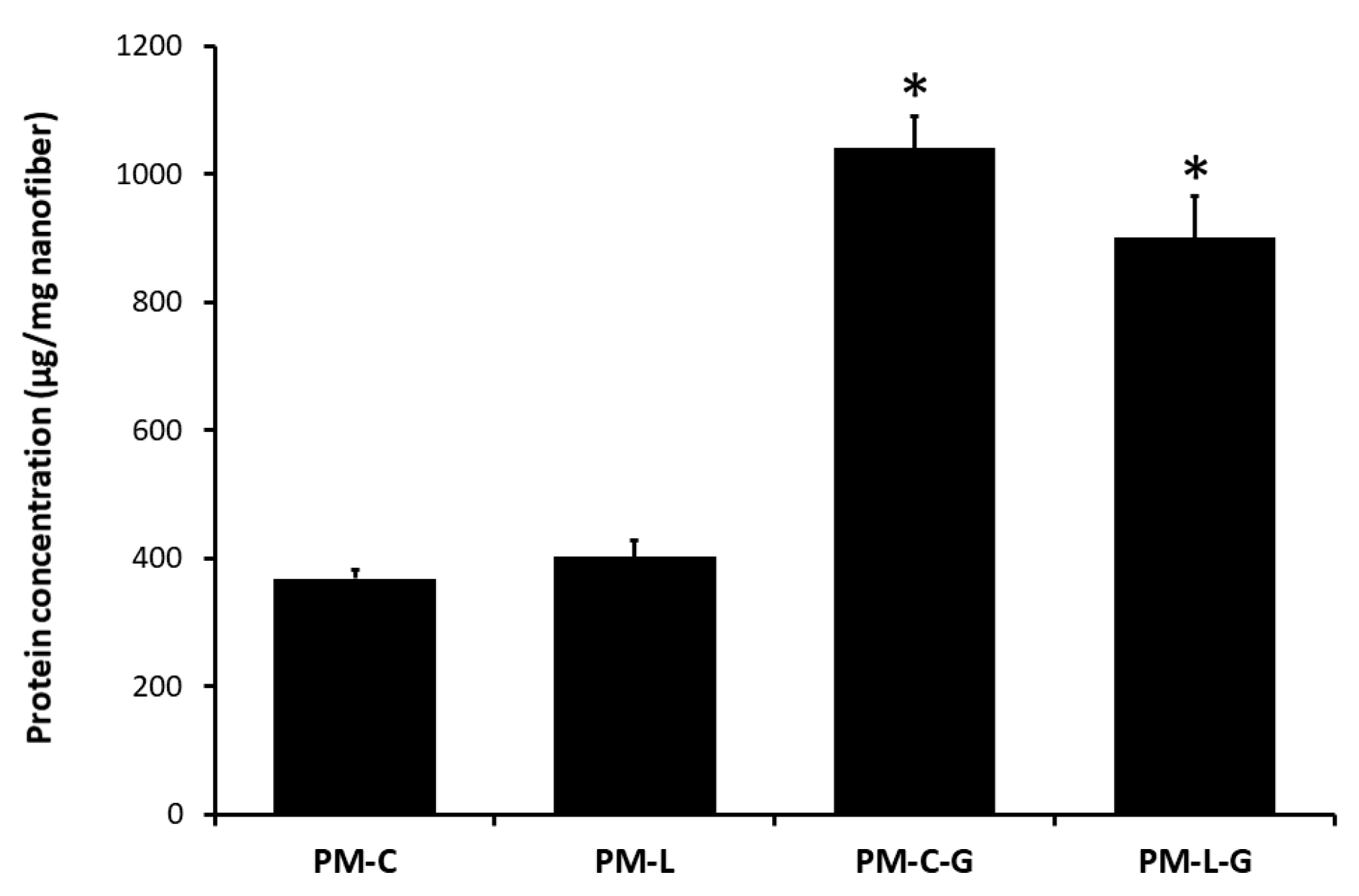 Figure 1
This is an open access article distributed under the
Creative Commons Attribution License
which permits unrestricted use, distribution, and reproduction in any medium, provided the original work is properly cited (CC BY 4.0).

Share & Cite This Article
MDPI and ACS Style
Zahari, N.K.; Idrus, R.B.H.; Chowdhury, S.R. Laminin-Coated Poly(Methyl Methacrylate) (PMMA) Nanofiber Scaffold Facilitates the Enrichment of Skeletal Muscle Myoblast Population. Int. J. Mol. Sci. 2017, 18, 2242.
Note that from the first issue of 2016, MDPI journals use article numbers instead of page numbers. See further details here.
Related Articles
Comments
[Return to top]