Open Access This article is
freely available
re-usable
Review
Stem Cells as Potential Candidates for Psoriasis Cell-Replacement Therapy
1
Department of Dermatology, Sexually Transmitted Diseases and Clinical Immunology, Faculty of Medicine, University of Warmia and Mazury in Olsztyn, 10-900 Olsztyn, Poland
2
Department of Rheumatology, Municipal Hospital in Olsztyn, 10-900 Olsztyn, Poland
3
Department of Neurology and Neurosurgery, Faculty of Medicine, University of Warmia and Mazury in Olsztyn, 10-900 Olsztyn, Poland
4
Foundation for Nerve Cell Regeneration, University of Warmia and Mazury in Olsztyn, 10-900 Olsztyn, Poland
5
Department of Pathophysiology, Faculty of Medicine, University of Warmia and Mazury in Olsztyn, 10-900 Olsztyn, Poland
6
Laboratory for Regenerative Medicine, Faculty of Medicine, University of Warmia and Mazury, 10-900 Olsztyn, Poland
*
Author to whom correspondence should be addressed.
Received: 19 September 2017 / Accepted: 16 October 2017 / Published: 20 October 2017
Abstract
:
Recent years have seen considerable progress in explaining the mechanisms of the pathogenesis of psoriasis, with a significant role played in it by the hyper-reactivity of Th1 and Th17 cells, Treg function disorder, as well as complex relationships between immune cells, keratinocytes, and vascular endothelium. The effect of stem cells in the epidermis and stem cells on T cells has been identified and the dysfunction of various types of stem cells may be a prime cause of dysregulation of the inflammatory response in psoriasis. However, exploring these mechanisms in detail could provide a chance to develop new therapeutic strategies. In this paper, the authors reviewed data on the role played by stem cells in the pathogenesis of psoriasis and initial attempts at using them in treatment.
Keywords:
psoriasis; umbilical cord-Wharton's Jelly stem cells; mesenchymal stem cells
1. Introduction
Psoriasis is a chronic disease affecting over 125 million people all over the world and an increasing trend has been observed [
1
,
2
]. As a systemic inflammatory process, it predisposes, twice as frequently than in the general population, to the development of metabolic disorders (insulin resistance, atherogenic dyslipidemia, arterial hypertension, and cardio-vascular diseases) and, consequently, to life shortening [
3
]. Moreover, this disease decreases the quality of life of the affected and leads to withdrawal from social life and development of depressive disorders. Patients with psoriasis present a significantly higher likelihood of suicidal thoughts, suicide attempts, and completed suicides [
4
]. Psoriasis constitutes a serious socioeconomic burden not only for patients but also for health care systems [
5
].
Unfortunately there is no fully satisfactory therapy against psoriasis and patients frequently report dissatisfaction with the treatment [
6
]. Although there has been some progress due to the introduction of biological therapies, it is still necessary to seek new therapeutic methods.
Although recent years have seen considerable progress in discovering the mechanisms of psoriasis pathogenesis, its full elucidation is still a long way away. Hyper-reactivity of Th1, Th17, dysregulation of Treg, and the complex relationships between immune system cells and keratinocytes and vascular endothelium obviously play a significant role [
7
]. Interleukin-23/Th17/Il-17 axis and Th1/IFN-γ axis play a key role in psoriasis inflammation [
8
]. Currently, attention is drawn to the effect of epidermal stem cells and stem cells on T cells. Therefore, the dysfunction of certain types of stem cells could be the root cause of dysregulation of the inflammatory response in psoriasis (
Figure 1
).
2. Pathogenesis of Psoriasis and Dermal Stem Cells
2.1. Epidermal Stem Cells in Psoriasis
2.2. Mesenchymal Stem Cells (MSC) in Psoriasis
2.3. Role of Telocytes in Psoriasis
Human skin contains telocytes, which are parts of niches for stem cells interact with them closely, taking part in skin regeneration [
38
]. These are cells which have long, very thin projections called telopods, whose thickness is comparable to that of collagen fibers [
39
]. Manole et al. detected a reduced number of telocytes in psoriasis plaques and their degradation involves membrane disintegration, fragmentation of cytoplasm, and loss of the cell nuclei. On the other hand, topical treatment with corticosteroids increased their number [
39
].
3. Psoriasis and Bone Marrow Stem Cells
Although the role of T-cells in psoriasis has been very well elucidated, the cause of their hyper-reactivity remains unknown. Moreover, disorders in the function of other immune cells (monocytes, neutrophils, mast cells) are observed in psoriatic patients [
40
].
3.1. Associations of Psoriasis with Bone Marrow Cells
Although various factors upset the balance of the immune system in initiation of psoriatic lesions, the most important of them are associated with T cells (spontaneous activation and proliferation, production of proinflammatory cytokines). It has been suggested that hematopoietic stem cells (HSC) of bone marrow may be responsible for dysregulation of the T cells function in psoriasis. It has been shown in several recent studies that abnormal relations between T cells and HSC may be genetically conditioned. This has been proven by reported cases of remission of psoriasis, or vice-versa—the development of diseases after an allogeneic bone marrow transplant [
40
,
41
,
42
,
43
,
44
]. Immunological disorders typical of psoriasis can be transmitted through a bone marrow cell transplant. Leukemia in psoriatic patients can also result in the disease remission [
44
].
3.2. Proliferation of Bone Marrow Stem Cells (Progenitor Cells) in Psoriatic Patients Is Not Normal
In vitro studies with 99mTc bone marrow scintigraphy showed that the activity of monocytopoiesis precursors is increased in psoriasis. In consequence, the number of phagocytic cells in patients' blood increases. Moreover, peripheral immunocytes and cytokines secreted by them (IFN-γ, IL-2, IL-8, and TNF-α) can affect the hematopoietic environment and even hematopoiesis [
40
,
44
].
Zhang et al. demonstrated that the activity of HPP-CFC (high proliferative potential colony-forming cell) and the ability to produce CFU-GM (granulocyte-macrophage colony-forming units), but not CFU-E (Erythrocyte colony-forming units), is decreased in psoriatic patients [
44
].
3.3. T-Cells from Haematopoietic Cells of Bone Marrow of Psoriatic Patients Are Functionally Different from T-Cells in Healthy People
Zhang et al. observed a culture of CD34
+
cells of bone marrow from psoriatic patients and the process of their differentiation into T cells and regulatory CD25
+
CD4
+
cells. Studies have shown that CD4
+
CD25
+
cells inhibit effector T cells to a lesser extent both in peripheral blood and in skin lesions, which leads to their accelerated proliferation. Although the proportions of CD4
+
CD25
+
cells and expression of the FOXP3 gene are comparable in psoriatic patients and in healthy people, their proliferation and secretion of cytokines IL-2 and IL-10 is decreased in patients in response to the streptococcal antigen (Strep-A). Additionally, CD4
+
CD25
+
cells in patients cannot inhibit effector T cells [
40
,
44
].
3.4. The Role of Bone Marrow Mesenchymal Stem Cells in Psoriatic Patients
3.5. Reduction of the Number of Progenitor Cells in Psoriatic Patients
Being a systemic inflammatory process, psoriasis leads to the development of metabolic disorders. By exhausting the pool of endothelial progenitor cells (EPCs) and being a source of pro-inflammatory cytokines, psoriatic eruptions that stay on the skin for years affect the cardiovascular system. It is a population of bone marrow cells with expression of CD34 and VGEFR-2 cells [
45
]. EPCs are responsible for integrity and regeneration of endothelium and the formation of new vessels in adults. They are recruited from bone marrow and migrate to areas of ischemia or damaged endothelium, where they repair the damage. Their number is reduced in arterial hypertension, diabetes, obesity, rheumatoid arthritis, and in tobacco smokers. Their number in blood is also reduced in patients with psoriasis and in those with psoriatic arthritis. However, the number of EPCs was found to increase following treatment with etanercept (TNF-α inhibitor), which is indicative of an improvement of the regenerative abilities of endothelium [
46
,
47
,
48
,
49
]. On the other hand, Ablin et al. did not find any significant differences between the number of EPCs in healthy people and those with psoriasis and psoriatic arthritis [
45
].
4. Stem Cells in Psoriasis Treatment
4.1. Autologous Haematopoietic Stem Cell Transplantation
4.2. Umbilical Cord-Wharton's Jelly Stem Cells
5. Conclusions
The data presented here suggest that stem cells in psoriatic patients affect proliferation and differentiation of keratinocytes and immune system cells and the ability to secrete cytokines. This confirms the view that psoriasis is a multi-system disease, which affects not only the skin, but is also related to the function of the hematopoietic and neuroendocrine systems and with metabolic disorders. Although it requires a lot of new research (
Table 3
). The application of stem cells raises hopes for developing a new, safe, and effective therapy for psoriatic patients.
Conflicts of Interest
The authors declare no conflicts of interest.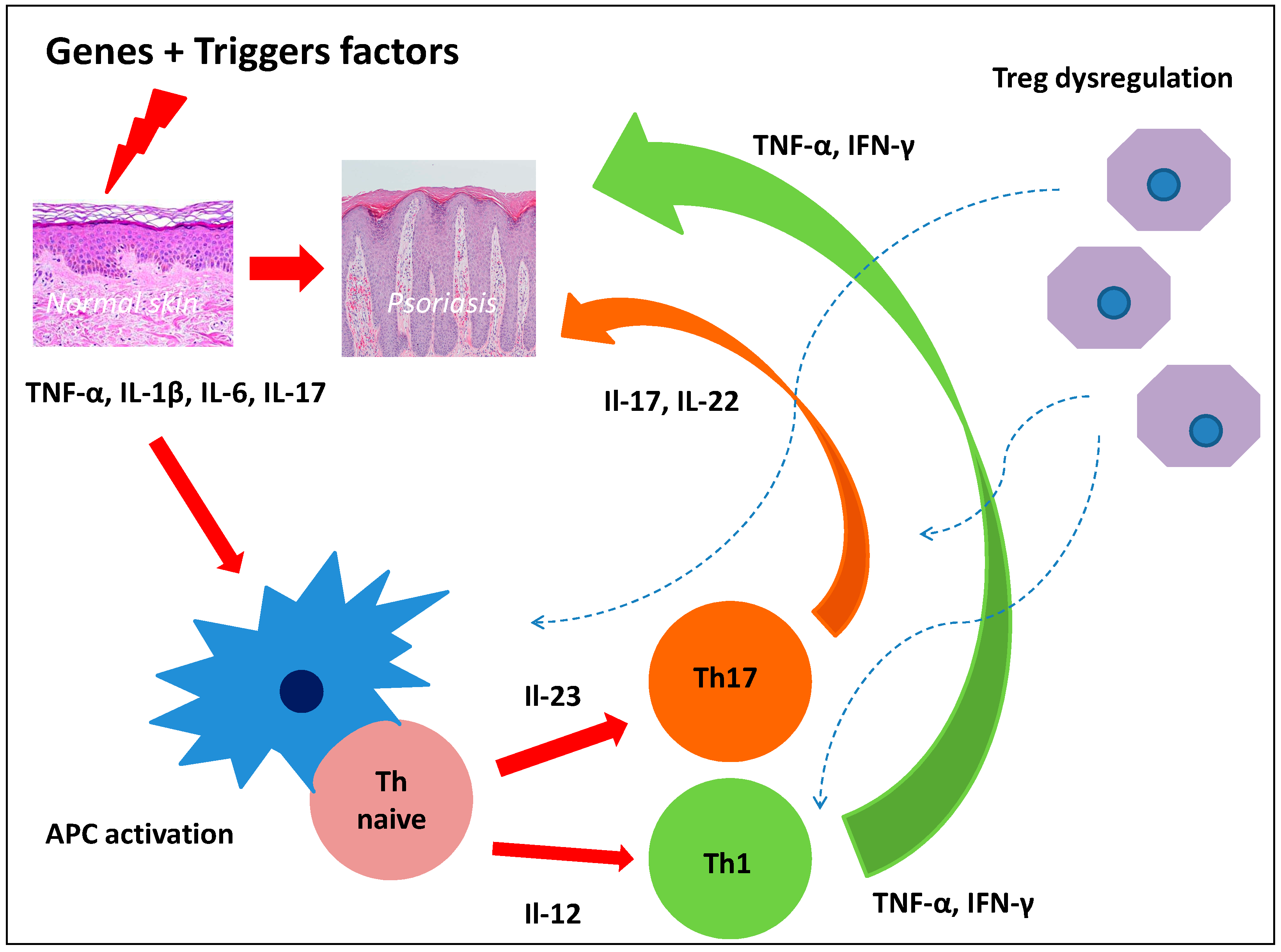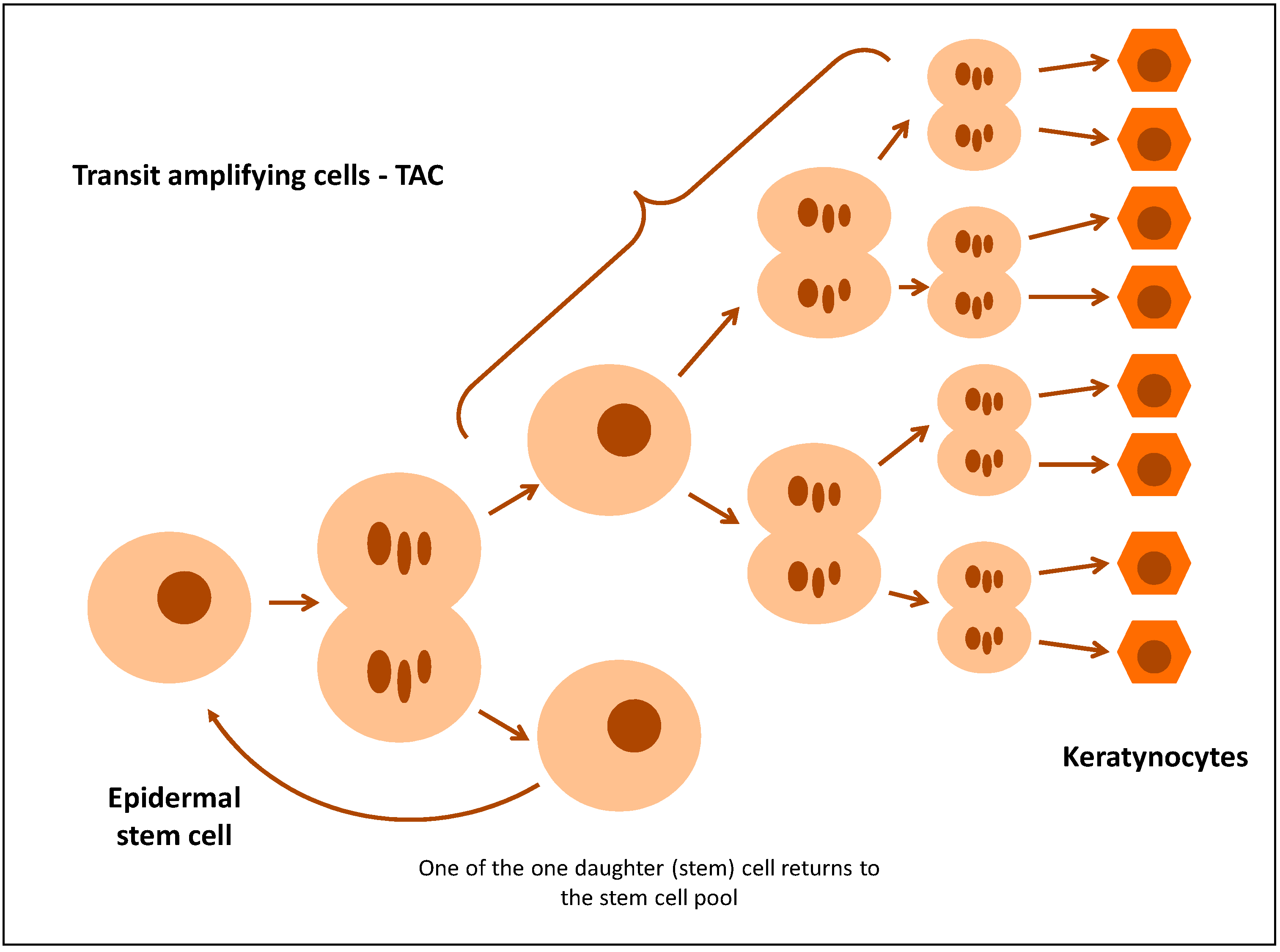 Table 1. Analysis of the potential effect of stem cells on inhibition of the inflammatory process in psoriasis.
Element of Psoriasis Pathogenesis
Effect of Stem Cells
References
Deficiency of IL-10 and TGF-β in serum and skin [52,53,54]
WJSCs produce IL-10 and TGF-β
Chen et al., 2016 [55]
Kim et al., 2013 [56]
Prasanna et al., 2010 [57]
Wang et al., 2016 [58]
Hyperactivity of Th17 and the dysfunction of Treg [59,60]
WJSCs produce IL-35, which induces the proliferation of Treg cell populations, reduces the activity of Th17 and Th1 cells
Amari et al., 2014 [61]
Significantly lower plasma levels of sHLA-G and IL-10 in psoriatic patients; the treatment of psoriasis leads to suppression of Th1 activation because of induced sHLA-G secretion via an IL-10-dependent pathway [62,63]
WJSCs express of HLA-G
Kim et al., 2013 [56]
Prasanna et al., 2010 [57]
Fong et al., 2011 [64]
La Rocca et al., 2009 [65]
A crucial role of Th17 and IL-17 in psoriatic plaques and general inflammation [66,67]
MSCs inhibit the activity of the Thl7 cell, reducing the expression of interleukin IL-17
Rafei et al., 2009 [68]
Decrease in FOXP3 and an increase in IL-17-producing Tregs; the conversion from Treg to IL-17/Treg is a continuum of converting cells, as evidenced by FOXP3+ RORγt+ co-expression and a gradual loss of FOXP3 [69]
WJSCs modulate FoxP3 and RORγt expression, leading to the conversion of Th17 into Treg cells
Alluno et al., 2014 [70]
Excessively aberrant Th1/Th2 homeostasis and Th17/Treg balance; the dysfunction of Treg [7,17,71,72]
WJ-MSCs inhibit the proliferative response of Th1 and Th17 but augment Th2 and Treg
Wang et al., 2016 [58]
Dendritic cells play a crucial role in the development of psoriatic inflammation, because of the production IL-12, IL-23, IL-6 [72]
WJSCs inhibit the maturation and activation of dendritic cell precursors
Kim et al., 2013 [56]
Psoriatic keratinocytes are particularly resistant to apoptosis, in psoriatic lesions over-expressed Bcl-XL, stimulated by TNF-α, is observed [73]
hWJSCs up-regulate the induction of apoptosis by attenuation of Bcl-2, Bcl-XL activation
Fong et al., 2011 [64]
Han et al., 2014 [74]
WJSCs, Wharton's Jelly Stem Cells; sHLA-G, soluble HLA-G; MSCs, Mesenchymal Stem Cells; WJ-MSCs, Wharton Jelly Mesenchymal Stem Cells; hWJSCs, human Wharton Jelly Mesenchymal Stem Cells; Bcl-XL, B-cell lymphoma-extra large.
Author
Patient
Psoriasis Course
Reason of HSCT
Myeloablative Chemotherapy
HSCT Type
Remission of Psoriasis
Comments
Adkins, 2000 [41]
K, 55 years old
Severe PS for 33 years, BSA > 60%, treated earlier with CsA, PUVA, MTX, with no improvement
CML
BU, CTX
Allo-HSCT
2 years 4 months
Post-surgery period complicated with recurring infections and acute and chronic GVHD, treated with GCS, CsA and AZA. Died on 887th day following transplant because of pneumonia and AKF
Braiteh, 2008 [76]
M, 35 years old
PS and PsA for 15 years, BSA 50%
MM
L-PAM
Auto-HSCT
>2 years follow-up
1 year of remission of MM
Mohren, 2004 [83]
M, 34 years old
PS and severe PsA for 15 years, ineffectively treated with MTX, CsA, MMF, sulfasalazine, NSAIDs and drugs in combination
PSA
CTX, L-PAM and selection of CD34+ cells from graft
PBSCT
16 months
Mild recurring PSA, with good response to MTX.
Also, history of monoclonal gammopathy IgAκ, resolved months following PBSCT, no recurrence.
Mori, 2012 [75]
M, 54 years old
PS for 10 years
MDS
BU, CTX
Allo-BMT
8 months follow-up
Woods, 2006 [43]
M, 29 years old
PS for 16 years, severe PSA for 1 year, heavily restricts performance
AA
CTX, radiotherapy
Allo-HSCT
12 months PS
5 years PsA
The 20-year follow-up after HSCT showed a recurrence of mild psoriasis limited to head skin and recurrence of PSA, well-controlled with drugs and not causing significant disability.
Held, 2012 [84]
M, 9 years old
Guttate psoriasis, erythroderma
Edwing sarcoma
BU, L-PAM
Auto-SCT (ASCR)
15 months follow-up
13 months of remission of Edwing sarcoma
Kishimoto 1997 [85]
M, 40 years old
PPP following chemotherapy (DRB, 6-MP and BH-AC), treated with local GCS and etretinate, no improvement
AML
BU, CTX
Allo-HSCT
2 years follow-up
5 months after allo-HSCT the patient developed autoimmune thyroiditis and chronic GVHD, treated with CsA and GCS for 7 months with improvement.
Rossi, 2006 [86]
M, 27 years old
PS for 2 years, treated with local GCS
Acute AA
ATG, CTX
Allo-BMT
10 years follow-up
Received short-term MTX and CsA for 314 days following BMT as a preventive measure against GVHD
Rossi, 2006 [86]
M, 50 years old
PS for 20 years (scalp, elbows)
NHL
BEAM regimen (BCNU, AC, ETO, L-PAM)
Auto-BMT
21 months
After 21 months, recurring PS restricted to elbows
Kanamori, 2002 [87]
M, 49 years old
PS for 20 years, treated with GCS externally
CML
BU, CTX, AC
Allo-BMT
2 years 6 months follow-up
Patient received short-term MTX and CsA for 150 days as a preventive measure against GVHD. After BMT, developed liver function disorder (probably related to chronic GVHD)
Slavin, 2000 [88]
M, 38 years old
Severe PS and PSA for 8 years, periodically treated with MTX and phototherapy
CML
FLU, ATG, BU
Allo-BMT
NST
2 years follow-up
Patient received CsA as a preventive measure against GVHD. 32 days after BMT there was recurrence of PS, PSA and CML. CsA was discontinued with a view to inducing GVL against CML and GVA against PSA. Within a month, the patient developed macular-papular eruptions, like in GVHD, treated with GCS. Symptoms of CML, PS and PSA were resolved.
HSCT, hematopoietic stem cell transplantation; PS, psoriasis; BSA, body surface area; CsA, ciclosporin, MTX, methotrexate; PUVA, photochemotherapy UVA; CML, chronic myeloid leukemia; BU, busulfan; CTX, cyclophosmamide; GVHD, graft versus host disease; GCS, glucocorticosteroids; AZA, azatiopryne; AKF, acute kidney failure; PsA, psoriasis arthritis; MM, myeloma multiplex; L-PAM, melphalan; PBSCT, peripherial blood stem cell transplantation; MDS, myelodysplastic syndrome; MMF, mycophenolate mofetil, NSAIDs, non steroidal anti-inflammatory drugs; ATG, antithymocyte globulin; AA, aplastic anemia; ASCT, autologous stem cell transplantation; PPP, plantopalmar psoriasis pustulosa; DRB, doxorubicin; 6-MP, 6-mercaptopurine; BH-AC; AML, acute myeloid leukemia; BH-AC, behenoyl cytosine arabinoside; BCNU1,3-bis (2-chloroethyl)-1-nitroso-urea; ETO, etoposide, AC, cytarabine; CNL, chronic myeloid leukemia; FLU, flutamide; GVL, graft versus leukemia effect; GVA, graft versus autoimmunity.

Table 3.
List of past and present clinical adipose-derived stem cell trials in psoriasis [
95
].
Study
Application Method
Phase
Trial Institution and Country
NCT Number and Duration Period
1
Safety and Efficacy of UC-MSCs in Patients With Psoriasis Vulgaris
Patients will receive six UC-MSCs infusions (1 × 106/kg). The first to fourth infusion will be given once a week for four weeks, then the last two infusions will be given once every two weeks.
I, II
Hospital to Academy of Military Medical Sciences, China
NCT02491658
2015–2016
2
Safety of FURESTEM-CD Inj. in Patients With Moderate to Severe Plaque-type Psoriasis
Patients will receive FURESTEM-CD (allogeneic hUCB-MSC) injection subcutaneous: 5.0 × 107 cells, 1.0 × 107 cells and 2.0 × 108 cells for four weeks.
I
The Catholic Univ. Korea Seoul, St. Marry's Hospital, Seoul, Republic of Korea
NCT02918123
2016–2020

© 2017 by the authors. Licensee MDPI, Basel, Switzerland. This article is an open access article distributed under the terms and conditions of the Creative Commons Attribution (CC BY) license (http://creativecommons.org/licenses/by/4.0/).