Open Access This article is
freely available
re-usable
Review
The Role and Mechanism of Epithelial-to-Mesenchymal Transition in Prostate Cancer Progression
1
Department of Urology, University of Texas Southwestern Medical Center, Dallas, TX 75390, USA
2
Department of Biochemistry and Molecular Biology, College of Medicine, National Taiwan University, Taipei 10617, Taiwan
*
Author to whom correspondence should be addressed.
Received: 23 August 2017 / Accepted: 27 September 2017 / Published: 30 September 2017
Abstract
:
In prostate cancer (PCa), similar to many other cancers, distant organ metastasis symbolizes the beginning of the end disease, which eventually leads to cancer death. Many mechanisms have been identified in this process that can be rationalized into targeted therapy. Among them, epithelial-to-mesenchymal transition (EMT) is originally characterized as a critical step for cell trans-differentiation during embryo development and now recognized in promoting cancer cells invasiveness because of high mobility and migratory abilities of mesenchymal cells once converted from carcinoma cells. Nevertheless, the underlying pathways leading to EMT appear to be very diverse in different cancer types, which certainly represent a challenge for developing effective intervention. In this article, we have carefully reviewed the key factors involved in EMT of PCa with clinical correlation in hope to facilitate the development of new therapeutic strategy that is expected to reduce the disease mortality.
Keywords:
epithelial-to-mesenchymal transition; metastasis; prostate cancer progression
1. Introduction
The plasticity of cellular phenotypic transformation is fundamental to embryonic development. During gastrulation stage, the reprogramming process of epithelial-to-mesenchymal transition (EMT) mainly governs the phenotypic change of polarized ectodermal epithelial cells into migratory mesenchymal cells that ultimately constitute the mesodermal layer of the embryo [
1
]. EMT occurs by breakdown of cell-to-cell or cell-to-extracellular matrix (ECM) adherence at the polarized epithelium lining. E-cadherin is a major component of epithelial adherence junction and acts as the master gatekeeper of EMT. Loss of E-cadherin, considered to be the key step to initiate EMT, leads to collapse of intercellular mechanical communication. In contrast, critical mesenchymal markers such as vimentin and
N
-cadherin, as well as several E-cadherin transcriptional repressors including zinc finger proteins Snail/SNAI1 and Slug/SNAI2, twist-related protein 1 (Twist 1) and zinc finger E-box-binding homeobox 1 and 2 (ZEB1 and ZEB2) are highly elevated during EMT (
Figure 1
), leading to acquisition of mesenchymal phenotype of enhanced cell mobility [
2
]. EMT is critical for tissue remodeling during embryonic morphogenesis [
3
,
4
,
5
,
6
]; however, this reprogramming process is also observed in different pathological process such as organ fibrosis, wound healing and carcinoma progression. In particular, primary carcinoma cells switch from epithelial characteristics to mesenchymal-like phenotype while responding to either intrinsic genetic and molecular alteration or extrinsic microenvironmental stimuli, which leads to the invasion into surrounding stroma and subsequent vasculature, ultimately colonization at a distant pre-metastatic niche [
6
,
7
]. Particularly, the role of EMT in metastasis has been demonstrated in many cancer types including prostate cancer (PCa) to elicit their metastatic potentials [
2
,
8
,
9
], which is supported by significant correlation between TGF-β and EMT-related genes detected from circulating prostate cancer cells of PCa patients [
10
]. PCa is the most common male malignancy and the second leading cause of cancer mortality in the men of US. Current treatments for primary prostatic tumor involve radical prostatectomy, external radiotherapy, brachytherapy, and androgen deprivation therapy (ADT). The major cause of PCa mortality is the onset of metastatic castration-resistant PCa (mCRPC). Although none of these therapeutic strategies are curative for PCa, surgery and radiation remain the most effective regimen for patients with organ-confined disease. It is known that PCa is a multifocal disease with heterogeneous cell population. Thus, understanding cellular and molecular mechanisms underlying metastatic dissemination of PCa, such as EMT could generate potential therapeutic strategies to prevent PCa related mortality. In this review, we will discuss several key players in driving EMT in PCa and the different mechanisms that produce distinct signaling cascades to modulate gene transcription or epigenetic regulation, and post-transcriptional regulation by microRNA (miRNA) or long non-coding RNAs (lncRNAs).
Accumulating studies have demonstrated that activation of EMT transcription factors induces acquisition of stem cell properties in epithelial cells and contributes to the emergence of tumor-initiating cell population in several cancer types such as breast and pancreatic cancer [
11
,
12
,
13
]. In PCa, one study also indicates that
N
-cadherin can increase prostate tumor spheroid formation by elevating expression of stemness markers such as c-Myc, Klf4, Sox2 and Oct4 via ErbB signaling pathway [
14
]. In addition, the ectopic expression of Semaphorin 3 C can concurrently enhance the invasiveness and stemness in normal prostate epithelial cells, and that mesenchymal markers such as
N
-cadherin and Vimentin are highly upregulated in CD44-positive populations, compared to CD44-negative ones [
15
]. Using transgenic mouse model, prostate tumor cells with mesenchymal characteristics displayed enhanced invasiveness and stemness [
16
]. However, using primary prostate cancer-derived cells, there is no significant correlation between stemness and the expression level of EMT markers such as vimentin and
N
-cadherin [
17
], suggesting that more studies are needed to delineate the regulation of EMT leading to PCa stemness.
EMT-related transcription factors such as Snail, Slug and Twist are shown to confer chemo-resistance in ovarian, breast and nasopharyngeal carcinoma [
18
,
19
,
20
]. In PCa, a study demonstrated that reintroduction of E-cadherin significantly sensitizes chemo-resistant PCa cell lines to paclitaxel [
21
]. A recent study showed that Skp2-mediated Twist stabilization can facilitate the acquisition of chemo-resistant to paclitaxel or doxorubicin during PCa progression toward CRPC [
22
]. In addition, ZEB1 has been shown to promote the chemo-resistance in Paclitaxel-resistant PCa [
23
]. Taken together, the onset of EMT can lead to PCa cells acquiring drug resistance during progression.
2. The Signal Pathways Leading to Epithelial-To-Mesenchymal Transition (EMT) in Prostate Cancer (PCa)
3. Transcription Factors Associated with EMT
ZEB1 is a zinc finger homeodomain transcriptional repressor that regulates skeletal patterning during development and suppresses E-cadherin transcriptional activity in multiple malignancies.
4. Epigenetic Regulation of EMT
Epigenetic regulation is considered as a key initial step in mammalian development. Since EMT occurs during embryogenesis, it is conceivable that epigenetics also plays a critical role in pathologic EMT. Accumulating evidence has demonstrated that both hyper- and hypomethylation of DNA are involved in the deregulation of several genes contributing to PCa progression [
106
,
107
,
108
]. In particular, aberrant DNA hypermethylation in cancer may lead to inactivation of tumor suppressor genes, leading to increased invasiveness of PCa. HIC1 is a tumor suppressor gene located at 17p13.3, a chromosomal region that is frequently hyper-methylated or deleted in human tumors. HIC1 acts as a transcriptional repressor involved in the suppression of SIRT1 and the regulation of TP53-dependent apoptotic DNA-damage responses [
109
]. A study using PCa specimens showed that high frequency of HIC1 gene hypermethylation is observed in metastatic PCa, compared to primary and benign tissue. Moreover, hypermethylation of HIC1 gene in PCa cells leads to induction of cell migration and metastasis by promoting EMT via enhancing both Slug and CXCR4 expression that are crucial to PCa metastasis [
110
]. Meanwhile, restoring HIC1 expression in several PCa cell lines markedly inhibits cell proliferation, migration and invasion in vitro, as well as reduces tumor growth, tissue metastasis and bone destruction in vivo [
111
,
112
]. Clearly, epigenetic modification of HIC1 promoter can impact EMT induction in PCa.
Moreover, histone modification of critical genes has similar effect on EMT induction during PCa metastasis. The histone methyltransferase, MMSET/WHSC1 (Multiple Myeloma SET domain), is capable of facilitating EMT in PCa cells via induction of Twist1, which in turns suppresses E-cadherin expression [
113
]. In addition, Zeste homolog 2 (EZH2) is a critical component of Polycomb repressive complex 2 (PRC2) and causes gene silencing by increasing histone methylation. Increased level of EZH2 has been observed in PCa and many other cancer types. Particularly, transcriptional repression of E-cadherin by EZH2 is often observed in highly aggressive PCa [
114
,
115
,
116
]. In addition, EMT-related transcription factor can be an epigenetic regulator to orchestrate EMT process. SIRT1 is, known as class III Histone deacetylase, also characterized as an EMT-related transcription factor. By silencing of SIRT1 can cause down-regulation of ZEB1. In addition, recruitment of SIRT1 at the promoter region of E-cadherin can be facilitated by the presence of ZEB1 in PCa cells, leading to transcriptional suppression of E-cadherin [
117
]. A recent study demonstrated that silencing of SIRT1 can suppress PCa cell migration and invasion via down-regulation of Vimentin and
N
-cadherin, leading to subsequent up-regulation of E-cadherin [
118
]. Overall, SIRT1 is a unique epigenetic regulator as well as EMT-related transcription factor in PCa.
5. MicroRNA Associated with EMT during PCa Progression
MicroRNAs (miRNAs) are small non-coding RNA molecules regulating gene expression via post-transcriptional silencing of target genes. miRNA regulation is highly associated with multiple biological processes such as differentiation, proliferation, migration, survival and invasion. Several miRNAs are known to target transcription factors contributing to the mesenchymal phenotype in PCa (
Table 2
). For incidence, members of the miR-200 family (miR-200a, miR-200b, miR-200c, miR-141 and miR-449) are markedly down-regulated during PCa progression and are shown to suppress EMT mainly by inhibiting E-cadherin repressors such as ZEB1 and ZEB2 at the post-transcriptional level [
119
,
120
,
121
]. Both miR-203 and miR-205 are known to restore epithelial phenotype in PCa cells by targeting Slug/SNAI2 and ZEB2. Clinically, expression level of miR-203 is significantly attenuated in bone metastatic PCa specimens compared with benign tissue, while miR-205 is found to be decreased dramatically in lymph node metastasis when compared to primary prostatic tumor [
122
,
123
]. Meanwhile, by miRNA microarray analysis, miR-508-5p, miR-145, miR-143, miR-33a and miR-100 were found to be significantly down-regulated in metastatic PCa compared to the primary tumor. In particular, miR-143 and miR-145 derived from the same cluster are shown to reverse EMT and reduce PCa cell migration and invasion by targeting fibronectin and ZEB2 [
124
,
125
]. Moreover, several mesenchymal factors such as
N
-cadherin, Twist and Snail are regulated by miR-29b, which is also down-regulated significantly in PCa cell lines and PCa patient specimens when compared to normal prostate epithelial cells and adjacent benign tissue, respectively. Ectopic expression of miR-29b in PCa cells is capable of suppressing PCa invasiveness in vitro, and diminishing secondary colonization at the lungs and liver following intravenous injection in vivo, suggesting miR-29b acts as an anti-metastatic miRNA that is down-regulated during PCa progression [
126
]. Meanwhile, miR-23b is found to be a methylation-silenced tumor suppressor that inhibits EMT via directly targeting Src kinase and Akt. Moreover, this study also demonstrated that ectopic expression of miR-23b in PC3 cells causes decline in mesenchymal markers vimentin and Snail, and increase of epithelial marker, E-cadherin [
127
]. Similarly, miR-34a is a tumor suppressive miRNA implicated in EMT and cancer stemness in multiple tumors. A study showed that miR-34a is negatively correlated with PCa migration and invasion by targeting lymphoid enhancer-binding factor-1 (LEF1), a key transcription factor involved in regulation of cell proliferation and invasion. This study also demonstrated that ectopic expression of miR-34a causes the down regulation of
N
-cadherin and Snail, and induction of E-cadherin in LNCaP and C4-2B cell lines, overall suggesting that miR-34a-LEF1 regulation plays an important role in the metastatic progression of PCa [
128
]. In addition, miR-486 is significantly down-regulated in metastatic C4-2 cells as well as disseminated tumors in PCa patients, compared to parental LNCaP cell and localized PCa tissues, respectively. Functionally, miR-486 is demonstrated to target Snail by post-transcriptional suppression and functionally inhibit PCa cell migration and invasion [
129
]. Findings from this study suggest that miR-486 negatively mediates the migration and invasion potential of PCa via targeting Snail.
In contrast to tumor suppressor miRNAs, aberrant expression of oncogenic miRNAs is observed in highly aggressive PCa associated with EMT. A study using intra-cardiac inoculation of PCa cells in mice demonstrated the oncogenic role of miR-409 in PCa bone metastasis [
130
]. Inhibition of miR-409 in highly metastatic PCa cells reverses EMT process by increasing E-Cadherin expression, reducing
N
-cadherin level, and causing morphological change to the epithelial phenotype.
In addition, several studies demonstrated a negative feedback loop between miRNA and EMT transcription factors. For example, ZEB2 known as a direct target of miR-145 can also suppress miR-145 at transcription level. This double negative feedback loop between ZEB2 and miR-145 determines the invasiveness and stemness properties of PCa and contributes to the bone metastasis [
131
]. Moreover, ZEB1 can suppress the transcription of miR-375 that can inhibit EMT-elicited cell migration and invasion via targeting YAP1 [
132
].
6. Long Non-Coding RNA Regulation of EMT in PCa
Long non-coding RNAs (lncRNAs), such as the prostate specific prostate cancer antigen 3 (PCA3/DD3), also plays a critical role in PCa EMT. Silencing of PCA3 in LNCaP cells modulates the expression pattern of several cancer-related genes coding EMT markers such as MTA2 and PLAUR. Meanwhile, PCA3 is shown to facilitate PRKD3-mediated invasion and migration via competitive sponging of miR-1261 [
139
]. In addition, SChLAP1 (Second Chromosome Locus Associated with Prostate-1) is prevalently expressed in a subset of metastatic PCa, compared to localized primary PCa. Mechanistically, SChLAP1 is able to enhance PCa metastasis by altering the cellular localization and gene regulation of tumor-suppressive SWI/SNF (Switch/Sucrose Nonfermenting) chromatin-modifying complex through interaction with SNF5 [
140
]. In addition, a recent study also demonstrates that SChLAP1 can modulate the MAPK1 signaling pathway, leading to accelerating cell proliferation and enhancing metastatic potential of PCa in vitro and in vivo [
141
]. Another highly up-regulated lncRNA in PCa is Metastasis-associated Lung Adenocarcinoma Transcript 1 (MALAT1) that is shown to enhance EZH2-mediated repression of Polycomb-dependent target gene, E-Cadherin. Mechanistically, by interacting with the Polycomb protein enhancer of EZH2, MALAT1 is capable of facilitating EZH2 recruitment to target genes, such as E-cadherin and DAB2IP, resulting in enhanced EZH2-mediated migration and invasion in aggressive CRPC cell lines [
142
,
143
,
144
]. PlncRNA-1 has been shown to induce
N
-cadherin expression through modulating TGF-β1 signaling, and hence increase PCa cell migration and invasion motility [
145
].
7. Conclusions
The initiation of EMT is considered the initial step leading to cancer metastasis that is expected to contribute to the poor prognosis of cancer patient. Thus, targeting EMT is likely to improve the overall survival of a patient. EMT is a highly regulated process that can be engaged by the reciprocal interaction between tumor surrounding microenvironment and cancer cells. Through extensive survey in PCa, several key inducers associated with the specific signaling pathways and their regulations have been reported. With respect to the role of EMT in cancer metastasis, stemness, and chemo-resistance, apparently, these key regulators can be druggable targets to be a new generation of cancer medicine as a targeted therapeutic strategy. In this case, small molecule inhibitor such as EZH2 inhibitor or certain unique miRNA such as miR-200 [
146
] and miR-145 [
147
] can be further tested in vivo to evaluate their efficacy and validate their mechanism of action.
Acknowledgments
We thank Samarpita Sengupta for editorial assistance. This work was supported in part by grants from the United States Army (W81XWH-11-1-0491 and W81XWH-16-1-0474 to Jer-Tsong Hsieh) and (W81XWH-14-1-0249 to U-Ging Lo), and the Ministry of Science and Technology, Taiwan (MOST 104-2911-I-002-578 and MOST 105-2911-I-002-521 to Ming-Shyue Lee and Cheng-Fan Lee).
Author Contributions
U-Ging Lo and Cheng-Fan Lee collected reference and wrote manuscript. Ming-Shyue and Jer-Tsong Hsieh determined framework and finalized manuscript.
Conflicts of Interest
The authors declare no conflicts of interest.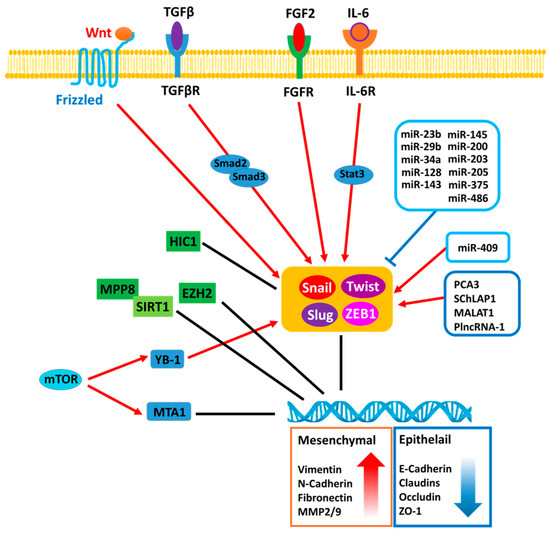 Figure 1. The regulatory mechanisms associated with epithelial-to-mesenchymal transition (EMT) in prostate cancer (PCa). MPP8: M-phase phosphoprotein 8; SIRT1: NAD-dependent deacetylase sirtuin-1; HIC1: Hypermethylated in cancer 1; EZH2: Enhancer of zeste homolog 2; YB-1: Y-box binding protein 1; MTA1: Metastasis Associated 1 protein; mTOR: Mammalian target of rapamycin; TGFβR: Transforming growth factor beta receptor; FGFR: Fibroblast growth factor receptor; IL-6R: Interleukin 6 receptor; Snail: Zinc finger protein SNAI1; Slug: Zinc finger protein SNAI2; ZEB1: Zinc finger E-box-binding homeobox 1; Twist: Twist-related protein 1.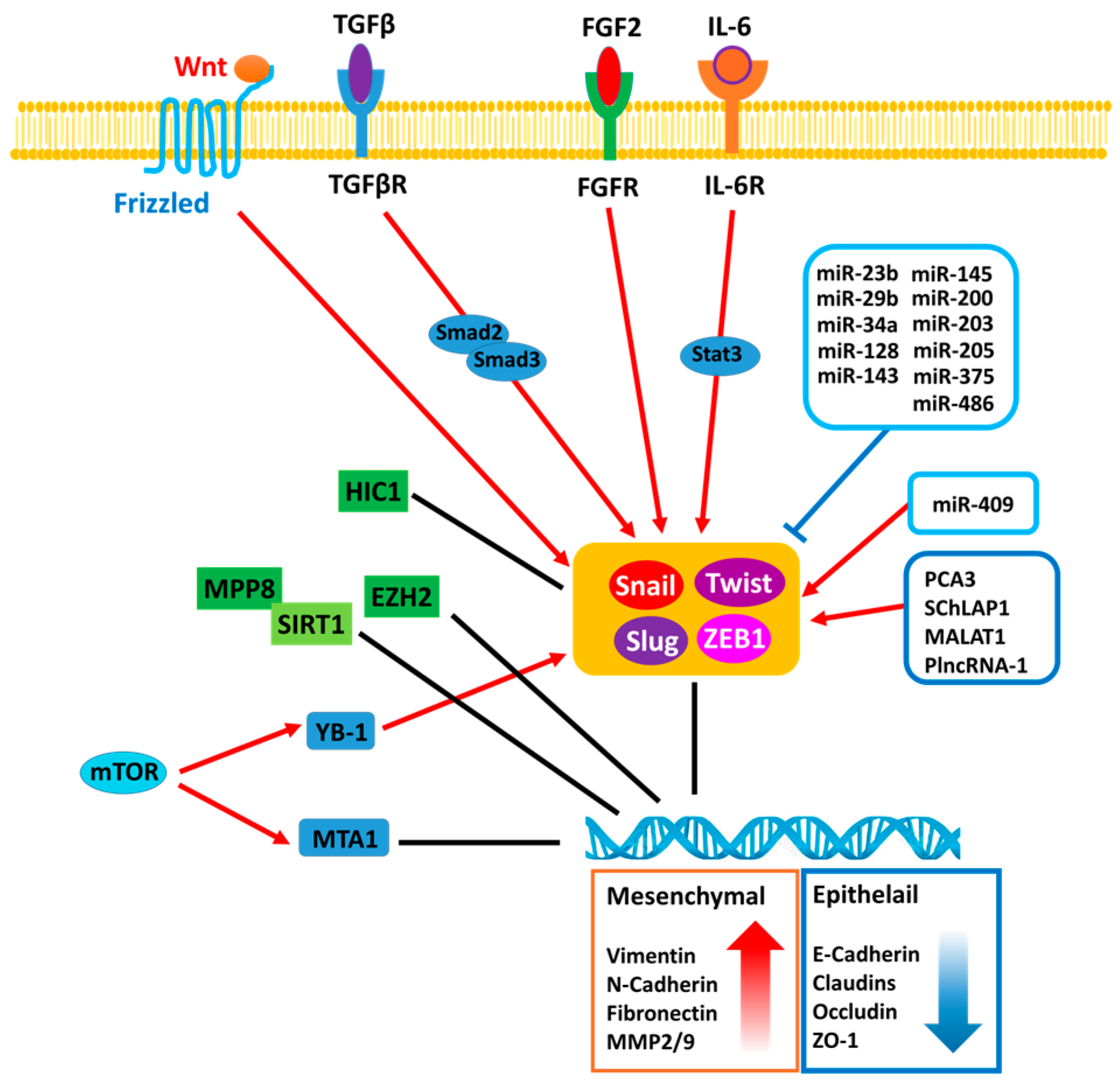 Table 1. Microenvironment soluble factors involved in EMT progression of PCa.

| Soluble Factors | Role in EMT | Impacts on PCa Progression | Reference |
| --- | --- | --- | --- |
| TGF-β1 | Inducer | Invasion, Migration, Metastasis, Sphere formation | [28,29,30,31,32] |
| BMP | Inducer | Sphere formation | [58] |
| IL-6 | Inducer | Invasion, Metastasis, Sphere formation, Tumor incidence | [33,34,35,37] |
| FGF | Inducer | Invasion, Metastasis | [38,39] |
| AR | Suppressor | EMT Suppression | [24,43,44,52] |
| AR variants | Inducer | Metastasis | [47,48,49,50] |
| Wnt/β-catenin | Inducer | Invasion, Metastasis, Stemness | [42,52,53,55,56,57] |
EMT: epithelial-to-mesenchymal transition; PCa: prostate cancer.
Table 2. MicroRNAs involved in the EMT and metastatic progression of PCa.
MicroRNAs
Role in EMT
Target
Impacts on PCa Progression
Reference
miR-200b
Suppressor
ZEB1, ZEB2
Suppress cell proliferation, EMT, invasion, and inhibit prostate tumor growth and metastasis.
[120,133,134]
miR-141
Suppressor
ZEB1, CD44, EZH2, Rac1
Inhibits cell sphere formation, invasion, and suppresses tumor regeneration and metastasis.
[119]
miR-203
Suppressor
ZEB2, Bmi, Survivin, RunX2
Suppress prostate tumor metastasis, inhibit cell proliferation, EMT, and invasion motility
[122]
miR-205
Suppressor
c-SRC, ZEB1, ZEB2
Attenuate cell proliferation, invasion and tumor growth
[123,135,136]
miR-143
Suppressor
Fibronectin, ZEB2, MMP13
Suppress cell invasion and migration
[125,137]
miR-145
Suppressor
Fibronectin, ZEB2
Repress cell bone metastasis, invasion and migration
[125]
miR-29b
Suppressor

N

-cadherin, Twist1, Snail
Suppress cell invasion, migration and attenuate prostate tumor lung metastasis
[126]
miR-23b
Suppressor
Slug, Vimentin, Src
Suppress cell migration, invasion and attenuate prostate tumorigenecity
[127]
miR-34a
Suppressor
LEF1,

N

-cadherin, Snail
Attenuate cell invasion and migration
[128,138]
miR-486
Suppressor
Snail
Suppresses migration and invasion of cells.
[129]
miR-409
Inducer
STAG2, RBL2, RSU1, NPRL2
Increase invasiveness and aggressiveness, and promotes tumorigenecity, EMT and stemness of prostate tumor
[130]
© 2017 by the authors. Licensee MDPI, Basel, Switzerland. This article is an open access article distributed under the terms and conditions of the Creative Commons Attribution (CC BY) license (http://creativecommons.org/licenses/by/4.0/).