Topical Ocular Delivery of TGF-β1 to the Back of the Eye: Implications in Age-Related Neurodegenerative Diseases
1
Section of Pharmacology, Department of Biomedical and Biotechnological Sciences, School of Medicine, University of Catania, 95123 Catania, Italy
2
Center for Research in Ocular Pharmacology—CERFO University of Catania, 95123 Catania, Italy
3
Department of Drug Sciences, University of Catania, 95125 Catania, Italy
4
NANO-i—Research Center on Ocular Nanotechnology, University of Catania, 95125 Catania, Italy
5
IRCSS Associazione Oasi Maria S.S., Institute for Research on Mental Retardation and Brain Aging, 94018 Troina, Italy
*
Author to whom correspondence should be addressed.
†
These authors have equally supervised this work.
Received: 28 August 2017 / Revised: 22 September 2017 / Accepted: 27 September 2017 / Published: 30 September 2017
Abstract
Dysregulation of the transforming growth factor-β1 (TGF-β1)/selected small mother against decapentaplegic (SMAD) pathway can be implicated in development of age-related macular degeneration (AMD), and the delivery of TGF-β1 could be beneficial for AMD. We developed a new ophthalmic formulation of TGF-β1 assessing the ocular pharmacokinetic profile of TGF-β1 in the rabbit eye. Small unilamellar vesicles (SUV) loaded with TGF-β1 were complemented with Annexin V and Ca
2+
, and the vitreous bioavailability of TGF-β1 was assessed after topical ocular administration by a commercial ELISA kit. We detected high levels of TGF-β1 (C
max
114.7 ± 12.40 pg/mL) in the vitreous after 60 min (T
max
) from the topical application of the liposomal suspension. Ocular tolerability was also assessed by a modified Draize's test. The new formulation was well tolerated. In conclusion, we demonstrated that the novel formulation was able to deliver remarkable levels of TGF-β1 into the back of the eye after topical administration. Indeed, this TGF-β1 delivery system may be useful in clinical practice to manage ophthalmic conditions such as age-related macular degeneration, skipping invasive intraocular injections.
View Full-Text
►

▼

Figures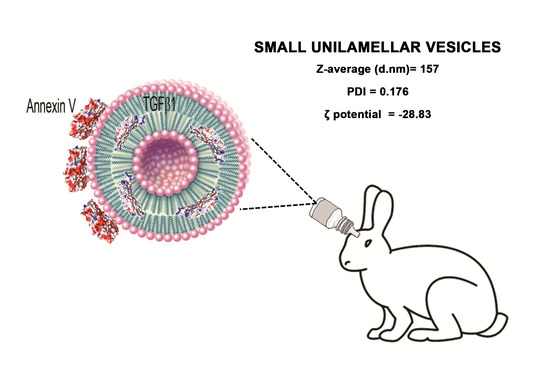 Graphical abstract
This is an open access article distributed under the
Creative Commons Attribution License
which permits unrestricted use, distribution, and reproduction in any medium, provided the original work is properly cited (CC BY 4.0).

Share & Cite This Article
MDPI and ACS Style
Platania, C.B.M.; Fisichella, V.; Fidilio, A.; Geraci, F.; Lazzara, F.; Leggio, G.M.; Salomone, S.; Drago, F.; Pignatello, R.; Caraci, F.; Bucolo, C. Topical Ocular Delivery of TGF-β1 to the Back of the Eye: Implications in Age-Related Neurodegenerative Diseases. Int. J. Mol. Sci. 2017, 18, 2076.
Note that from the first issue of 2016, MDPI journals use article numbers instead of page numbers. See further details here.
Related Articles
Comments
[Return to top]