Patterns of Novel Alleles and Genotype/Phenotype Correlations Resulting from the Analysis of 108 Previously Undetected Mutations in Patients Affected by Neurofibromatosis Type I
1
Medical Genetics, University Hospital of Parma, 43126 Parma, Italy
2
Children's Neuropsycological Services, University Hospital of Parma, 43126 Parma, Italy
3
Clinical Genetics, IRCCS S. Maria Nuova Hospital, Reggio 42123 Emilia, Italy
4
Medical Genetics, S. Orsola-Malpighi University Hospital, 40138 Bologna, Italy
5
Medical Genetics and Skeletal Rare Diseases, Istituto Ortopedico Rizzoli, 40126 Bologna, Italy
6
Medical Genetics, Città della Salute e della Scienza University Hospital, 10126 Torino, Italy
7
UOL Medical Genetics, University of Ferrara, 44121 Ferrara, Italy
8
Plastic Surgery, University Hospital of Parma, 43126 Parma, Italy
*
Author to whom correspondence should be addressed.
Received: 7 July 2017 / Revised: 29 August 2017 / Accepted: 26 September 2017 / Published: 29 September 2017
Abstract
Neurofibromatosis type I, a genetic disorder due to mutations in the
NF1
gene, is characterized by a high mutation rate (about 50% of the cases are de novo) but, with the exception of whole gene deletions associated with a more severe phenotype, no specific hotspots and few solid genotype/phenotype correlations. After retrospectively re-evaluating all
NF1
gene variants found in the diagnostic activity, we studied 108 patients affected by neurofibromatosis type I who harbored mutations that had not been previously reported in the international databases, with the aim of analyzing their type and distribution along the gene and of correlating them with the phenotypic features of the affected patients. Out of the 108 previously unreported variants, 14 were inherited by one of the affected parents and 94 were de novo. Twenty-nine (26.9%) mutations were of uncertain significance, whereas 79 (73.2%) were predicted as pathogenic or probably pathogenic. No differential distribution in the exons or in the protein domains was observed and no statistically significant genotype/phenotype correlation was found, confirming previous evidences.
View Full-Text
►

▼

Figures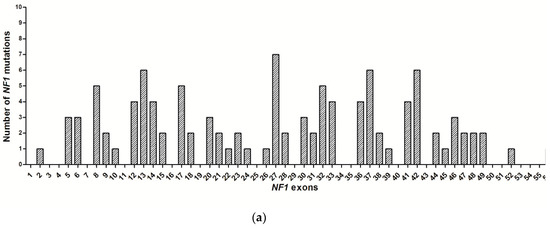 Figure 1
This is an open access article distributed under the
Creative Commons Attribution License
which permits unrestricted use, distribution, and reproduction in any medium, provided the original work is properly cited (CC BY 4.0).

Share & Cite This Article
MDPI and ACS Style
Bonatti, F.; Adorni, A.; Matichecchia, A.; Mozzoni, P.; Uliana, V.; Pisani, F.; Garavelli, L.; Graziano, C.; Gnoli, M.; Carli, D.; Bigoni, S.; Boschi, E.; Martorana, D.; Percesepe, A. Patterns of Novel Alleles and Genotype/Phenotype Correlations Resulting from the Analysis of 108 Previously Undetected Mutations in Patients Affected by Neurofibromatosis Type I. Int. J. Mol. Sci. 2017, 18, 2071.
Note that from the first issue of 2016, MDPI journals use article numbers instead of page numbers. See further details here.
Related Articles
Comments
[Return to top]