rs657075 (
CSF2

) Is Associated with the Disease Phenotype (BAS-G) of Ankylosing Spondylitis

1

Institude of Clinical Pharmacy and Pharmaceutical Sciences, College of Medicine, National Cheng Kung University, Tainan 70101, Taiwan

2

Division of Allergy, Immunology and Rheumatology, Chung Shan Medical University Hospital, Taichung 40201, Taiwan

3

Institute of Medicine, Chung Shan Medical University, Taichung 40201, Taiwan

4

Institute of Integrative Medicine, China Medical University, Taichung 40201, Taiwan

5

Department of Clinical Pharmacy, School of Pharmacy, Taipei Medical University, Taipei 11014, Taiwan

6

Master Program for Clinical Pharmacogenomics and Pharmacoproteomics, School of Pharmacy, Taipei Medical University, Taipei 11014, Taiwan

7

Department of Molecular Biology and Human Genetics, Tzu Chi University, Hualien 97004, Taiwan

8

The Ph.D. Program for Translational Medicine, College of Medical Science and Technology, Taipei Medical University and Academia Sinica, Taipei 11031, Taiwan

9

Center for Biomarkers and Biotech Drugs, Kaohsiung Medical University, Kaohsiung 80708, Taiwan

10

Department of Pharmacy, Taipei Medical University-Wanfang Hospital, Taipei 116, Taiwan

†

These authors contributed equally to this study.

*

Authors to whom correspondence should be addressed.

Academic Editors: Emil Alexov and William Chi-shing Cho

Received: 19 September 2016 / Revised: 14 December 2016 / Accepted: 23 December 2016 / Published: 3 January 2017
Abstract
Ankylosing spondylitis (AS) is a systemic autoimmune disease mainly affecting the lumbar spine and sacroiliac joints, and exhibits peripheral inflammatory arthropathy. More than 25 loci have been identified as associated with AS. Because both AS and rheumatoid arthritis (RA) are autoimmune diseases that may share some common genetic factors, we therefore examined if the newly identified RA genetic polymorphisms were associated with AS in a Taiwanese population. In this study, we enrolled 475 AS patients and 11,301 healthy subjects from a Taiwanese biobank as controls. Although none of single-nucleotide polymorphisms (SNPs) were associated with the susceptibility to AS, the AS disease index Bath AS Global (BAS-G) clinical phenotype was observed as significantly correlated to the AA genotype of rs657075 (
CSF2
). The significance remains after gender/age/disease duration adjustment and after group categorization by
human leukocyte antigen-B 27
(
HLA-B27
) genotype. We further investigated the possible functions of rs657075 through bioinformatics approaches. Results revealed that polymorphism of rs657075 is able to influence the expression of acyl-CoA synthetase long-chain family member 6 (
ACSL6
). In conclusion, our study indicated that rs657075 (
CSF2
) is strongly associated with the AS disease index Bath AS Global (BAS-G) clinical phenotype.
View Full-Text
►

▼

Figures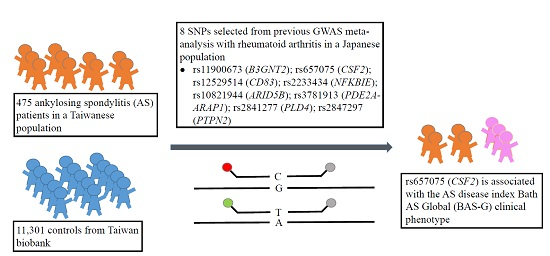 Graphical abstract
This is an open access article distributed under the
Creative Commons Attribution License
which permits unrestricted use, distribution, and reproduction in any medium, provided the original work is properly cited (CC BY 4.0).

Share & Cite This Article
MDPI and ACS Style
Chen, W.-C.; Wei, J.C.-C.; Lu, H.-F.; Wong, H.S.-C.; Woon, P.Y.; Hsu, Y.-W.; Huang, J.-D.; Chang, W.-C. rs657075 (CSF2) Is Associated with the Disease Phenotype (BAS-G) of Ankylosing Spondylitis. Int. J. Mol. Sci. 2017, 18, 83.
Note that from the first issue of 2016, MDPI journals use article numbers instead of page numbers. See further details here.
Related Articles
Comments
[Return to top]