Open Access This article is
freely available
re-usable
Review
Bispecific Antibodies as a Development Platform for New Concepts and Treatment Strategies
1
Department of Urology, Xijing Hospital, Fourth Military Medical University, 127 Changle West Road, Xi'an 710032, China
2
Department of Immunology, Fourth Military Medical University, 169 Changle West Road, Xi'an 710032, China
*
Authors to whom correspondence should be addressed.
Academic Editor: Giovanni Tarantino
Received: 9 November 2016 / Accepted: 21 December 2016 / Published: 28 December 2016
Abstract
:
With the development of molecular cloning technology and the deep understanding of antibody engineering, there are diverse bispecific antibody formats from which to choose to pursue the optimal biological activity and clinical purpose. The single-chain-based bispecific antibodies usually bridge tumor cells with immune cells and form an immunological synapse because of their relatively small size. Bispecific antibodies in the IgG format include asymmetric bispecific antibodies and homodimerized bispecific antibodies, all of which have an extended blood half-life and their own crystalline fragment (Fc)-mediated functions. Besides retargeting effector cells to the site of cancer, new applications were established for bispecific antibodies. Bispecific antibodies that can simultaneously bind to cell surface antigens and payloads are a very ideal delivery system for therapeutic use. Bispecific antibodies that can inhibit two correlated signaling molecules at the same time can be developed to overcome inherent or acquired resistance and to be more efficient angiogenesis inhibitors. Bispecific antibodies can also be used to treat hemophilia A by mimicking the function of factor VIII. Bispecific antibodies also have broad application prospects in bone disorders and infections and diseases of the central nervous system. The latest developments of the formats and application of bispecific antibodies will be reviewed. Furthermore, the challenges and perspectives are summarized in this review.
Keywords:
bispecific antibodies; immunotherapy; immunological synapse; bispecific T cell engagers (BiTEs); angiogenesis inhibitors; delivery system; drug resistance
Conflicts of Interest
The authors declare no conflict of interest.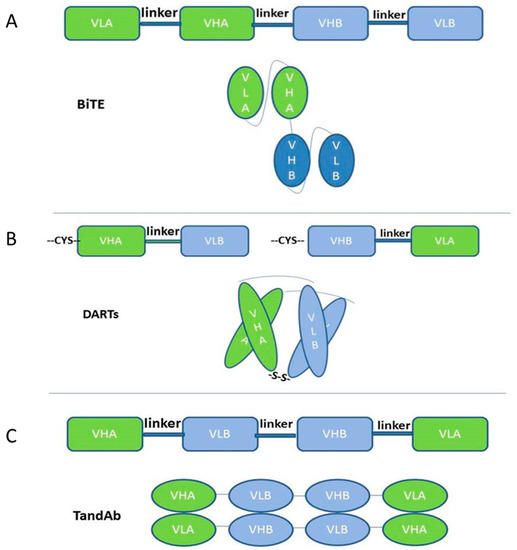 Figure 1. Single-chain-based formats. (A) The structure of BiTEs. The two linkers outside the chain are about 15 amino acids (G4S1)3, which is sufficiently long and flexible to make light chains and heavy chains form the right conformation; (B) The structure of dual-affinity re-targeting proteins (DARTs). The linker between heavy and light chains is as short as about five amino acids. Because of the short linker between the two domains of scFv, the two domains of the same scFv cannot pair and are forced to homodimerize with its homologous partner in another scFv. The adding of another cysteine residue at the end of VHA and VHB is helpful for the stability of this kind of bispecific antibody by forming a disulfide linkage; (C) The structure of Tandem diabodies (TandAbs). The three linkers of TandAb are all short linkers; it is hard to pair within the chain while easy to dimerize between two chains and generate.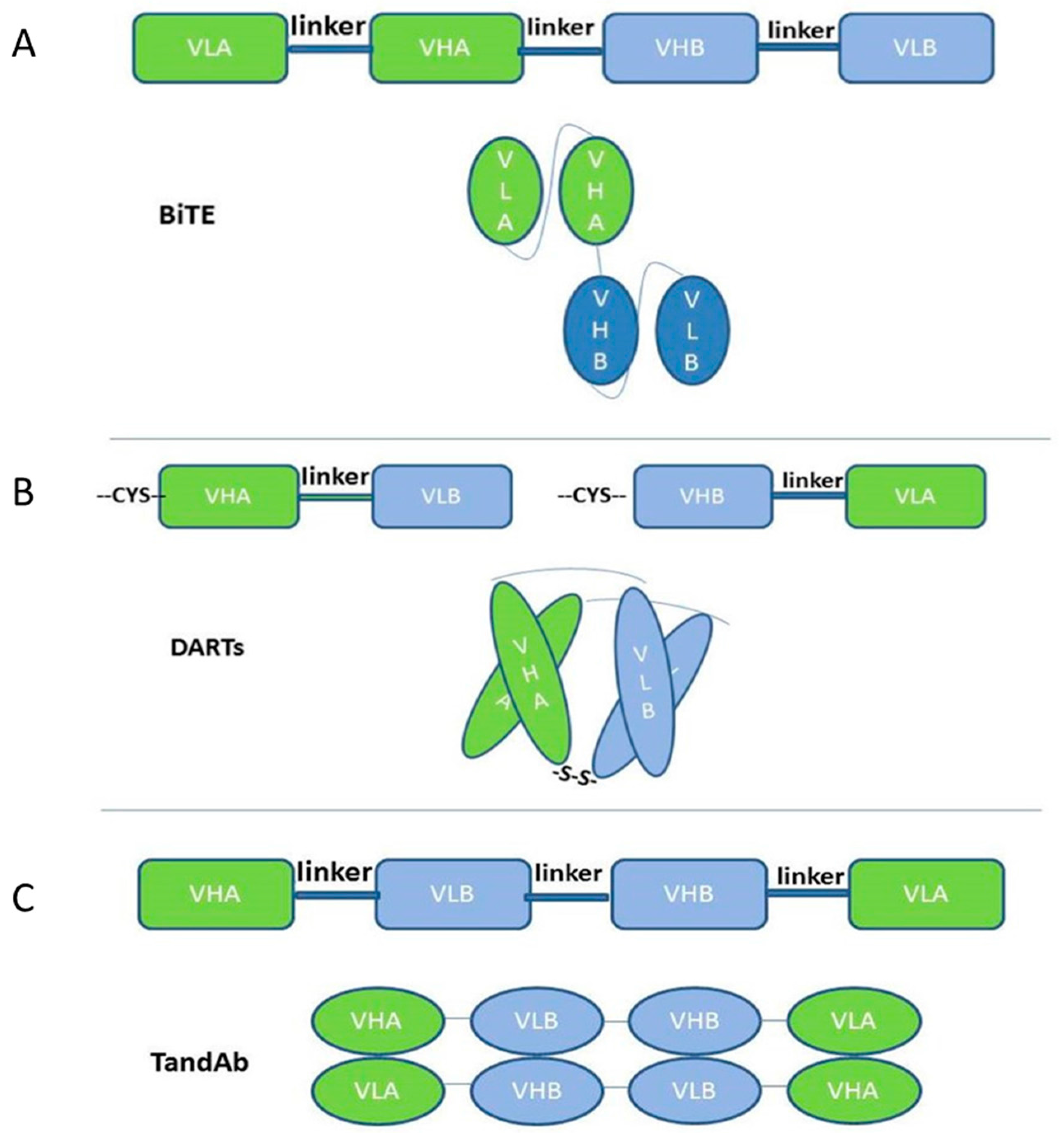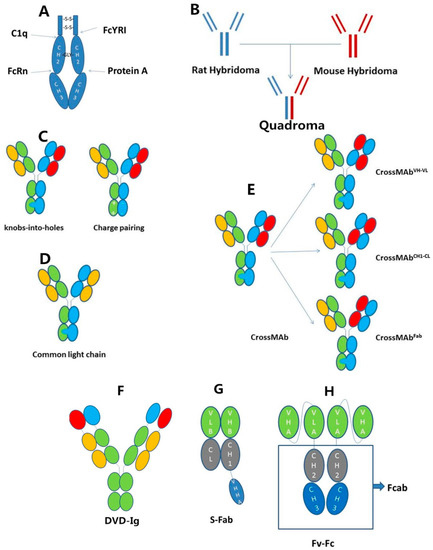 Figure 2. IgG-based formats. (A) The structure of Fc and its binding ligands. Dark arrows mark the binding site of different binding ligands; (B) The formation of quadroma cells to produce rat/mouse bispecific antibodies; (C) "Knobs-an-holes" and charge pairing technology solving the heavy chain mispairing problem; (D) The common light chain technology solving the light chain mispairing problem; (E) The three formats of crossmab, the exchange of VHB and VLB, the exchange of CH1 and CLB and the exchange of VHB-CH1 and VLB-CLB; (F) The format of double-variable domain (DVD)-Ig; (G) The format of S-Fab; (H) The format of Fv-Fc.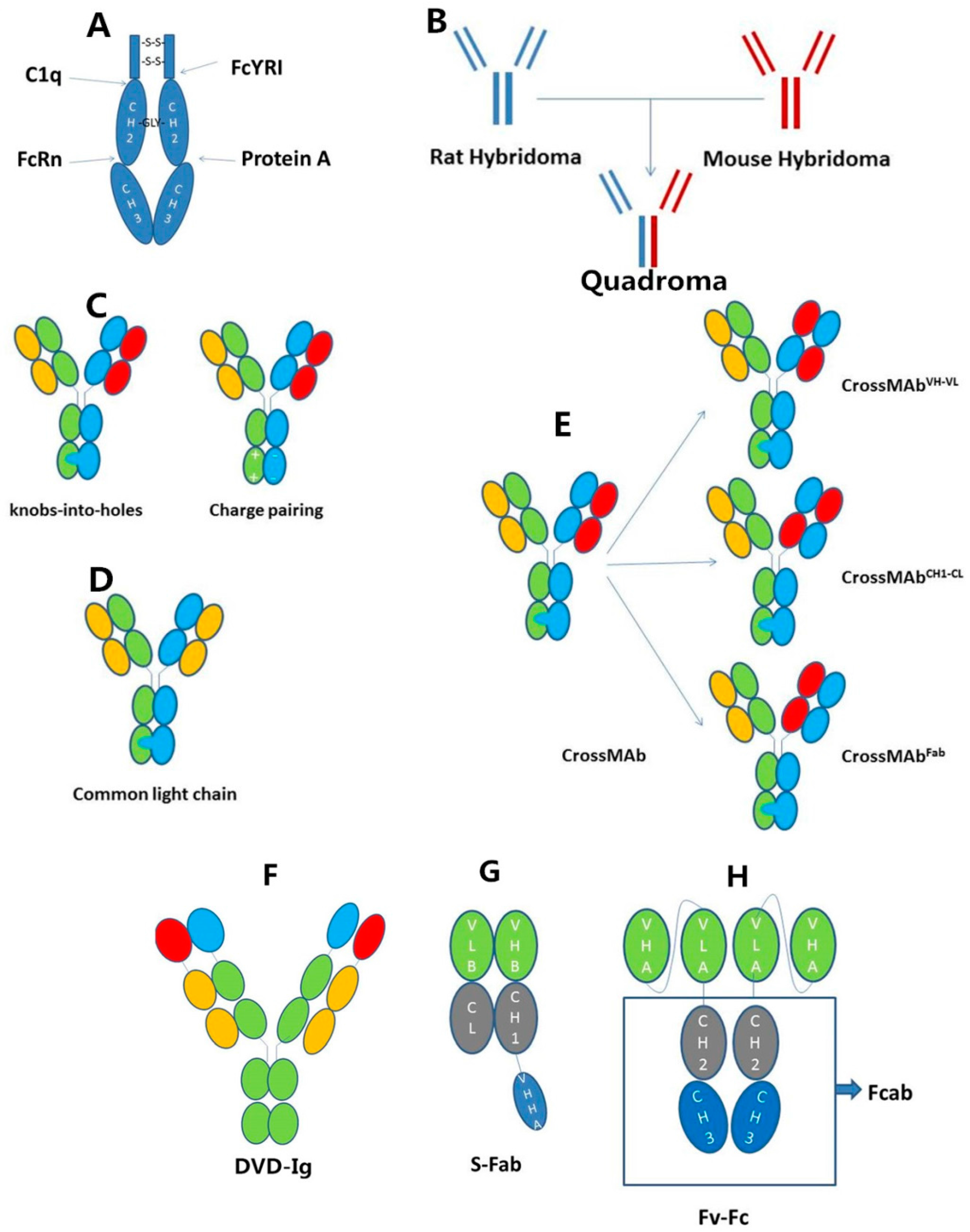 Table 1. Clinical trials about bispecific antibodies.

| Molecule | Targets | Format | Status of Clinical Trail | Disease | Citation |
| --- | --- | --- | --- | --- | --- |
| Blinatumomab | CD19 + CD3 | BiTE | approved | Acute lymphoblastic leukemia | [8,44,45,46] |
| MT-110 | EpCAM + CD3 | BiTE | Phase I (completed) | Lung, gastric, colorectal, breast, hormone-refractory prostate cancer, and ovarian cancer | [47] (ClinicalTrials.gov: NCT00635596) |
| MT-111 (MEDI-565/AMG 211) | CEA + CD3 | BiTE | Phase I (completed) | Gastrointestinal adenocarcinomas | [48,49] (ClinicalTrials.gov: NCT01284231) |
| AMG 112 (BAY2010112) | PSMA + CD3 | BiTE | Phase I (recruiting) | Prostate cancer | [50] (ClinicalTrials.gov: NCT01723475) |
| MGD006 | CD123 + CD3 | DARTs | Phase I (recruiting) | Acute myeloid leukemia | [51] (ClinicalTrials.gov identifier: NCT02152956) |
| AFM11 | CD19 + CD3 | TandAbs | Phase I (recruiting) | Relapsed and/or refractory CD19-positive B-cell NHL | [14] (ClinicalTrials.gov: NCT02106091) |
| AFM13 | CD30 + CD16A | TandAbs | Phase II (recruiting) | Hodgkin lymphoma | [52] (ClinicalTrials.gov: NCT02321592, NCT01221571, NCT02665650) |
| CEA TCB | CEA + CD3 | Knobs into Holes, CrossMAb | Phase I (recruiting) | Locally advanced and/or metastatic solid tumors | [17,38] (ClinicalTrials.gov: NCT02324257) |
| catumaxomab | EpCAM + CD3 | quadroma | Approved | Malignant ascites (MA) | [53,54] |
| ertumaxomab | HER2 + CD3 | quadroma | Phase II | Breast cancer | [55] (clinicaltrials.gov: NCT00351858) |
| FBTA05 | CD20 + CD3 | quadroma | Phase I/II | NHL | [56] (clinicaltrials.gov: NCT01138579) |
| MM-111 | HER2 + HER3 | (scFv)2-human serum albumin | Phase I | HER2-positive tumors | [20] (ClinicalTrials.gov: NCT00911898,NCT01304784) |
| DT2219 and DT2219ARL | CD22 + CD19 | (scFv)2 | Phase I | B-lineage leukemia or lymphoma | [57,58] (ClinicalTrials.gov: NCT02370160, NCT00889408) |
© 2016 by the authors; licensee MDPI, Basel, Switzerland. This article is an open access article distributed under the terms and conditions of the Creative Commons Attribution (CC-BY) license (http://creativecommons.org/licenses/by/4.0/).