Long Non-Coding RNA Profiling in a Non-Alcoholic Fatty Liver Disease Rodent Model: New Insight into Pathogenesis
Department of Gastroenterology, The First Affiliated Hospital, College of Medicine, Zhejiang University, 79 Qingchun Road, Hangzhou 310003, China
*
Author to whom correspondence should be addressed.
Academic Editor: Constantinos Stathopoulos
Received: 29 September 2016 / Revised: 9 December 2016 / Accepted: 9 December 2016 / Published: 16 January 2017
Abstract
Non-alcoholic fatty liver disease (NAFLD) is one of the most prevalent chronic liver diseases worldwide with an unclear mechanism. Long non-coding RNAs (lncRNAs) have recently emerged as important regulatory molecules. To better understand NAFLD pathogenesis, lncRNA and messenger RNA (mRNA) microarrays were conducted in an NAFLD rodent model. Potential target genes of significantly changed lncRNA were predicted using
cis
/
trans
-regulatory algorithms. Gene Ontology (GO) analysis and Kyoto Encyclopedia of Genes and Genomes (KEGG) pathway enrichment analysis were then performed to explore their function. In the current analysis, 89 upregulated and 177 downregulated mRNAs were identified, together with 291 deregulated lncRNAs. Bioinformatic analysis of these RNAs has categorized these RNAs into pathways including arachidonic acid metabolism, circadian rhythm, linoleic acid metabolism, peroxisome proliferator-activated receptor (PPAR) signaling pathway, sphingolipid metabolism, steroid biosynthesis, tryptophan metabolism and tyrosine metabolism were compromised. Quantitative polymerase chain reaction (qPCR) of representative nine mRNAs and eight lncRNAs (named fatty liver-related lncRNA, FLRL) was conducted and this verified previous microarray results. Several lncRNAs, such as FLRL1, FLRL6 and FLRL2 demonstrated to be involved in circadian rhythm targeting period circadian clock 3 (Per3), Per2 and aryl hydrocarbon receptor nuclear translocator-like (Arntl), respectively. While FLRL8, FLRL3 and FLRL7 showed a potential role in PPAR signaling pathway through interaction with fatty acid binding protein 5 (Fabp5), lipoprotein lipase (Lpl) and fatty acid desaturase 2 (Fads2). Functional experiments showed that interfering of lncRNA FLRL2 expression affected the expression of predicted target, circadian rhythm gene
Arntl
. Moreover, both FLRL2 and Arntl were downregulated in the NAFLD cellular model. The current study identified lncRNA and corresponding mRNA in NAFLD, providing new insight into the pathogenesis of NAFLD. Moreover, we identified a new lncRNA FLRL2, that might participate NAFLD pathogenesis mediated by Arntl.
View Full-Text
►

▼

Figures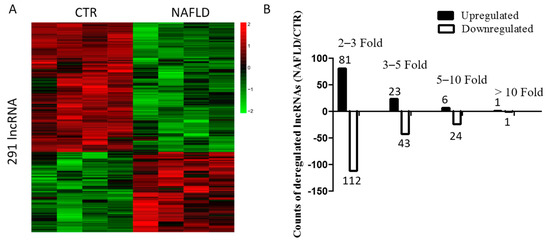 Figure 1
This is an open access article distributed under the
Creative Commons Attribution License
which permits unrestricted use, distribution, and reproduction in any medium, provided the original work is properly cited (CC BY 4.0).

Share & Cite This Article
MDPI and ACS Style
Chen, Y.; Huang, H.; Xu, C.; Yu, C.; Li, Y. Long Non-Coding RNA Profiling in a Non-Alcoholic Fatty Liver Disease Rodent Model: New Insight into Pathogenesis. Int. J. Mol. Sci. 2017, 18, 21.
Note that from the first issue of 2016, MDPI journals use article numbers instead of page numbers. See further details here.
Related Articles
Comments
[Return to top]