MicroRNA-29a Alleviates Bile Duct Ligation Exacerbation of Hepatic Fibrosis in Mice through Epigenetic Control of Methyltransferases
1
Department of Anesthesiology, Kaohsiung Chang Gung Memorial Hospital and Chang Gung University College of Medicine, Kaohsiung 83301, Taiwan
2
Core Laboratory of Phenomics & Diagnostics, Department of Medical Research, Kaohsiung Chang Gung Memorial Hospital and Chang Gung University College of Medicine, Kaohsiung 83301, Taiwan
3
Genomics and Proteomics Core Laboratory, Department of Medical Research, Kaohsiung Chang Gung Memorial Hospital and Chang Gung University College of Medicine, Kaohsiung 83301, Taiwan
4
Department of Pediatrics, Kaohsiung Chang Gung Memorial Hospital and Chang Gung University College of Medicine, Kaohsiung 83301, Taiwan
*
Author to whom correspondence should be addressed.
†
These authors contributed equally to this work.
Academic Editor: Andreas Keller
Received: 5 December 2016 / Revised: 10 January 2017 / Accepted: 13 January 2017 / Published: 18 January 2017
Abstract
MicroRNA-29 (miR-29) is found to modulate hepatic stellate cells' (HSCs) activation and, thereby, reduces liver fibrosis pathogenesis. Histone methyltransferase regulation of epigenetic reactions reportedly participates in hepatic fibrosis. This study is undertaken to investigate the miR-29a regulation of the methyltransferase signaling and epigenetic program in hepatic fibrosis progression. miR-29a transgenic mice (miR-29aTg mice) and wild-type littermates were subjected to bile duct-ligation (BDL) to develop cholestatic liver fibrosis. Primary HSCs were transfected with a miR-29a mimic and antisense inhibitor. Profibrogenic gene expression, histone methyltransferases and global genetic methylation were probed with real-time quantitative RT-PCR, immunohistochemical stain, Western blot and ELISA. Hepatic tissue in miR-29aTg mice displayed weak fibrotic matrix as evidenced by Sirius Red staining concomitant with low fibrotic matrix collagen 1α1 expression within affected tissues compared to the wild-type mice. miR-29a overexpression reduced the BDL exaggeration of methyltransferases, DNMT1, DNMT3b and SET domain containing 1A (SET1A) expression. It also elevated phosphatase and tensin homolog deleted on chromosome 10 (PTEN) signaling within liver tissue. In vitro, miR-29a mimic transfection lowered collagen 1α1, DNMT1, DNMT3b and SET1A expression in HSCs. Gain of miR-29a signaling resulted in DNA hypomethylation and high PTEN expression. This study shines a new light on miR-29a inhibition of methyltransferase, a protective effect to maintain the DNA hypomethylation state that decreases fibrogenic activities in HSC. These robust analyses also highlight the miR-29a regulation of epigenetic actions to ameliorate excessive fibrosis during cholestatic liver fibrosis development.
View Full-Text
►

▼

Figures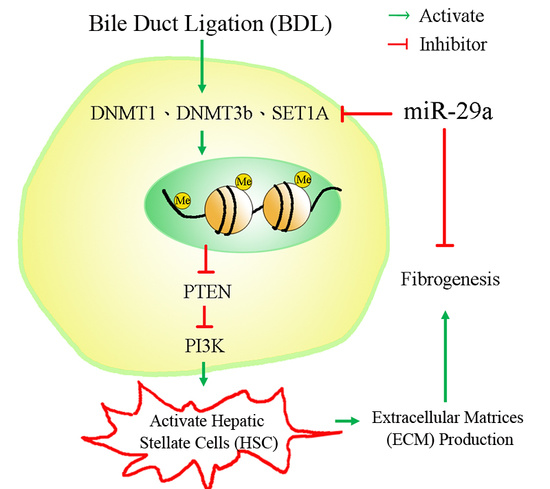 Graphical abstract
This is an open access article distributed under the
Creative Commons Attribution License
which permits unrestricted use, distribution, and reproduction in any medium, provided the original work is properly cited (CC BY 4.0).

Share & Cite This Article
MDPI and ACS Style
Yang, Y.-L.; Wang, F.-S.; Li, S.-C.; Tiao, M.-M.; Huang, Y.-H. MicroRNA-29a Alleviates Bile Duct Ligation Exacerbation of Hepatic Fibrosis in Mice through Epigenetic Control of Methyltransferases. Int. J. Mol. Sci. 2017, 18, 192.
Note that from the first issue of 2016, MDPI journals use article numbers instead of page numbers. See further details here.
Related Articles
Comments
[Return to top]