A Novel Combination RNAi toward Warburg Effect by Replacement with miR-145 and Silencing of PTBP1 Induces Apoptotic Cell Death in Bladder Cancer Cells
1
United Graduate School of Drug Discovery and Medical Information Sciences, Gifu University, 1-1 Yanagido, Gifu 501-1193, Japan
2
Department of Urology, Osaka Medical College, 2-7 Daigaku-machi, Takatsuki, Osaka 569-8686, Japan
3
Department of General and Gastroenterological Surgery, Osaka Medical College, 2-7 Daigaku-machi, Takatsuki, Osaka 569-8686, Japan
4
Department of Anatomy and Cell Biology, Division of Life Sciences, Osaka Medical College, 2-7 Daigaku-machi, Takatsuki, Osaka 569-8686, Japan
*
Author to whom correspondence should be addressed.
Academic Editor: Martin Pichler
Received: 3 October 2016 / Revised: 27 December 2016 / Accepted: 10 January 2017 / Published: 17 January 2017
Abstract
Bladder cancer is one of the most difficult malignancies to control. We explored the use of a novel RNA-interference method for a driver oncogene regulating cancer specific energy metabolism by the combination treatment with a small interfering RNA (siRNA) and a microRNA. After transfection of T24 and 253JB-V cells with miR-145 and/or siR-PTBP1, we examined the effects of cell growth and gene expression by performing the trypan blue dye exclusion test, Western blot, Hoechst 33342 staining, reverse transcription polymerase chain reaction (RT-PCR), and electron microscopy. The anti-cancer effects of xenograft model mice with miR-145 and/or siR-PTBP1 were then assessed. The combination treatment induced the deeper and longer growth inhibition and reduced the levels of both mRNA and protein expression of c-Myc and polypyrimidine tract-binding protein 1 (PTBP1) more than each single treatment. Notably, the combination treatment not only impaired the cancer specific energy metabolism by inhibiting c-Myc/PTBP1/PKMs axis but also inactivated MAPK/ERK and PI3K/AKT pathways examined in vitro and in vivo. Furthermore, the combination treatment induced apoptosis or autophagy; but, in some cells, apoptotic cell death was accompanied by autophagy, because the condensation of chromatin and many autophagosomes were coexistent. This combination treatment could be a novel RNA-interference strategy through the systemic silencing of the Warburg effect-promoting driver oncogene
PTBP1
in bladder cancer cells.
View Full-Text
►

▼

Figures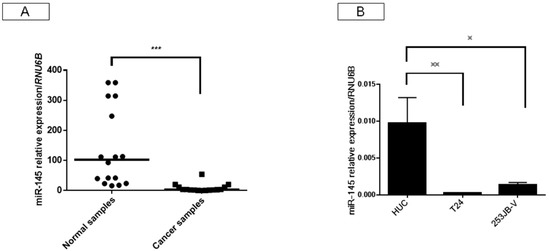 Figure 1
This is an open access article distributed under the
Creative Commons Attribution License
which permits unrestricted use, distribution, and reproduction in any medium, provided the original work is properly cited (CC BY 4.0).

Share & Cite This Article
MDPI and ACS Style
Takai, T.; Yoshikawa, Y.; Inamoto, T.; Minami, K.; Taniguchi, K.; Sugito, N.; Kuranaga, Y.; Shinohara, H.; Kumazaki, M.; Tsujino, T.; Takahara, K.; Ito, Y.; Akao, Y.; Azuma, H. A Novel Combination RNAi toward Warburg Effect by Replacement with miR-145 and Silencing of PTBP1 Induces Apoptotic Cell Death in Bladder Cancer Cells. Int. J. Mol. Sci. 2017, 18, 179.
Note that from the first issue of 2016, MDPI journals use article numbers instead of page numbers. See further details here.
Related Articles
Comments
[Return to top]