Anthocyanin Attenuates Doxorubicin-Induced Cardiomyotoxicity via Estrogen Receptor-α/β and Stabilizes HSF1 to Inhibit the IGF-IIR Apoptotic Pathway
1
Graduate Institute of Clinical Medical Science, China Medical University, Taichung 40402, Taiwan
2
Department of Obstetrics and Gynecology, China Medical University Hospital, China Medical University, Taichung 40402, Taiwan
3
Department of Biological Science and Technology, China Medical University, Taichung 40402, Taiwan
4
Department of Nursing, Mei Ho University, Pingguang Road, Pingtung 91202, Taiwan
5
Section of Cardiology, Yuan Rung Hospital, Yuanlin 51045, Taiwan
6
Department of Pathology, Changhua Christian Hospital, Changhua 500, Taiwan
7
Jen-Teh Junior College of Medicine, Nursing and Management, Miaoli 35664, Taiwan
8
Chinese Medicine Department, China Medical University Beigang Hospital, Taichung 40402, Taiwan
9
Department of Biotechnology, Bharathiar University, Coimbatore 641046, India
10
Institute of Oral Biology, National Yang-Ming University, Taipei 11221, Taiwan
11
Translation Research Core, China Medical University Hospital, China Medical University, Taichung 40402, Taiwan
12
Graduate Institute of Basic Medical Science, China Medical University, Taichung 40402, Taiwan
13
Graduate Institute of Chinese Medical Science, China Medical University, Hsueh-Shih Road, Taichung 40402, Taiwan
14
Department of Health and Nutrition Biotechnology, Asia University, Taichung 40402, Taiwan
*
Author to whom correspondence should be addressed.
Academic Editors: Nuno Mateus and Iva Fernandes
Received: 24 June 2016 / Revised: 23 August 2016 / Accepted: 13 September 2016 / Published: 21 September 2016
Abstract
Doxorubicin (Dox) is extensively used for chemotherapy in different types of cancer, but its use is limited to because of its cardiotoxicity. Our previous studies found that doxorubicin-induced insulin-like growth factor II receptor (IGF-IIR) accumulation causes cardiomyocytes apoptosis via down-regulation of HSF1 pathway. In these studies, we demonstrated a new mechanism through which anthocyanin protects cardiomyoblast cells against doxorubicin-induced injury. We found that anthocyanin decreased IGF-IIR expression via estrogen receptors and stabilized heat shock factor 1 (HSF1) to inhibit caspase 3 activation and apoptosis of cardiomyocytes. Therefore, the phytoestrogen from plants has been considered as another potential treatment for heart failure. It has been reported that the natural compound anthocyanin (ACN) has the ability to reduce the risk of cardiovascular disease (CVD). Here, we demonstrated that anthocyanin acts as a cardioprotective drug against doxorubicin-induced heart failure by attenuating cardiac apoptosis via estrogen receptors to stabilize HSF1 expression and down-regulated IGF-IIR-induced cardiomyocyte apoptosis.
View Full-Text
►

▼

Figures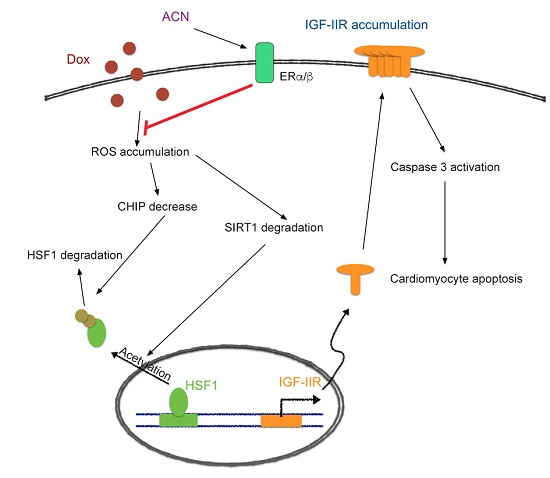 Graphical abstract
This is an open access article distributed under the
Creative Commons Attribution License
which permits unrestricted use, distribution, and reproduction in any medium, provided the original work is properly cited (CC BY 4.0).

Share & Cite This Article
MDPI and ACS Style
Huang, P.-C.; Kuo, W.-W.; Shen, C.-Y.; Chen, Y.-F.; Lin, Y.-M.; Ho, T.-J.; Padma, V.V.; Lo, J.-F.; Huang, C.-Y.; Huang, C.-Y. Anthocyanin Attenuates Doxorubicin-Induced Cardiomyotoxicity via Estrogen Receptor-α/β and Stabilizes HSF1 to Inhibit the IGF-IIR Apoptotic Pathway. Int. J. Mol. Sci. 2016, 17, 1588.
Note that from the first issue of 2016, MDPI journals use article numbers instead of page numbers. See further details here.
Related Articles
Comments
[Return to top]