Sulforaphane, a Dietary Isothiocyanate, Induces G2/M Arrest in Cervical Cancer Cells through CyclinB1 Downregulation and GADD45β/CDC2 Association
1
Department of Obstetrics and Gynecology, National Cheng Kung University Hospital, College of Medicine, National Cheng Kung University, Tainan 70403, Taiwan
2
Institute of Clinical Medicine, College of Medicine, National Cheng Kung University, Tainan 70403, Taiwan
3
Division of Gynecologic Oncology, Department of Obstetrics and Gynecology, Chang Gung Memorial Hospital and Chang Gung University College of Medicine, Kaohsiung 83301, Taiwan
4
Department of Obstetrics and Gynecology, Chang Gung Memorial Hospital, Chang Gung University College of Medicine, Chiayi 61333, Taiwan
5
Graduate Institute of Medical Science, College of Health Sciences, Chang Jung Christian University, Tainan 71101, Taiwan
6
Bachelor Degree Program of Medical Sciences Industry, College of Health Sciences, Chang Jung Christian University, Tainan 71101, Taiwan
*
Authors to whom correspondence should be addressed.
Academic Editor: Charles Brennan
Received: 1 July 2016 / Revised: 24 August 2016 / Accepted: 6 September 2016 / Published: 12 September 2016
Abstract
Globally, cervical cancer is the most common malignancy affecting women. The main treatment methods for this type of cancer include conization or hysterectomy procedures. Sulforaphane (SFN) is a natural, compound-based drug derived from dietary isothiocyanates which has previously been shown to possess potent anti-tumor and chemopreventive effects against several types of cancer. The present study investigated the effects of SFN on anti-proliferation and G
2
/M phase cell cycle arrest in cervical cancer cell lines (Cx, CxWJ, and HeLa). We found that cytotoxicity is associated with an accumulation of cells in the G
2
/M phases of the cell-cycle. Treatment with SFN led to cell cycle arrest as well as the down-regulation of Cyclin B1 expression, but not of CDC2 expression. In addition, the effects of GADD45β gene activation in cell cycle arrest increase proportionally with the dose of SFN; however, mitotic delay and the inhibition of proliferation both depend on the dosage of SFN used to treat cancer cells. These results indicate that SFN may delay the development of cancer by arresting cell growth in the G
2
/M phase via down-regulation of Cyclin B1 gene expression, dissociation of the cyclin B1/CDC2 complex, and up-regulation of GADD45β proteins.
View Full-Text
►

▼

Figures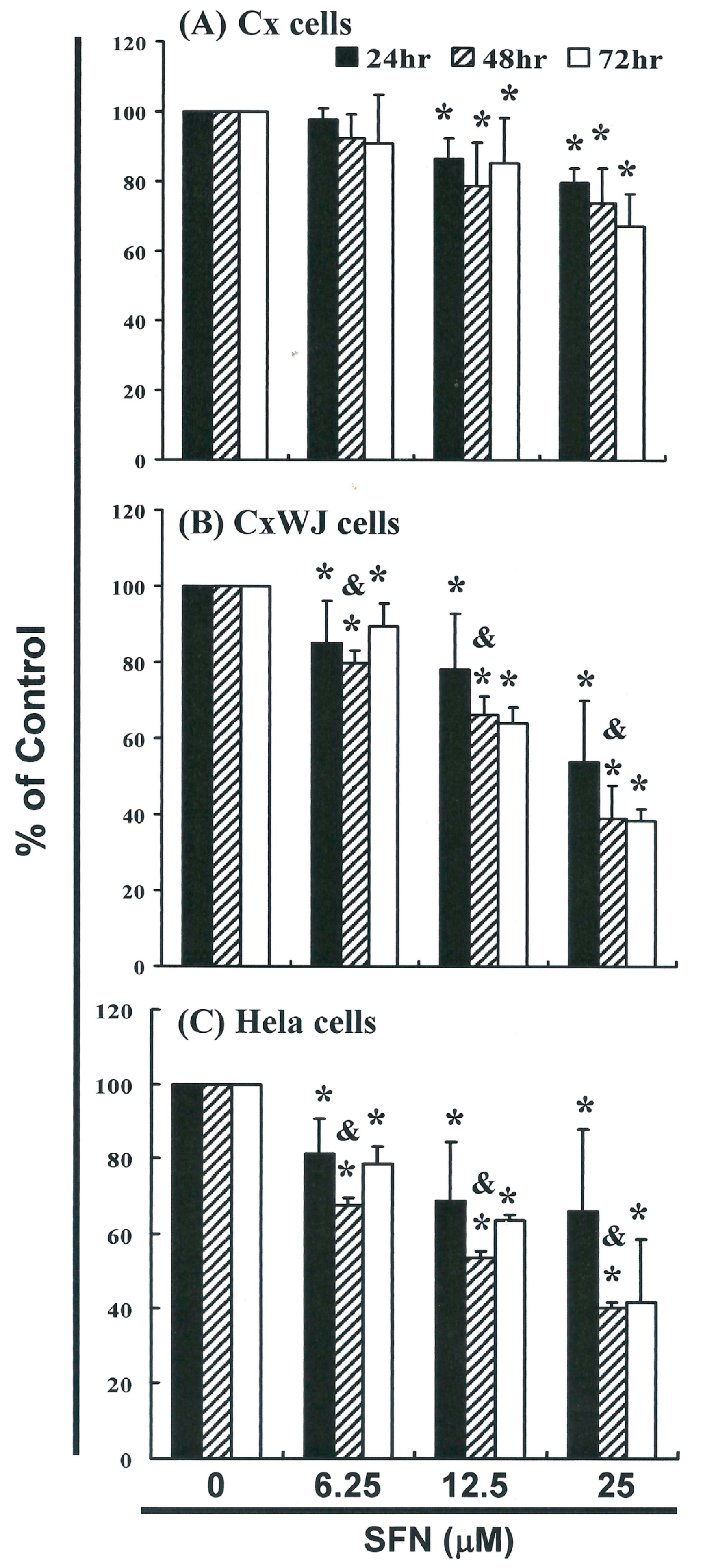 Figure 1
This is an open access article distributed under the
Creative Commons Attribution License
which permits unrestricted use, distribution, and reproduction in any medium, provided the original work is properly cited (CC BY 4.0).

Share & Cite This Article
MDPI and ACS Style
Cheng, Y.-M.; Tsai, C.-C.; Hsu, Y.-C. Sulforaphane, a Dietary Isothiocyanate, Induces G2/M Arrest in Cervical Cancer Cells through CyclinB1 Downregulation and GADD45β/CDC2 Association. Int. J. Mol. Sci. 2016, 17, 1530.
Note that from the first issue of 2016, MDPI journals use article numbers instead of page numbers. See further details here.
Related Articles
Comments
[Return to top]