A Long Noncoding RNA ZEB1-AS1 Promotes Tumorigenesis and Predicts Poor Prognosis in Glioma
1
Department of Clinical Pharmacology, Xiangya Hospital, Central South University, Changsha 410008, China
2
Institute of Clinical Pharmacology, Hunan Key Laboratory of Pharmacogenetics, Central South University, Changsha 410078, China
3
Department of Oncology, Changsha Central Hospital, Changsha 410008, China
4
Department of Pharmacy, The First Affiliated Hospital of Zhengzhou University, Central South University, Zhengzhou 450052, China
5
Department of Pharmacy, Xiangya Hospital, Central South University, Changsha 410008, China
*
Author to whom correspondence should be addressed.
Academic Editor: Martin Pichler
Received: 7 July 2016 / Revised: 19 August 2016 / Accepted: 22 August 2016 / Published: 30 August 2016
Abstract
Emerging studies show that long noncoding RNAs (lncRNAs) have important roles in carcinogenesis. lncRNA ZEB1 antisense 1 (ZEB1-AS1) is a novel lncRNA, whose clinical significance, biological function, and underlying mechanism remains unclear in glioma. Here, we found that ZEB1-AS1 was highly expressed in glioma tissues, being closely related to clinical stage of glioma. Moreover, patients with high ZEB1-AS1 levels had poor prognoses, with the evidence provided by multivariate Cox regression analysis indicating that ZEB1-AS1 expression could serve as an independent prognostic factor in glioma patients. Functionally, silencing of ZEB1-AS1 could significantly inhibit cell proliferation, migration, and invasion, as well as promote apoptosis. Knockdown of ZEB1-AS1 significantly induced the G0/G1 phase arrest and correspondingly decreased the percentage of S phase cells. Further analysis indicated that ZEB1-AS1 could regulate the cell cycle by inhibiting the expression of G1/S transition key regulators, such as Cyclin D1 and CDK2. Furthermore, ZEB1-AS1 functioned as an important regulator of migration and invasion via activating epithelial to mesenchymal transition (EMT) through up-regulating the expression of ZEB1, MMP2, MMP9, N-cadherin, and Integrin-β1 as well as decreasing E-cadherin levels in the metastatic progression of glioma. Additionally, forced down-regulation of ZEB1-AS1 could dramatically promote apoptosis by increasing the expression level of Bax and reducing Bcl-2 expression in glioma. Taken together, our data suggest that ZEB1-AS1 may serve as a new prognostic biomarker and therapeutic target of glioma.
View Full-Text
►

▼

Figures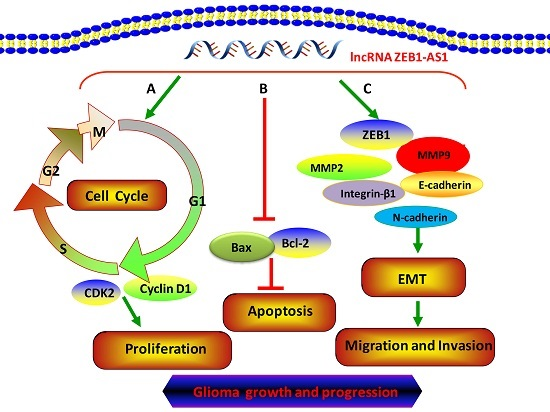 Graphical abstract
This is an open access article distributed under the
Creative Commons Attribution License
which permits unrestricted use, distribution, and reproduction in any medium, provided the original work is properly cited (CC BY 4.0).

Share & Cite This Article
MDPI and ACS Style
Lv, Q.-L.; Hu, L.; Chen, S.-H.; Sun, B.; Fu, M.-L.; Qin, C.-Z.; Qu, Q.; Wang, G.-H.; He, C.-J.; Zhou, H.-H. A Long Noncoding RNA ZEB1-AS1 Promotes Tumorigenesis and Predicts Poor Prognosis in Glioma. Int. J. Mol. Sci. 2016, 17, 1431.
Note that from the first issue of 2016, MDPI journals use article numbers instead of page numbers. See further details here.
Related Articles
Comments
[Return to top]